Pastor Ivan Waldeck shouted out to summon his newest employee, former Hard Livings gang leader Rashied Staggie.
"He can't speak to you, and you can't take any photographs of him at his workplace," warned Waldeck, who is himself a former gangster. "I just want to introduce him."
When Staggie appeared at the office door, casually dressed in jeans, T-shirt and peak hat, he looked a little older than his photographs. "They just want to say hello to you," Waldeck assured him.
Asked how his day parole was going, Staggie nodded and pointed to Waldeck. "Alright, but I can only speak through him," he said, before slipping away.
Waldeck has given Staggie a job in the Holy Nation of God Restoration Centre, which he opened in Bellville South to help to reform and rehabilitate gangsters and drug addicts.
Without a job, Staggie would not qualify for day parole from prison. At night, he will go back to Pollsmoor Prison, where he will share a house with a handful of prisoners. The doors will not be locked, to ease prisoners into their new lives.
It is the early stages of reintegration into society for Staggie, who was sentenced to 15 years in prison for crimes including robbery, rape, housebreaking and theft, and possession of firearms and ammunition. Because he had served more than 10 years behind bars, he was considered eligible for day parole.
Staggie is now wearing an electronic device that is monitored by the department of correctional services.
It is surprising to hear that such a formerly powerful figure has been employed as a general worker and cleaner, as it seems an unlikely job description for a man who police say was a fighting general in the 26s gang in prison.
Some police sources have expressed concern that Staggie is working at the centre with Waldeck, as police vigorously opposed bail.
"I find it too much of a coincidence that both were members of the 26s," said a police officer, who asked not to be named. "But I respect the parole process."
Waldeck is furious when he hears that not everybody considers him a suitable employer for Staggie.
"I was in the 26s," he said. "But the difference is that I am now an ordained pastor. This is a calling, it is not really a career. All these years, I was there for Staggie, taking his family to see him, and working with him. There is no proof that he was active in that office [as a fighting general in prison]. He was, for years, in the A section [in prison], which means you have earned your privileges through good behaviour."
Along with others at the centre, Staggie will go through a reform programme for six months and Waldeck hopes he will reform others.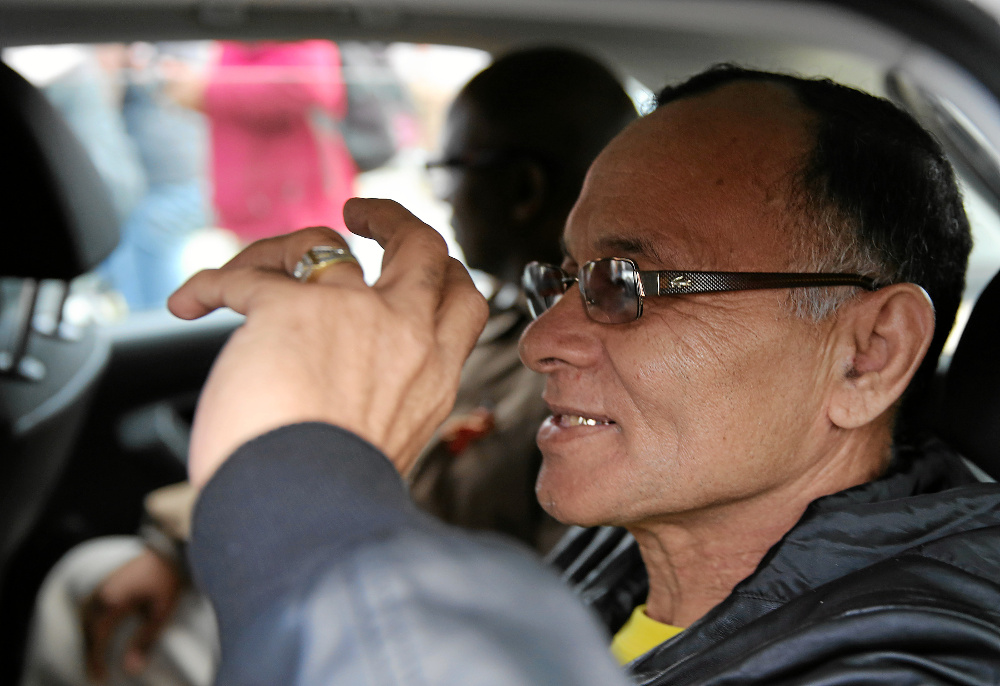 "Guess what? There is no one funding us. We gave the provincial government a five-year plan, but we didn't hear back from it," said Waldeck, becoming agitated. "It cannot only be about making peace between the gangs. You have to reconcile the attacker and victims, and from there, we have projects of employment and developing the community relationship."
Waldeck said his centre cost him R60 000 a month to run and he was battling to keep up with the rent as he subsidised the programme from his own taxi business.
Seeing Staggie at the centre, it is hard to imagine that he and his twin brother, Rashaad Staggie, were once the most powerful gangsters in Manenberg on the Cape Flats. Rashaad was shot and set alight after a petrol bomb was thrown at him during a march by members of People against Gangsterism and Gangs (Pagad) in 1996. Although Pagad members were acquitted of involvement in his killing, they were found guilty of public violence.
Waldeck, who was formerly an Americans gang member while he was living in Elsies River and Ravensmead, was once Staggie's archenemy on the streets.
"After his brother's death, I was there for him. We were in opposing gangs, but we realise we were brothers, coming from the same background," he said. "I tell gang members: 'We don't have to die a foolish death. We can develop and empower the youth not to fall into the same trap of gangsterism and drug addiction and destroying our future.' One day, I want to build a monument in the gardens that says: 'No more killing brother on brother.' "
Staggie's wife and children dropped in to see him at the centre. "It's my birthday, that is why I am here," said Rashieda Staggie.
Former prisoner and businessman Gayton McKenzie also visited the centre, which came as no surprise as it has been widely reported that he and his former business partner, Kenny Kunene, visited Staggie at Worcester prison. McKenzie would confirm only that he was hoping to use Staggie as a motivational speaker in his company in future.
Although the announcement of Staggie's pending release last month sent the residents of gang-riddled Manenberg on the Cape Flats into a panic, police said there was no proof that the intensified gang fighting in past months was due to Staggie's imminent release.
Tension flared in Manenberg after the state witness who put Staggie behind bars after she testified against the men who had gang-raped her was shot repeatedly in July. Chantelle Knight survived the attack, but her boyfriend was found shot dead beside her. Though Knight was already in witness protection, her entire family has recently been whisked away by police to join her.
Life at the gangster rehabilitation centre seems worlds away from the troubles of Manenberg, but it was outside the church next door that a car pulled up beside their car and pumped Waldeck and his wife, Natasha, full of bullets in May. They took 17 bullets between them.
Her husband pointed to the scars on his wife's cheek.
"I don't live in fear, because I serve the Lord and I trust God is with me every day. We don't deserve what happened to us," she said. "My husband has spent years working with gangs, trying to make peace."