Five years ago, 26-year-old Rat Western loaded her cat, suitcases and two-year-old son into her car and drove a thousand kilometres from Jo'burg to Grahamstown, where she had found a job at ­Rhodes University. It was her first time in Grahamstown.
"I got to Bedford, saw a sign that said 'Grahamstown, 100km', full of bullet holes. And everywhere was veld, miles and miles of veld," she says on the upstairs veranda of the Red Café, overlooking Grahamstown's High Street.
It wasn't as eerie as she had feared. In fact, she's now quite fond of Grahamstown, which reminds her of the naughty hero of Beatrix Potter's The Tale of Peter Rabbit. "But here, Peter Rabbit would be really bad," she grins.
Grahamstown, with its population of 120 000, is an odd place. It's an isolated town (Port Elizabeth is 130km away) with a conservative English colonial heritage. At the same time, it has a reputation for tolerance and progressive thinking, as a place for experimenting with love, sex and relationships.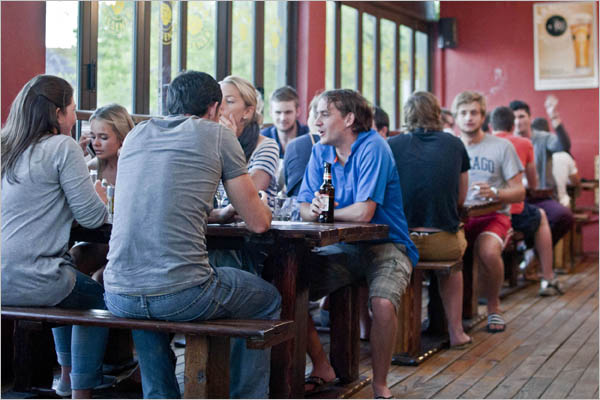 Grahamstown combines claustrophobia, in the sense that everyone knows ­everyone. (Niamh Walsh-Vorster)
"People often come here because they are going through hard times," says Western. "There's no place to hide. Survival depends on whether you like the image of yourself in the mirror. Here, it's seen as entertaining to bounce your personality off. You can get hysterically involved in other people's personal lives. It's very hermetic."
It's also a bit claustrophobic. In Grahamstown, you can't avoid each other. While we are having lunch, Red Café fills up with people who all seem to know each other. Look, there's Breyten Breytenbach's sister with her green parrot on her shoulder. And there's the lefty philosopher Pedro Tabensky with his black beret. Oh, and let's quickly say hello to Afrikaner academic Tim Huisamen, reading the local Grocott's Mail in a quiet corner.
Unpolitically correct aphorism
Another thing about Grahamstown is its shortage of eligible men, or as a local and rather unpolitically correct aphorism would have it: "Rhodes University, where there are so many women that even the ugly guys get laid."
Western nods and mentions the BBC drama series Cranford, which is set in a fictional 19th-century English town with a surplus of women. She urges me to watch bits of the first episode, which announces the arrival of a new doctor, a young man. The women get incredibly excited about this new kid in town.
"That kind of behaviour is exactly the same here. There are a lot of single women here, and they all gossip. If you fancy someone new, it's best to keep your mouth shut, because everyone will make a move and try and trip you up," says Western.
"What surprised me is how many of my students try to be lesbian."
Not much later, I meet Suzette Bravi (23). A child of Jewish progressive parents, she grew up in a leafy Jo'burg suburb, where she went to a government school and had a steady boyfriend. Then, four years ago, she too travelled to this weird little town in the Eastern Cape, in her case to study journalism.
The first day she sat despondently in her digs. Was this it? This town with its 60 churches and low colonial buildings? That pitiful shopping centre, that insignificant cinema, that handful of bars and restaurants? And all those students, many of them smashing drunk during orientation week. And what to make of those "alternative" student outfits: pyjama pants, bare feet and dishevelled hair …
But things improved. The next day, she met an unusual guy with an impressive Afro, Joe, who played the viola and had been raised by two mothers. She had found her first of many soulmates. "I had been an outcast at school, didn't have many friends. Here I met people I really had a connection with," says Suzette.
Bastion of experimentalism
Then she met Beth, gorgeous, confident, intelligent and bisexual. Beth felt attracted to Suzette and decided she should teach her how to kiss a woman. Suzette was a bit hesitant, and suggested they involve Joe as well. They organised a threesome, and then another one.
"I remember it being very weird. No chance I would have done anything like that in Jo'burg. This can only happen at Rhodes," says Suzette, who subsequently had a loveless relationship with a guy "because the sex was so good", while Beth, who had still been a virgin when she arrived in Grahamstown, had many flings.
"So much crazy stuff can happen [in Grahamstown] with no consequences," says Suzette, now back in Johannesburg. "It was liberating. I miss the freedom."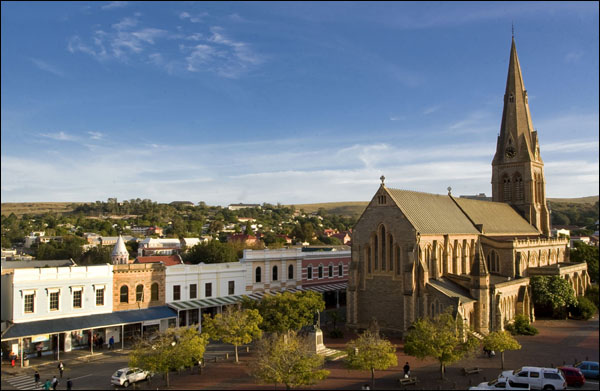 Grahamstown Cathedral. (Paul Greenway)
Grahamstown as a bastion of experimentalism – who would have thought that in 1812, when Colonel John Graham established it as a garrison town? After 1820, the settlement grew rapidly thanks to the arrival of British settlers, many of whom preferred Grahamstown to a farming life. In 1855, the first elite school, St Andrew's College, opened its doors, followed nearly 50 years later by Rhodes University, which would gain a reputation for being a liberal, free-thinking institution.
The annual Grahamstown Arts Festival, with its avant-garde theatre, added to this radical image. And so did some of the more famous lecturers, such as André Brink, who wrote his controversial Afrikaans novels Orgie (Orgy) and Lobola vir die lewe (Lobola for Life) in Grahamstown, and who had an intense affair with a student, who would become his fourth wife (from whom he was later divorced).
Obviously, this wild, promiscuous life is not for everyone. At the bottom of New Street are the offices of His People, a charismatic church that is popular among students. Every year, His People organises special seminars about relationships and love. It also publishes the 22-page brochure Finding love that lasts; discover God's take on romance, which expounds on the Bible's interpretation of friendship, marriage, dating, sexuality, interracial relationships and divorce.
"Many students come from traditional families and struggle with the freedom of Grahamstown after their sheltered home," says His People staff member Sean Bennetts. "The drinking scene is big here, there's no discipline. We don't have rules about alcohol, but the Bible says: 'Don't get drunk and lose your inhibitions'."
'There's a lot of love here'
Hundreds of people attend the weekly Sunday services. What's striking is the absence of young white men. Bennetts blames it on masculinity issues. "Being a man means drinking and having sex. If you prefer a more spiritual life, you're seen as vulnerable and weak."
His People propagates "pure love", which means no intimate physical contact before marriage. "The Bible says 'no sex'," says Bennetts. "If you are pure, God will bless the relationship."
The church encourages its members to find partners who are also Christians. Bennetts met his wife, Sarah, through His People, and they were both still virgins when they got married. No, not knowing each other's sexual preferences and quirks wasn't a problem. "We have an awesome sex life," assures Bennetts.
But there is a third side to Grahamstown's love life, one that I initially overlooked. I had concentrated on stories about swingers, adultery, affairs, orgies, nightly prowling. It's all there. But I was also invited to people's houses for dinner or a drink. The atmosphere was invariably warm and open.
There was always a smile, a joke, a glass of wine, a kiss. The outside world, with its war in Syria, strikes in Johannesburg and an ailing Mandela, was far away. Grahamstown can be a vortex, but it can also be a comfortable, ­intoxicating bath.
In the Haricot Vert restaurant, psychologist Lisle Floss smiles as she listens to my theories about love in Grahamstown. "There's a lot of love here," she says after a long silence. "Here, people care, because you know you can care. In a big city, you may not know that your friend two suburbs away is struggling. Here people are aware that you are alone and may feel left out. Yes, you see a lot of love. People walking hand in hand. People hugging each other. It's a soft town. There's a lot of emotion shown in public."
* Some of the names in the story have been changed for privacy ­reasons.
Fred de Vries is an author and journalist who has taught ­journalism at Rhodes University