As the thunderous clouds set in on Jo'burg's skyline, delivering gusts of winds and heavy rains, jazzophiles took shelter to hear a storm of another kind: the rousing sounds of The Kyle Shepherd Trio.
Under the leadership of pianist-composer Kyle Shepherd, drummer Jono Sweetman and bass player Shane Cooper gathered to perform to a packed venue at the University of Witwatersrand Atrium on Saturday evening.
Following the announcement of the 26-year-old Shepherd as the Standard Bank Young Artist of the Year for Jazz, his performance over the weekend confirmed what some might have known since Shepherd stepped on the scene with his first album fineART (2009): he's a musical prodigy. And with a head-start with classical music and violin training from the age of five, the multi-instrumental's prodigious skills were laid bare at the Atrium.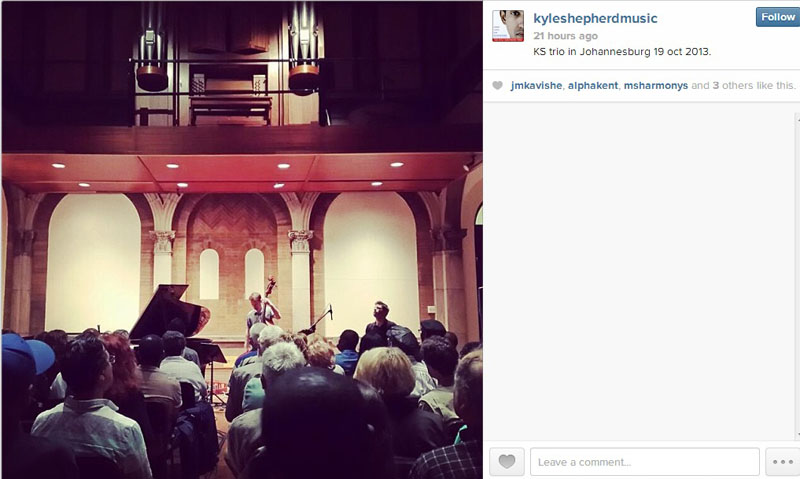 ?
Speaking to the Mail & Guardian after his win last week, Shepherd said: "For any pianist-composer, which I am, the trio format is ideal because you can sculpt melodies yourself. It's not by any means an ego thing but I play my own melodies. I live the melodies, sometimes I am even compelled to play the saxophone myself."
Shepherd's compositions borrow from free, Cape and hard bop jazz, and Saturday night's audience couldn't help but bob their heads to the youthful trio's inclusion of rhythms often found in underground rap music.
Ibrahim and Ngqawana
Dressed in all black, Shepherd's playing and compositions invoked masters such as the late saxophonist Zim Ngqawana. Comparisons between legendery pianist Abdullah Ibrahim and Shepherd were also unavoidable on the night. Both jazz legends have been instrumental to the Cape Town Shepherd.
"I remember making a very conscious decision after watching Abdullah Ibrahim play a solo piano concert. After that concert I wanted to do something like that," said Shepherd to Standard Bank as he retraced his musical footsteps.
As the band performed parts of songs such as Sweet Zim Suite and Zimology off the pianist's 2010 album A Portrait of Home, speaking to Standard Bank Shepherd elaborated on his thoughts on Nqqawana – who composed a song on the album.
"The most profound teacher for me was Zim Ngqawana … my encounter with him was not one of many words, it was very much about just being."
Before going on stage, the pianist even tweeted, "Thinking about Zim before tonight's concert in JHB! Can't wait to make music."
thinking about zim before tonights concert in JhB! cant wait to make music!!!! http://t.co/LmSNrgHdxQ

— Kyle Shepherd (@KyleShepMusic) October 19, 2013
And the state of "just being" was what defined the trio's performance as improvisations lent heavily to the band's intensity. The trio "tend to play bits and pieces of songs in each piece of music. They don't really plan the music ahead, just play snippets of songs as they go," says Etienne Shardlow of Jazz E, one of the producers of the show.
The other Standard Bank Young Artist of the Year for Jazz winner (for 2013), bassist Cooper, did more than just carry the band through. His intricate and compelling solos commanded the crowd's attention, while Sweetman's syncopated drumming stood out and sometimes took centre stage while Shepherd and Cooper played on.
Reactions
Here's what some guests had to say about the show:
Watching the Kyle Shepherd trio with @mandisatweets Personnel: Shane Cooper (b), Jono Sweetman (d), Kyle Shepherd (p) pic.twitter.com/lUDgbBhJNS

— palesa sibeko (@palesa08) October 19, 2013
Kyle Shepherd is what I get when I mix Brad Mehldau with a kofifi flavour and some Jamie Cullum hipster steeze:-)Profoundly great music last

— Mandisa (@mandisatweets) October 20, 2013