You could be forgiven for thinking that the Democratic Alliance's rising star, Mmusi Maimane, took a page too many out of United States President Barack Obama's book in his campaign to be Gauteng premier.
Obama's pioneering 2008 campaign used the slogan "Change we can believe in" and the chant "Yes we can".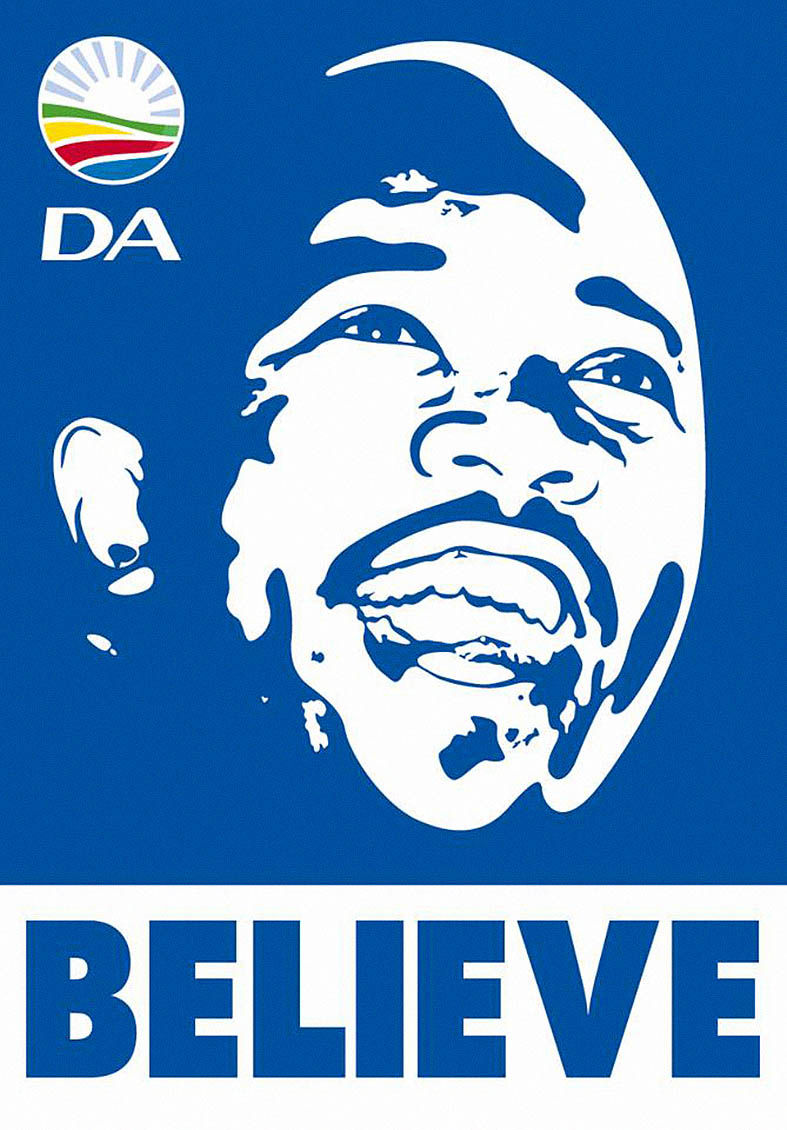 Mmusi Maimane's campaign poster is reminiscent of Barack Obama's in 2008. Maimane is gunning to be the premier of Gauteng Firebrand.
Maimane campaign features "We can win" and the central theme of "Believe", which is emblazoned on a stylised drawing of his face that recalls Obama's iconic "Hope" poster.
His speeches, too, feature the personal anecdotes and phrase chanting particular to Obama's oratory style.
And there is his multifaceted background: He was born in Soweto, is multilingual, has multiple university degrees and a unique ability to connect with people from a variety of backgrounds.
Maimane is irked by the comparison with Obama, though he tries to shrug it off. "When it's offensive is when people say we sat back and copied Obama's campaign word for word."
Digital innovations
According to Maimane, he was far more influenced by struggle icon Nelson Mandela and Obama's campaign was merely instructive in its digital innovations.
"The lessons we can take from Obama's campaign is a better online presence," he said. "Politics needs that."
His "Believe" motto stems from an internal speech Maimane gave earlier this year. "I wrote about the idea of believing in the dream that came out of 1994," he said, adding that he wrote the speech at the height of fears over Mandela's health.
But branding expert Gordon Cook of the Vega School of Brand Leadership said that Maimane's messaging does not make the most of who he is.
"The iconography and messaging is very American," said Cook. "The disappointment is that Mmusi has so many strengths. I think he's not drawing on what he's about. It is really far off the mark to introduce an American kind of imagery."
Political analyst Eusebius McKaiser said: "There is resonance with the Obama campaign, but I don't think that's deliberate or over-thought on his part."
South African professional image consultant Lianne Smuts said the aesthetics of political campaigning in South Africa is coming of age.
"I don't think some politicians realise the importance of image in terms of the message they're trying to project to the nation," she said.
Younger politicians
The ANC, with its rich 100-year history, has a developed lexicon of imagery and phrases it can draw on in its campaigning: from a raised fist to Madiba's iconic shirts and phrases such as amandla.
Newer parties must develop their own set of symbols to set them apart, and younger politicians seem to be the most adept at this.
Julius Malema's Economic Freedom Fighters (EFF) has created a distinctive branding that recalls Soviet Union iconography in keeping with its socialist policies, including the famous red berets.
"We made choices about what to associate ourselves with," said EFF spokesperson Mbuyiseni Ndlozi.
"We are following in the big traditions of working-class revolutions."
Voting population
Maimane faces a more difficult task. His message is one of reconciliation and he must appeal to multiple segments of the voting population.
"In terms of the unifying look, a politician must learn to play the image game," said Smuts. "Learn what is appropriate for the situation they will find themselves in."
Maimane has tried this. He donned an African-print shirt when he first announced his campaign as the DA's candidate for Gauteng premier in Alexandra. But more often than not, you'll find him in a smart blazer.
For all he has going for him, there has been markedly little hype around Maimane.
McKaiser puts it down to Maimane's limited stylistic range. "He doesn't know when to hype up and get angry," he said. "He only knows how to be Mr Nice Guy."