Right off the bat, let's just say that the 2014 Golden Globes were once again hosted by the comedic and trustworthy pairing of Tina Fey and Amy Poehler. Obviously, they were going to be awesome. Especially with two of the funniest women in show business starting off Golden Globes promo season with a pic like this:
Amy Poehler & Tina Fey are set to host the Golden Globes in 2014 & 2015 in comfort & style! via @ELLEmagazineSA pic.twitter.com/9AvZuAHVMw

— CONVERSE (@Converse_Africa) January 10, 2014
Pairing fancy-pants ball gowns with Converse Chuck Taylors?! Things could only get better. And they did … Here's a look at the top five moments from the Golden Globes.
1. When Jennifer Lawrence took a page out of Jack Nicholson's book of tricks and photobombs Taylor Swift on the red carpet.
The best photo from last night's #GoldenGlobes http://t.co/E3NVHEGv8k pic.twitter.com/XEvG3QuUnL

— IndyArts (@IndyArts) January 13, 2014
2. When Diane Keaton stepped up to accept the Cecil B DeMille award on behalf of Woody Allen.
Well "la-di-da" hot damn Diane.

Who cares about Woody Allen? Let's talk about Diane Keaton's suit. #damngirl #goldenglobes http://t.co/0eW6r1J2eY

— Dorothy Snarker (@dorothysnarker) January 13, 2014
3. When Emma Thompson did this… On stage.
4. When Robin Wright ran to collect her award.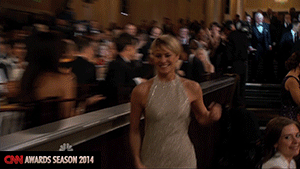 5. And finally, when co-host Amy Poehler finally bagged an award for her role in Parks and Recreation.
Knope We Can! #GoldenGlobes pic.twitter.com/90EoLfKkYZ

— Parks and Recreation (@parksandrecnbc) January 13, 2014