It's noon, but when you head down the stairs to a space the size of a tennis court at the Berea Road train station, in Durban's central business district, it could be any time.
This part of the station complex has a distinct smell of urine and loud music blares from nearby hawker stalls. Graffiti scribbled on the staircase wall says: "Black man always a suspect" and "Sea never changes but life can change".
Throngs of people are sitting, standing or lying on stained mattresses on the littered floor.
The station is home to a large percentage of Durban's homeless population – a number city mayor James Nxumalo estimates to be in the region of about 500.
Local human rights activists Shabnam Palesa Mohamed of the Stand UP! Foundation and the South African Peace Network's Paaristha Oomadath say that it's becoming increasingly difficult for these people to sleep here at night, because they are increasingly harassed by members of the South African Police Service (SAPS), the Durban Metropolitan Police and private security guards hired by the municipality, among others.
Mohamed and Oomadath accompany me to the station to investigate the claims. On our way we meet a man known only as Goodman, a 49-year-old leg amputee who has slept on Durban's streets since 2002. "The green-and-black security guards give us a terrible hiding. They chase us and hit us, and they spray us with pepper spray, shouting at us to go away," he says.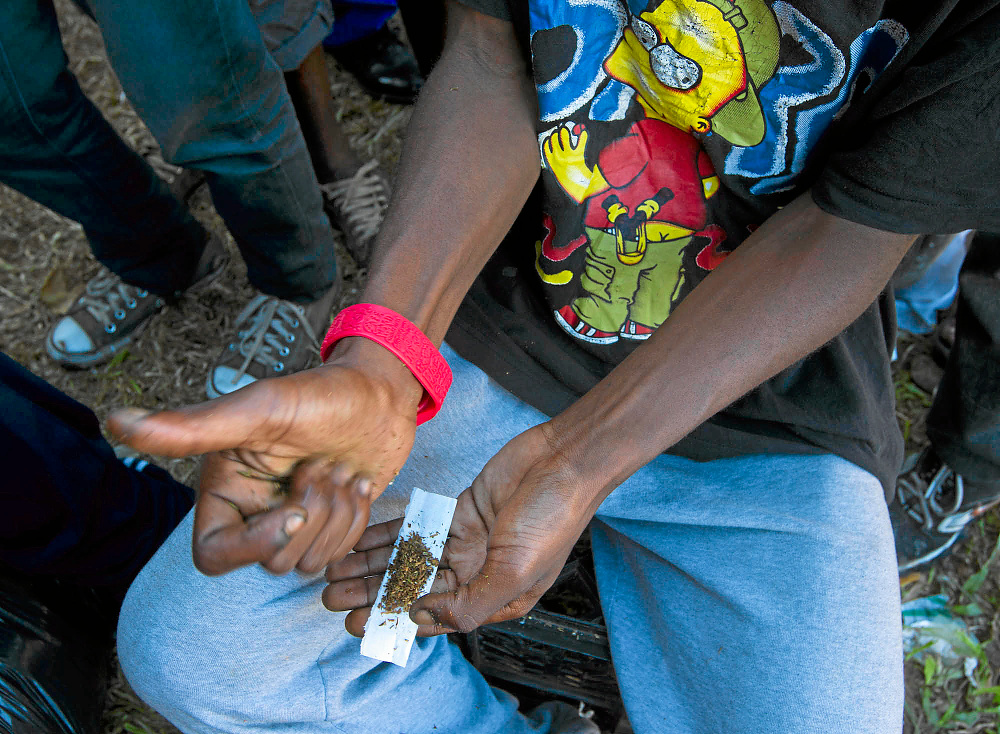 Marijuana was used openly at the meeting. (Rogan Ward)
Security
The guards he's referring to belong to a security company contracted by the city to supplement the police.
According to the website priorityzonedbn.co.za, which details the city's plans to rid Durban of crime and pollution, "Metro Police were, generally, too busy dealing with serious crime to be concerned with lights or benches, which had been vandalised, or paving bricks which had been stolen. We therefore brought in a 24-hour security service."
A teenage girl at the station says she was recently shot in the leg with live ammunition by security guards. "They were wearing maroon berets and navy uniforms. They came and started shooting us while we were sleeping."
According to Mohamed and Oomadath the incident occurred on January 19. Most of the people I spoke to claim two people – one of them a nine-year-old boy – were killed that night.
But Captain Thulani Zwane, police spokesperson in KwaZulu-Natal, says the police were not aware of any fatalities. "The operation was conducted by municipality-assisted security guards," he says by email. "We were not part of the operation and it is not the duty of the SAPS to remove those people there. We know that about six people were injured after they were allegedly shot by security guards."
Zwane adds that a case of attempted murder was opened, but that no arrests have been made.
He confirms, however, that a 35-year-old man was arrested and charged for assault in connection with another case involving a homeless person. "It is alleged that the victim was sleeping at the electricity room at Berea station when he was allegedly assaulted by security guards on 28 January 2014. He was told that he was not allowed to sleep there," he says.
According to Mohamed, the victim and his companion were robbed and pushed in front of a moving train.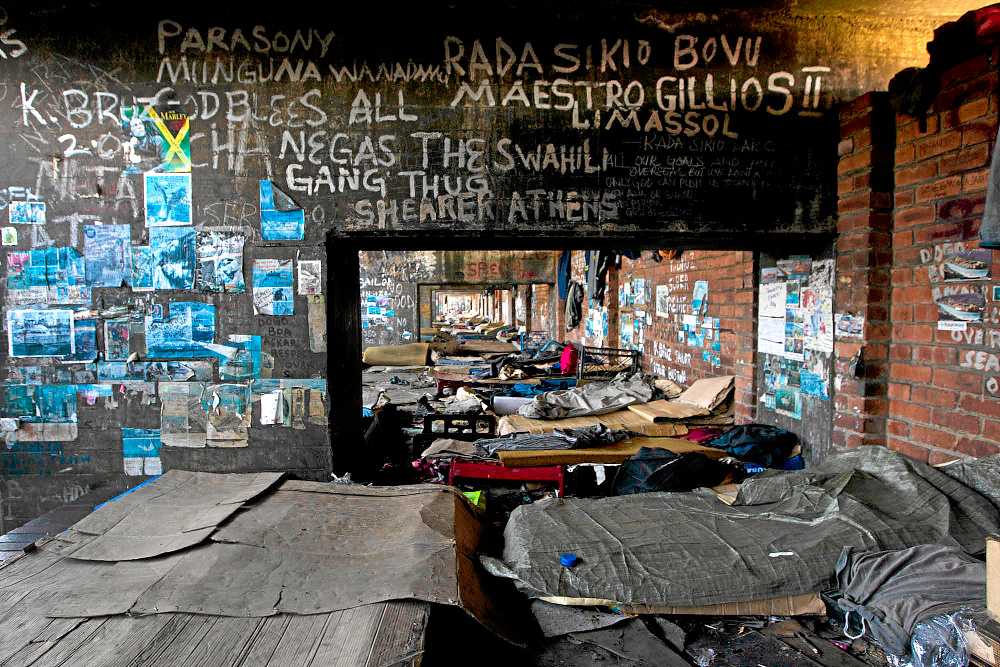 Cast out: Homeless people claim makeshift sleeping spaces next to the freeway near Albert Park in Durban. (Rogan Ward)
Skills
People at the station claim they aren't there to make trouble, but have nowhere else to go. They proudly mention their skills – which range from jewellery-making to pillowcase-sewing and hair-styling – and say they are desperate for employment.
"These people are being traumatised, there's a high level of anxiety on the streets," says Mohamed. "They are the most disempowered of people – most of them don't even have identity documents, and they are being intimidated and beaten and robbed. Why aren't politicians doing anything at all to help them?"
After contacting the city for comment, I'm invited to accompany its executive committee to the nearby Albert Park.
Early on Tuesday morning a large group line a sandy bank across the road from the park. Some wear bandages around wounds, others dishcloths. Our convoy includes police vehicles, but they exchange marijuana openly.
"Assalaamu Alaikum," a man says, smiling, when he spots me in my headscarf. He tells me his name is Abdul Kamal and that he's an illegal immigrant from Guinea. "I was a combatant, I was in the war in Liberia for six years I decided to come here to make a better life for myself."
Initially Kamal (36) did odd jobs at the harbour. But that ended when his friend introduced to him to the deadly street drug whoonga (see below).
In the Muslim community substance abuse is swept under the carpet. Users rarely speak out.
But here there is full disclosure. "We sleep here because of the situation we are involved in," says Kamal. "We are all abusing substances."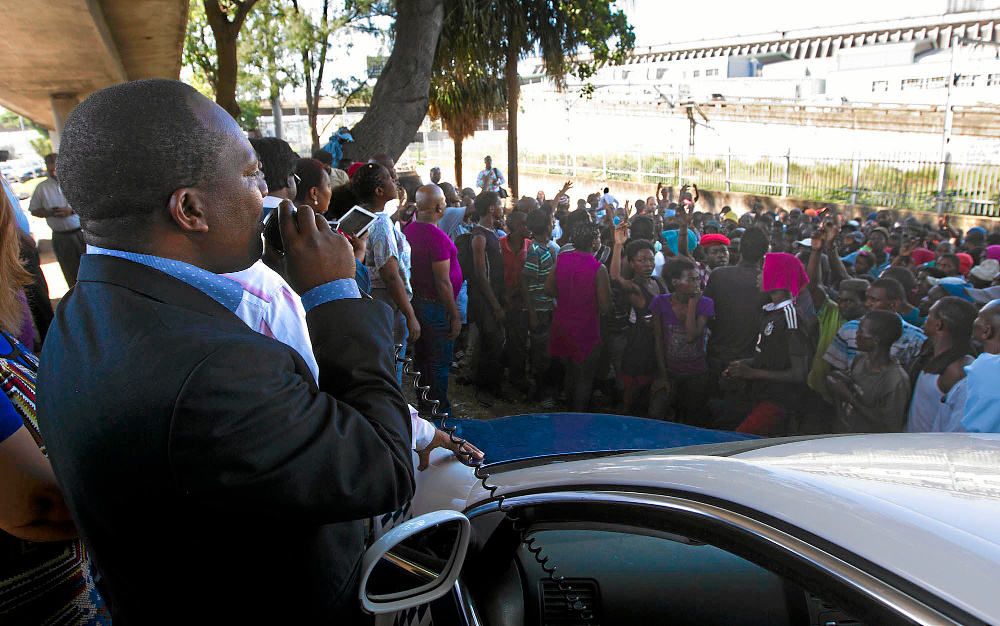 New hope? A crowd gathers at Albert Park to listen to Durban mayor James Nxumalo. (Rogan Ward)
Drugs
Money to support the habit is raised by begging or collecting and selling recyclable material. "We need help, we need medical attention," he says. "We would like to change – some of us having been living like this for a long time. There's nothing we can get now out of whoonga."
He is loudly interrupted by Sphelo Sonjita (23): "Ja, ja, I need to get an injection to take these drugs out of my body. I can't do anything besides this thing. In the morning I must find this thing. If I don't find it, my bones are not normal, and I can't work. We need something to help us get this out of our body."
Sonjita came to Durban from the Eastern Cape to find a job. "I couldn't find a place to stay, so you see, I said 'at least let me smoke whoonga, I can take out my stress and I don't have to think about food'."
Sonjita also complains of harassment at the hands of city security guards. "They come and hit us and take our money and chase us and spray us sometimes so that we can't even see anything."
A single dose of whoonga costs R20.
"But we need so much a day. It depends on how your dose is, sometimes you smoke six a day."
Some people steal to support the habit, he admits, but adds that he collects boxes and empty containers for recycling in return for which he earns 60c a kilogram – he spends it on whoonga and food.
Back at the City Hall the mayor tells us that he intends launching – as a matter of urgency – a "multidisciplinary course of action", involving various governmental departments, NGOs and the media, to deal with the issue of homelessness.
This news should be welcome on the streets. "I hope you can help us," Sonjita says. "Some of us are dying here. When I want this whoonga, I'm crazy. I can stab a person for it. People are dying week in and week out, killing each other. I'd like to take this thing out of my body."
________________________________________________________________________________
Dirty drug breeds crime
Whoonga, also known as nyaope, is used mainly by men aged between 13 and 35 in townships across South Africa, but particularly in Durban.
Its exact contents are unknown but it is believed to be a cocktail made up of third-grade heroin, rat poison and even cleaning detergents.
Claims that it contains antiretroviral medication for the treatment of HIV have been challenged by scientists.
But hundreds of HIV patients have apparently been robbed of their medication on they way out of clinics.
Whoonga is sold as bags of white powder and is usually added to marijuana and smoked as a joint.
Its side effects include loss of appetite and excessive sweating and its users are known to turn to crime to support their habits.
Thousands of people are believed to be addicted to it in South Africa, with numbers consistently increasing. – Fatima Asmal