Recently awarded the prestigious Dutch Prince Claus award for her positive contribution as an artist in her country's development, Zanele Muholi also has two shows currently showing in Johannesburg. The first, Mo(u)rning at the Wits Art Museum, is a re-installation of the works from a Cape Town show last July. The second, Love and Loss, opened on Valentine's Day just down the road in Braamfontein at the Stevenson Gallery, Johannesburg.
The double-bill is a chance to explore what queer theorist Judith Butler refers to as a "vulnerability to loss and the task of mourning". In Butler's book Precarious Life, she asks a question central to what Muholi is exhibiting in Braamfontein: whose lives count as lives? And, what makes for a grievable life?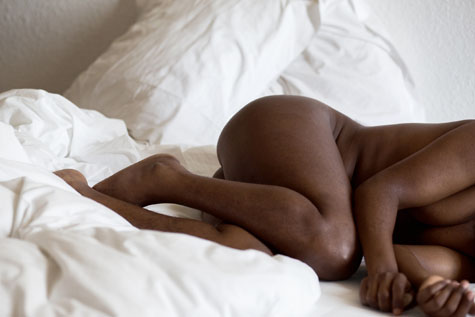 The urgency of these questions, particularly against the backdrop of the constant threat queers, transgender people and activists in South Africa face, both animates and characterises her work. The urgency does not however elide the theoretical and the artistic as modes of producing.
Muholi's practice puts her in great danger because she persists in pointing to a slippage between the country's legal framework and its complete failure to meaningfully protect the bodies and communities of LGBTI people. This "failure" is not so much a failure as it is a reflection of the denial or refusal of the bodies and lives and loves of the LGBTI. Even more profoundly, what Muholi exposes is the impossibility even of death, or speaking (recording or marking) the deaths of those who were always already un-mournable.
Mo(u)rning is a collection of documentary films, photographs, installations, crime scene photographs and "re-enactments" of crime scenes. Giant tennis ball and kitchen utensil rosaries hang behind intricate bead work recreations of news posters: THE NEW AGE: ANOTHER 'LESBIAN' RAPE AND MURDER and DAILY VOICE: LESBIAN KILLED IN BUSH OF EVIL. They are called Every bead of my heart III and IV.
The matter at hand is unambiguous – the precariousness of the lives of black queers in South Africa. The photos of the Ekurhuleni Pride Organising Committee (Epoc) activists carrying yellow and orange flowers to the site where Noxolo Nogwaza's body was found in 2011 are stubborn place markers of such terrible violence. Alongside the documents are crime scene re-enactments, which depict Muholi bound beneath plastic sheeting and detritus. These re-enactments are as chilling as they are uncanny, because the hands and feet that stick out of the plastic are patently alive, but even more: they are tender and loved.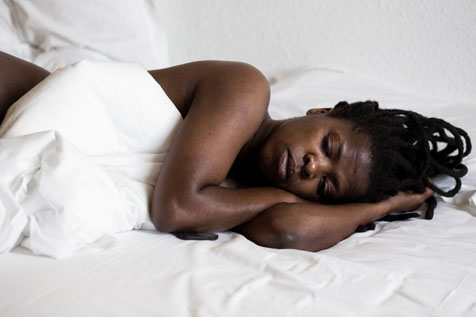 The tenderness of the crime scenes is mirrored in Love and Loss by the self-portraits of Muholi and her lover in their vulnerable states of undress and caress. These photos may be unnerving for some as they show mixed race bodies and queer sexual intimacy. There is a profound connection between love and loss; the self-portraits lay the ground for a life that could be mourned. A life fully human, but one that is precarious and vulnerable.
To be concerned with mourning means to make work that doesn't (just) say: here we are, and we are queer and we are human, and our love is love and our sex is sex and our deaths are deaths, this is where they happened, here is the evidence of those deaths; these deaths made a mark, and I will make them mark, even if I have to recreate the mark. Muholi's work does something else: it brings us to mourn publicly, and we are potentially transformed by that mourning and changed in ways that, as Butler notes, "we cannot know in advance".
The power of mourning is that it must lead us to consider the vulnerability of others and therefore into "re-imagining the possibility of community on the basis of vulnerability and loss". To be affiliated by vulnerability – this is the task of mourning.
Mo(u)rning is part of Queer and Trans Art-iculations: Collaborative Art for Social Change showing at the Wits Art Museum, 1 Jan Smuts Avenue, Braamfontein, Johannesburg until March 30.
Love and Loss is on at the Stevenson Gallery, 62 Juta Street, Braamfontein, Johannesburg until April 4.