Public Protector Thuli Madonsela's final Nkandla report has mostly withstood a ­furious last-ditch assault on her provisional findings by ­President Jacob Zuma, his legal team and security mandarins.
In November last year, the Mail & Guardian published key features of a so-called leaked account of Madonsela's ­provisional report. At the time, she had yet to give Zuma and other interested and affected parties an opportunity to comment on her findings.
Among her provisional findings, she concluded that Zuma had derived substantial personal benefit from upgrades that went beyond his security needs, and that he should repay the state. She also called on Parliament to censure him for failing to protect state resources and for misleading Parliament.
Although the title of her final report, Secure in Comfort, suggests a climb-down from the feisty provisional title, Opulence on a Grand Scale, this is not the case.
Findings mostly unchanged
Only on the last count, that Zuma misled Parliament when he said that he and his family had built its houses and that the state had not paid for any of them, has Madonsela substantially moderated her findings.
She now finds that Zuma "addressed Parliament in good faith", "was not thinking about" features in the homestead that the state has, in fact, paid for, and "appears to have [made] a bona fide mistake".
Following the M&G report, both the state security ministry and the police informed Madonsela that they would be investigating the so-called "leaks" of the provisional findings to the media.
Madonsela, who denies leaking the provisional findings, said the two unsolicited probes into the leaks "caused discomfort among members of the investigation team, who perceived it [as] aimed at intimidating and victimising them and me".
Then, when Zuma's lawyers engaged Madonsela on her provisional findings, they resorted to undermining her credentials, accusing her of not being a security expert and therefore unqualified to pronounce on security matters.
Madonsela's retort in the final report is firm: "My role is not that of a security expert, but that of public scrutiny to ensure that those entrusted with public power do not exceed the bounds of their authority."
Madonsela adopts a common-sense approach, noting that improvements such as the cattle kraal, chicken run, visitors' centre, amphitheatre, swimming pool and extensive paving cannot be found in government's minimum physical security standards guidelines or in either of the two security needs assessments conducted by the state-appointed security experts.
"Money guzzlers"
Other measures, for which a discretionary case might have been made ­– the two helipads, a private clinic and "expensive" one-roomed homes for police officers outside of the homestead perimeter – could have been implemented in a way that served the whole Nkandla community, not just Zuma's residence. For example, the police homes could have been located close to a central police station.
To add insult to injury, Madonsela notes that the "money guzzlers" among the features built at Nkandla are "not items listed in the ­standard-setting instruments for security".
Previously, amaBhungane costed these non-security related improvements at nearly R20-million, based in part on documents it had obtained via access-to-information litigation from the public works department.
Madonsela holds back from costing these items in her report, directing that task to Zuma, "with the assistance of the treasury and the SAPS, to determine the reasonable cost of the measures at his private residence that do not relate to security".
Perhaps the most damaging finding from the provisional report that Madonsela upholds is that Zuma, as "head of South Africa incorporated", failed to protect state resources: "His failure to act in protection of state resources constitutes a violation of paragraph 2 of the executive ethics code and, accordingly, amount to conduct inconsistent with his office as a member of Cabinet, as contemplated by section 96 of the Constitution."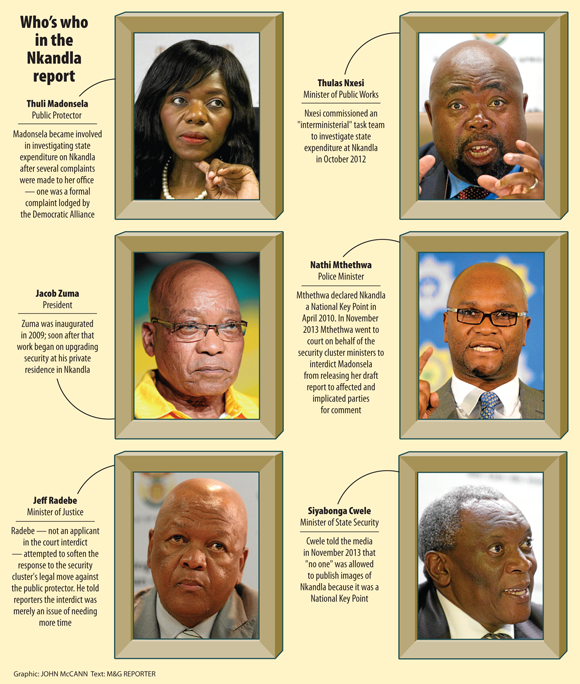 Madonsela believes that Zuma had ample opportunity to query the cost of the project, not least when, in December 2009, the M&G first blew the whistle on the Nkandla project and costed the improvements then at "an exorbitant amount of R65-million".
"A substantial amount of public money would have been saved had the president raised his concerns in time," says Madonsela's report. "By failing to do so, the president allowed or caused extensive and excessive upgrades to go beyond necessary security measures to be made to his private residence, at state expense."
Madonsela finds that, by failing to protect state resources, Zuma violated the executive ethics code, which requires Cabinet members to "perform their duties and exercise their powers diligently and honestly; act in good faith and in the best interests of good governance; and act in all respects in a manner that is consistent with the integrity of their office".
* Got a tip-off for us about this story? Email [email protected]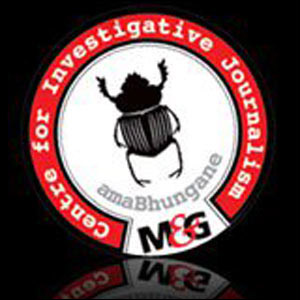 The M&G Centre for Investigative Journalism (amaBhungane) produced this story. All views are ours. See www.amabhungane.co.za for our stories, activities and funding sources.
<