Two things are big in the tiny Mpumalanga dorp of Kriel: God and Eskom. The town of redbrick houses is neatly laid out on one side of a shallow valley, 100km east of Johannesburg. Its township, Thubelihle, is at the highest point of the valley and at the other end are two giant coal-powered stations. They are the two tallest structures after the 10 Dutch Reformed Church spires.
This area powers South Africa; there are eight power stations within a 100km radius of Kriel. To the north is the local hub of eMalahleni (meaning "place of coal"), also known as Witbank, and to the south is Secunda, two towns with some of the world's highest air pollution levels. The Mpumalanga coal seam runs through here, giving rise to the power stations and mines that supply them with coal.
"I must see a doctor," says Robert Woods, coughing. He brings a wrinkled hand to his mouth to catch the phlegm. He lives next to the Kriel power station, surrounded by fields of waving grass. A kilometre distant is the Matla power station. These are two of Eskom's oldest and most troublesome power stations. Woods's zinc shack, painted blue and white, is about 300m from the power station's triple security fence. There are clusters of shacks around him, home to about 40 people. Grey smoke is streaming out of Kriel's smokestacks, flowing into the overcast sky.
"When the wind blows the wrong way, it is bad here," he tells me. His neighbours all stand on one side of the shacks to shield themselves from the wind while clucking chickens wander around, their feathers ruffled by the breeze.
Eskom has been good to them, he says, opening a tap in his yard to show the flow. He points to a rusted water tank behind the station's fence, the source of their water. He would live further away, but cannot afford to. "It is like burning coals," he says, thinking of a way to describe the smoke when it blows his way.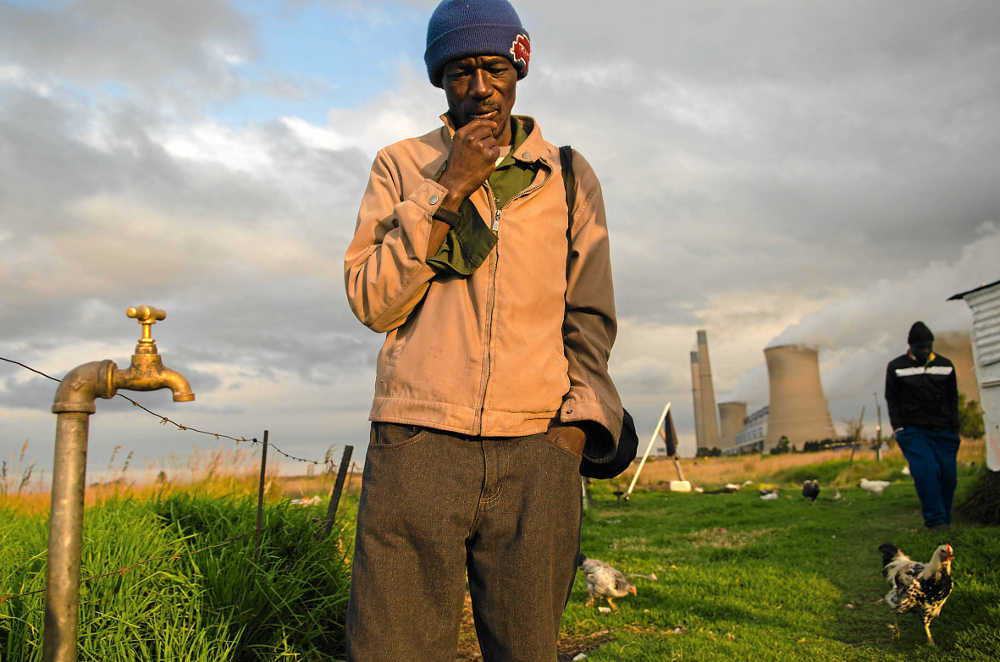 Robert Woods, who lives about 300m from Kriel power station in Mpumalanga, says the smoke is 'like burning coals', but that living in Eskom's shadow has some benefits. (Skyler Reid)
As the sun dips below the horizon, Woods puts a battered old coffee pot on the fire. His neighbours come home, walking through the bush. He greets them in Seswati and taps on his chest to show we are looking for people with chest problems. Jeffrey Mabandla comes out of his room, eager to pose for a photograph. Dressed in blue overalls, he shivers in the cold and swings his guitar off his shoulder to play a few chords. His breath condenses in a cloud.
"I am always coughing. It is normal for me, and it is very bad when the smoke comes this way," he says.
Rhythm
Four kilometres away, the rhythm of the town of Kriel is determined by the shifts at Eskom and in the coal mines. Everyone I speak to works as a mechanic, labourer or cook.
Men in grey overalls with high-visibility stripes sewn on to them queue at company bus stops. In the town of Kriel, they wait patiently at the two four-way stops that are the only impediment to traffic going through the town.
On the main business road, which has one shopping centre, some doctors' rooms and Kriel's only coffee shop, Louise Malherbe tells me she worked for two decades to save up for her shop. She sells baked goods and when I ask for a Coke, says the stock was all taken by the local high school. She says people here are healthy, but the power stations and mines make them sick.
I have to explain to Malherbe why I am in town. No one seems to understand what pollutants come from the power stations. And they are unaware of any research or public warnings about it.
The department of environmental affairs – in research that led to an air quality plan for Mpumalanga – said power generation contributes to 51% of all hospital admissions in the province. And a study by the University of Pretoria said emissions from coal plants "contain a potent mixture of pollutants". It looked at Kusile, a new plant being built outside eMalahleni, and estimated the external health cost – the cost of treating people for conditions such as cardiopulmonary diseases – at about R213-million over its 50-year lifespan.
Eskom has 14 older plants with few controls over their emissions. Last month, the World Health Organisation released its own research, saying that air pollution is responsible for one in eight deaths worldwide – 3.3-million from indoor air pollution and 2.6-million from outdoor air pollution. "Fewer risks have a greater impact on global health today than air pollution," the report said.
In winter, Mpumalanga is wreathed in smoke as there is less hot air rising to disperse the pollution further away. The main pollutants are sulphur dioxide, which is rapidly absorbed into the blood when people are working and breathing heavily, and particulate matter less than 10 micromillimetres wide, which penetrates the lungs and bloodstream. These cause respiratory problems and lead to asthma, heart failure and cancer. Eskom knows how much of each element is being released because it monitors its stacks, and the information is available on the environment department's website. It shows how monitoring stations across the country constantly pick up levels that are above legal limits.
China has similar problems, with an energy economy built on burning fossil fuels. It has resulted in life expectancy in the northern half of the country being cut by five years. Several large studies have shown a definitive link between air pollution and chest problems and cancer, and have recommended alternate sources of power.
Study
Environmental group Greenpeace International released a study this year saying that Eskom's stations kill 2 700 people a year.
Everyone I talk to bemoans the lack of serious research on this large-scale environmental problem. But Kriel and Matla are part of Eskom's conundrum. While electricity is in short supply, the stations are massive hulks of a bygone era.
I head back into Kriel, where Sydney Mogale calls me over for a chat. A whiff of beer comes off the chipped yellow mug he is grasping. He initially says he doesn't know anything about chest problems, but complains about service delivery, ignoring the neatly cut verges and orderly piles of black bags waiting for rubbish ­collection. He lives in a well-built RDP house.
"This one is as old as our ­democracy," he says, tapping the thick brick wall. He takes me on a tour of the back of his yard, where some fences have been taken down to fit in several shacks. He then coughs, and I ask why, given his earlier claim to good health.
"I am on contract, so I don't want to cause trouble," he says, mentioning that he has not been to a doctor to find out what is wrong.
In his neighbour's yard, a dozen men in their twenties are drinking quarts of Black Label. The mood is jovial and he introduces everyone by their nicknames, before explaining what the stranger is doing in their midst. They shake their heads, until a towering man with a barrel chest asks if they will get compensation. I explain that I am not a lawyer, and he complains: "How can we ever get justice if we cannot afford lawyers?"
But it gets the group talking about the power plants, and one says, mysteriously, that I should look for old people, something I struggle to find.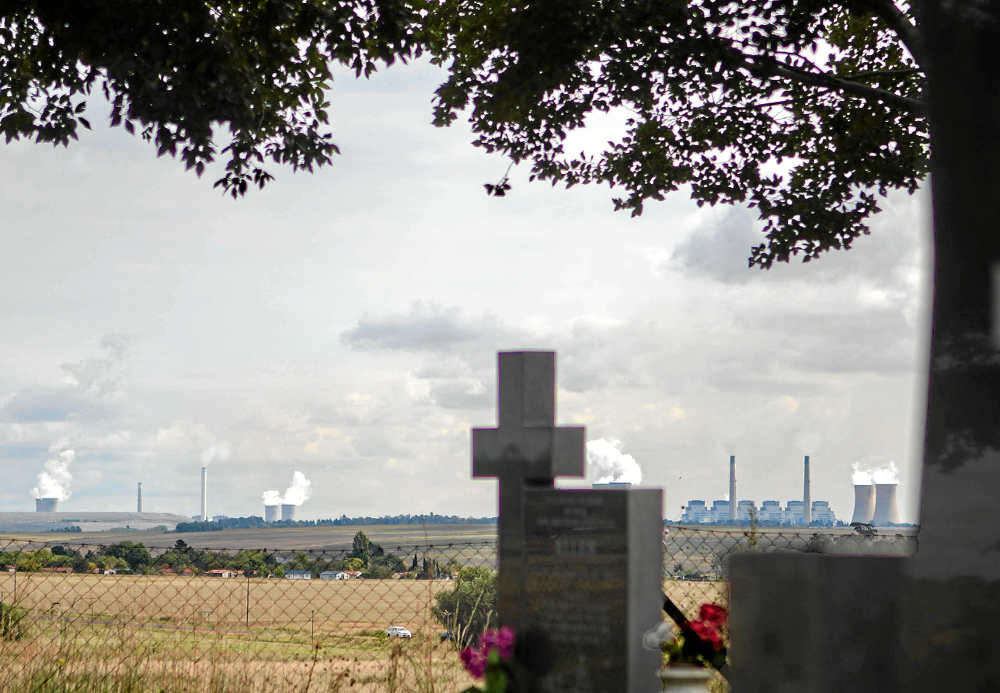 Studies show that coal plant emissions contain lethal pollutants and Kriel has a telling absence of old people, who locals say have either died or moved back to their rural communities. (Skyler Reid)
Sitting on the bonnet of a rusted blue Opel sedan, Thubane Timunye says dramatically: "These stations are killing me." His friends laugh at him and chide him for not understanding how they work, saying that they release only water vapour.
He says it is the middle two stacks – each station has four to six chubby towers for water vapour and two tall ones for pollutants – that are the problem. He says his coughing makes sleep difficult, but he also does not want to go to the doctor because he is on contract.
Air quality
Timunye and his neighbours should be protected by the National Environmental Management: Air Quality Act, which was enacted in 2010. When it was passed, the air quality officer at the environment department said the annual healthcare cost of burning fossil fuels was R4-billion. But Eskom has sought to delay the Act, and has applied for rolling postponements that will result in its stations not having to comply until many are decommissioned.
Its argument is that the electricity grid is too tight and would collapse if stations had to be retrofitted to release fewer emissions.
Saliem Fakir, of the World Wide Fund for Nature, who was involved in negotiations the government had with business and civil society about the Act, tells me later that this is just rhetoric to hide the fact that Eskom does not want to comply with the law.
"We know it is a game. It is realpolitik. Eskom's strategy is to play hide and seek to delay any requirements and force a blanket postponement and eventually a complete resetting of air quality limits." Eskom was warned, he says, so it could have complied.
Rico Euripidou, environmental health campaigner at nongovernmental group groundWork, tells me that the health impact of Eskom's stations will cost taxpayers "hundreds of billions" more than compliance would cost Eskom.
"Thousands of South Africans will die, and/or have their health impaired by exposure to Eskom's excess emissions." The health department, which could quantify this cost because it carries it, did not respond to questions.
Robyn Hugo, an attorney at the Centre for Environmental Rights, has been instrumental in opposing Eskom's applications to exceed emission limits, and says in the past five years the parastatal had paid R4.2-million in fines for commencing activities without environmental authorisation. "Much more must be done. Eskom has been given significant leeway by government because of its monopoly role as the national power generator."
With its impact on human health, Eskom had to be made to comply with environmental laws as they were aimed at protecting people. Fines would be a way of doing this, with the air quality Act allowing for R10-million fines and up to 10 years in jail for anyone convicted of contravening the law, she says.
The problem was that even though there were provisions, they were not being enforced; "Unfortunately most of these powers have rarely been used against Eskom," she says.
Eskom says that it has done extensive investigation, but it is difficult to isolate the utility's impact because air quality is affected by other sources.
Coal and wood burning
But it does know that "the brunt of poor air quality and the associated health risks" is borne by people who burn coal and wood in their homes for cooking and heating. To improve air quality, the focus should rather be on reducing these emissions, which can mainly be done via greater electrification, Eskom says.
"The positive effects of providing access to affordable electricity far outweigh the negative effects," its spokesperson says.
It was not able to respond to the 2010 air quality laws before they were implemented because there was "considerable uncertainty" as to what they would contain. It then established an air quality strategy of its own, with several projects being initiated, it says. Retrofitting its fleet to comply with the law would cost R200-billion, without the additional cost of ­financing this spending.
The extra annual operational cost would be R6-billion, which would necessitate the electricity tariff being 10% higher. The current lack of spare capacity also means that long outages would occur if compliance had to happen straight away, Eskom says.
It has data for the human health costs of its plants, but will not disclose the details, saying: "Eskom feels that this figure is of limited use."
If Timunye were not so worried about his contract, he could have gone to the free health centre in Thubelihle. It is new, with a palisade fence and shiny red bricks.
There, the security guard insists that no photographs can be taken, but after a handshake, he smiles and takes me down some cream-coloured corridors to sister Sarah Teleko. Most of her patients are mothers bouncing their bawling babies on their laps.
"Many of the clients here have tuberculosis because of the dust," she says, while opening two windows to get some air in her stuffy office. "Workers at the mines and power stations are exposed, so they present with chest problems."
A large ledger of patients' conditions and medications dominates her desk, but she says she is still getting to know the community. I ask about the air quality, and she says she would expect to see many children with asthma and older people with chest problems, but people do not often come to her with these issues.
"The problem is that you have pollution, but this is where people live and work, so there is nothing you can do about it," she says.
'We are positive'
A few streets down from her clinic, a group of young men calls me over. They are informal recyclers who thrive off the rubbish dump half a kilometre away. Dark patches of blackened earth show where they burn metal, an activity linked to lung problems and lead poisoning.
But they are cheery, bragging about their health. Collins Lebepe puts it down to eating vegetables: "We are positive, just not HIV positive." One of his friends enthusiastically exclaims: "We are healthy and we are free!"
They do know, however, that the power stations, visible in the background, are not good for them. "Those are not good for people, but nothing has happened to us," says Lebepe.
An older member of the group touches on the mystery of the missing elderly. "You won't find many madalas here; people die before they get old, or they move back home."
I navigate my way past two men pushing red bicycles laden with post, intrigued by the kwaito thumping in the distance. The culprit is Vusi Mainga, who has the doors of a car open as he washes it. I rub my chest to emphasise what I am looking for. The question confuses him because coughing is normal here.
"There is a cough that does not stop, but it is not bad for you. Who is to say that it kills people when you cannot see the pollution?" He has not been to see a doctor.
Like most, he has no idea why he is coughing. Nobody is telling the residents that there is a link between their cough and where they live.
The price of the power stations is not being paid, and it is now up to the environment department to let this continue or force Eskom to comply with the law.
Feeling the heat while trying to keep the lights on
Eskom has had a torrid time in the past year. In 2008, the country blacked out because it had no spare capacity and its coal stocks were wet. It tried to repair the situation with a R100-billion renewable energy build and attempts to get its new mega coal stations at Medupi and Kusile finished on time.
But these have faltered, with the date of Medupi's first boilers coming on line being continually pushed back thanks to faults in construction. Its costs have risen unabated with the three-year delay and stand near R150-billion, with R2-billion being paid to Exxaro for coal that was not being used but had been delivered under contract. The delays and power failures have seen changes at the top, with the chief executive leaving at the end of last year and the financial officer a year before that.
Last month, the strain showed with rolling blackouts – thanks again to wet coal and technical faults at several power plants. This has forced it to run its emergency diesel-fuelled open-cycle gas backup generators for longer periods, adding R8-billion more than was budgeted for.
It also asked large consumers to reduce their power use by 10%, something that has further harmed economic output – this after the constant increase in electricity prices saw South Africa move from one of the cheapest places to buy electricity to one of the most expensive. It has seen investment, such as for a new smelter, stay away.
The cost of financing its new build is crippling, with its request to increase the cost of electricity by 16% a year turned down. It is getting 8% a year, creating a funding gap of R45-billion a year for the next five years at least.
The treasury has said there is no more money to be had after giving the utility a R60-billion loan and R350-billion in loan guarantees.
The only silver lining for the parastatal has been the proliferation and rapid construction of renewable energy sources. Wind and solar plants are already providing electricity to the grid at a cost lower than what Eskom's new coal plants will need to charge.