Dina Sibanyoni sits on the edge of the couch in her Mamelodi home, east of Pretoria. It's been several years, but talking about the birth of her youngest child still upsets her. On a winter's morning in 2011, she woke up early because of severe labour pains. She caught a taxi to Mamelodi Hospital, near her home.
"I got to the hospital at around half-past five that morning. But instead of rushing to help me the nurses just pointed me towards a bench," she recalls. "I had left the comfort of my home and warm bed to go to the hospital hoping to get help, but they just put me on a bench."
Sibanyoni was eventually taken to the labour ward at 6.20am and had her baby 10 minutes later. "After delivery I remember being so thirsty but the nurses were too busy gushing over how big my baby was to notice."
Sibanyoni was left in the labour ward for two hours before a doctor walked past and saw her. He
reprimanded the nurses and had her rushed to the intensive care unit where she was put on a drip. "I was so weak … If that doctor hadn't walked past I would have died because I had bled too much," she recalls.
Sibanyoni says, over the past five years, not much has changed at the hospital. "I always tell my children that if I get sick, they must not take me to Mamelodi Hospital. If you go there you will not come back."
Patience Gumede* lives in Mamelodi but prefers to travel about 10km out of the township to Silverton to collect her multi-drug-resistant tuberculosis (MDR-TB) medication.
"About a year and a half ago I was diagnosed with MDR-TB and admitted to Mamelodi Hospital," she says. "But no one explained to me that MDR-TB is different to regular tuberculosis."
Drug resistant TB
MDR-TB is caused by bacteria that are resistant to conventional TB treatment and requires more complex treatment.
According to the World Health Organisation, drug-resistant TB requires lengthy treatment of at least 20 months. Patients with MDR-TB are often treated in hospital because clinics do not have the expertise to manage this condition.
"Two months into my hospital stay I had a runny stomach. When I told the nurse, he said I must go and buy pills. That night I slept in the toilet but they didn't even notice that I was not in my bed," Gumede remembers. "I was getting weaker and weaker. Eventually I tried to leave but a nurse stopped me and took me back to the ward. I remember a nurse in the TB ward saying: 'She can go. She can leave.' "
A couple of days later Gumede's brother confronted the nurse about these comments. Once again the nurse said: "Yes, if she wants to leave she can go."
"So I packed my belongings and left," Gumede says.
Interrupting treatment can result in the development of extremely drug-resistant TB and the spread of MDR-TB to those around the patient.
Gumede's condition deteriorated soon after she left the hospital.
"That is when I went to a clinic in Silverton and started taking treatment for ordinary tuberculosis. A month later the nurse in charge of TB at Mamelodi Hospital tracked me down and explained to me that I had MDR-TB which was very infectious." She was admitted to a Johannesburg TB hospital where she stayed for four months.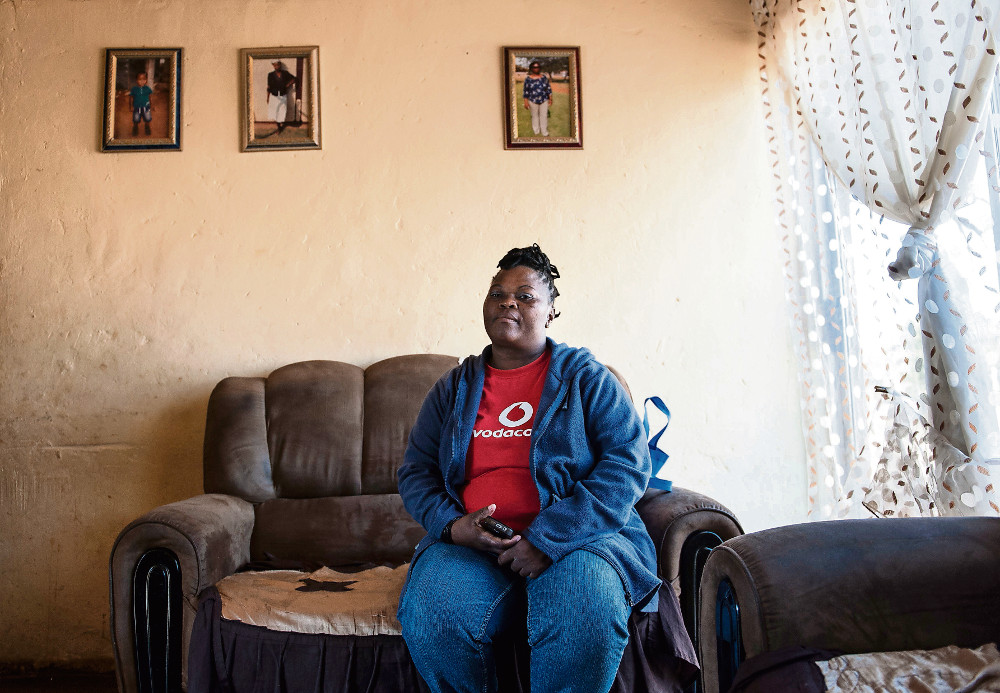 Luck: Dina Sibanyoni says nurses at Mamelodi Hospital ignored her after giving birth and she may have died if a doctor hadn't by chance seen her.
Infection control
Goodness Mbatha, a Mamelodi resident and a branch co-ordinator for activist organisation the Treatment Action Campaign (TAC), believes that Gumede was infected with MDR-TB in the casualty ward "because patients were mixed and she spent three days in casualty before being transferred to a ward".
"If someone gets ill they would rather stay home than go to Mamelodi Hospital. They call it the death penalty," she says. "The hospital building is too small and the nurses are rude."
In 2010 Mamelodi was a district hospital and was upgraded to a regional hospital to accommodate the increased demand for services.
The TAC has staged several demonstrations demanding reform at the hospital. The most recent march was last year in December. "This time we got a good response. The acting CEO [chief executive] promised to meet the nurses [to talk to them about their attitudes]," says Mbatha.
In October last year public protector Thuli Madonsela conducted an inspection at the hospital following a spate of media reports about the appalling state care. "She found the same challenges that we have been highlighting all along," says Mbatha.
During her visit, Madonsela "heard from patients who said they've had to spend nights sleeping on the floor, on benches or even in wheelchairs". Other problems such as the absence of a hospital board and staff shortages were also highlighted.
Upgrades lacking
Gauteng health MEC Qedani Mahlangu acknowledged in a statement following her own visit to the hospital a day after the public protector's that "our planning regrettably did not accommodate adequate human capital equal to the upgrade [of the hospital]".
But Steve Mabona, Gauteng health spokesperson, told Bhekisisa that the department is planning to address some of the issues. "[We] will appoint medical specialists, support services, medical officers, nurses and allied staff in due course. The process is at an advanced stage," he says. The department would also "prioritise the upgrade of Mamelodi Hospital, fund vacant posts and improve patient care".
The upgrading of the old hospital building would take place over two years starting from the 2016-2017 financial year.
Mabona says the old building is being used to house a number of services, including the antenatal clinic, a step-down ward, a mental health ward, the antiretroviral clinic and offices and storage.
But government invoices seen by Bhekisisa indicate that renovations to the old hospital started as far back as 2011, after the acting chief executive at the time asked for parts of the building to be restored to ease the bigger patient load brought on by the increased bed capacity of the new hospital building. The requested repairs included complete overhauls of the eye clinic, the kitchen, the maternity ward and other areas in the old hospital building.
Two senior health officials, who spoke on condition of anonymity, said a number of contractors had been appointed to carry out the requested renovations and were paid an estimated R27-million between 2010 and 2012.
This is corroborated by a 2012 internal Gauteng health report that says the then chief executive of the hospital asked the infrastructure management division of the provincial health department to intervene because the renovations were either not done, incomplete or complete but of a poor quality.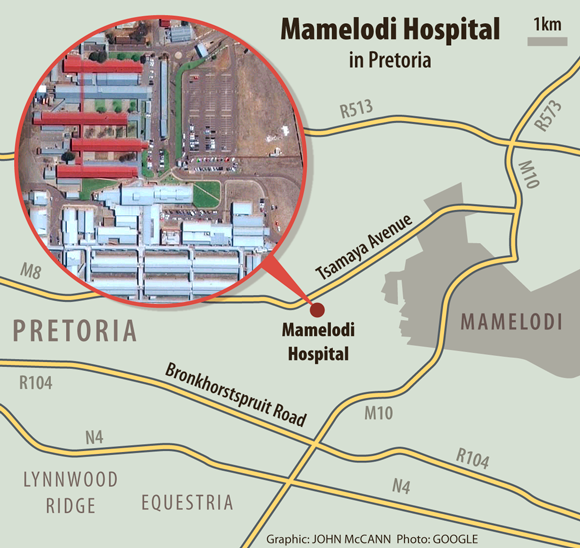 Work of poor quality or incomplete
According to the department, however: "The R27-million referred to was meant for multiple projects in the old hospital. Some of the projects were paid up while others were not due to substandard work." Mabona says the Gauteng health department recently terminated two contracts because of shoddy and incomplete work at Mamelodi Hospital. "None of the contractors were paid," he says.
Construction at the hospital continues with the mental health ward, which is due to be completed next month, and the installation of doors in the wards. "This is one of the projects that was terminated recently and the contractor was not paid," Mabona says.
Madonsela's office told Bhekisisa that it is investigating the issues the public protector saw during her visit to Mamelodi Hospital, "excluding the ones that would have been addressed by the MEC's intervention".
Meanwhile patients like Vusimuzi Ntuli* continue to receive poor health service.
In July 2015, when Bhekisisa visited the hospital, we found Ntuli lying curled in a blanket on the tiled floor behind a row of steel chairs in the casualty waiting room. He had been discharged from the hospital the evening before and had spent the night sleeping on a row of chairs close to the visitors' toilets.
With a reference from a clinic in Nkangala in Mpumalanga, Ntuli had been admitted to the hospital at about 11am the previous day.
"During the day the nurses treated me well, but things went downhill when the night shift nurses came on duty. I told a nurse that 'I am in pain and the doctor said that you must give me a shot every eight hours,' " said Ntuli.
"He didn't say anything to me. He just went to look at the files and decided to discharge me – that was sometime between seven and eight last night."
*Not their real names