Capetonian Matthew Theunissen has trended all of Tuesday morning as angry tweeters slam his racist Facebook post.
Theunissen took to social media on Monday evening to vent about Sports Minister Fikile Mbalula's blanket ban on South African sports associations from hosting major international events. Mbalula has forbid the national netball, cricket, athletics and rugby associations from putting in a bid to host any events in their respective sporting codes due to their failure to meet transformation targets.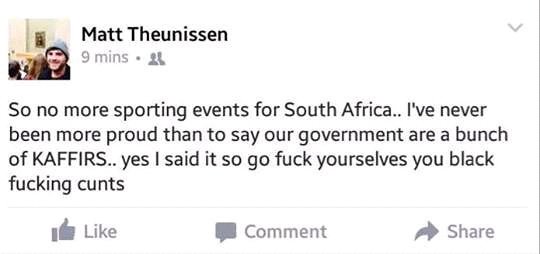 Screenshots of Theunissen's post were then shared on Twitter, kicking off a wave of outrage.
South Africa has been no stranger to racist social media outbursts and the subsequent displays of shock – the "monkey" comments of Penny Sparrow are still being condemned months later.
I wonder how many #PennySparrows & #MatthewTheunissen r roaming around SA? Let racism be an offense with a min 10yrs sentence OR ELSE THIS!

— ARoseFrom A Concrete (@realMadumane) May 3, 2016
I can't wait for #MatthewTheunissen's apology, good ol "I am not racist, I have a black friend"

— Random_Mpondo (@That_Damn_Vee) May 3, 2016
#MatthewTheunissen was it worth it? Do you feel better about life now without a job and criminal charges in the post? #idiot

— Gill Strawberry (@gillstrawberry) May 3, 2016

#MatthewTheunissen. Another day. Another racist. Good morning South Africa.

— Misunderestimated (@KomradeQuestion) May 3, 2016

This cannot be said often enough #MatthewTheunissen is a stupid childish racist.His views do not reflect those of most white South Africans.

— Kuz (@mrkuz) May 2, 2016

The 26-year-old reportedly has a Masters degree in environmental management from Stellenbosch University.
#MatthewTheunissen..perfect proof that u can hold 2 Masters degrees, and still be stupid

— Carlo (@carlolinks) May 3, 2016
Unfortunately for Theunissen, it seems the repercussions for his post will extend beyond social media outrage. Cape Town mayor Patricia de Lille told CapeTalk radio on Tuesday morning that her office will investigate the incident. She also urged residents to report incidents of racism so the appropriate action can be taken.
"I have established a special desk in my office for people to lodge complaints about alleged racism," De Lille said.
Bigotry trending?
The #MatthewTheunissen controversy follows hot on the heels of the furore caused by Ntokozo Qwabe – the Rhodes Must Fall activist who refused to tip a waitress in Observatory, Cape Town.
A leading figure in the RMF movement at Oxford University, Qwabe boasted about the incident on Facebook, which took place at famed Obz Cafe on Thursday.
"LOL wow unable to stop smiling because something so black, wonderful LIT just happened!," he wrote.
Qwabe explained in his post that when the time came for the bill, he did not know what the appropriate amount was for a tip. Dlamini then took the slip of paper and wrote, "WE WILL GIVE TIP WHEN YOU RETURN THE LAND".
When the waitress, 24-year-old Ashleigh Schultz, returned to process payment, she looked at the note and allegedly started shaking and teared up – which Qwabe referred to as "typical white tears". – Additional reporting by African News Agency