A rainbow-coloured flag fluttered in the background. The hall, beautifully decorated and contestants for the Mr/Ms/Mx Pride Uganda beauty pageant were getting ready backstage.
Then police stormed the venue heading to the dressing rooms where some were seen forcefully leading contestants away.
Just 48 hours later, organisers of Uganda's fifth annual gay pride march gathered at a secret location to discuss what had transpired.
The pageant had been spoilt, and now the march, scheduled for last Saturday. It was to have proceeded through the capital city, Kampala. Instead it was called off because of the police's heavy-handed raid and safety concerns for lesbian, gay, bisexual, transgender and intersex (LGBTI) participants.
The Ugandan minister of ethics and integrity, Simon Lokodo, had warned that if the march were to continue, it would incite mob violence against participants.
Matt Beard, executive director of All Out Action Fund, said: "The feeling on the ground right now is that people are scared and extremely disappointed."
In February 2014, the country's president signed the Anti-Homosexuality Bill, which not only carries a 14 year sentence for "repeat offenders" but also makes it a criminal offence not to report someone for being gay.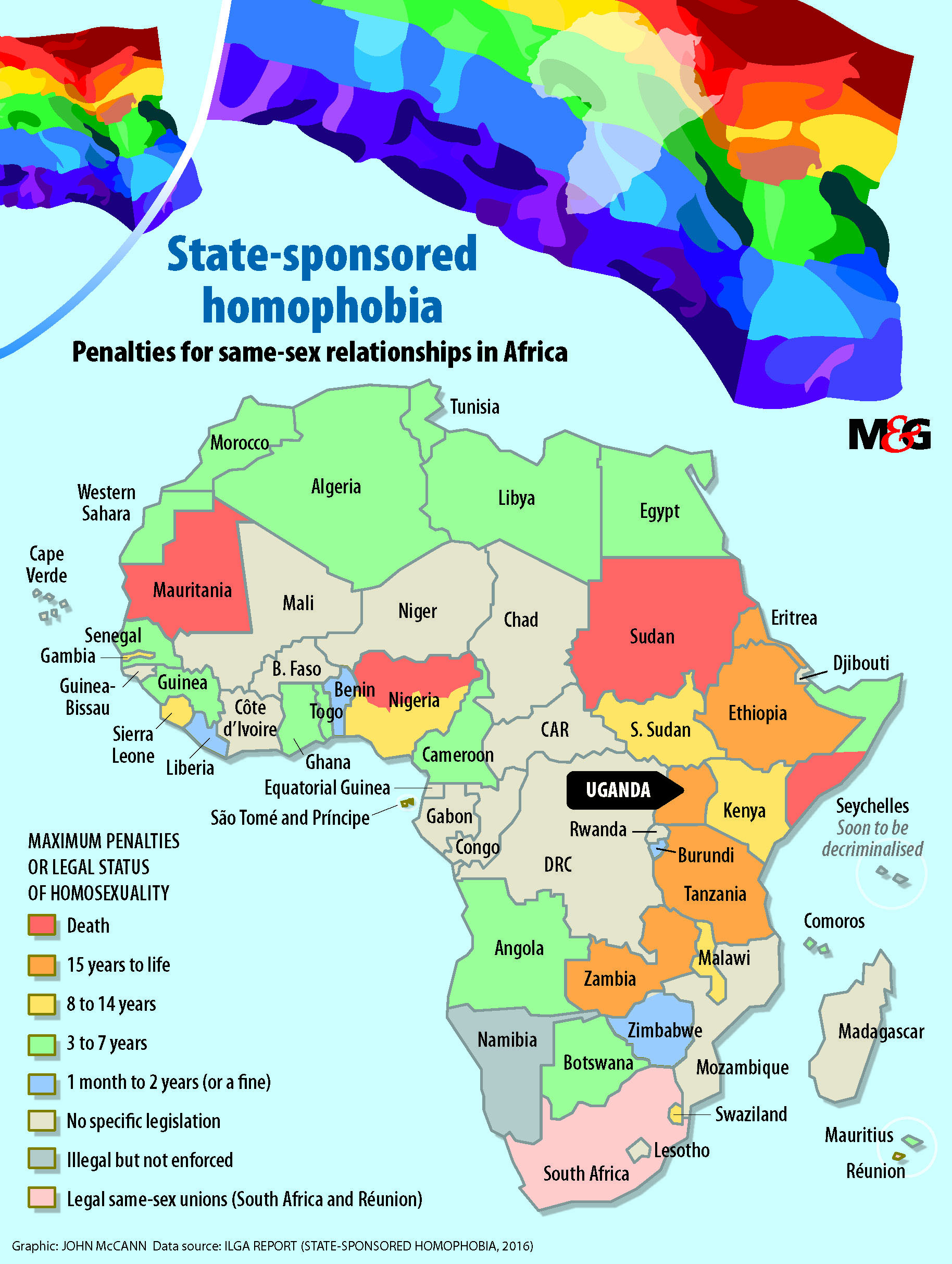 A report conducted by Sexual Minorities Uganda found that, subsequent to this legislation coming into effect, the country had seen a significant spike in the number of homophobia-related incidents, including mob violence, lynching, blackmail, job losses and suicides.
Although such hardships might be something faced by the country's LGBTI community on a daily basis, for Jide Macaulay, who attended the beauty pageant last Thursday night, the conduct of the police was something he had never experienced.
"The pageant started at around 8pm. The atmosphere was amazing. The space was well decorated, with a beautiful stage and the rainbow flag in the background."
Then the police arrived. "A lot of the participants who identify as transsexual were then forcefully led away. There was huge panic. People started screaming and shouting because they were so scared."
In an attempt to escape, two people jumped from the fourth-floor venue. One sustained two broken vertebrae and the other was trapped on one of the roofs below, Macaulay said.
"There were about 300 people there and we were all herded like animals into this tiny space which could ordinarily accommodate 30 to 40 people comfortably. They ordered us to sit down but, because of the limited space, we couldn't.
"It was then that they started whipping us. People started crying and wailing. It was terrifying. They then started taking pictures of us, without our permission."
After being held for two hours, the group was released. At least 16 others who were later arrested, were also subsequently released.
Macaulay, the founder of Nigeria's first gay church, House of Rainbow, who was invited to be the Uganda pride's grand marshal, says: "It was an invite I was terrified of accepting but one I could not refuse because of my respect for what they're doing. The realities LGBTI people on the ground here face are unimaginable."
It is because of these "unimaginable realities" that, since its inception in 2012, the country's Pride events have always been held in undisclosed venues.
The decision to hold this year's events and march in Kampala was taken because, according to Uganda Pride co-ordinator Isaac Mugisha, "we are tired of hiding".
Growing support, year on year, has also contributed to the decision.
Says Mugisha: "In 2012, there were about 100 people attending. In 2015, there were masses of people. This year, everyone wanted to be part of Pride. It exceeded our expectations, really."
But Macaulay warned on Monday that "Pride committee members have been threatened with arrest and many having to move homes", the fear of persecution might keep LGBTI Ugandans in hiding for a while yet.
Macaulay prefers to see the situation as "an advocacy point" for activists fighting for this community's rights.
"There is a great need for the international community and this government to address the violation of human rights of LGBTI people in this country. What has happened with Pride this year will hopefully get the world to realise the kind of atrocities LGBTI people face here."
Mugisha also believes that, despite the way events have transpired, the spirit of LGBTI people in Uganda cannot be broken.
"We didn't get to march, which is very disappointing. But people are celebrating Pride all over and in their own way, within themselves," he says.
Says Beard: "There is a real sense of resilience here. When you speak to people here, you can literally feel the future belongs to them. And that history is on their side."
Read "I didn't know it was legal to be gay in South Africa"
Carl Collison is the Other Foundation's Rainbow fellow at the Mail & Guardian.