The rest is always and everywhere is silence
In the words of the "more brilliant than the sun" Kodwo Eshun: "Light music does heavy lifting." We are able to place weight upon pace, breakbeats and bars — upon betrayal and conquest. Weight on the sonic, the spaces and silences, centuries of oppression and resistance. Light music deadlifts the dust of revolt and revolution. We load into the gaps of history a blackness that tells its story on this side of this ocean and the other.
It's a language so ancient that few have the means and meaning to curl their lips and tongues around it. So pure, so dignified that the sullied lack the capacity to listen.
Take, for example, the Afro–horn. The mythical instrument is forged from matchless metal found only in South America and Africa, and is an invention of Ancient Egypt and, according to them, a direct conduit of the gods. Only three exist in the world: one in a museum in Europe, one in a guarded indigenous community on the West Coast of Mexico and one in the private collection of deceased American multi-instrumentalist Rahsaan Roland Kirk. The Afro-horn can cause serious damage to the uninitiated listener.
Take, for example, Sandile Dikeni's Queenstown. According to the author, it was once South Africa's official necklace murder capital, and the only town (so small, so where?) that housed two mental institutions. Story has it that in Queenstown and surrounds, the healers are initiated through harmonics and art. Music is a higher vocation, a divine calling. Music is the purest medicine of the gods.
Take for example, Thandiswa Mazwai, 21 years in tune. Harmony and healing. She and I are doing that thing where we pretend we've known each other for years so that we can have this conversation. We travel in time to 1995. To kwaito group Jackknife. To a student at the University of Witwatersrand who accompanies a friend to a record studio one day and the next hears a song she recorded, rattling shaky metal sliding doors on a passing taxi.
You will always find you
You will find you
"Jackknife lasted about a year and I was still a student studying literature and international relations, so words and politics, which ended up influencing how and why I made my music. Music became a very simple way of interrogating very difficult questions.
"Jackknife was kind of a very innocent moment of stumbling upon music and studio and recording and suddenly becoming someone whose songs I would hear in a passing taxi or in a shebeen. I didn't feel prepared for whatever this thing was that was coming at me, for everything that was coming at me.
"But it was an interesting experience not being known for that, so people would love the song but not know who did it. So that was my first experience with music and people's interactions with it, and I liked that because I was not necessarily part of it. People could interact with it how they wanted. I started becoming uncomfortable when it became about me — when the direction, the light was pointed at me.
"The relationship I had with music then is the same relationship I have with music now, which is that I get to a point in my life where music throws me into the studio. The music puts me in the company of musicians, of songs. And that's just how I interact with it. I've never really been worried about how people will respond.
"In fact, watching people respond to my music is uncomfortable. If I'm in a club and someone decides to play Thath'isgubhu I'm the first person to run out of that space because it's that uncomfortable. I can't watch people. I can't be a spectator to it. I prefer being involved, being on stage and having that relationship between me and the audience."
You've heard this story
After Jackknife is Bongo Maffin. Those black kids making blackity-black music and their ode to Miriam Makeba: the first-ever song played on YFM. That video: grainy, low light (still harsh) bouncing off the ripples and whirls of corrugated zinc sheeting. A young woman staring down her reflection in a shard of broken mirror, taking clippers to her hair, lamb's wool falling to floor. And then the emergence of Thandiswa Mazwai, because in the words of Lefifi Tladi, ''broken mirrors do not equate to broken images".
We desire to derive meaning from methodology and modality. Meaning that, in the patterns we imagine, there is something more than a random series and sequence of events. That we're not just playing out the different combinations and permutations. It has to all mean something, right? Something that says who we are and why — some meaning.
Tolstoy, in the grip of a deep depression, overwhelmed by his illness and mortality, writes: "These are all words with no meaning, for in the infinite there is neither complex nor simple, neither forward nor backward, nor better or worse".
Mazwai concedes in parts and dis-agrees with fervour.
"I'm not preoccupied with meaning,'' she says. Her voice, the quiet bobbing on the top of the ocean. "There is a whole other world underneath but the surface is a liquid mirror on an endless day. I'm more concerned with feeling. So, I don't look for that. I don't search for that. I almost feel like it's a useless thing to do.
"Meaning is such an intangible thing. What does one thing mean? It's such an unanswerable question. I think it's easier to say, 'how do I feel about it?' I think feeling is how every human being understands love, and justice. You don't understand it by its meaning but by its impact on your physicality and your body."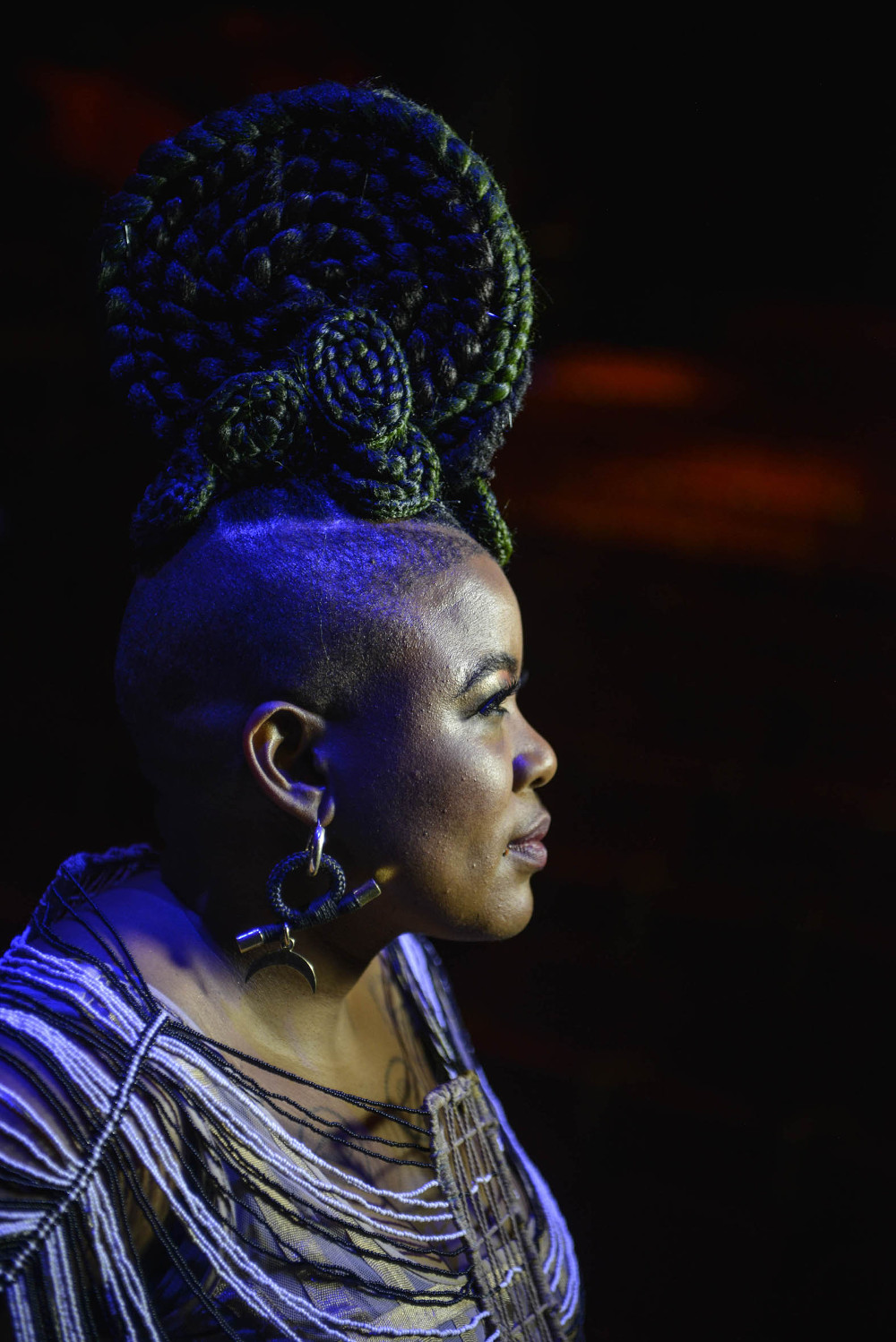 ('Watching people respond to my music is uncomfortable.' Photo: Siphiwe Mhlambi)
So how does the feeling feel?
It feels like an impulse you can't ignore
"I kept hearing these words in my head: 'If you don't follow your calling, the universe will beat you until you do.' I had shut down music so much for so long. I was like 'Fine. Okay. We're no longer doing the music thing.' But I kept bumping into walls and kicking corners and that sort of thing. And I realised, okay, I have to do it. Music is the only thing that feels ethereal to me."
Pause. This is one of few times in the conversation King Tha will be super-selective of her words. No, she is not being careful. She is being moved. Unpause. And it's the only thing outside of motherhood that she has felt. Pause.
"It's the only thing that insists on my involvement. I do feel that music has been a medium for me to self-heal. Because a process of ubungoma is a process of healing oneself. You can start to lose your mind because so much information is coming, so much needs to be deciphered. So much needs to be translated. So much needs to be communicated that people start to kind of lose their minds.
"And when you go into the process of initiation, it's to ease that and for you to learn how to channel that in a way that doesn't sound like noise. That doesn't distract you. Music has been that for me. It's been a way of tuning out the noise and balancing out my energies, easing the pain. Finding the joy."
Thandiswa Mazwai is in constant initiation
Because the process of healing oneself is just that — a process. A journey in which you keep tripping over your own feet, heavy with the burden of your own existence and the existence of those who came before you. Those you came after. The process requires silence. Solitude. Responsibility and reflection.
Four spheres spread from one end of her shoulders to the other. They are lifted from Credo Mutwa's Indaba, My Children. The spheres are symbols. Ancient glyphs. She lowers the neckline of her dress, points at, and deciphers.
"That's the symbol for 'We'. This is 'Speak'. And that's 'For Future'. And that's 'Generations'. Because we can't actually escape that. We can't escape the fact that there is a thread throughout time and that in that thread you collect some of the old words, and you add some of your own words and then the next generation grabs some of your words and they add their own. Nothing is completely new. It must be a continuum."
Belede, her latest album, is named after her late mother whose name forms part of a reprise of clan names and refers to 'umfaz'obelede, umfaz'owanyusela ngaphesheya komlanjana'' [a woman with a breast so long that it fed those beyond the river].
The nine-song album of South African jazz classics was recorded with a traditional jazz trio and is another new word added to the lexicon of old. A peek into The Great South African Songbook, this collection of covers is an offering, a yearning. A moment of hope in a moment when we so desperately need some.
"History is very much alive. It's still a happening. I've always felt, in the absence of answers, where do we look? Where would I look and I would always look to my mentors, and to the elders to find comfort there or to find a resolution maybe. Maybe not a resolution but comfort. Where would I find my comfort? Where would I define home in this musical space. Where would I go to hide? Where would I go to cry? Who would I call for advice?
So I called on Letta Mbulu's Jikijela to express my sadness about this moment and the trauma that has come, especially through the student movement and the trauma of the female voices.
I sampled this girl that I saw in the news and she was being manhandled. The cops where throwing her into a van and she was saying … actually somebody else behind her was screaming for her to run. And she said 'From whom must I run? From whom must I run?' And I knew we had to have this girl in this thing. Because that is the question.
"I also grabbed another voice: 'We understand and we know clearly who the enemy is.'
"And as a woman you're like, mmm hmm, we do understand and know clearly who the enemy is and this drive to bring down patriarchy and to raise the black feminist voice. And Jikijela was there to mourn and to celebrate this spirit.
"I also sampled a voice that says: 'Our futures and the futures of our children are at stake.' And this is someone who doesn't have a child but is fighting for her grandchildren's children's children's futures. That is something so powerful to me … And the energy of these women. These young women. I went to Jikijela for that.
"And I went to [Miriam Makeba's] Malaika … My child [whose name is Malaika] is growing up and experiencing a lot of things for the first time. I guess she's always been experiencing things for the first time but her first experience of revolution, y'know. She staged a revolt at her school about her Afro. So trying to find ways to speak love and happiness into my daughter's black woman body. So I kinda just went to this pantheon and looked to them for all of these things."
Another song she reinterprets is Busi Mhlongo's Wakrazulwa. There's a video of Mazwai performing it at the City Hall in Cape Town maybe two or so years back.
It's shot on a cellphone. A blur of yellow and blue. You see Herbie Tsaoeli on the bass in the back, then hand unsteady, pans. Mazwai is just left of centre. Wailing. Her hands in prayer down by her midriff. Her hands clutching at her chest. Her hands over her face, covering her eyes.
"It's a very hard thing for me to perform. Every time I perform that song I almost break down. Actually, I think I literally do break down when I perform that song. I just have such a profound love for Busi Mhlongo as my musical master, there's something so beautiful in having a master. It's like in the martial arts. There's something so transient about it. So completely moving. Having a master and you can sit at their feet and just learn, you know.
"To sit at the feet of your master is a completely ridiculous experience and then to sing her song was very difficult for me to do. I always crumble. I always crumble when I have to do that and in the end I think' that's the beauty of the song. 'Cause maybe you can feel the vulnerability. You can feel that it's on the edge. I'm glad I did it. I've done a lot of tribute songs to Busi Mhlongo that I've never released. I did a song with the Blk Jks."
She breaks. That edge she just mentioned. We are on it now. Eyes red. Glistening.
"Which is funny because it starts off with the words 'Your dying was a total annihilation of my soul'. So I can never listen to that song. I've done a lot of those but I'm happy I finally got to do this one and just do my final cry. The final gut-wrenching cry."
The final cry?
"I doubt it. I doubt it. I don't think so. I think I'll always cry about her because … I think it's because she's the only person I know who I felt, I really felt she didn't want to die. She was resistant till the very end. Just fighting it. I remember the last conversation I had with her. It was just such a sick conversation. It was a crazy conversation talking about … it's crazy. Really too crazy. I mean, what conversation do you have with a dying woman? The last conversation we had was a week before she died. I mean, she was literally at the door. I don't think I will ever stop crying."
Integrity
"That word is the first word my father taught me as a kid. And I'm so glad because it meant so much to me. My first big word and it's integrity. And my father always said: 'You must do everything with integrity.' And maybe that's why it is good that it was introduced to me at such a young age, so that I can fully grasp the intensity of the word."
Belede is available on iTunes and in music stores nationwide