South Africa is projected to have a surplus of 81 725 teachers by 2020.
This is according to one supply-demand model, which forecasts that there will be 664 281 teachers in the system in four years time but the country will need only 582 556.
A second model based on a different data set predicts that there could be an overall shortfall of just under 20 000 teachers. Unlike the first model, this model does not factor in unemployed, immigrant, late joining and returning teachers.
Based on the second model, four provinces could potentially face teacher shortages. Gauteng was likely to have 25 499 fewer teachers, Mpumalanga 7 862, Northern Cape 4 433 and Eastern Cape 3 954.
The scenarios are based on a detailed analysis conducted by the department of higher education and training to provide a picture of teacher education and the prevailing teacher supply-demand scenarios.
According to the working document titled Relationships Between Teacher Supply and Demand, the supply for the first model would include 423 618 existing teachers, 139 023 new teacher graduates, 84 140 "delayed joiners" (qualified teachers who first followed other career paths) and returning teachers who were either unemployed or working in other sectors, and 17 500 migrants.
Although the study concluded that the two models showed that there would be "no absolute shortage" of teachers by 2020, it elaborated that "relative shortages may still exist in terms of sufficient numbers of teachers to teach specific phases or subjects or relative shortages experienced in specific provinces or within provinces". A random survey by the Mail & Guardian of first-year students applying to study the four-year teaching degree next year found that there were 92 815 applications for 9 414 places at 12 contact universities.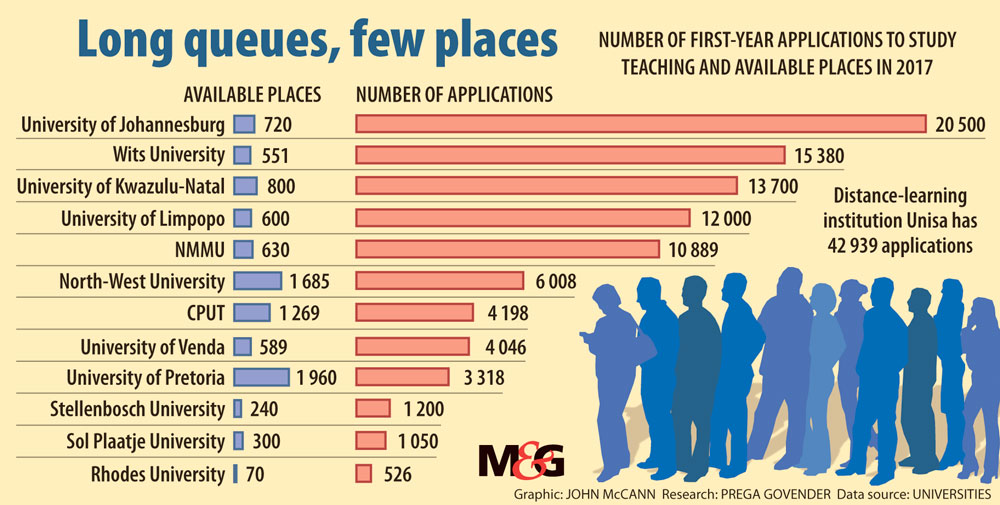 Nic Spaull, an education researcher at Stellenbosch University, said matrics could be opting for teaching because of the availability of the Funza Lushaka bursaries. The scheme for trainee teachers accounted for the funding of about a quarter of all students registered for the teaching degree at 21 universities.
"So if they cannot get funding for other courses and cannot afford to pay the fees then teaching can be their only option."
Although Rej Brijraj, chief executive of the South African Council for Educators, welcomed the increase in the number of matrics applying to study teaching, he said there was a need for more qualified teachers in specific areas.
Universities attracting the highest number of applications included the University of Johannesburg, 20 500 for 720 places; the University of the Witwatersrand, 15 380 for 551 places; the University of KwaZulu-Natal, 13 700 for 800 places; and the University of Limpopo, 12 000 for 600 places.
Unisa, which is the largest producer of teachers in the country, received 42 939 applications.
Professor Veronica McKay, executive dean of the College of Education at Unisa, said there was an emerging trend for former model C and private schools to enrol especially black African trainee teachers for a teaching qualification through the university. "These schools want to get involved in the training of their future staff."
Nationally, there were 20 698 new teacher graduates last year.
According to the department of higher education's study, it has become "glaringly clear" that universities were focusing on producing schoolteachers.
Whitfield Green, chief director of teaching and learning development in the department of higher education, said they were planning a study that will assess the extent of teacher demand with respect to specific subjects where greater demand may exist, in order to inform the new student enrolment plan.
"The current five-year [student] enrolment plan for universities comes to an end in 2019. We want the new enrolment plan to address teacher supply and demand at the subject level. This will mean prioritising enrolments in specific teaching subject areas."
He said many more African teachers as well as more females than males were graduating.