The managing director of the property development company that owns cottages in Bromwell Street, says the new flats he plans to build will bring more affordable rental homes to Cape Town, even though the people his company are evicting can't afford the flats.
The Woodstock Hub is trying to evict 27 people in order to build the development, but Jacques van Embden, one of its four directors, says this is the only way to make Cape Town a new and inclusive city.
"People say they want Cape Town to become more vibrant and more inclusive, but they don't want any development to take place. I'm not too sure if those two things can sit next to each other," Van Embden said.
His target market is a group of people he says property developers call the "forgotten middle" – people who can't afford pricey apartments and who also don't qualify for social housing because their income is higher than required.
"We say the 'stress-squeezed middle'. They keep getting pushed further out and no one's trying to pull them further in," he said.
The 27 people who stand to be evicted by the Woodstock Hub are residents who are both employed and unemployed. Charnell Commando, the spokesperson for the tenants, is a waitress at a popular restaurant in Cape Town called Café Ganesh.
Commando and other residents are unable to afford the price of Van Embden's new apartments that, according to Van Embden, will be rented for between R5 000 and R8 000 a month. Van Embden said that, although he would try to bring more people into Salt River, he can't accommodate the tenants.
"We aren't able to inherit them almost as a charitable case because we pay taxes, we invest in our staff and we create fantastic employment in a very small space of time," Van Embden said.
Challenging the criticism
Van Embden and the three other directors of Woodstock Hub have been criticised by activist organisation Reclaim the City for evicting the residents.
Fake "wanted" posters describing the four directors as "corrupt and of low moral character" were recently distributed around Woodstock. It is not yet known who created the posters.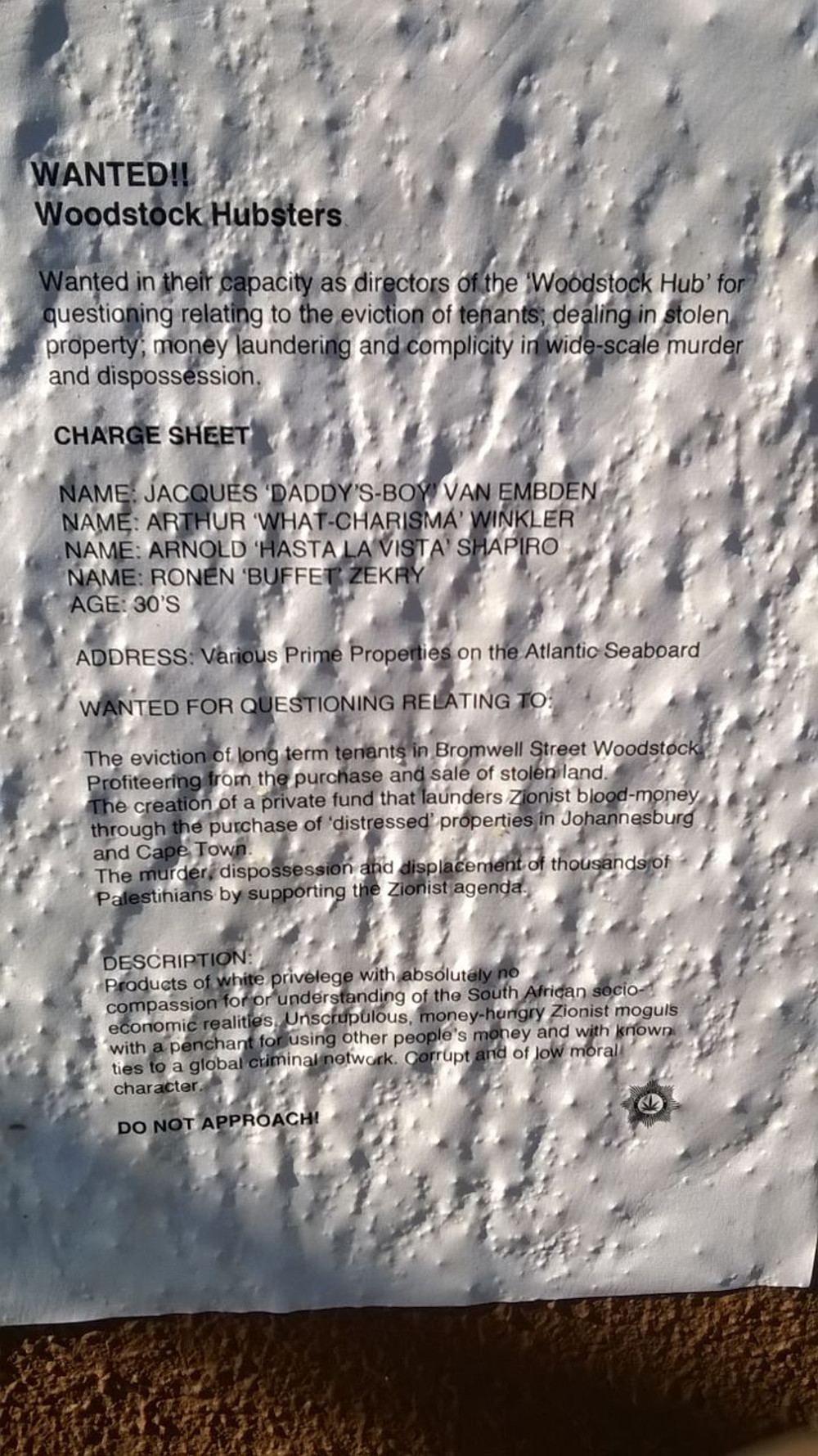 But Van Embden, responding to allegations that he has been racist and unethical, said he had no concerns about the criticism.
"It might be convenient to paint me with a brush, but I'm actually very comfortable and confident with what I stand for," he said.
He told the Mail & Guardian that he has partnered with non governmental organisations to work on low-cost housing developments in future and that he "believes in access to opportunities".
The Woodstock Hub ran a crowd-funding campaign to help the tenants. Van Embden said they gave tenants time to find accommodation in the three years the case has been dragging on for. Beyond that, he said there's nothing he could do and he was exercising his property rights in the matter.
"Do I wish that there was social housing across the road that they could move into? Absolutely, but I don't have that magic wand to wave," he said.
Wolwerivier and the fight for better emergency accommodation
The families asked in a court application for the eviction to be suspended and are challenging the City of Cape Town for emergency alternative accommodation closer to Salt River, where some of them work and attend school.
The city has earmarked accommodation nearly 30km away from the city centre in Wolwerivier. A social audit conducted by housing and services activist organisations Ndifuna Ukwazi and the Social Justice Coalition, along with Wolwerivier residents, found that there are no schools, clinics or shops within walking distance of Wolwerivier and most residents do not have access to jobs. The isolation of the settlement was cited as an urgent concern.
But in court this week, the city's legal team argued that Wolwerivier is sufficient for emergency accommodation because it provides housing for the residents. Advocate Shaldon Magardie, who represents the tenants, said the city has been unreasonable.
"We are questioning the city's reasonableness in suggesting Wolwerivier, which is situated 29km from Woodstock, as the only emergency housing available nearby Woodstock," Magardie said.
Van Embden has never visited Wolwerivier and when asked whether he would live there his response was immediate.
"Absolutely not," he said.