The Olifants River is one of Southern Africa's most important catchments. Its waters irrigate farming in western Mpumalanga and power Eskom's dozen coal-fired power stations in the area. The river flows through Limpopo's platinum belt, bringing water to valleys that otherwise go thirsty. It then breaks through the nearly impenetrable Drakensberg mountains to irrigate farms in the lowveld and bring life to the Kruger National Park. It finally joins the Limpopo River in Mozambique, before flowing into the Indian Ocean south of Xai-Xai.
This makes the river critical to the economies of both South Africa and Mozambique. The 30 dams along its course also give three provinces a buffer in times of drought. Ten million people rely on it for water.
But systematic failures of governance along the entire Olifants River mean that it is in danger of collapse. Few people are willing to say this on the record, but the Mail & Guardian has talked to people who use words varying in intensity from "problem" to "crisis" to describe the state of the river.
That crisis starts at the river's source outside Bethal in Mpumalanga.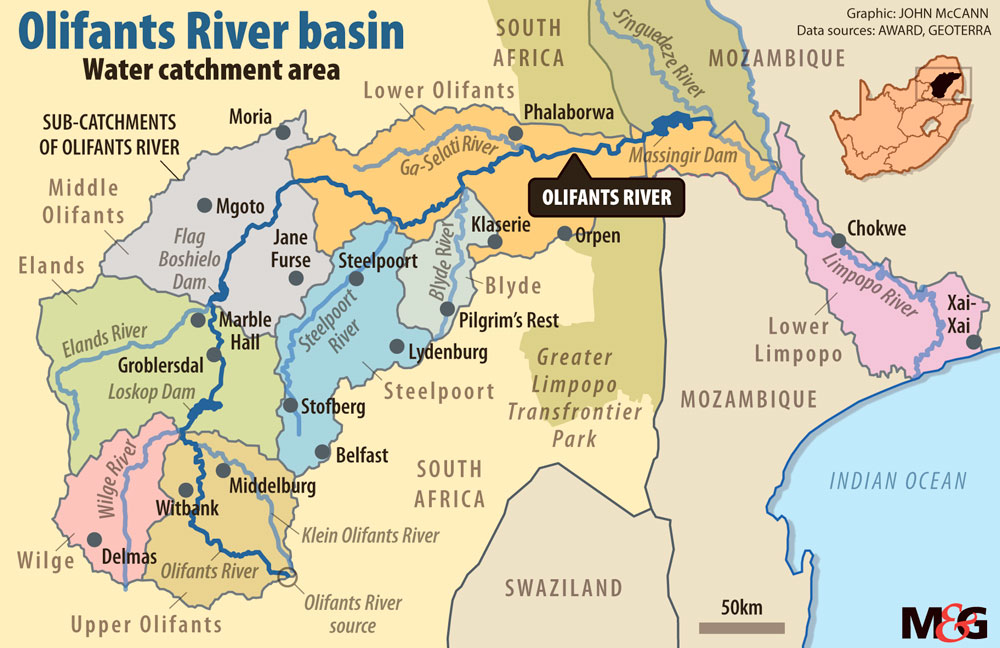 Petrochemicals and mines
This area is South Africa's powerhouse, with Sasol's petrochemical complex at Secunda and Eskom's power stations around Hendrina clustered around the catchment. Each industrial facility — along with the mines that supply Eskom — adds small doses of pollution to the river. The problem is that nobody knows how those doses are adding up.
To operate, each facility has to have a licence that sets out how much water it can use and what quality of water it can release into the river. Multiple sources confirm that there is little oversight of these licences, especially for mines owned by people with political connections.
A parks official in Mpumalanga says this means a lot of pollution is going into the Olifants River: "We only see effective oversight when you have that one dedicated official who works blerrie hard to make sure polluters are brought to book."
Those officials tend to burn out or go to work in the private sector. High staff turnover in the water and sanitation department, as well as in local government, is universally cited as standing in the way of proper water management.
As a result, polluted water flows into the Loskop and Flag Boshielo dams, where heavy metals and other pollutants get caught by their walls and drop into the sediment. This acts as a filter until times of drought, when the sediment gets exposed and starts to flow downriver. Data on pollution levels is hard to come by, because of fragmented records that skip months and even years.
When the dams do release clean water, it goes straight into the Burgersfort area of southern Limpopo. The province has placed great emphasis on developing the platinum belt there — the richest seam in the world for the material used in catalytic converters for cars. Those converters reduce the air pollution caused by vehicles.
This drive to exploit the belt has meant that at least 30 mines have been given permission to break ground in the valleys that dominate this area, each one with small rivers that flow into the Olifants. Dozens of smaller, illegal mines have also gone into operation.
These tend to operate for a year or two, exhausting a seam before vanishing without rehabilitating the area. They can do this because of near-nonexistent oversight, according to civil society groups and people working on water at a municipal level.
A technician working at a water treatment plant in the area says the quality of water going into the plant has been steadily decreasing. This means more treatment is needed.
"The minerals in these mountains have always meant we need to do more work to treat water to potable [drinking] quality. But now, with the mining, we really struggle to keep things safe," the technician says.
This problem seems to have escalated when the minerals department took over most of the oversight work previously done by the environment and water departments.
Mines given carte blanche
Officials in the latter two departments say the well-intentioned One Environment System — meant to streamline mining applications and enforcement — has, in practice, given mines carte blanche instead. An investigator at the Green Scorpions, which used to enforce environmental permits in mines before the new system was implemented, says this has "crippled" environmental oversight.
When there is a complaint about an illegal or polluting mine, the Green Scorpions are stopped at the mine's gate and told to leave.
The investigator says this even happens in the case of mines that they know do not have permits to operate. "Mines know they can do whatever they want. That's why you have fuck knows how many illegal mines operating down those small side valleys [around Burgersfort, near Limpopo's border with Mpumalanga], releasing whatever they want into rivers."
Mine pollution presents itself in elevated levels of heavy metals, which are dangerous when they accumulate in ecosystems and living organisms. Tests from the University of Venda show elevated levels of both in fish, which gives an idea of long-term pollution. The same tests have picked up that tiger fish in the Olifants are half the size they would be if they were healthy.
The data that does exist on water quality in the Olifants, collected downriver in the Kruger National Park by teams from Venda and Rhodes universities and by civil society groups, points to a threat much worse than mining.
Municipal sewage
The more dangerous pollution — in the short term — comes in the elevated levels of waste emanating from municipal wastewater treatment plants. These plants are generally acknowledged in the environment sector as being the single worst source of pollution in South Africa.
The annual Green Drop report, released by the water and sanitation department, lists most of the plants along the Olifants as being in a poor or "critical" state. This means they release polluted water more often that not.
In a compliance visit to one of these plants, officials from the Blue Scorpions — the water department's oversight arm — noted that the levels of pollutants heading into the plant for treatment were the same as the levels of pollutants that the plant released into the nearby river, indicating that little treatment had taken place at the plant.
The M&G has seen details of this report.
As with other plants, the data on water quality — and on what chemicals are used to treat that water — is written down in an A4 ledger. It isn't uploaded into a centralised system that would allow it to be used to inform water management along the rest of the catchment.
More complicated sampling is then sent to a laboratory, which takes two weeks to return the results. By then, any pollution is a long way downriver on its way to the Indian Ocean. That often leads to outbreaks of diarrhoea as E coli levels spike.
Research done by the Council for Scientific and Industrial Research in 2010 concluded: "People using untreated water from these contaminated sites [along the Olifants] face a high risk of contracting disease."
One such outbreak happened in Hoedspruit, near the Kruger Park, earlier this yeark.
Thabo Mohlala, a biomonitor technician at nongovernmental group Award, says the water quality in the Olifants is generally poor and under-reported. "Personally, I'd frikken panic. You have guys selling fish out of the Selati [an Olifants tributary] who say they won't even eat it, but they have to make a living."
Coming from a scientist, emotive words denote that this is a big problem. Sitting in an air-conditioned office in Hoedspruit, he writes two words on his notepad: mines and WWTW (wastewater treatment works). Circling the latter, he says it is the biggest threat to the Olifants but also the easiest one to fix. "This we can fix. It's just a maintenance issue."
He then draws multiple circles around "mines", while talking about the problems that arise from South Africa focusing so heavily on the extraction of minerals. "That's a whole other issue. We need to work on changing the thinking of an entire state, which is pushing for mines at what seems like any cost."
Mohlala was instrumental in making Bosveld Phosphates, a processing plant outside nearby Phalaborwa, pay a R2.55‑million fine for polluting Limpopo's Ga-Selati River in 2014. That spill killed hundreds of crocodiles and fish in the Kruger section of the Olifants. In the absence of proper data, for days and nights Mohlala collected water samples that could be used against the mine.
Escaping oversight
Successes such as these are rare. Mines and other facilities know that by polluting a river slowly they can get away with it. Private consultants are hired by these operations to test the water leaving their plants. That data is given to the regional offices of the minerals department, and then sit on a table or get stuck into a file on a packed shelf in a dusty, dark room.
People who have seen this process in action say those results are rarely uploaded to any central database, and face little interrogation.
A private water consultant who plays this game says: "Most of those guys have no idea what's in those reports, so they just sign off on whatever you give them."
That allows mines and farms to escape oversight. In the case of municipal wastewater treatment plants, co-operative governance rules mean one department is loath to investigate another. But this is changing. Frankfort's municipal manager was ordered in 2004 and 2008 to stop untreated water from being released from the municipal plant. Several other similar cases are under way in the Free State.
These problems arise largely because water oversight happens in silos. Because the Olifants River is spread across dozens of municipalities and three provinces, there is no single body that looks after everything that happens to the water that flows along it.
But that body should exist — the Olifants Catchment Management Agency. Along with 18 other such agencies, it has been gazetted and is the body legally empowered to manage water in the Olifants catchment area.
A management agency would mean clean water and better management of the flow of that water.
But only a handful of catchment agencies are working properly. In one, the Inkomati, there are noticeable improvements in water quality; wastewater treatment plants that used to score in the single digits in the Green Drop process now get 80%.
Naming and shaming
In 2005, the Olifants ran dry. Last year, water was held back in dams for the use of farmers as communities ran dry.
Without an agency, water users in the Olifants vicinity have to create their own forums. Many operate through WhatsApp. People call each other out for using too much water or polluting water, and rely on shame to force the offending party to clean up their act.
These informal forums use whatever leverage they have and will readily bypass the official channels if they have to. When the Olifants threatened to run dry last year, for example, community groups and municipal officials asked Kruger Park authorities to put in a formal request for water to be released from the new De Hoop Dam. Their own attempts, using official channels, had failed.
Dr Eddie Riddell, the Kruger's manager of water resources, says "it's a challenge" working without catchment management agencies.
Without these, the park has to deal with whatever pollution comes from Mpumalanga and Limpopo's platinum belt. This has led to eutrophication, when excess nutrients in water (mainly from broken sewerage plants) starve plants and fish and drive the spread of algae.
In catchments such as the Vaal, there is enough extra water to flush out the system and dilute pollutants. The Olifants doesn't have that luxury, and is faced with increasingly frequent droughts.
Riddell says: "The Olifants has reached an alternative stable state, where the most sensitive species have already been knocked out." That means only the hardier species of plant and fish are left in the river.
"There's a danger where we settle on this class of river and then you get a major development upriver that sets that back," he says.
SanParks is consequently using the data it has on water pollution to oppose developments such as mines. But that fight is hard in a catchment with no unified management vision.
Climate change will make the catchment's dire position more acute. Unless properly managed, this could collapse the catchment.