The theme set by 2017 Venice Biennale's curator, Christine Macel, is "Viva Arte Viva!", intended to celebrate artists and "art for art's sake". After the last edition of the biennale, when curator Okwui Enwezor welcomed visitors with readings from Marx's Das Kapital and included works that expounded on the continued effects of colonial conquests, climate change, and perceived "crises" in migration, this year's theme clearly distanced the biennale from "politics".
That sort of rhetoric, in which art and the political are set up as mutually exclusive, usually means that black artists are either underrepresented, or erased altogether. A breakdown of the racial demographics of the 2017 Venice Biennale by Artsy's editorial team revealed that "more than half of the participating artists are white" and that a "mere five artists are black", with only a single black woman artist included by Macel to represent her vision in Viva Arte Viva!: Senga Nengudi, an American.
Luckily, at national pavilions, African artists' work — decidedly political, and undeniably innovative — was far better represented. But only a few nations got their acts together to support their artists' presence at what Nigerian performance artist Qudus Onikeku called the "Olympics of the art world". Angola, Côte d'Ivoire, Egypt, Nigeria, South Africa, Tunisia, Zimbabwe, and — by heroic effort — Kenya were the representatives of African national pavilions at the 57th Venice Biennale.
Yet, despite the lack of better representation — African pavilions made their mark, especially those with performance works that enlivened and helped create an atmosphere of ceremony, necessary for those moments when we embark on perilous journeys. The opening ceremonies were not only well attended, but jam-packed.
Tunisia, which presented a pavilion at the biennale for the first time since 1958, developed a powerful yet simply and elegantly executed political performance. Its curator, Lina Lazaar's concept, The Absence of Paths, involves "immigration offices," located at several locations in the Arsenale section of Venice, where cheery, but officious un-bureaucrats (who are "aspirant migrants" rather than artists) processed "freesas" (and a free biennale bag) within minutes to anyone willing to line up.
This "free visa" championed movement, counted only one's human will to be mobile, seek safety, and self-betterment, rather than permit mobility based on one's existing privileges, class, and/or racial markings. In a time when the Mediterranean border is a location that launches so many dreams and deaths, the Tunisian Pavilion's performance art was a painfully real, politically astute, necessary offering.
Nigeria debuted at the 57th edition of Venice Biennale, with its pavilion being commissioned — in an unusual move — by His Excellency, Governor Obaseki of Edo State. It featured artists Peju Alatise, Victor Ehikhamenor and Qudus Onikeku, the Nigerian choreographer and dance virtuoso. Despite the celebratory atmosphere at the pavilion, Onikeku noted many Nigerians, even those who were actually in Venice, did not think that "Nigeria's participation in this year's Venice Biennale … translate[s] to anything back home." Whose responsibility is that, but that of political leaders' failure to support artists and writers as cultural capital, the press' lack of coverage, and local networks' short-sightedness?
Nigerian artists — like many African artists — continue to find recognition and, sometimes, a way to make a living, outside their home countries, because of these realities. Blufunk guitarist Keziah Jones and folk and soul guitarist Olatunde Obajeun provided the backdrop to Onikeku's performance, where he marries fluid movements between what the uninitiated may recognise as athletic ballet, breakdance and traditional "West African" dance.
The decision by the pavilion's curators, Adenrele Sonariwo and Emmanuel Iduma, to situate the first-ever Nigerian pavilion with this visionary performance was telling. It helped non-African audiences — whose limited experiences of "Africa" comes from television news and their passing ire towards the enterprising African men who sell knockoffs of designer bags on the streets of Italy — to comprehend that there is something larger, and more complex to the "Africa" narrative than they had previously allowed.
Onikeku agreed that it was important to represent something that occupied a seamless position between rock music, amalgamated dance traditions, and his seer's performative persona:
"My work has been an active dialogue between African world views and Western understandings, using purely Yoruba epistemological approach. So it was necessary to use Western instruments, playing Yoruba music upon them."
At the Zimbabwe Pavilion, Dana Whabira — whose work links the ways in which black persons and their physical bodies are sometimes reduced to mannequin-like caricatures in white spaces — meditates on the damage done to our psyches when we are thusly reduced, using a recording of Dambudzo Marechera's literary fire. This is the kind of work that makes us remember it, long after the opening ceremonies and Bellini drinking with the rarefied set of creatures who float between art fairs and biennales are over.
Kenya made it to the biennale, despite setbacks that mirrored a harrowing immigrant's tale of all hope lost and last-minute changes. People had trouble finding it because it was not in the official programme; but the Kenyan-born artist Phoebe Boswell assured me that Kenya is on the island of Giudecca and gave me the exact directions, including the boat I should take to get to the second floor of a local school house, where the pavilion is located
"If you go to Angola then take the zattere [water taxi] for just one stop towards San Marco and it's a little walk from there." Along with others, we lobbied people to go see this pavilion on Scuola Palladio.
Crowds were drawn to South Africa's pavilion, which was featured on Artsy's "11 best pavilions" list. After a history of representing a large roster of artists at each consecutive biennale — this year's curatorial decision was to include only two video artists and a single work from each artist: Mohau Modisakeng's Passage (2017) and Candice Breitz's Love Story (2016).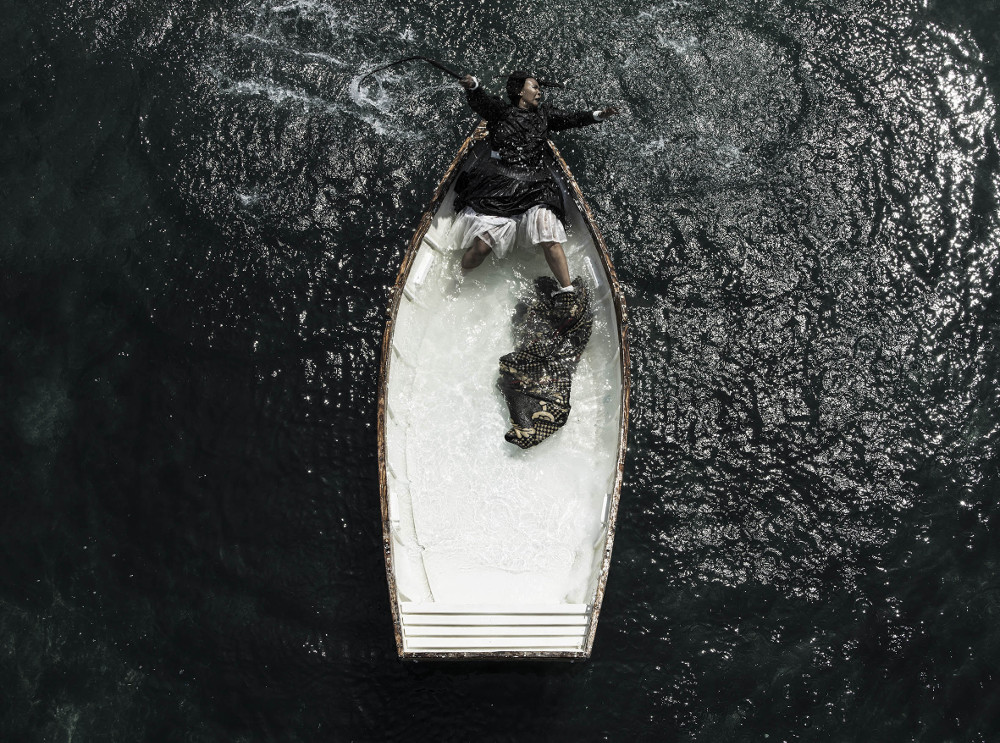 (Mohau Modisakeng's three-channel video installation Passage 3. Photo: Italo Rondinella)
Curator Lucy MacGarry and assistant curator Musha Neluheni's vision for the South Africa pavilion was informed by their own attention to video artists' work in the country, as well as their ability to draw relationships between threads connecting South African social and political concerns with global concerns about the violent repercussions faced by those fleeing political persecution and unviable economic conditions.
Moving images have the ability to immerses us in sociopolitical narratives. We embody and emote, especially with works like Modisakeng's, which use powerful soundtracks to direct audiences into darkened, cave-like spaces, where we can only feel our way until we see the bright light of the projection. The technical aspects of video and digital moving images add another layer of interest in how we engage our physical bodies, psyches and intellects in the labour required for conscious reflection.
Modisakeng's work, a three-channel video installation, begins with darkness, much like life. Then, we see light from three different screens arranged in a U-shape. Three characters, each lying in a small, white, wooden rowing boat, carrying symbolically significant objects — a whip, an umbrella, a sceptre — move about in the boat, gesturing in a manner that communicates a heroic struggle against unseen forces. None of them wear shoes.
Because of their bare feet, we are reminded that slaves in the Cape Colony were not permitted shoes, so as to differentiate them from the "free" population. Though they are on rowing boats, they have no oars to direct their vessels, nor — we suspect — their lives.
Modisakeng's is a work that meditates on trans-oceanic slavery, a bustling trade that brought forced labourers from the Dutch East India Company's colonies in South and East Asia to work on plantations in the Cape Colony. Through that historical connection, he comments on current displacements of people created by political and economic upheaval.
We don't see his representative "characters" as part of an undifferentiated mass, but as individuals: one is a man who wears a wide-brimmed hat and an overcoat; the second, a full-figured woman, is protected by a black coat worn over a white dress made of delicate material and a white belt that accentuates her small waist; the third is a slim person, whose hat, finely tailored clothing and features indicate that their gender could fluctuate. The boats fill with water over what seems like a painfully long period, and eventually sink.
Although they struggle, the three characters make no attempt to swim away. It seems the boundaries of the small boat draws the limits of their existences. It is evident that they know that the water is overwhelmingly powerful, and their acts of resistance are largely for maintaining their own dignity. From this point forward, the film is shot from under water. The space in which each character floats is lit up and the rest remains in darkness. We see the silhouettes of each individual sinking, losing their hats, yet holding on to their talismans.
Modisakeng reminds us that in Setwswana the journey of life is "referred to as a passage", that the "Setswana word for life, botshelo, actually means to cross over", and that "human beings are referred to as bafeti [voyagers]". Because of this added layer of references to his work, we understand that our life-passages are always seen through the inevitability of death.
If Modisakeng's work connects global colonial currents to South Africa's formative years, invoking subsumed memories of violent subjugations, trans-oceanic transportations, and forced labour, Candice Breitz's seven-channel installation situates contemporary South Africa within a network of swirling currents across the globe, depositing people displaced by violence, war, and environmental chaos into select locations on the map of the world.
Breitz chose three epicentres in which she has personally resided — South Africa (Cape Town), Germany (Berlin) and the United States (New York) — in which to interview six people, from the Democratic Republic of Congo and Angola, Syria and Somalia, India and Venezuela, who were forced to leave their home countries as a result of inhospitable conditions. The six individuals, whose stories are at the core of Love Story, were magnetised towards these global centres, so mythical was the opportunity and freedom that they represent in the global imagination.
But Breitz also wanted to challenge audiences to question the larger media structures through which we learn about "refugee crises". She began to think of the way the popular media allows certain people (usually white or of European descent, and affluent) to "occupy an obscene visibility" while others (usually those who are "raced" and from lower rungs of the socioeconomic ladder) are "largely invisible and de-individuated". She also noted that we will readily view a film where an attractive Hollywood actor is a central character, if there is a "love story" involved. As a nod to the conceits utilised by classic Hollywood narratives to draw audiences — and to get us to think about the factors that makes people either hyper-visible or invisible — Breitz's project is titled Love Story.
When we first enter the space where Breitz's work is being shown, what we see are over-sized projections of two globally recognisable Hollywood actors, Julianne Moore and Alec Baldwin, who appear alternately on a green screen, emoting harrowing narratives of escape and all that they endured in detail. But just as our eyes get adjusted to the darkness, we realise that there is light coming from behind the large, cinematic screen.
From there, if we choose to take some tentative steps to see what is behind this large screen, we may experience a "turning point", when we pass from the front section of the installation to the back, which can only be accessed through the large "cinema" space of the front room.
It is only then that we see the "real" refugees and asylees on smaller screens narrating their own versions of their experiences. We realise that Moore and Baldwin are "channelling" extremely edited versions of the experiences of women and men who are hidden behind the screen — whose persons and voices their star personas literally overshadow and dominate.
MacGarry notes that in South Africa there is much anxiety about ensuring "representation" — that is, allocating space to as many artists as possible in order to ensure that those from a variety of historically separated demographic groups are included. This is true especially when it comes to international exhibitions, where — given the country's penchant for exclusionary practices — there is a preoccupation with ensuring that the multiplicity of South African artists and their socio-political, formal and aesthetic interests are included. Yet, when a pavilion has many works, audiences can find it difficult to be transported, even when they encounter powerful narratives.
Our ability to centre ourselves and enter the space created by a particular artist's work dissipates, especially as we experience focus-fatigue at biennale landscapes rich in visuals. Because of the drawbacks that are inevitably part of group shows, I appreciate MacGarry's decision to pare her selection to two artists, and to focus on moving-image works — specifically — because of the immersive experience created by film and projected works.
However, it must be noted that there were contentions about the space allocated to the two artists at the South African pavilion. Breitz's work, which had been shown at other venues before, was allocated far more space — partly because the set-up for her work needs more space. Modisakeng had about a third of the total pavilion space allocated to his work, which could have been viewed better had the screens been spaced with more room between them, and had viewers been able to sit or stand at a bigger distance from the screens.
This fact was lost on some admiring fans of Breitz, who spoke to her excitedly outside the pavilion. One woman asked Breitz whether it was because of "political correctness" that she had to share the pavilion's platform. Breitz was gracious and quick-witted enough to speak of her discomfort at representing South Africa as a white artist who has been living outside of the country for many years. She added that the politics of South Africa's practices of racism could be summed up by how land and space are allocated, and how strange it would be if she were the only artist chosen to represent the country.
There were other issues that had to do with similar "space allocations". The curatorial team included the considerable experience of Musha Neluheni, who is the curator for contemporary collections at the Johannesburg Art Gallery, but the public rarely heard her voice. The tech team, who travelled to set up the pavilion — capable as they were — included no black people. These decisions and omissions, however unconsciously made, are revealing.
Breitz's careful attempts to explain nuances were probably lost on her fan, who — like the curator of the biennale, Christine Macel, herself — seemed to think that unless black artists are forced on the art-world by "politics", they will never have work that lives up to "standard".
"Political correctness," in this case, means "because it looks bad to not have any black artists, we are forced to let a few sub-par people in, out of charity". Someone should have shown this fan, and Macel, a list of ground-breaking works by black artists. But who has the time or energy to battle this kind of everyday racism? Some people's minds, and their politics, are not going to be changed by art.