Had she chosen to soak herself in praise and read from the same scripts so many of India's public figures read from, Arundhati Roy might have been celebrated as one of India's greatest exports since Gandhi. She might have been considered a treasure, not a thorn in an empire's side. She might have been considered the epitome of democratic India, not an obstacle to the story India is trying to tell.
Roy has sipped at the praises but she reads from a different script, with very little regret, if any.
In The God of Small Things, her seminal debut two decades ago, Roy wrote of an India teeming with possibilities, an India with problems but working them out. That book would go on to earn Roy her first Man Booker prize and catapult her to literary stardom.
But she has not written fiction since then, choosing instead to focus on her activism.
The Ministry of Utmost Happiness is Roy's return to fiction and it is beautiful, shocking and polarising. The response to the book has been positive, considering the bombs Roy has dropped over the past two decades with her nonfiction, the most explosive being her 1998 essay The End of Imagination, in which she tears into her country's case for nuclear development.
"It is such a supreme folly to believe that nuclear weapons are deadly only if they're used. The fact that they exist at all, their presence in our lives, will wreak more havoc than we can begin to fathom. Nuclear weapons pervade our thinking. Control our behaviour. Administer our societies. Inform our dreams. They bury themselves like meat hooks deep in the base of our brains. They are purveyors of madness. They are the ultimate coloniser. Whiter than any white man that ever lived. The very heart of whiteness," she wrote.
Praise turned to fury and she is now at the receiving end of Indian nationalists' anger.
Her new book signals her refusal to buy into the nationalist dream of a greater, better-reformed India and reduce her art to a diplomatic tool.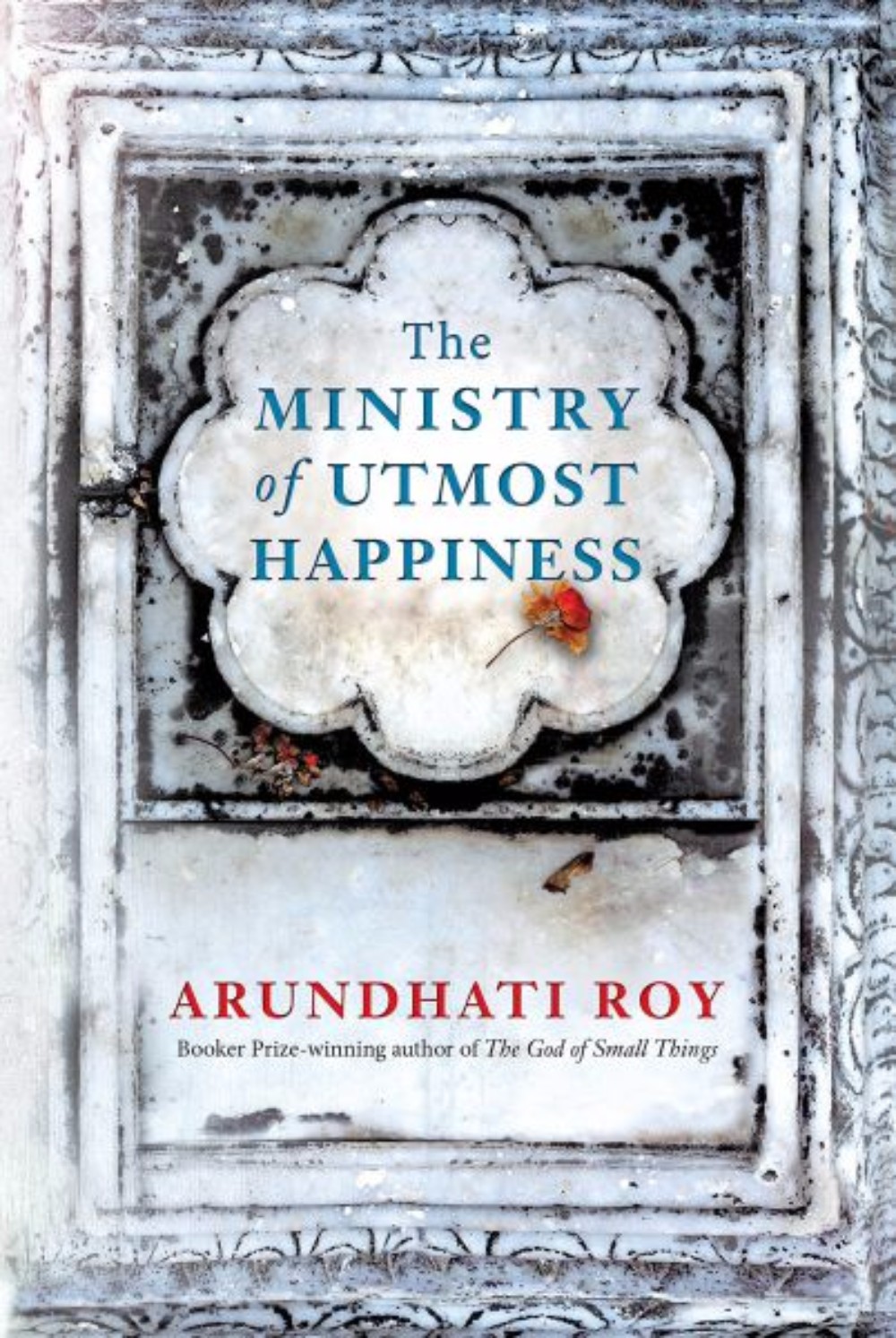 But she does try to reflect the bustling contradictions of the world's largest democracy: the colliding interests of social movements, the corrupt and opportunistic politicians and the brutality of private corporations.
The Ministry of Utmost Happiness is a powerful commentary on modern-day India through the eyes of a hijra (a person of a third gender) named Anjum. Born with male sexual organs and gendered as a boy, all Anjum ever wanted to be was a woman. Her dream comes true when she finds herself in a rundown building in downtown New Delhi that serves as a safe haven for a group of sexually diverse individuals.
But it's just never quite enough. Hopping from one situation to the next, charting her way to happiness, Anjum encounters every type of tragedy, revealing a country choking with inequality and a taste for intolerance.
From the macro-aggressions between Muslim and Hindu India to the appropriations of social causes by political opportunists, Roy weaves the personal lives of her characters and the dizzying political conditions (from class to environmental issues) with a timely tenderness and omnipresent compassion for the characters who people her world.
Earlier this year another novelist, Nigeria's Chimamanda Ngozi Adichie, set social media alight when she took issue with the unconditional recognition of trans women as women.
Were it not 20 years in the making, Roy's new novel could be a response to Adichie in that, other than its geographical setting, it underlines Roy's talent not just as novelist but also as an activist.
It is Roy's depiction of the Kashmir conflict that will set The Ministry of Utmost Happiness apart from any contemporary book on India and its political headaches. What Roy does with conflict in fiction has journalists asking themselves hard questions about how a novelist can take the complexities of both sides of the conflict and create such a vivid picture of the situation.
Kashmir is caught in a tug-of-war between India and Pakistan. Roy explores this through Tilo, an activist and former architect, who, through her interaction with state officials and insurgents — and three men who fall in love with her, finds herself entangled in a web of jealousy, murder and betrayal. Like Anjum, Tilo longs for something she can't quite grasp.
The politics that informs Roy's fiction are clear. In the two decades of her absence from fiction, Roy has built up a body of work that serves as a reference in case her fiction gets blurry — from her 2001 collection of essays, The Algebra of Infinite Justice, to 2014's Capitalism: A Ghost Story.
If her intention was to disrupt our idea of democratic India, that goal is accomplished. If it was to lay out the silliness of nationalism, she has done that too. But no one will be more disappointed than the nationalists who had hoped that, with her return to fiction, Roy would depict democratic India with more compassion.
Compared with her debut novel, The Ministry of Utmost Happiness is not her strongest work, but it's still a necessary read.