A young woman starting her law career has been thrown into a whirlwind of court interdicts, shaming and bullying after she told the Law Society of the Northern Provinces she had been raped and sexually harassed by her boss.
In July, the 26-year-old candidate attorney filed a complaint with the law society, which told her it did not have the jurisdiction to investigate claims of sexual harassment and rape. She then laid a charge of rape with the police and took to Twitter to tell of her ordeal. All her posts have since been taken down in the face of legal action by her former boss.
Her former boss has categorically denied the rape and harassment claims, saying that the young woman has a history of emotional outbursts in the office and had previously resigned four times, but always asked to be re-employed.
But her alleged experience is similar to many women who have experienced, or know of, sexual advances made by their bosses. An Eastern Cape-based attorney, who did not want to be named, said she had also experienced similar approaches by her boss while completing articles.
"It happens a lot, especially with young candidate attorneys. It's like a sick high school thing, where the law firm bosses become excited at the start of each year because fresh young female lawyers will be joining the firm," she said.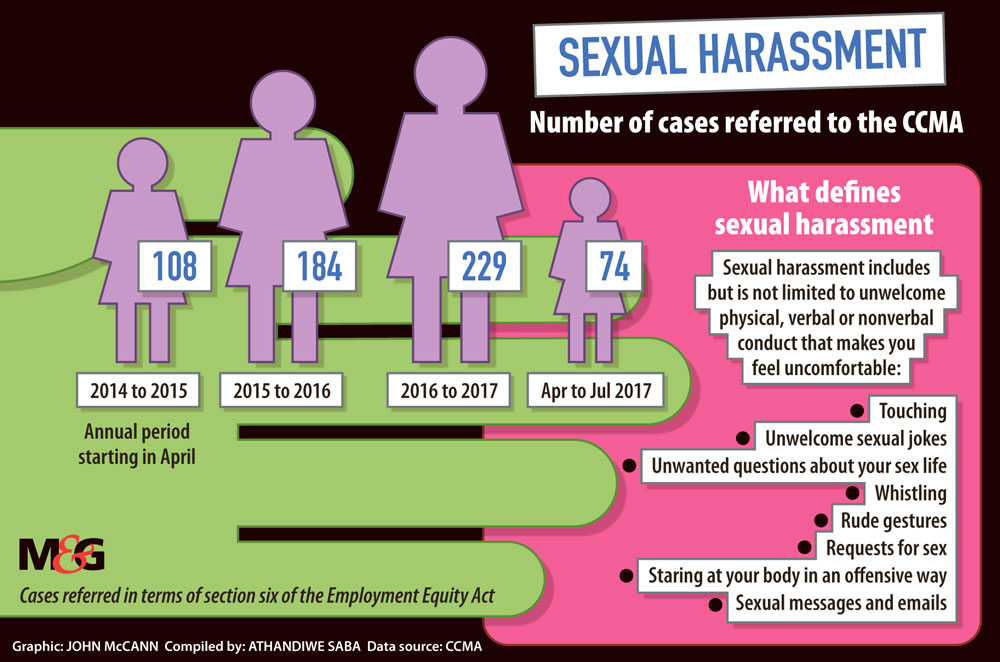 Professor Bonita Meyersfeld, an associate professor at the University of Witwatersrand's school of law, said sexual harassment has been "normalised" in the profession because it is dominated by men.
"Most male leaders do not understand sexual harassment and they dismiss it as something that doesn't happen," she said.
According to a study conducted in 2014 on the transformation of the legal profession by the Centre for Applied Legal Studies, many women have been subjected to sexual harassment in the sector. "Sexual harassment is a problem across the profession with insufficient structures in place to address it; insufficient understanding of the range of behaviours that constitute sexual harassment; and a lack of understanding of the manner in which it impedes advancement."
According to the law society complaint, which the Mail & Guardian has seen, the young woman started working at the Sandton law firm in January last year. In her affidavit, she describes her excitement to be working with a successful lawyer.
But this did not last long. Instead, she was shocked when her boss started making advances. It was the beginning of months of "sexual gestures", "sexual utterances" and awkward hand gestures.
"I would cry a lot about it by myself. My rationale was mostly centred on the fact that I, firstly, needed my job and, secondly, it was hard to find articles," she wrote.
Articles of clerkship are a requirement for being admitted as an attorney.
According to the complaint, the well-known Johannesburg lawyer, who owns his own firm and has done work for government departments and municipalities, stopped the harassment for a while.
But then, in July last year, she was invited by the lawyer to his home in Johannesburg. She says he wanted to celebrate a case they had won.
"I did not question his intentions as I was under the impression that he was inviting me over for a celebratory drink as my principal. I only had two glasses of wine when he started to kiss me and touch me inappropriately and I asked him numerous times to stop and that I was uncomfortable with what he was doing."
According to the woman's complaint, the man picked her up, walked to the bedroom, threw her on the bed and wrestled her down.
"I asked him to stop what he was doing. I was in tears when he pulled my pants off with his hand on my mouth. I struggled less and eventually was still," according to her complaint. He then raped her, saying that "I must stop fighting it and that he would take care of me".
Police spokesperson Kay Makhubela confirmed a case of rape had been opened. "We have been in contact with the accused and are currently waiting for a decision from the National Prosecuting Authority for prosecution," he said.
The attorney denies he has invited the candidate attorney to his home.
"She has only ever been to my house to deliver files," he said.
Meanwhile the woman's complaint details further incidents when the lawyer forced her to touch him at the office, screamed at her when she claimed she was having her periods and verbally tormented her at work.
She said she could not speak about the case because legal processes were underway, including a case before the Commission for Conciliation, Mediation and Arbitration, where she is claiming she was fired. The matter is still to be heard.
The attorney said the young woman only came forward with the allegations that he had raped her 15 months later, on May 29, and after she had once again resigned and tried to return to work. He refused.
"She resigned for a fifth time. She again thought better of it and tried to walk back her resignation. This time I decided that the disruption and instability caused by her repeated resignations was not worth it and did not accept her back," he said.
He added that the candidate attorney made several threats that she would seek vengeance against him and his law firm. "The persons who heard the threats have sworn to this under oath," he said.
Meanwhile, the law society's Maggie Moletji, who is head of its disciplinary department, said the society had not rejected her complaint but an investigation has not yet commenced. "The Law Society of the Northern Provinces did not reject the complaint and has not now decided to investigate. This is because of the pending court processes relating to the parties involved in this matter." She did not explain why she had written to the complainant, saying the law society could not investigate the matter.
Another woman lawyer in Johannesburg said she and her friends went through similar ordeals, but were not brave enough to report these because many of the firms are small and the perpetrator is either the boss or someone close to him.
"You weigh up the implications of reporting the matter because you know you will be seen as that girl who tried to destroy a man's career by speaking out," the woman said.
Another woman, who practises at one of Johannesburg's well-known firms, said men in the fraternity use work as a power game and, if young women don't do as they want, they are excluded from cases.
"If a male attorney is interested in a woman, they will bring them into a case. They will be working from home and out of town and this is the time when they will make the advances. Some will tell you outright that, if you don't sleep with them, you will be removed from the case," she said.
According to the 2014 research, "Although there are few formal complaints, there are several stories of sexual harassment. This status quo is entrenched by the concern at junior levels that being too vocal in raising concerns around sexual harassment will 'rock the boat' and the individual will be seen as a troublemaker."
The lawyer accused of sexual harassment and rape by the 26-year-old approached the high court in Johannesburg for a gagging order against the complainant and has threatened to sue her for defamation.
After trying to interdict the M&G he said he did not believe if he had raped and harassed the candidate attorney that "she would be trying so hard to return to work for me".