The word "kgolo" means growth, what my high school biology teacher would call an entity's irreversible increase. Right now, Kgolo is the name of a Setswana musical at the South African State Theatre.
Just a few minutes before 8pm, we are let into the Arena Theatre where we will sit for the next hour and 20 minutes. We are ushered in by a Setswana folklore ballad, sung by Ntirelang Berman, a leading Botswana folk musician and the play's music director and choreographer.
The ballad consists of a single phrase: "Pula e atla", accompanied by a guitar, drums, a xylophone and Berman's harmonica.
The repetition of the phrase — meaning "the rain is coming" — sets a hopeful tone as we wait for the production to begin.
Affectionately known as "Tlola Pitsa" by cast members, Kgolo manages to bring the old and the new together.
Set in the 1940s, Kgolo is a story of a rebellious young man. Oganne lives up to his name, which loosely translates to "he refused".
This idea of rebellion is reinforced by the constant back-and-forth between Oganne and his elders, who paint him as a disobedient young man who refuses to grow up — shunning the customs his family has carried for generations and going out of his way to shame his family.
By witnessing his internal conflict, we are offered an alternative way of understanding the protagonist. Oganne is a curious youth with a world view that has expanded beyond the limits of what he was raised to practise and believe. His intention is not to be defiant. Instead, he is no longer bound to tradition.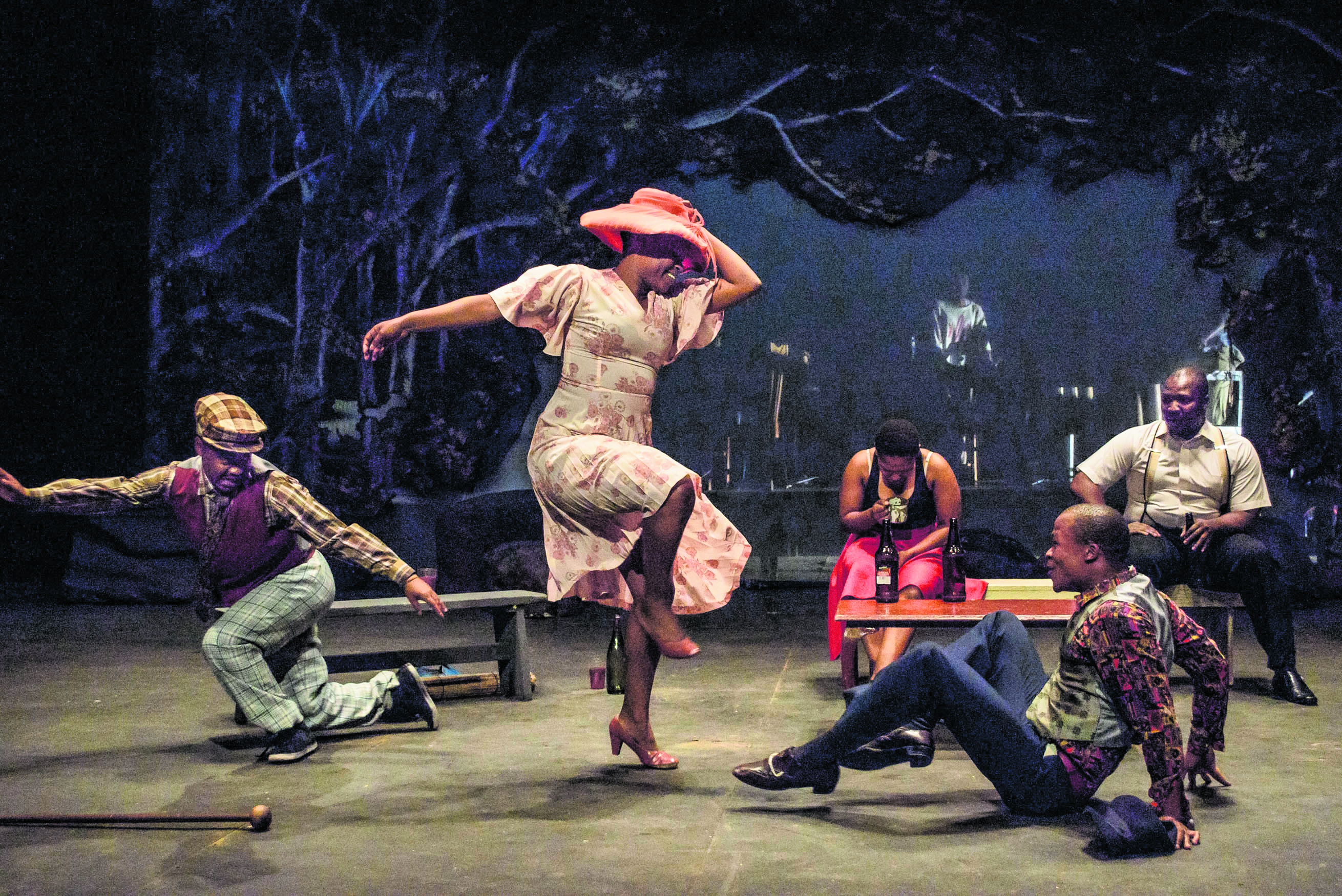 [A scene from Oganne and Elsie's shebeen in Kimberely (Sanmari Marais)]
Oganne left his family, ending up in Kimberley running a shebeen with his coloured partner, Elsie. Details are scant, but it's evident that his exit from familial boundaries was not pleasant.
We are introduced to this conflict when Oganne's uncle, Sups, visits him in Kimberley to perform a cleansing ritual prompted by the family's misfortunes.
A mysterious disease has led his rakgadi (paternal aunt) to be bed-ridden, the fields fail to yield crops, and the village's animals start dying. In this downward spiral of unfortunate events, Rangwane Sups enquires after Oganne's whereabouts.
Sups is made aware of how his nephew recently committed the ultimate cultural transgression: entering the village cemetery at noon. This, together with Oganne's living with a non-Setswana-speaking woman and his record of failing to heed his elders' call, leads Sups to believe that his nephew is responsible for the bad luck.
Although the play is set in the 1940s, the production's themes are still relevant.
The most resonant themes include conflict caused by the generational gap between youth and elders, the abandonment of cultural practices and the tension caused by cultural differences in interracial relationships.
Kgolo was well worth leaving the comfort of a Saturday night at home, but I can't help but problematise a recurring idea in the production.
The production's prominent women are portrayed either as the leading men's sexual auxiliaries or as reactionary drunks whose roles are to humour the crowd.
The idea of outspoken women who are aware of their sexual agency is clearly a point of tension. The only exception is Oganne's cousin, a sober-minded young woman who lives according to village customs with an untarnished reputation. Yet when the village is in need of a new leader, she is overlooked. Instead, they look to the prodigal son Oganne for solutions.
In spite of this critique, the homecoming story is hilarious, both heartwarming and relevant.
It offers viewers an opportunity to stare deep into Batswana practices, taboos and convictions.
African customs are presented without rigidity, and Setswana dialogue, folk music and traditional choreography are central to the narrative.
"It is such a great feeling to present a stage play in one of the so-called 'minor' languages," said Kgolo's writer and director, Martin Koboekae.
"It is a significant step towards debunking the myth that shows presented in vernacular languages are a waste of time. Setswana is one of the first indigenous languages to acquire written form, and as such deserves to occupy centre stage in all platforms."
Kgolo (Tlola Pitsa) will run at the South African State Theatre, in association with Lentswe Arts Projects and Utlwanang Theatre, until October 29