Of the 1 138 ANC branches (out of a total of about 3 800 branches in good standing) that had held their branch general meetings (BGMs) by Thursday, 768 nominated Cyril Ramaphosa as ANC president Jacob Zuma's successor and 360 nominated Nkosazana Dlamini-Zuma.
All other presidential hopefuls — Human Settlements Minister Lindiwe Sisulu, ANC treasurer general Zweli Mkhize, ANC policy guru Jeff Radebe, National Assembly speaker Baleka Mbete and former ANC treasurer Mathews Phosa — appear to have fallen by the wayside at this early stage of the nominations process, with almost a third of the party's branch nominations in.
These numbers are almost certain to change in the next few weeks as the remainder of the BGMs are held.
The elimination of some candidates has led to horse-trading, with Ramaphosa supporters on the one hand trying to woo Mkhize to join their list as his deputy and Dlamini-Zuma's camp on the other trying to convince Mpumalanga Premier David Mabuza to accept nomination as her deputy.
Mabuza has previously said, for the sake of unity he would not associate himself with either of the two main factions in the ANC.
Lagging further behind is Sisulu, who was nominated by only two branches in the Western Cape.
ANC branch nominations are presided over by regional executive committee (REC) members, and are sent directly to Luthuli House and to their respective provincial executive committees (PECs) once a decision is made. This has exposed the officials presiding over the meetings to intense criticism from rival factions, resulting in a number of complaints being sent to secretary general Gwede Mantashe about meetings that were allegedly convened illegally.
KwaZulu-Natal
KwaZulu-Natal is the ANC's biggest province and will be sending 870 delegates out of the total of 4 723 to the conference, with most members there backing Dlamini-Zuma. Of the 324 of the province's branches that sat for their BGMs, 247 nominated Dlamini-Zuma and 79 nominated Ramaphosa.
The bulk of branches in the party's eThekwini, Moses Mabhida, Harry Gwala and Musa Dladla regions have chosen Dlamini-Zuma. Ramaphosa made a decent showing in the AbaQulusi (Zululand) region, where 11 of 12 branches in Nongoma backed him. Only one Nongoma branch reportedly backed Dlamini-Zuma.
One of Ramaphosa's campaign co-ordinators, Sithembiso Mshengu, was not willing to comment on the state of play after the second round of BGMs took place. He did, however, claim that there were "a lot of irregularities and there are a lot of processes outstanding, but I believe we are on the right track within the limitations of the processes, as many as they are. In relation to support for CR [Ramaphosa], we are happy but we could do better."
Mshengu said a "lot" of branches in eThekwini, Moses Mabhida and Harry Gwala had lodged appeals with Luthuli House about the alleged manipulation of BGM processes.
"eThekwini has been the worst. Metro police have been used to keep people out of meetings and intimidate them; people are arriving at branch meetings to find they have been removed from the voters' roll," he said.
ANC eThekwini regional secretary Bheki Ntuli said all 57 branches that had held BGMs had chosen Dlamini-Zuma. The region has 110 branches.
In the uKhahlamba region, six branches met in uMtshezi. Four nominated Ramaphosa and two failed to nominate, with the delegates being in favour of Ramaphosa, according to a source in the region.
ANC Youth League KwaZulu-Natal chairperson Kwazi Mshengu said that in the Musa Dladla region 27 branches had nominated Dlamini-Zuma and six Ramaphosa. The region has 89 branches that have qualified for the national conference.
In the Moses Mabhida region, of the 86 branches, 60 held BGMs and 59 nominated Dlamini-Zuma. Fifteen of the Lower South Coast's 86 branches held BGMs, with eight nominating Ramaphosa and seven Dlamini-Zuma.
In the Harry Gwala region, 37 branches of 58 have convened, with 34 nominating Dlamini-Zuma and eight Ramaphosa. In Greater KwaDukuza, 34 branches have nominated Dlamini-Zuma and five Ramaphosa. In AbaQulusi, Mshengu said, seven had nominated Dlamini-Zuma, two Mkhize and 16 Ramaphosa.
At eMalahleni, 19 of 53 branches have met, with six nominating Dlamini-Zuma and 13 Ramaphosa. In the Inkosi Bambatha region, of 20 branches that have sat, nine have chosen Dlamini-Zuma and 11 Ramaphosa. In the Far North region, 14 branches have convened, with seven nominating Dlamini-Zuma and seven Ramaphosa.
Mpumalanga
Mpumalanga is the ANC's second-biggest province and will be represented by 736 delegates at the December conference. Twenty branches in two regions will be holding their BGMs this weekend and, according Ramaphosa's backers, Dlamini-Zuma's supporters are intent on collapsing the meetings, fearing the ANC deputy will make inroads in the province.
"Nominations so far show that Mabuza and his premier league are not all-powerful, contrary to popular belief. He is losing power, and therefore he is suspected of being the architect of the 'unity' nominee," a senior ANC leader said, alluding to Mkhize.
A total of 32 branches have held their BGMs in the Ekangala region, with 30 nominating Ramaphosa and two backing Dlamini-Zuma.
Phosa, meanwhile, believes that he has the backing of nearly two-thirds of Mpumalanga, his home region.
Eastern Cape
The Eastern Cape has 299 branches cleared to attend the conference, and 195 have held their BGMs. Ramaphosa received a total of 182 nominations, Dlamini-Zuma 11 and Mkhize two.
The party's Amathole, Joe Gqabi and Nelson Mandela Bay regions are strongholds for Dlamini-Zuma and have yet to begin their nominations.
All 20 branches that met in the Sarah Baartman region nominated Ramaphosa. Alfred Nzo branches, whose regional leaders backed Mkhize's campaign, nominated him as Ramaphosa's deputy. Dlamini-Zuma received three nominations.
A total of 21 of the 23 branches in Buffalo City nominated Ramaphosa and two nominated Mkhize. In the OR Tambo region's 77 BGMs, Dlamini-Zuma received three nominations; the other 74 back Ramaphosa.
Joe Gqabi, Amathole and Nelson Mandela Bay regional leaders this week lodged disputes with Mantashe.
"The current PEC is deliberately excluding those who support NDZ [Dlamini-Zuma] … We've given them [the PEC] an ultimatum to give us the packages or we will create our own documentation," Joe Gqabi secretary Mfundo Bongela said.
Western Cape
The nomination process in the Western Cape has also been stifled by the "manipulation of the regional branch attendance registers", a senior presiding official in the province told the Mail & Guardian.
The Western Cape will send 190 delegates to the December conference. A total of 88 branches have already met, with Ramaphosa receiving 78 nominations. Sisulu was nominated twice and Phosa also received two nominations, with six going to Dlamini-Zuma.
Northern Cape
In the Northern Cape, 181 branches were eligible to nominate. Fifty-three of the 65 branches in the Francis Baard region have held their BGMs, with 30 nominating Dlamini-Zuma and 23 lining up behind Ramaphosa. In the Namaqua region, 25 of the 32 branches held BGMs: 20 back Dlamini-Zuma and five are behind Ramaphosa. The ANC's Northern Cape PEC did not say how many nominations came in from other regions.
Gauteng
In Gauteng, 198 of the province's 470 qualifying branches successfully held their BGMs, with 176 nominating Ramaphosa and 22 Dlamini-Zuma.
The "CR17" stronghold in Gauteng is the West Rand, with mining towns such as Carletonville and Westonaria. A total of 67 ANC branches there held their BGMs, with 66 nominating Ramaphosa and only one backing Dlamini-Zuma.
In Ekurhuleni, there was a revolt by branches that nominated Ramaphosa, despite the REC declaring in August that it would support Dlamini-Zuma. Of the 29 branches that successfully held their BGMs, 20 went against the REC's recommendation and endorsed Ramaphosa.
Tshwane is the only region that has nominated Mkhize for ANC president, with one branch backing him. One other branch nominated Dlamini-Zuma and the remaining 42 that met nominated Ramaphosa.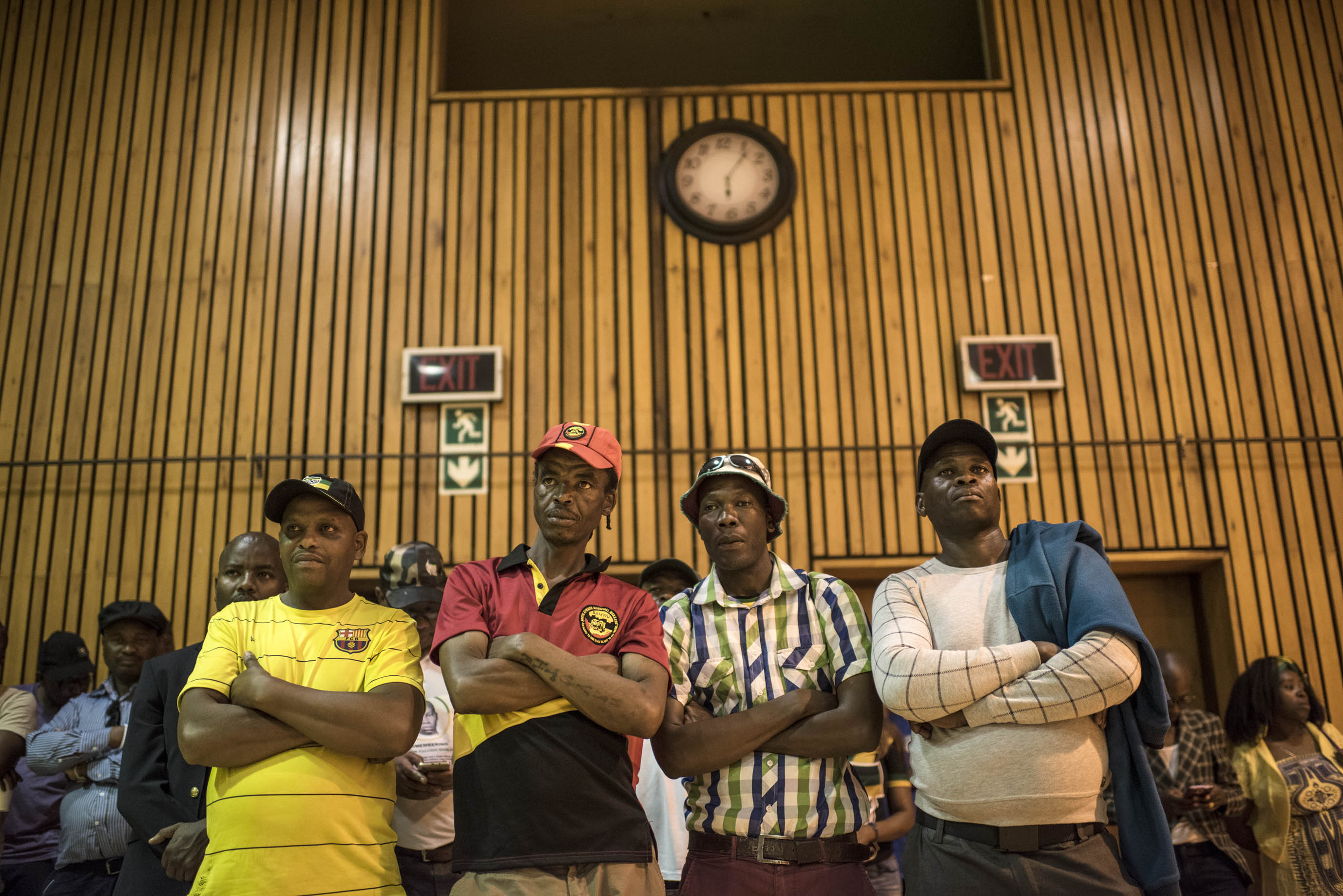 [In Ekurhuleni there was a revolt among ANC branches this week that backed Cyril Ramaphosa in defiance of the regional directive. (Paul Botes/M&G)]
Limpopo
A total of 205 branches in Limpopo convened BGMs, of which 177 nominated Ramaphosa and 28 Dlamini-Zuma.
Ramaphosa's strongholds are in the Vhembe region, which houses his hometown of Thohoyandou, as well as the Sekhukhune region, where Premier Stanley Mathabatha is from.
Seventy-two BGMs were held in Vhembe, where 70 nominated Ramaphosa and two Dlamini-Zuma. In Sekhukhune, 51 branches nominated Ramaphosa and seven Dlamini-Zuma.
Dlamini-Zuma made inroads in the Mopani region, where 19 of the region's branches nominated her, the highest show of support in the province so far. Her nominations still fell short of the 40 Ramaphosa received in the same area.
A Dlamini-Zuma lobbyist in the province said that Ramaphosa's campaign in Limpopo was too strong to be rivalled. "Anyone who thinks there will be any chance for Dlamini-Zuma here is no different to someone who goes to hot Thohoyandou and thinks they can put an ice cream there and it won't melt," the lobbyist said.
North West
In the North West, of the 347 eligible branches in the province, fewer than 25% of the branches have held their BGMs. So far, 23 branches across the province have nominated Ramaphosa and 14 have backed Dlamini-Zuma.
In the Dr Kenneth Kaunda region, former provincial chairperson China Dodovu said only six out of a possible 66 eligible branches have had their BGMs. Four of the six nominated Ramaphosa and one nominated Dlamini-Zuma. The outcome of the other branch meeting was disputed.
Six of the 103 branches in the Ngaka Modiri Molema region sat for their BGMs. All of them nominated the party's deputy president.
In the North West's largest region, Bojanala, 10 of the 150 branches have had their BGMs, with seven nominating Ramaphosa and three backing Dlamini-Zuma.
In the Dr Ruth Segomotsi Mompati region, 20 out of 49 branches met, with six nominating Ramaphosa and 10 nominating Dlamini-Zuma. The remaining four are disputed.
Provincial secretary Dakota Legoete said the party's presidential race is still too early to call.
"At the moment, it is difficult to say who is the front-runner since not even 50% of the branches here have had their BGMs," said Legoete.
Free State
The Free State has been plagued by outbreaks of violence at its branch meetings. Insiders claim that 165 BGMs had been held in the province; but, the exact figures on how regions were nominating were still unclear at the time of going to print. The province will send 409 candidates to the national conference.
Provincial spokesperson Thabo Meeko said the PEC couldn't finalise nomination numbers because it was busy identifying violent hot spots.
"There have been indications of people who are hell-bent on disruptions, but we handled them well politically," he told the M&G.
Ramaphosa backers, however, claimed he had support in the Motheo region, where the deputy provincial chair, Thabo Manyoni, hails from. His lobbyists claim Ramaphosa is leading nominations in the Thabo Mofutsanyana region.
Dlamini-Zuma is expected to pull most of the nominations from the Lejweleputswa region and Fezile Dabi, Free State Premier Ace Magashule's home base. The Xhariep region has not yet begun its nominations process.