Eight prison warders and hospital staff have been suspended after the death of an inmate at Durban's Westville Correctional Centre after they allegedly failed to take the critically injured prisoner to hospital late last month.
The four warders and four nurses from Westville prison's Medium B wing allegedly ignored orders from a prison doctor to take Thulani Ntaka to an external hospital to have his head injuries treated. The injuries were inflicted by warders who subdued him after he stabbed another prisoner in a clash between the notorious 26 and 28 gangs.
Ntaka's death followed a series of stabbings between members of the two gangs, which began on November 25, when a 26 gang member stabbed a member of the 28s.
A full-scale riot broke out on November 28, when two 28 members attacked a 26 member in the exercise yard to avenge the stabbing, in front of the head of section who was about to address about 360 prisoners.
Medium B's C1, C2 and C3 sections have been placed on lockdown since the riot, with visitors being turned away and prisoners denied exercise for the past two weeks.
Staff this week continued to refuse to take bookings for visits from family members of inmates in the three sections. Prisoners and family members say they are being unlawfully punished for the gang-related violence in the prison.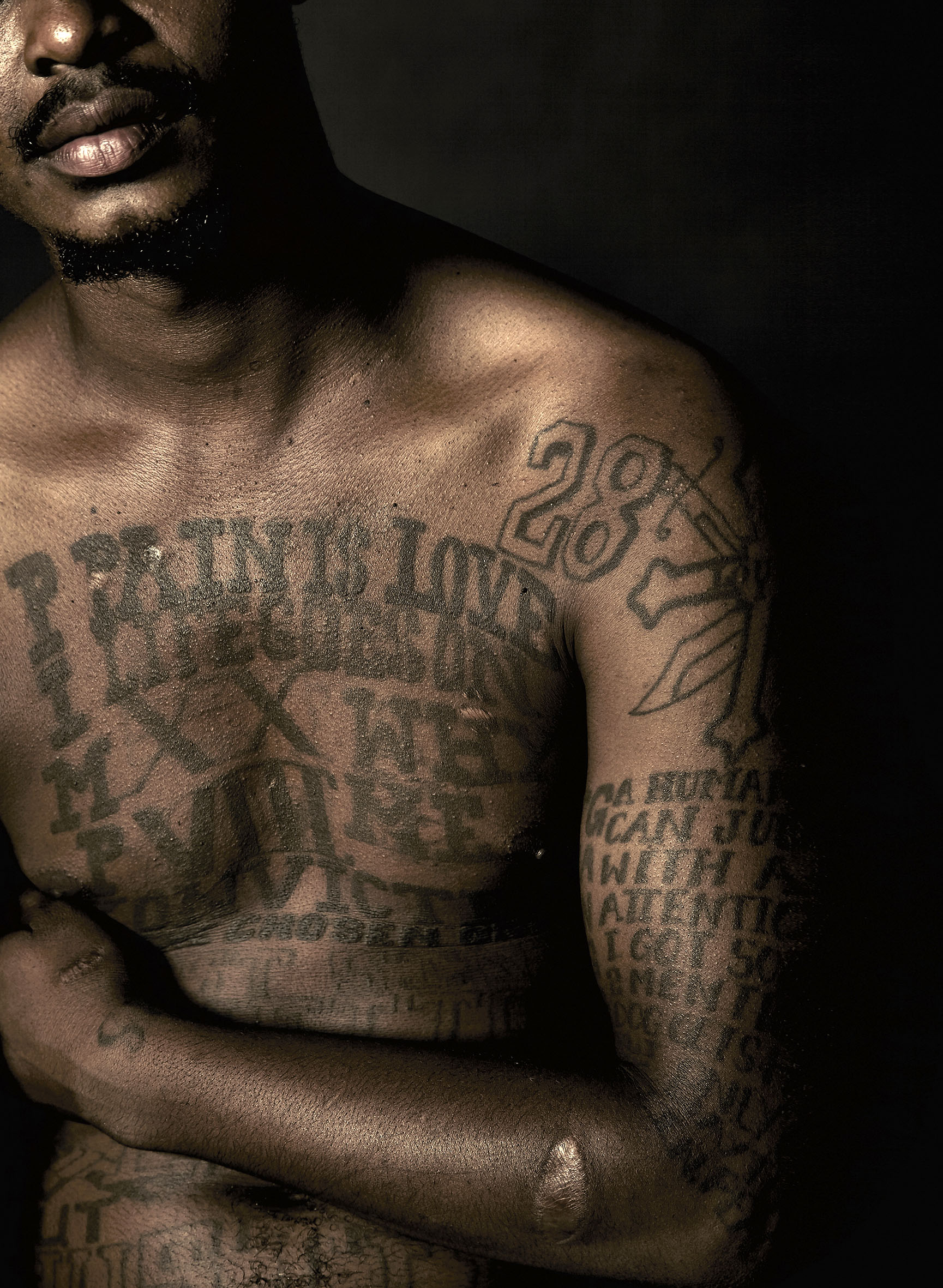 [On the inside: Violence in the prison is largely attributed to clashes between members of the 26 and 28 gangs. This is a photo of a former 28 gang member (Lee-Ann Olwage)]
Prisoners claim that the whole of C Section is being subjected to off-the-books punishment for the ongoing gang war and that non-gang prisoners are also suffering.
A source in the department of correctional services, who cannot be named because he is not authorised to speak to the media, said four warders and four nurses had been placed on precautionary suspension because ofthe death of Ntaka.
"They were told by a doctor to take the inmate in question to an external medical facility as there were not the critical care facilities on site that were needed," the source said. "The inmate was not taken out. There are suggestions that he was left in a single cell, apparently with no blankets. The inmate died."
The source said discipline and morale at Westville and at other prisons in the province had been affected by an ongoing war in the courts between provincial corrections commissioner Mnikelwa Nxele and national commissioner Zach Modise.
Modise had removed Nxele from office in 2015 and charged him with several disciplinary infractions. Nxele has gone to the courts for reinstatement, with judgment pending in the Labour Court after he sought to have his disciplinary process reviewed and reheard by an independent chairperson.
The fallout from their clash has sparked a series of suspensions and appointment by the two. In the most notable case, Durban area commissioner Lawrence Zikhali, a Modise appointee, was fired by Nxele for fraudulent qualifications, but was then reinstated by Modise.
"This is definitely having an impact on issues at Westville. The members are split into two camps, Nxele or Modise, and it is affecting morale and the way in which people do their work. There are people who are there but do nothing," the correctional services source said.
"If you go deeper into it, you will find that these administrative challenges are having an impact."
A prisoner in Medium B described to the Mail & Guardian the series of attacks in the weeks prior to Ntaka's death between the members of the 26 and 28 prison gangs.
"On the Saturday a 26 prisoner stabbed a 28 in the exercise yard in C Section," he said. "On the Monday the head of centre came to address the whole section in the exercise yard. There were more than 360 inmates. That's when two 28 gang members smashed in the head of a 26 with padlocks in socks.
"The head and deputy and some warders ran. There was a stampede and a whole lot of inmates got injured. There were two warders who didn't run and they managed to pin down the two 28s with the padlocks and then bring order,'' he said.
Since that incident, there have been another three stabbings, two in C1 section and another in C2.
"The stampede was all negligence," the prisoner said. "The head took the inmates into the yard on the Monday to talk to them and ordered all six cells shut, knowing that a 26 gang member had stabbed a 28 on the Saturday. They did this without any security backup. They know well that when things like this happen inside, the rival gang revenges. They are putting all of us inmates who aren't gang members at risk."
The prisoner said that visits had been stopped and exercise banned in the three sections since the warders were suspended.
"They are just feeding us and keeping us locked up all day with no exercise. This is not legal. Even a prisoner in C Max, who is under punishment, is allowed 60 minutes exercise a day," the prisoner said. "What's going on in this prison is wrong. They've stopped visits for all inmates illegally. People have come from as far as Harding and are being turned away. Right now they are not allowing people to book visits for this weekend."
Prisoners can be visited only from Friday to Sunday and by booking
telephonically in advance.
Sibonelo Zaca, whose brother Thamsanqa is serving a 20-year sentence for rape, arrived at Westville last Friday from Mooi River in the KwaZulu-Natal Midlands to visit him.
Zaca, who last saw his brother in July, said he arrived at the prison and was processed, only to be turned away with no explanation.
"I booked the visit last Monday. They confirmed I can come and gave me a reference number for Friday. I got there and they searched me and gave me a ticket. I followed all the procedures but when we got to the cell, they said no visits for C1 and C3 and that we must turn back," Zaca said. "This is unfair. I had bought stuff for him and I had to turn back with it. I wasted money on fuel and tolls to get here for nothing. I'll only be able to go back when he calls and I hear from him. This is unfair. They should have told us in the beginning what is going on."
Correctional services spokesperson Singabakho Nxumalo said the prisoner's death was being investigated by the police and the office of the inspecting judge of the Judicial Inspectorate for Correctional Services.
"The DCS also launched its preliminary investigation on November 15, and a full scale investigation is continuing,'' he said.
Nxumalo confirmed that "certain officials" had been placed on precautionary suspension to ensure that the investigation was not compromised and that "the outcome of the multidisciplinary investigations will determine further course of action''.
He added that no stampede had taken place and that allegations about "ineffective operations" at the prison were unfounded.