Azariah Shihlangu, 77, still wonders how he, his wife and their 10 children made it past the predators of the Kruger National Park when they were fleeing from the horrors of civil war in their country of birth, Mozambique.
"We came across elephant, buffalo, rhino, lions," he says in a slow, thoughtful manner, pausing to cast his eyes into the distance, the distance of history.
The brown pupils of his narrow eyes have been turned a greyish white by time and age. He pauses often to scratch spikes of grey beard. The look in those eyes is wretched and somehow haunting.
But his face wears a sort of permanent smile and he laughs often when he recalls some of the horrors from that turbulent period in the 1980s when thousands of people fled the raging war between the apartheid-funded Renamo rebel movement and the government forces of Mozambique led by Frelimo.
It is estimated that more than one million Mozambicans died during the 16-year civil war that broke out in 1977. It finally ended in October 1992 with the signing of the General Peace Agreement in Rome.
According to a study, The Point of No Return: Evaluating the Amnesty for Mozambican Refugees in South Africa, by Nicola Johnston of the University of the Witwatersrand, formal refugee status was granted to Mozambican refugees in South Africa only after the signing of a tripartite agreement between Mozambique, South Africa and the United Nations High Commissioner for Refugees (UNHCR) in October 1992. But only a few of the refugees took advantage of the UNHCR offer of free repatriation to Mozambique in the early 1990s.
"In 2000, an estimated 200 000 to 220 000 former Mozambican refugees remained on South African soil. The South African Cabinet decided in December 1996 that Mozambican refugees who wished to remain in the country should be given permanent residence status."
The horrors of the war and the displacement in their own country had been way too much for people like Shihlangu.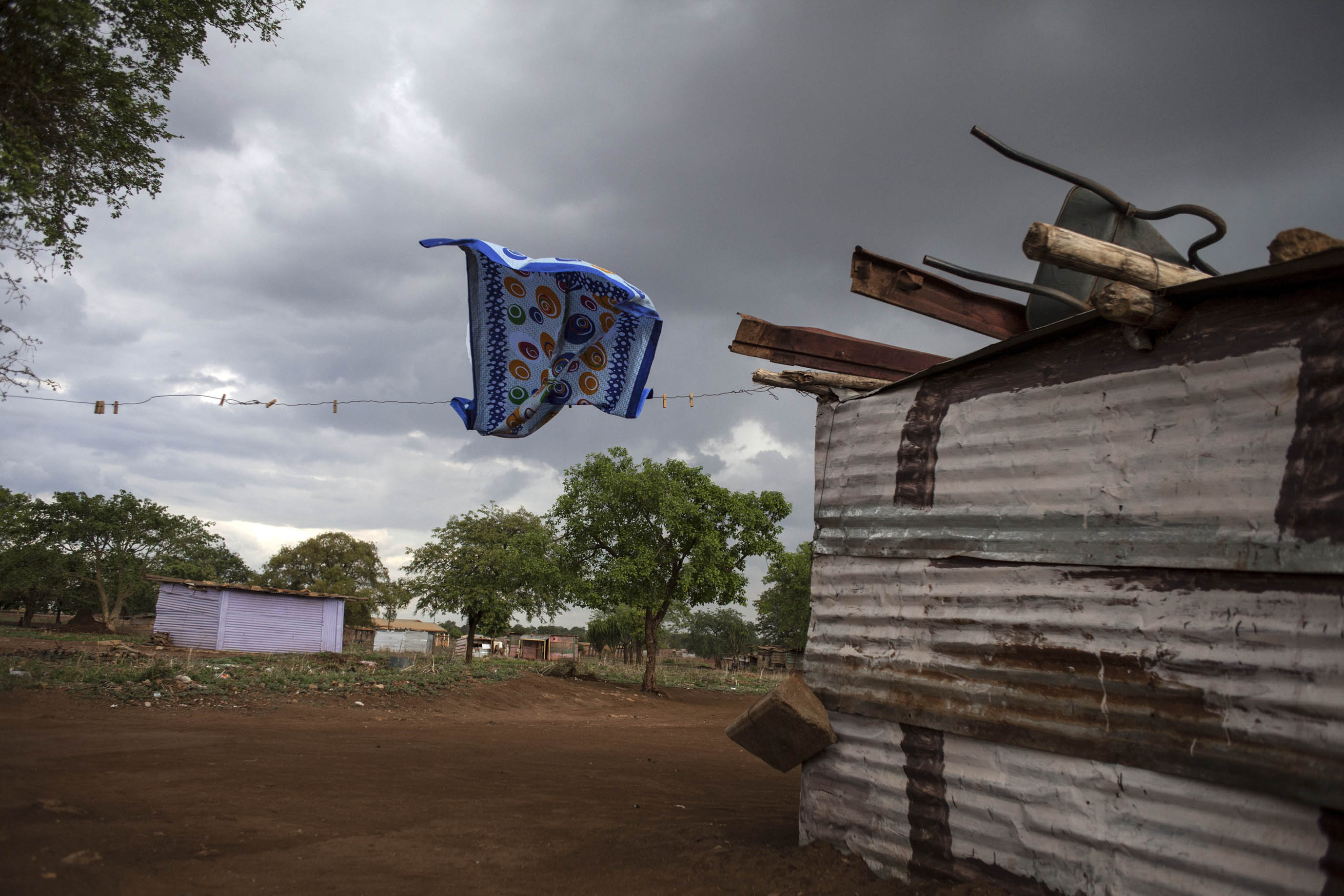 [Refuge: About a million or more people were killed in Mozambique's civil war and many hundreds of thousands fled the country. Some settled in what is now called old Hluphekani (above) in Giyani, Limpopo, seeking a better life. Children and grandchildren living there don't know the horrors of war (Oupa Nkosi)]
During the war, Renamo rebels, known by locals as matshanga, waged a reign of terror on citizens in the rural villages. Whole families were massacred, bodies dumped in wells, villages surrounded with landmines, young men forced at gunpoint to rape their mothers or kill their fathers.
Some of those who survived the guns were maimed, their limbs amputated and lips sliced off and, while trying to escape starving to death in the villages destroyed by Renamo, some were blown up by landmines and left to die in the baking tropical heat of Mozambique.
"Too many, too many people died in that war," Shihlangu says.
The dead included his cousins, brothers, other relatives and neighbours. Fortunately, his own children were spared. Four have since died and are buried in KaHomu 14C, a section of Giyani that is home to many like Shihlangu who fled Mozambique in the 1980s.
The apartheid government under PW Botha washed its hands of the refugees, leaving the under-resourced Bantustan governments of KaNgwane and Gazankulu to accommodate more than 350 000 distressed people.
In Hluphekani, near Giyani, where they were offered temporary land, refugees like Shihlangu built ramshackle dwellings with branches, cardboard and mud. He laughs and shakes his head when he recalls the time, in 1989, when he arrived in Hluphekani, which means place of suffering.
He managed to scramble together bits of scrap material to build a single hut for his family. For a while they lived on food donations made by the Gazankulu government under Hudson Ntsanwisi, who had welcomed the stream of refugees into his homeland.
There are only a few shacks and people left now in old Hluphekani, a once-bustling settlement of decrepit structures occupied by broken and troubled people. Many have now moved to areas like KaHomu 14C, across the road from the old settlement.
They are refugees no more but children of their adopted land whose hearts are nowhere else but in the fertile soil of this part of South Africa.
KaHomu 14C is a typical peri-urban township settlement with well laid-out streets, brick houses of varying styles and sizes and RDP houses with electricity. Others have become integrated in the many villages in the area. But the majority of those from Hluphekani are in 14C.
"Home is here now," says Shihlangu, sitting on the balcony of a L-shaped brick house overlooking a newly built RDP house in his yard. His wife, Paulina Ritshuri, sits nearby, cradling one of their grandchildren sleeping peacefully on her lap.
"We are happy here," he says.
He and his wife receive government pensions. Their surviving children live in different parts of the country and have started their own families with South African-born partners. Mozambique, to many 
like Shihlangu, is now a distant memory, a place of horror they wish to forget.
"Four of my children are buried here. I have built a home here. Why should I still look back?" he says, when asked whether he plans to return to his land of birth someday.
"We will be buried here," he says, to the animated approval of Ritshuri.
But surely they must miss Mozambique? After all, everyone supposedly has this never-ending connection to the land of their birth?
"We miss nothing. We have fields. We plough and plant mealies. We will die here," Ritshuri says emphatically.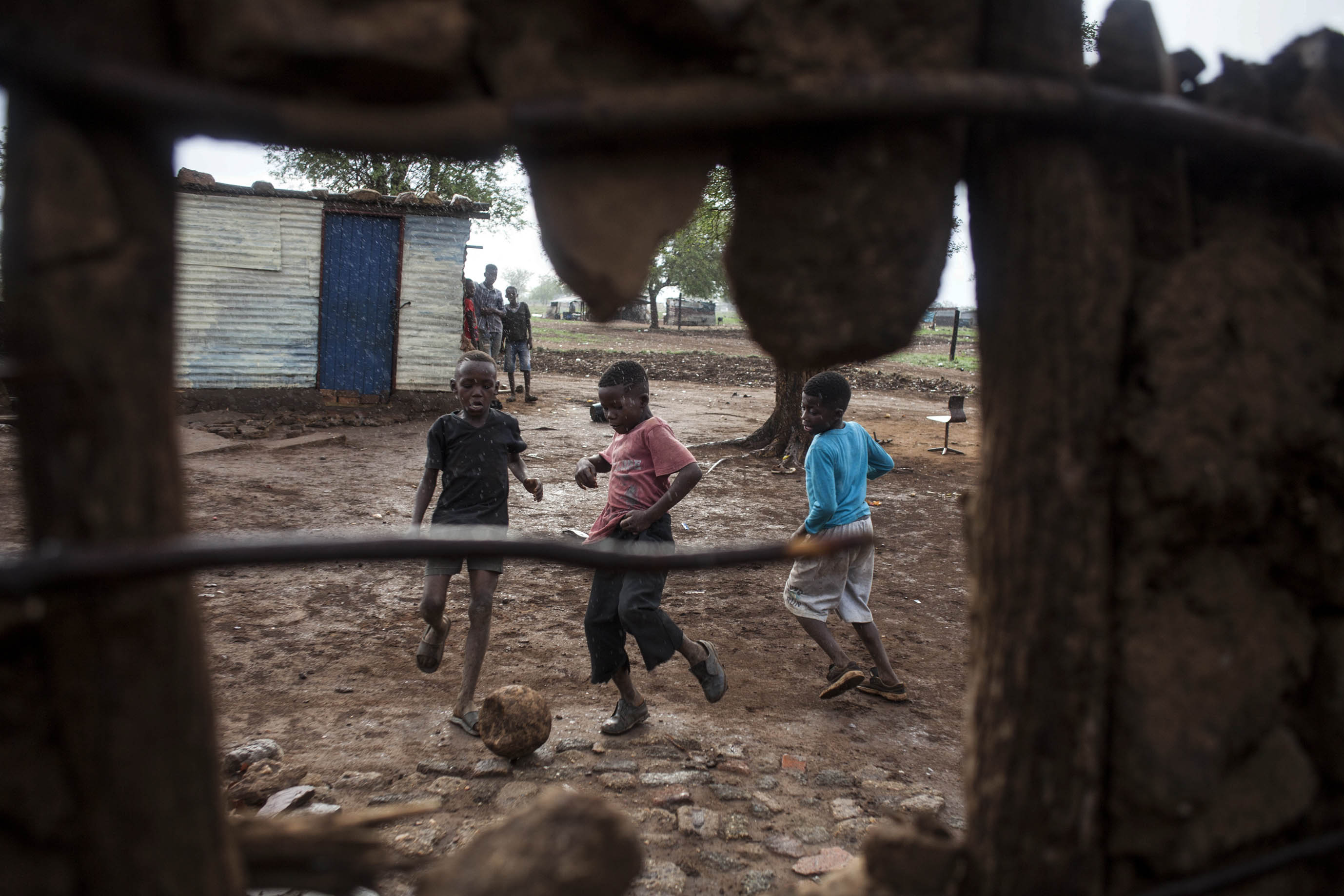 [Old Hluphekani (Oupa Nkosi)]
In old Hluphekani, Esther Mlambo stands outside the corrugated-iron shack she shares with her mother and her five children. She was born in Mozambique 33 years ago. Her mother, Magdelina Ngoveni, who does not know her age, remembers that she carried Mlambo on her back when she fled from the war in 1986.
Mlambo has no recollection of Massingir, the Mozambican district where she was born. The only home she knows and loves is Hluphekani. Unlike her mother, who only speaks Xitsonga, Mlambo is fluent in Sesotho, which she learnt during a brief period in her early childhood when the family lived in Phalaborwa, where her father died and is now buried.
After South Africa's first democratic elections in 1994, as part of a special arrangement, many of the Mozambican refugees living along the eastern part of present-day Limpopo and Mpumalanga applied for and were given South African ID books, which made them South African citizens.
Yet those who were not old enough to qualify for IDs then, like Mlambo, now struggle to obtain IDs. She alleges they are often told by department of home affairs staff to apply for IDs in Mozambique. This is the lot of many of the young people of settlements like Hluphekani, 14C and other areas that have since become home to former Mozambican refugees and their offspring.
Without an ID, life is a struggle. Mlambo's mother also doesn't have one so she doesn't receive a state pension.
Many of the youth like Mlambo have no recollection of Mozambique and have never set foot there since their parents fled. Those who were born here consider themselves to be nothing but South African.
Home to them is here and nowhere else, not even some place their parents often speak about with painful horror.
"I don't know anyone in Mozambique. I don't want to go there. Even my father is buried here," says Mlambo. "I'm [President Jacob] Zuma's child. My children are Zuma's grandchildren. Even my mother says she doesn't want to go back to Mozambique," she says.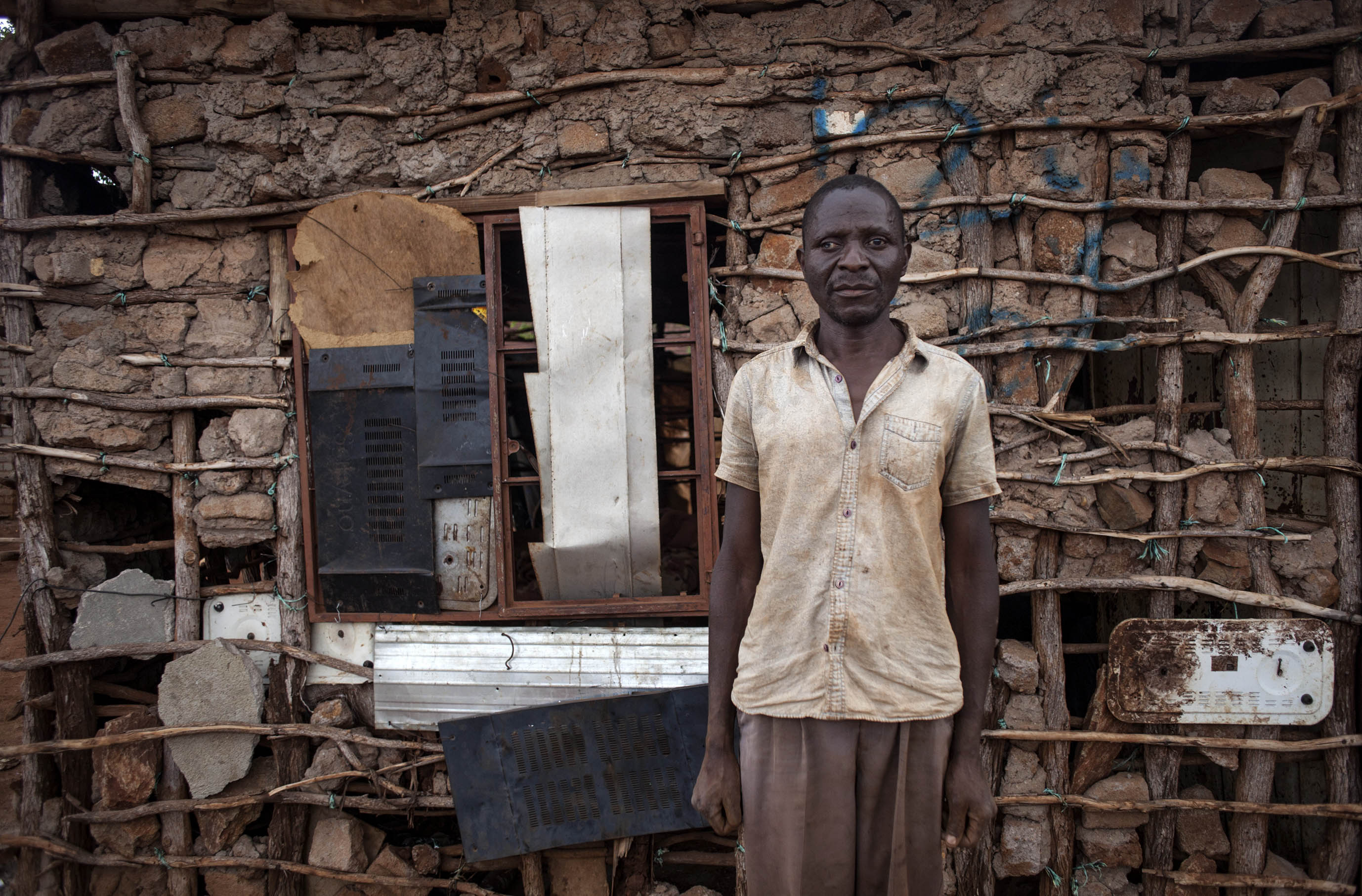 [Struggle: Frans Khosa arrived in Giyani in 1986 but, unlike most war refugees, he did not get a South African ID, which has made his life more difficult (Oupa Nkosi)]
To some, like Frans Khosa, the fruits of the relocation have been bitter. He lives alone in 14C in a ramshackle hut built from sticks and mud. Youths in the area have turned his home, whose walls have gaping holes, into a gambling den. Khosa has no ID. He is dressed in ragged pants and a T-shirt caked in layers of sweat and dust. He reckons he is 54 years old but he is not sure.
To those like Racklina Baloyi, who also doesn't know her age and has a home in 14C, the sweetness of life on South African soil has helped to erase the pain and loss of the past. She has kept her old shack in Hluphekani and goes there every day to brew traditional beer, which she sells in the settlement. She doesn't remember the exact year she came to South Africa but it was a very long time ago.
"All I remember is that we were running away [from the war]," she says.
Like many of the old people who escaped it, Baloyi has that haunted, weary look in her eyes when she recalls it, her jolly laughter replaced by a deep sadness. Time, it seems, has not erased the horrific memories of fear, death and loss.
"I had cars, boats, cows. I left everything there. We were running away. Our home is here now. We have built our home here and we no longer want to think about the past," she says.
Although it remains a part of them, elders like Salvaro Malungani (71), do not wish to keep holding on to what once was.
"They don't know me in Mozambique. My family is dead. I have no home in Mozambique. My home is here," he says, putting finishing touches to a pick handle he is fashioning out of wood under a tree at his home in 14C.
He came to South Africa in 1986. He too lived in Hluphekani before moving to 14C. He worked as a security guard at a local school from 1987 until he retired.
Although he receives a state pension, he makes extra income from his skill as a wood carver. His wife, Sara Malungani, is a subsistence farmer and also sells peanuts.
Home is now a four-roomed brick house he built with his earnings from his job. The yard is well tended, with an impressive orchard and vegetable garden. His tools of trade, farming tools and seeds are kept in a storeroom opposite the main house. He is happy and content and says he wants to be buried here.
The last time he was in Mozam-bique was in 2012 when he went there to perform rites at the graves of his parents, who died long before the war with Renamo broke out. His wife has not been back to Mozambique since 1991 and says she misses nothing about that country.
"I feel nothing. Home is here," she says with a smile of satisfaction.
Her husband has even cautioned his children not to delve too much into the family's roots in their country of birth.
"My children don't know Mozambique. I have told them not to worry about the past. That will cause them too much stress. Those that lived there are dead. They lived their lives. We now have to live ours," says Malungani.
He is a fit hulk of a man, who says he saw action in the Mozambican war of liberation against the Portuguese settlers, then fought against the Rhodesian regime of Ian Smith alongside Zimbabwean freedom fighters.
But when the war against Renamo broke out, he decided to flee with his four children.
"I was tired [of war]. Too many people were dying. I did not want my children to die."
He separated from his first wife while they were living in Hluphekani. She took to alcohol, which caused conflict between them. He wonders whether perhaps the horrors of war had been too much for her to bear. They walked for two days through the Kruger National Park, dodging soldiers, wild animals and tending to crying children, whose feet were badly swollen from walking.
Walking through the streets of 14C, it is hard to tell who is of Mozambican descent and who is not. After all, in centuries past, before the colonial borders were drawn up in far-off European cities and before the declaration of the Kruger National Park, the areas were both part of the great Gaza kingdom.
Its people shared a common culture, language and identity. As a result, integration between South African-born citizens and those who had fled the war in Mozambique, though not smooth, hasn't been a huge challenge.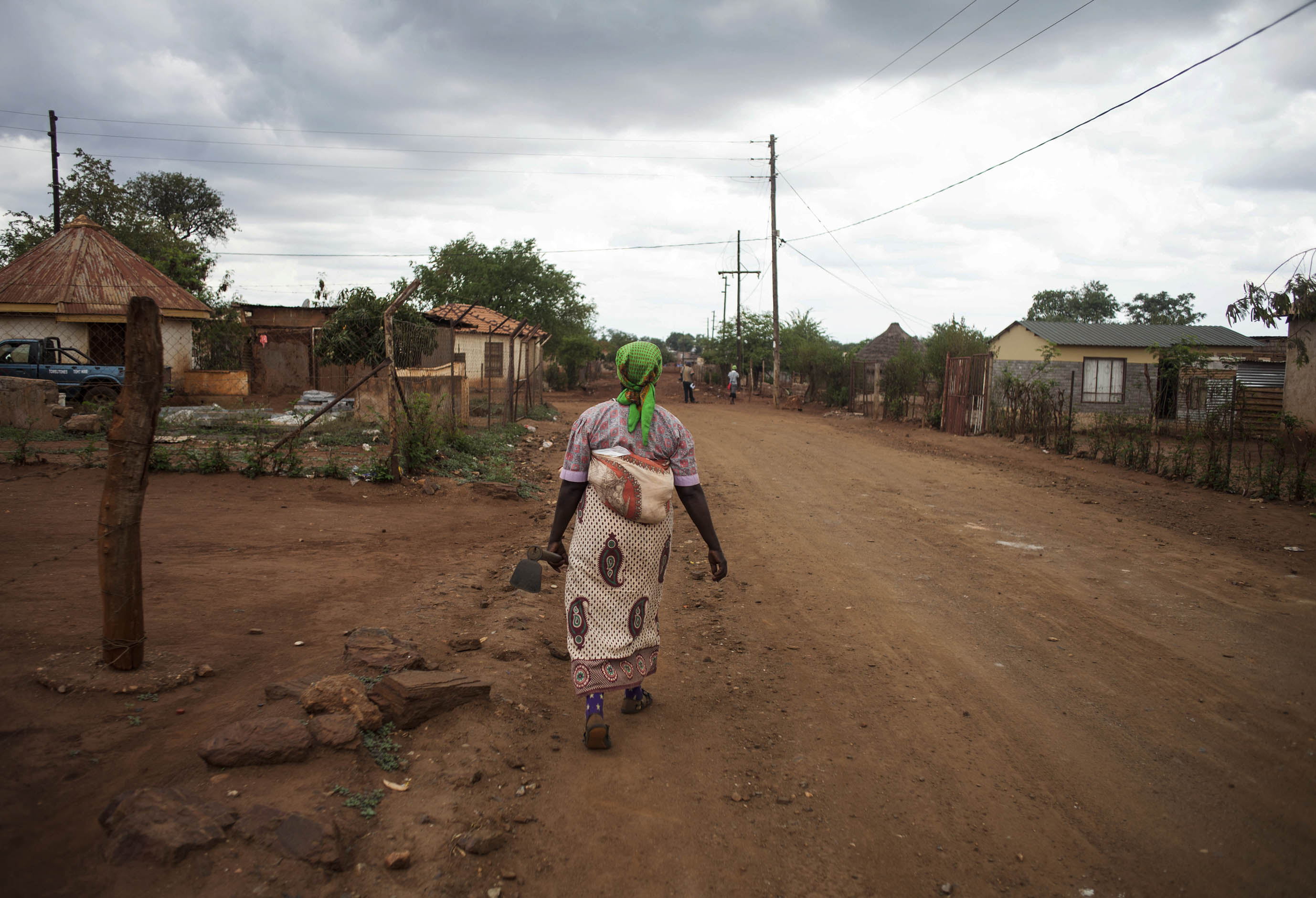 [Upgrade: A woman walks home after working in her field. She lives in KaHomu 14C, the formal settlement across the road from old Hluphekani (Oupa Nkosi)]
It is only when one drives along the main tarred road from Giyani past 14C that one gets to see a little touch of Mozambique — a store and tavern aptly named Samora. An employee at the facility says his uncle, who owns the establishment, hails from Mozambique and was a big admirer of the country's liberation hero and former president Samora Machel.
In fact, many of the older people use Machel's death as a point of reference.
"I came here before Machel died," they say, or "I came here after Machel died".
"We are united. There is no discrimination. When there is a ceremony, we all come together as neighbours," says 14C resident Raisa Mathebula, who is sitting on the stoep of her rondavel, overlooking a busy road.
She has lived in the area for the past 15 years and many of her neighbours have Mozambican roots.
"You see that boy?" she points to a teenager walking past her house. "His parents were born in Mozambique. But he does not even know the place." — Mukurukuru Media