There are two instructive proverbs among my (Indian South African) people about eating out: "Do not pay restaurant prices to eat what you or your mother can make better at home" and "Do not eat at an Indian restaurant that does not already have anyone of Eastern descent eating there too."
These axioms can be considered universal in their interpretation. When applied to the often overwhelming task of finding a good, quick, reliable spot to grab a bite to eat — particularly in the Dezemba heat — the results are not what one would typically expect.
Plastic chairs, nonslip tablecloths, hand-painted signage and yelling cooks-cum-managers are not only signals of the country's mom-and-pop cafés, but also of tightly held family recipes and a customer loyalty likely to run as deep as the establishment's grease stains.
We went in search of the holes in the wall that will be easy on tastebuds and budgets this holiday season.
JOHANNESBURG
Roving Bantu Kitchen
Address: Caroline Street, Brixton, Johannesburg
Website: facebook.com/rovingbantu
Seasonal, vegetarian-friendly, "Afrosoul" food and urban walks make up Roving Bantu Kitchen's signature offering. Sifiso Ntuli, the establishment's resident "roving Bantu", conducts tours in and around Johannesburg for limited numbers of guests — with its Brixton location as the anchor meeting and eating point.
Chong Qing Huo Guo
Address: 35E Derrick Avenue, Cyrildene, Johannesburg
Contact: 083 145 8838
Most visitors to Cyrildene — one of east Johannesburg's older Chinese diaspora districts — are unable to name a single place. This is likely owed to the area's bustling non-English setup: markets, stalls and mom-and-pop cafés that bleed into each other along Derrick Avenue. However, rumour has it that the hot pots at Chong Qing Huo Guo save lives.
Parreirinha
Address: 9 Sixth Street, La Rochelle,Johannesburg
Website: restauranteparreirinha.co.za
Johannesburg locals will know that Portuguese food is one of Jo'burg south's best exports. Parreirinha is a landmark in this regard — with tales of its affordable and unmistakable grilled prawns and pasteis de nata (custard tarts) making their way to food debates all the way up north.
Little Addis
Address: 280 Fox Street, City and Suburban, Johannesburg
Website: facebook.com/LittleAddisCafe
Whether it's a cup of Ethiopian carafe-poured coffee or a two-person plate of injera you crave just for yourself, there's nothing small about Little Addis — least of all its floor-to-ceiling poster of Emperor Haile Selassie. Vegans can eat easy here, making it one of the more accommodating eateries in the Maboneng precinct.
The Mistress of Spice
Address: Ridge Terrace Shopping Centre, Jim Fouché Road, Weltevreden Park
Website: facebook.com/themistressofspiceweltevredenpark
One of northern KwaZulu-Natal's inland exports, the Mistress of Spice is a one-stop spice, food and even prayer goods treasure trove. One can usually find owner-chef Seema Gianoo Singh in the kitchen, bustling about or talking small business with customers while her daughters help ring up the till on fresh roti rolls, handmade Indian sweets and seasonal curries.
Turkish Kebab House
Address: 79 Church Street, Mayfair, Johannesburg
Contact: 011 025 1123
Mayfair has no shortage of eastern restaurants, food stalls and night markets, so naming one such establishment seems almost criminal. However, it is not every day we come across cherry juice, salted lassi, flatbreads and authentic schwarmas for less than R100.
CAPE TOWN
Bebe Rose African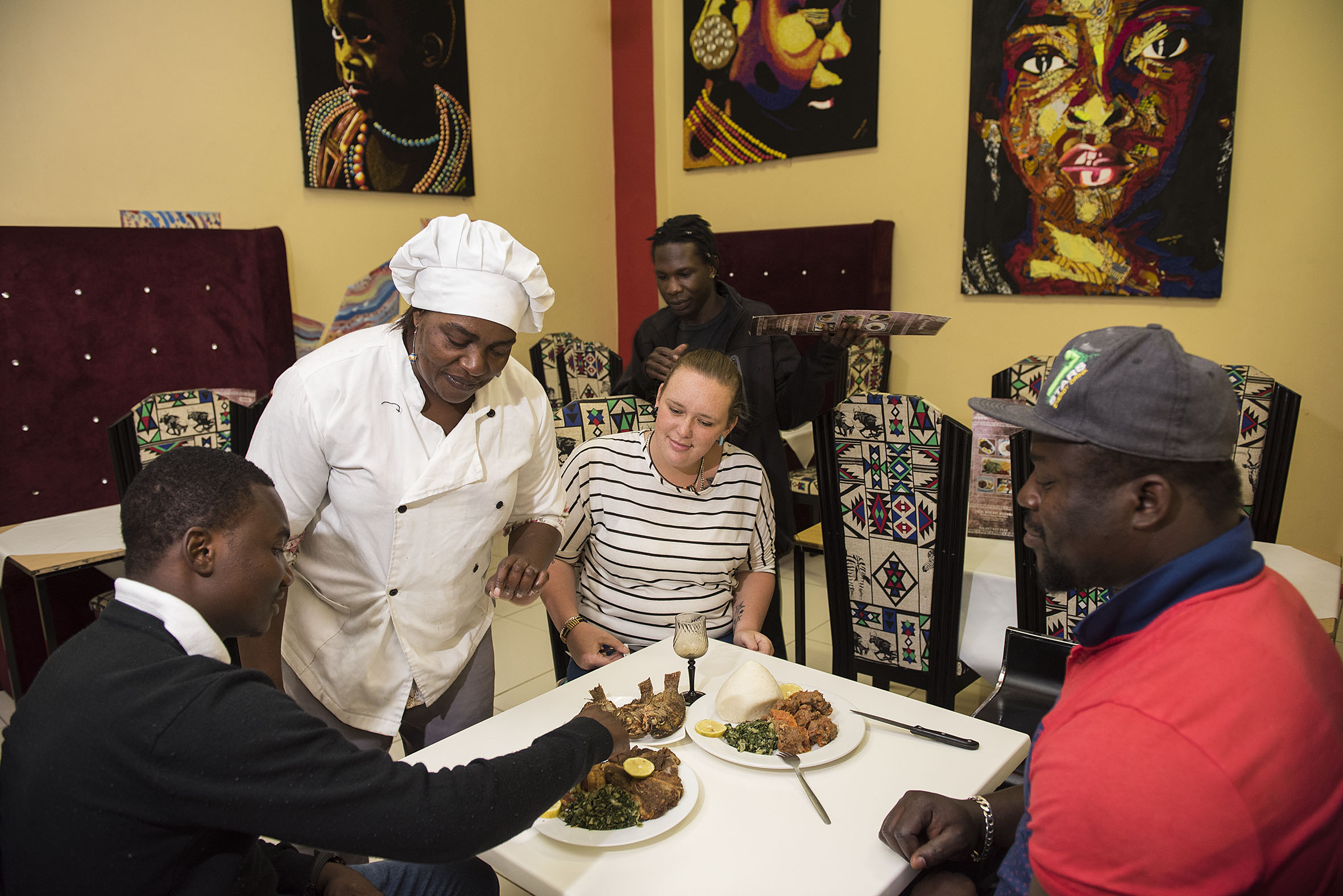 [African fusion: Bebe Rose African in Cape Town (David Harrison)]
Address: 78 Church Street, Cape Town city centre
Website: africanfoods.co.za
Whether it's plantain or pap you're after, Bebe Rose African has both. This African fusion restaurant specialises in traditional pan-African dishes. Specialities from head chef Rose Mona's kitchen include bobolo, cassava, ndole and goat.
The Cousins Trattoria
Address: 3B Barrack Street, Cape Town city centre
Website: thecousinsrestaurant.com
Known for its unexpectedly large parmesan grater, Cousins is owned and operated by three cousins who emigrated from Italy's Adriatic Coast to Cape Town and missed Italian food so much, they decided to make it themselves.
Visitors are warned never to ask for tomato sauce or mayonnaise.
Dine With Khayelitsha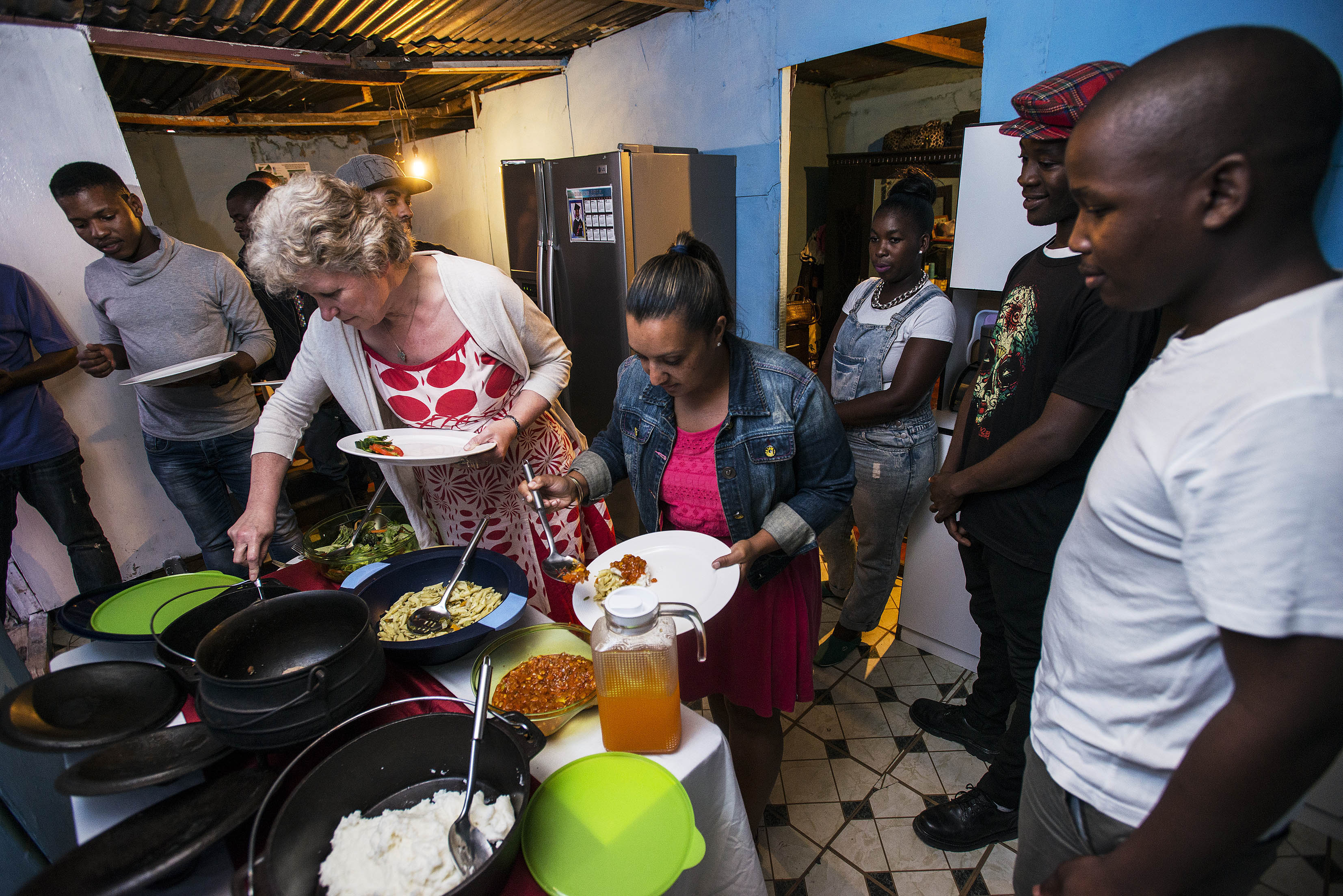 [Kasi life: The Dine with Khayelitsha platform connects townships and cities (David Harrison)]
Address: Site C, Khayelitsha, Cape Town
Website: dinewith.co.za
What began as a project to draw city dwellers out to experience kasi life has turned into a dining platform that turns township homes into mini-restaurants. The Dine With platform's aim: to connect townships and cities with the power of food and conversation.
Mariam's Kitchen
Address: 101 St George's Mall, Cape Town
Website: mariamskitchen.co.za
Open from 7am on most days, Mariam's is one of the city centre's original go-to spots for an impressive range of vienna-plus-bread combinations. Gatsbys, toasted sandwiches, salomies and platters are all available to order online — making Mariam's a dangerously accessible hunger cure.
Shayona's Pure Vegetarian
Address: Corner of Pine and Murton roads, Rylands
Website: shayona.co.za
A growing South African name in Indian vegetarian food, Shayona's Pure Vegetarian in Rylands is the fourth franchise nationwide to open its doors to homemade paneer and other vegetarian heartiness. Saturdays at Shayona's are typically filled with families enjoying the sun and the secret sauce.
Korean Soju
Address: 265A Main Road, Sea Point, Cape Town
Contact: 072 736 7845
The K-dramas that play throughout the day at this family-run restaurant on Sea Point's Main Road are, in some ways, symbolic of the food itself. Everything is colourful, served piping hot and accompanied by an insistent Korean chef showing newcomers the correct way to eat it all.
PORT ELIZABETH
Fishline Fish 'n Chips Takeaway
Address: Shop 34, Walker Drive Shopping Centre, Port Elizabeth
Contact: 041 360 0061
Run by mother-and-daughter team Irene and Anja Bester, Fishline has been serving up as many puns as it does daily specials on fresh fish and chips for 13 years and counting. Its aim: to "reel in" customers, both young and old, with a seafood dish to suit any palate.
Le Bon Bakery
Address: 24 Rose Street, Port Elizabeth central
Website: facebook.com/BillsLeBonBakery/
Opened in June 1965, Le Bon Bakery can still be found in its original building on the corner of Rose and Parliament streets. With its German baking roots, Le Bon is serious about bread. Go there for the fresh rolls, but you may well leave with a tray of jam doughnuts.
Delhi Snacks
Address: 249A Durban Road, Korsten, Port Elizabeth
Contact: 041 453 5782
Delhi Snacks prides itself on being the city's longest-running halaal takeaway. It has been a PE landmark for the past 48 years. Known for its affordable, large portions and community spirit, this is the place for chip bunnies and uncles' humour.
La Fiesta Takeaways
Address: Shop 4, Dolphin's Leap, Beach Road, Humewood, Port 
Elizabeth
Website: facebook.com/LaFiestaZA
Known for its "big taste", La Fiesta is a halaal-friendly café with a reputation for creatively filled Gatsbys, salomies and other greasy takeaways that come with a spicy kick. Big portions reign here too, making La Fiesta an economical indulgence.
Shisa African Restaurant
Address: Port Elizabeth Harbour, Port Elizabeth
Contact: facebook.com/shisaafricanrestaurant
Tourists do not often return to a holiday town to open an eatery they wished they could have frequented on their own vacation, but that's exactly what Capetonians Zoliswa Majodina-Nkosi and her husband, Sbusiso, did. Visitors to the harbour can now sink into hearty meals like samp, beans and tripe with seaside views.
KWAZULU-NATAL
Blue Lagoon
Address: Snell Parade, Durban
By day, Blue Lagoon is a hive of activity — from nature walks to flea markets. By night, it transforms into a tikka-smoked hub of deep-fried snacks from late-night food stalls, seasoned with car-boot parties and young people "hanging out" to R&B and hip-hop playlists.
Gounden's
Address: 520 Umbilo Road, corner of Deodar Avenue, Glenwood, Durban
Contact: 031 205 5363
You may need to follow your nose through a panel beater's shop to get to the Gounden's canteen, a Manchester United-adorned spot that draws in locals and travellers for its beer and bunny chow combination. Expect fast service and a soundtrack of MTV hits.
Govender's Curry Kitchen
Address: 5 Eaton Road, Congella, Durban
Contact: 031 205 4590
You'll have to skip past two other Govenders to get to this Govender: the home of Sagree Govender's original recipe curries. From vegan-friendly to carnivorous, the curries fill everything from bunny chows to roti rolls and pair instinctively with 1.5-litre glass-bottle Cokes.
Johnny's Sunrise Chip 'n Ranch
Address: 93 Moses Kotane Road, Overport, Durban
Contact: 031 209 2020
The name "Johnny" does not instinctively come to mind when thinking of traditional Indian-inspired takeaway — unless you've been to Durban. This 24-hour café is something of a local institution — plastic accents, roti rolls, hand-painted signage and all.
The Wentworth Hotel
Address: 162 Brighton Road, the Bluff, Durban
Website: wentworthhotel.co.za
Regular hotelgoers might be caught off-guard by the Castle Lager-sponsored sign welcoming visitors to the Wentworth Hotel, but that should not deter anyone from trying the poolside seafood platters and bunny chows.
The Spice Emporium
Address: 31 Monty Naicker Road, Durban
Website: facebook.com/SpiceEmporium
If there's one thing that is hard to list, it's a spice shop in Durban. (I say this with full pride in my people's masala market penetration.) That said, the Spice Emporium is known for its good organisation and accompanying restaurant built to satisfy the cravings that come with spice shopping.