The poet's biographer on how he brought together the African and diasporic traditions of resistance and art
On January 3 2018 — the year in which he would have reached the milestone of his 80th birthday — the sagacious doyen of African and black diasporic letters, poet laureate Keorapetse William Kgositsile transitioned into the realm of his ancestors.
On this occasion of his departure, after spending the past five years working with him as a research subject for my doctoral thesis, as well as in my capacity as his biographer, I feel compelled to pay tribute to this literary giant.
As much as he is a celebrated figure in South Africa and the United States, there are fragmentary biographical sketches of his life that are not widely documented. I will focus on his years in South Africa before exile to illuminate a lesser-known stage of his life, then chronicle his exilic movements and homecoming.
Kgositsile was born on February  18 1938. Articles and websites unwittingly document his birthplace as Johannesburg — a result of the political conditions in which he was born and the foresight of his fierce grandmother, Madikeledi, who defied them. He was born in Dithakong, a village in Mahikeng, but Madikeledi drilled into young Keorapetse's mind Johannesburg as his birthplace, in case the security police chanced upon him. This safeguarded him, to an extent, from the jaws of the Groups Areas Act and the pass laws.
Two women, his grandmother and his mother, Galekgobe, are the concrete foundation of his life: "Practically everything I write is tied up with some kind of wisdom I got from them in that hostile environment."
Madikeledi was a pivotal figure in his development. Her political savvy recognised British colonial education as "very dangerous" and the English language as responsible for "the death of our ancestors". She forbade English in her household, and nourished in Kgositsile a love for Setswana and literature. This love makes Kgositsile's oeuvre an impressive bridge between black South Africa and black America. In his towering tribute to Madikeledi, Kgositsile draws parallels between her wisdom and that of Amiri Baraka, Malcolm X, Frantz Fanon and Patrice Lumumba. This historical arch bridges black intellectual production in these two geographical loci, and Kgositsile emphasises it for pan-African solidarity.
In Kgositsile's work Madikeledi represents a matri-archive from which he was able to draw the principal values of community, custom and culture on which his formidable oeuvre rests. He is praised by his African-American peers for being of two worlds but not divided, possessing a powerful harmony within himself — a universal blackness. His distinct radical, collectivist and material approach to politics and culture places him in the tradition of his literary predecessor, ANC co-founder Solomon Plaatje.
Tragedy befell the family when Madikeledi died in 1949, a moment he would reflect on in an experimentation with form in exile, in his short story Grandma's Favourite Son, published in Negro Digest (later Black World) of November 1972. The timing of this story is synchronous with his discovery of his mother's death in 1968, three years after the fact.
Both these occasions launched Kgositsile into inconsolable alienation that later drove major transformations in his life and work.
The first death resulted in young Kgositsile relocating to Lomanyaneng in Mahikeng, to live with his Uncle Tholo, a teacher at Tshidi Barolong Secondary School, where Kgositsile enrolled. Bra Tholo's house was known for blaring the latest jazz records on the weekend and hosting distinguished jazz-loving friends. In the late 1940s, Bra Tholo discovered bebop through Sam Tshabanga, a township jazz trumpeter and friend who had come into contact with American jazz pianist Horace Silver while playing for the African Jazz Pioneers. Silver would send Tshabanga new records from Blue Notes Records upon their release.
Living in a house filled with jazz would shape Kgositsile's relationship to the art form, and today his work cannot be read outside the frame of black music. He would later understand its development in black America, and its development in South Africa from marabi, to be the most advanced cultural or artistic affirmation of black people's determination to live in spite of the conditions they were faced with. Setswana and jazz worked in tandem as political building blocks to counter colonial and other alienations.
Kgositsile moved to Johannesburg in 1952, into the cauldron of deep cultural, political and economic tectonic shifts, to continue his high school studies in what was then Western Native Township's Madibane High School. This move followed a short stint at the Ohlange Institute in Durban, from which he was expelled because of his involvement in detonative student politics during the height of student strikes against the newly formed apartheid regime.
Ohlange was the brainchild of ANC co-founder John Langalibalele Dube, who modelled it on Booker T Washington's Tuskegee Normal and Industrial Institute in Alabama, where Dube completed his studies in 1899. Ohlange turned Kgositsile's mind into fertile ground for political activity and prepared him for the pace of urban sociopolitical life.
At Madibane High, his love for Setswana was deepened by Daniel Phillip Semakaleng Monyaise, the canonised Tswana author who taught language and literatures there. If Madikeledi sowed the oral component of the Setswana language, then Monyaise tended the seedling and made it possible for Kgositsile to start thinking about the written component of that language.
Until his death, Kgositsile nourished a deep desire, born out of a sense of atonement, to translate Monyaise's work into English.
Even before completing high school in 1954, Kgositsile was aware of the currents of a black literary renaissance underway in the 1950s — the fabulous decade of Drum and Sophiatown — so that by the time he finished his studies he was resolute in his decision to be a writer.
He vowed never to work for a white man and, more importantly, never to sound or write like one. He started interacting with writers such as Can Themba, Casey Motsisi and Stan Motjuwadi, who, in his reckoning, did not express themselves like carbon-copy English writers.
Themba was most appealing to Kgositsile; his writing made Kgositsile realise that his poetic references were not English, in spite of the language he used, which inspired Kgositsile's life's mission to make English native to South Africa.
The supreme intellectual tsotsi of them all, as Lewis Nkosi deems Themba, fought against apartheid's attempts to retribalise the natives, thus fashioning an urban literature on terms that were deemed unacceptable. Themba's rejection of the country and its indigenous languages, and his writing in a new lingo of the townships, became an act of protest against apartheid's retribalising project. Nourished by the Setswana matri-archive, Kgositsile also rejected the government and its tribalism, but committed himself to a unique project of finding continuity between the cultural imperative, his emerging urban identity and his later diasporic identity. This commitment is principal to appraising him as a bridge between black South Africa and black America.
In 1955 Kgositsile pursued and found tutelage with journalist Alex la Guma, then based in Cape Town, whose work in the communist weekly paper The New Age deeply moved him. The following year Kgositsile established himself as a journalist. His work appeared for the first time in print in The New Age (known as The Guardian before the Treason Trial), under the editorship of Ruth First. To contextualise the newspaper, all its editors — First in Johannesburg, Brian Bunting in Cape Town, Govan Mbeki in the Eastern Cape, MP Naicker in Durban — were part of the Treason Trial. They were not just journalists but also political activists. It was through this cultural and political matrix that Kgositsile joined the ANC.
His life mirrors that of Plaatje in reconstituting the ANC as an organised political expression of a cultural alternative to the culture of colonialism and apartheid.
Kgositsile was soon entrusted with the responsibility of being the messenger between the ANC leadership and Alfred Nzo, the chairperson of the ANC's Alexandra branch, who was detained at the Modderbee Prison for not carrying a residence permit. As Kgositsile recalled, he always outsmarted the prison guards, who were not the brightest crop and who believed all natives looked alike. This put Kgositsile on the radar of the ANC leadership.
Politically, things reached fever pitch. In 1959, the Africanists opposed to multiracialism broke away from the ANC to form the Pan Africanist Congress (PAC), demanding the government of Africans by Africans for Africans and promising militant action to achieve it.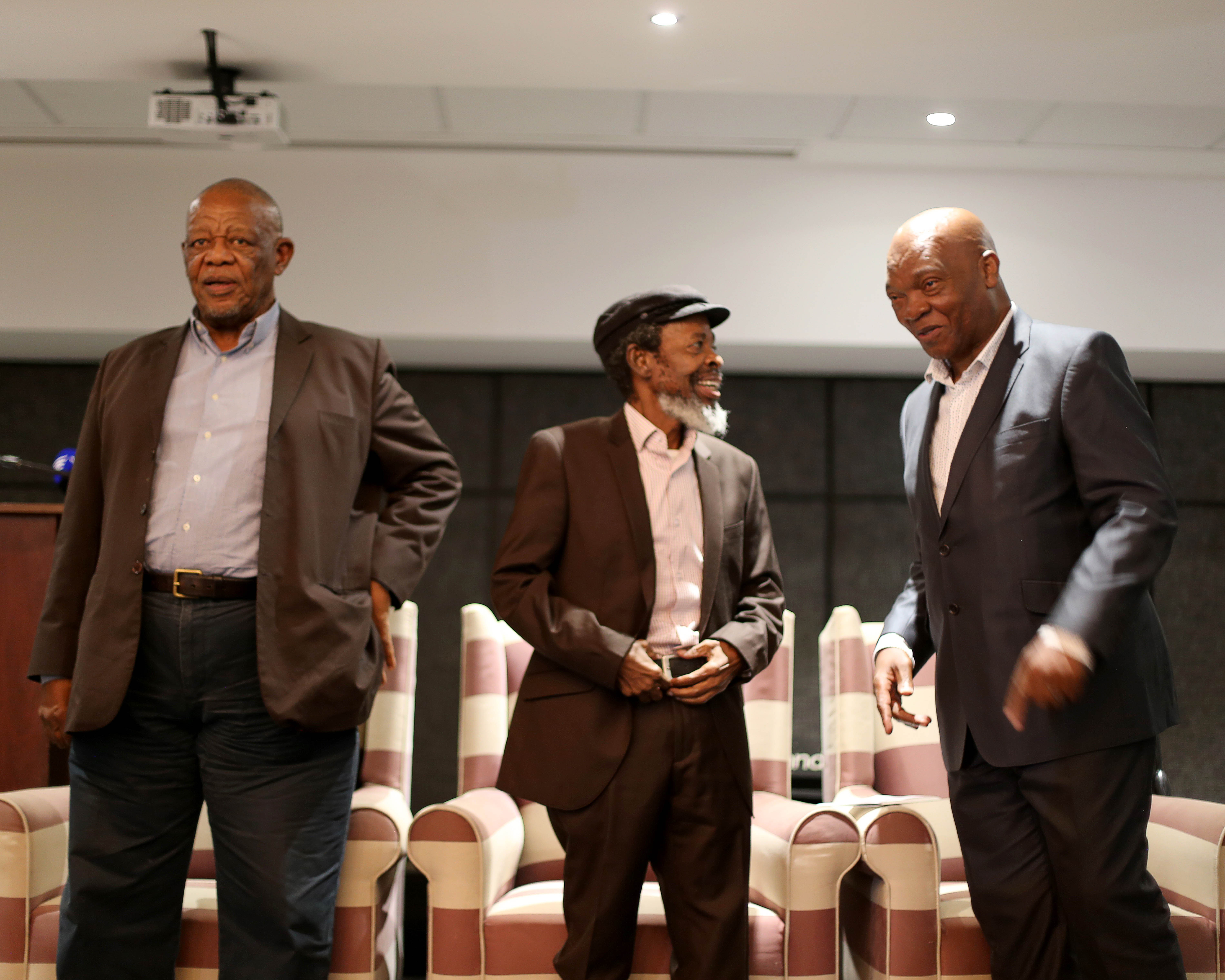 [Elders of the word: Mongane Wally Serote, Keorapetse Kgositsile and Mandla Langa were honoured by the Nelson Mandela Foundation for their contribution to the freedom struggle (Andrew Tshabangu)]
The PAC announced a campaign of mass protest against the hated pass law system. On March 21 1960 in Sharpeville, the PAC, led by Robert Sobukwe, waged an anti-pass protest. They were met by police officers who opened unrestrained fire on protesters, killing 69 and wounding 186. The massacre became a symbol of the brutality of apartheid. Prime Minister Hendrik Verwoerd ordered a crackdown. Using emergency powers, the government banned the ANC and the PAC and detained thousands of anti-apartheid dissidents.
The ANC responded by ordering some of its members, including Kgositsile, to leave the country.
In a meeting with Walter Sisulu, Duma Nokwe and Joe Slovo, Kgositsile was instructed to leave with a Tanganyikan journalist for Dar es Salaam. What followed was a harrowing passage to exile, and his attempts to write of it in the piece I Know My Name draws parallels between his crossing of the crocodile-infested Limpopo River and the middle passage of the Atlantic slave trade. In his summation, he lost the first of his nine lives, but was reborn with new purpose.
In Dar es Salaam, Kgositsile lived in the ANC camps and wrote for the communist journal Spearhead, edited and published by ANC member and lawyer Frene Ginwala. She assisted many exiled members of the ANC and helped to establish the ANC in exile. Spearhead, a monthly journal, was conceived as a tool to bring continental attention to the atrocities of the apartheid government, to put pressure on that regime. The title is a reference to ANC's armed wing, uMkhonto weSizwe — "the spear of the nation" — which was already sprouting underground.
Also finding root in neighbouring Uganda was a new crop of African authors of English expression, as shown by the June 1962 Makerere conference on African literature in the English language. Kgositsile's Spearhead colleague, journalist Joe Louw, attended the conference and returned with new novels out of West and East Africa. Kgositsile, as an aspiring writer with a project to tame the English language, found this a treasure box of African contemporaries, and it cemented his ethos. His field of influences grew.
It was in Dar es Salaam that he started toying with the idea of writing fiction. During this time the ANC offices, through diplomatic relations, received scholarship offers for African students to enter a programme administered by the Africa-America Institute, funded by the US government. The scholarship sent African students to Lincoln University, a historically black institution. Kgositsile received the scholarship and left Tanzania for the US. He arrived in New York in December 1962.
In the US: 1962–1975
Kgositsile arrived in New York City to the ferment of nascent civil rights uprisings. His strong sense of community readily placed him in solidarity with the African-American struggle. Coming from the South African liberation movement, he fought alongside his African-American counterparts against white supremacy.
Isolated at Lincoln University in rural Pennsylvania, he spent most of his time in the library, imbibing African-American literature and finding striking parallels between the two geographical loci. The cultural convergence of experiences, as witnessed in Afro-American texts and jazz, provided him with emotional placement.
He soon wrote his first poem and published it in the university's newspaper, The Lincolnian. He had finally found his medium, and his poetry would be sought by magazines, newspapers and journals such as The Liberator, Negro Digest, Black Dialogue and Soulbook.
Kgositsile spent his time between Lincoln University and New York City, where he stayed with South African exiles Hugh Masekela and Jonas Gwangwa, who shared an apartment. The building was in Harlem, a predominantly black political and cultural hub of civil rights movements, which was often under the eyes of the FBI. Kgositsile's name made it on to their list shortly after his arrival in the US.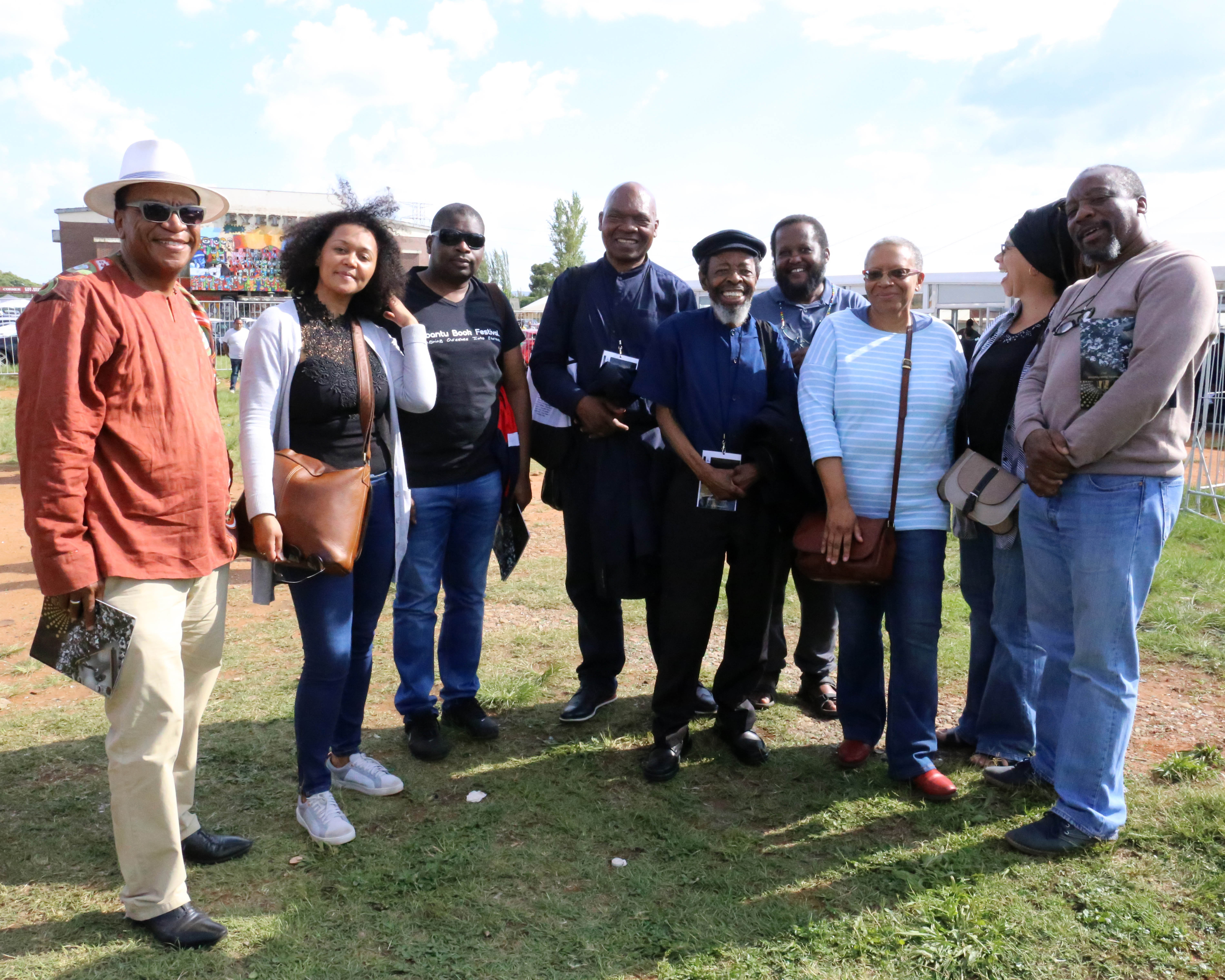 [Keorapetse Kgositsile with fellow poets in Cuba in 2017 (Andrew Tshabangu)]
It would seem the scholarship that enabled him and others, such as Louw, Peter Davidson and Harold Head (writer Bessie Head's husband) to reside in the US also gave the FBI a list of insurgent PAC and ANC students to watch. It was the CIA's plan to bring young political students from Southern Africa under its watch and, in effect, tame them into noble savages with American education. That was a crude oversight on their part.
A congregation of anti-colonial and anti-apartheid Southern African activists in a historically black university, robustly engaged with their African-American counterparts, led mounting resistance and gained attention from influential civil rights leaders such as Malcolm X, Stokely Carmichael (president of the Student Nonviolent Co-ordinating Committee and, later, Miriam Makeba's husband), Abdulrahman Mohamed Babu (one of the leaders of the 1964 Zanzibar Revolution) and Abdullah Abdur-Razzaq (Malcolm X's right hand), who visited Lincoln University to mobilise students and staff.
The grounds of Lincoln swelled with political activity, attracting even the notice of the Ku Klux Klan. Kgositsile soon absconded from Lincoln to join the Student Nonviolent Co-ordinating Committee, which was staging protests in the form of sit-ins, and mobilising people, particularly in the South. Kgositsile was soon travelling to, notably, Mississippi, as part of the Freedom Summer campaign, to stoke the fires of Southern civil rights.
In New York Kgositsile had already established a base. He, Amiri Baraka and Larry Neal were inseparable, and, alongside writers David Henderson, Ishmael Reed, Askia Toure, Jayne Cortez and Quincy Troupe, became the cultural mouthpiece of the Black Power Movement, known in retrospect as the Black Arts Movement. Kgositsile's thrust was now cultural and political. The pan-African articulations in his work soon injected the Black Power and Black Arts movements with a consciousness of Africa and its diaspora. The scope of the African-American struggle extended to alliances with anti-colonial movements on the African continent, in Latin America and the Caribbean.
With an identity they deemed fraught by doubleness and hyphenated by blood, African-Americans began gravitating towards Africa in defining themselves. LeRoi Jones became Amiri Baraka, Ronald Snelling became Askia Touré, Stokely Carmichael became Kwame Touré, Don Lee became Haki Madhubuti, Paulette Williams became Ntozakhe Shange and Gloria House became Aneb Kgositsile.
Africa became a prime metaphor through which African-Americans sought to self-define, and Kgositsile represented the materiality of the continent.
His astute decolonial politics inspired Black Power and Black Arts, and he was embraced and celebrated by black publishers, jazz musicians, writers, politicians and painters. Among the most significant of the influences Kgositsile had in the black diaspora was his artistic relationship with saxophonist Pharoah Sanders, which resulted in Kgositsile writing liner notes for Sanders's 1971 album Thembi.
Kgositsile's decolonial vision and sense of community, as eloquently expressed in the poem Towards a Walk in the Sun, inspired the revolutionary poetic outfit and purported grandfathers of rap, The Last Poets. They responded to Kgositsile's call for the "end of poetry" and the beginning of armed struggle by declaring that "therefore we are the last poets of the world".
The Setswana language and literature, which by now instructed Kgositsile's pen, moulded Towards a Walk in the Sun's keen sense of collective action, its powerful poetics, rhythms and overtures.
Writer-activist Tom Dent wrote of Kgositsile in the preface of his Magnolia Street: "Kgositsile is a powerful poet whose voice contains an innate, almost divine authority, as if he is participant in a privileged conversation about the nature of life. Always struggling in his life and work to come to terms with a home he was and is exiled from, he encouraged me to better understand mine."
This is the collectivist virtue and ethos that has come to define Kgositsile. Giving himself without losing himself is why he was a powerful geopolitical bridge, and I believe these qualities have strong roots in his matriarchal upbringing, and the generative and transformative matri-archive it imparted.
He had published widely by the end of the 1960s, winning the second Conrad Kent Rivers Memorial Award ahead of the release of his debut collection, Spirits Unchained, in 1969. That collection earned him the Harlem Cultural Council Poetry Award and the National Endowment for the Arts Poetry Award. His second collection, For Melba (1970), is a homage to his first wife and their daughter, Ipeleng Aneb Kgositsile.
This monumental collection's sensitivities complicate the rampant masculinity that is often the thorn in the Black Power and Black Arts legacy. In the introduction to the collection, Kgositsile laments the disrespect for women and the elderly in his immediate community, and renounces it as alien.
Kgositsile's third collection, My Name Is Afrika (1971) — his magnum opus — was initially submitted to Columbia University as part of the requirements for the fulfilment of a master's degree in the arts. He had by then completed his unfinished Lincoln degree at the New School in New York.
In 1972, Kgositsile put a call out to African writers to submit poems for The Word Is Here (1973), which he edited. The Present Is a Dangerous Place to Live (1974), his fourth full-length collection, symbolically marked his imminent departure from the US and expressed his depression after learning of his mother's death.
Places and Bloodstains, his fifth offering, demonstrates a shift in consciousness.
His earlier four volumes were largely dedicated to diasporic political figures and movements. Places and Bloodstains, introduced by Chinua Achebe, is dedicated to Southern African political movements and figures. By now a towering figure in the worlds of politics, culture and academia, Kgositsile's official ruminations on art were solicited by Gwendolyn Brooks and Haki Madhubuti (founder of Third World Press, which published The Present Is a Dangerous Place to Live), and he collaborated with them on A Capsule Course in Black Poetry Writing, published in 1975. (I use this publication in my poetry course at Stellenbosch University.)
Return to the source: 1975
The conditions surrounding Kgositsile's decision to leave the US had to do with his frustrations with being away from his site of struggle, despite his internationalist outlook, and notwithstanding his new family, Melba and Ipeleng Kgositsile. He travelled to London to speak to ANC president Oliver Tambo, discussing ways to get him back to Africa.
In London he also reunited with Duma Nokwe, recently appointed deputy secretary general of the ANC, and its director of international affairs. Kgositsile's time with Nokwe, albeit less than a month, was one of learning and being inducted into the complex politics of internationalism. Nokwe, who had travelled with Moses Kotane and Tambo to the Soviet Union and China on ANC missions, soon evolved into a mentor and the main catalyst of Kgositsile's alignment to the South African Communist Party (SACP). Kgositsile named his son after Nokwe.
Nokwe gave Kgositsile the biography Moses Kotane: South African Revolutionary, as well as pamphlets from previous conferences in the Soviet Union, China and Cuba. He also appeased Kgositsile's desires by buying him a ticket to Tanzania, to be stationed at the ANC camps in Morogoro, 169km west of Dar es Salaam.
Upon his return to the continent, Kgositsile allegedly sent one-way tickets for his first wife and seven-year-old daughter, but they decided against a move to Tanzania. He filed for divorce from Melba in 1976.
In Tanzania, Kgositsile was appointed to the University of Dar es Salaam, where, in 1975, he invited La Guma, then based in Cuba, to become writer-in-residence. La Guma was, in that year, the deputy secretary general of the Afro-Asian Writer's Association's (Aawa), a cultural wing of the Afro-Asian People's Solidarity Organisation. In 1976 he became the assistant editor of Lotus: Afro-Asian Writing. Through these networks Kgositsile started carving his cultural and political pathways, in the Soviet Union and as a member of the SACP and Aawa.
His work and commitments combined black consciousness with Third World consciousness. His poetry started articulating an uncompromising leftist and socialist stance, praising alignment with the Soviet Union, and articulating the aspirations of the proletariate. These poems appear in a 1981 anthology, Somehow We Survive, edited by Sterling Plumpp, introduced by Kgositsile and illustrated by South African artist Dumile Feni.
In these poems, we witness new shifts in Kgositsile's development as a writer. He identifies himself as the poet of the revolution, which anticipates his inauguration as democratic South Africa's national poet laureate. He aligns his work with other poets of the revolution: Jorge Rebelo of Frelimo in Mozambique, Agostinho Neto of Angola's MPLA, Mahmoud Darwish of the Palestinian Liberation Organisation and Vietnam's Ho Chi Minh. These poet-revolutionaries Kgositsile held in high esteem; they symbolised the conjunction of culture and politics.
In 1978, Kgositsile met and married exiled South African Baleka Mbete. Mbete was fundraising for The Voice of Women, a quarterly magazine of the ANC women's section. Kgositsile was immediately taken by this brilliant comrade, whose detonative sentiments of the struggle were symbolised in the firearm she carried. At the time, Kgositsile was resolute that armed struggle was the only feasible way to overthrow the apartheid government.
Mbete became instrumental in relaying the struggles of women in the liberation movement to Kgositsile. She grounded Kgositsile's revolutionary sensibilities. His 1980 poetry collection Heartprints, his sixth, combines old and new poems, all dedicated to women, with all proceeds going to The Voice of Women. It is "dedicated to our grandmothers, mothers, aunts, sisters, wives, daughters and cousins in our struggle for national liberation and especially to the Women's Section of the African National Congress".
The poems appear in English and German, and the collection was published in East Germany, again with illustrations by Feni. This is Kgositsile's least-known collection, one that demonstrates his relationship with the Soviet Union.
In 1980, the ANC adopted tactical principles aimed at developing insurrectionary potential in the townships launched from neighbouring Botswana. This was the "all-out people's war" mandated by the ANC's declaration of 1979 as the "Year of the Spear".
In Gaborone, a troupe of artists with ANC affiliations had formed an art collective called the Medu Arts Ensemble. Among the members were Mongane Wally Serote, Thami Mnyele and Mandla Langa, who tasked themselves with providing propaganda to send to the townships to ignite popular revolt.
As links between the ANC in Botswana and progressive organisations at home were developing, the ANC sent Kgositsile and Baleka to Gaborone. They arrived in 1982, having lived in Lusaka since 1980. In July 1982, the Culture and Resistance conference, organised by Medu, was held at the University of Botswana. It examined and proposed suggestions for the role of art in the pursuit of democratic South Africa.
Kgositsile delivered the keynote address, and his passionately partisan speech set the politicised tone for the rest of the festival. He proposed the title "cultural worker" as opposed to the more elitist term "artist" to meet the need of the struggle for workers to serve it. This way Kgositsile elevated the position of the cultural worker to that of any other worker in the struggle. Out of these developments, the role of culture in the struggle for national liberation became a key part of the agenda of the ANC in exile.
Kgositsile had been outspoken about the "backwardness" of the ANC when it came to culture. He wrote in Staffrider magazine in 1992 that "within the movement … there is an annoying, criminal backwardness about culture, generally, and its role in society at any given time". He lamented that "it took the ANC until 1982, a period of 70 years, to establish the department of arts and culture (DAC); and that was after the unarguable success of the historic Culture and Resistance festival earlier that year".
Medu's 1982 conference stands as a watershed moment that led to the establishment of the ANC's arts and culture department and the launching of journals Sechaba and Rixaka. The ANC started taking the role of culture in revolution very seriously and, with the newly founded department, began garnering international anti-apartheid support by means of the Amandla! Cultural Ensemble. This political and cultural work had begun to receive international recognition. In 1987, Kgositsile joined Amandla! on its international tour of the US. The main objective of this tour was to put pressure on companies doing business with apartheid South Africa, encouraging them to disinvest.
While the ensemble was in Illinois, charismatic Chicago mayor Harold Washington conferred the key to the city on Kgositsile. Washington died later that year, and Kgositsile wrote and read a tribute from the ANC at his funeral.
When the Clouds Clear, Kgositsile's seventh collection, was the first to be published in South Africa — by the Congress of South African Writers (Cosaw) — in 1990. Cosaw also organised a homecoming for him: he toured the country reading from his work. On that tour he performed the poem Red Song, which struck Vusi Mahlasela's musical sensibilities, which he recorded as a blues song on his 1992 album When You Come Back.
The poem Luthuli Detachment in the collection laments the "ambush" in the form of ideological conflicts in the ANC, between capitalism and socialism, and over the release of political prisoners from Robben Island. The dream of a socialist post-apartheid South Africa had collapsed with the Berlin Wall and the dissolution of the Soviet Union. It soon turned into a drawn-out nightmare of negotiations between 1991 and 1993. Kgositsile responded with his eighth collection, To the Bitter End (1995). The volume carries his resolve in its inner sleeve: "COME THUNDER! CONFLAGRATION! […] I will tell you right here and now that, like Castro, no force on this planet can move me from conviction about the principles of socialism. To the bitter end. Socialism or death. Daar's kak in die land."
Baleka and Keorapetse had three children, Duma (after Nokwe), Ipuseng and Neo. As active members of the liberation movement, they travelled so much that Ipuseng, when asked where her father was, and if she looked and could not find him in the room, would answer: "He is at the airport."
He disclosed in our discussions that, because of their commitments, they did not enjoy much family life. Their interactions were mostly by letter or encounters in transit. All three poems written for Baleka during that time lament a distance between them "like mountains".
He instructs her in a 1988 poem:
When you do not receive a letter from me
ask Tambo for the keys to my heart
where all your letters are […]
ask MK, ask the youth […]
and if you cannot see them
through the tears of your loneliness
ask your heart.
They cherished the ideals of a revolutionary love:
as I miss you now
without complaint or despair
my heart defies every inch of air
between Dar es Salaam and Maya-kovsky Square.
In about 1992 their marriage was officially annulled.
Kgositsile returned to the US in 1990, where he taught at Wayne State University in Michigan. He took Duma with him. In 1993, he married Chicago-based law scholar Cheryl Harris, described by fellow scholar and friend Plumpp as a brilliant scholar whose knowledge of jazz and black politics was unsurpassed. Their son Neruda Thebe Kgositsile was born in 1994. Thebe drinks from the gourd of poetry, as his rise to fame as rapper Earl Sweatshirt shows.
In California, Kgositsile missed an opportunity to reunite with his literary brother, South Africa's first poet laureate, Mazisi Kunene, who left the University of California in Los Angeles in July 1993 after nearly 20 years. For the next six years, Kgositsile would spend six months in Los Angeles, teaching one semester, and six months at Fort Hare University in South Africa, where he taught another semester. His marriage to Harris ended in 2001.
He returned to settle finally in South Africa in 2001. He published a selection of poems from previous publications, in his 2002 If I Could Sing (2002), and a new collection, This Way I Salute You, in 2004.
He served as special adviser to ministers of arts and culture Pallo Jordan, Paul Mashatile and Nathi Mthethwa. In 2006, Kgositsile was inaugurated as the second national poet laureate of South Africa. In his speech, Jordan praised Kgositsile for being not only a truly engaged poet but also a political activist of long standing, "who, like Mao Zedong and Pablo Neruda, had mastered the art of producing politically inspired poetry that did not compromise poetics to make a political statement".
He was honoured with a doctor of literature and philosophy degree by Unisa in 2012. He spent his time as a national ambassador of culture, an outspoken critic of the "new" ANC, and a fervent cultural worker committed to mentoring a new generation of young South African writers.
He is survived by seven children and his wife Baby Kgositsile.
Dr Uhuru Phalafala is currently a lecturer at Stellenbosch University where she teaches world literatures, African and black diaspora literatures, and poetry. She is writing a biography of Kgositsile