Update:
Ajay Gupta, who has officially been named a fugitive by the Hawks, is still on run — with the help of a security company.
Speaking in an interview with PowerFM on Friday morning, Hawk's spokesperson Brigadier Hangwani Mulaudzi said that they know Ajay Gupta is still in the country and they also know the security company protecting him. The Hawks is set to engage with the company.
Mulaudzi said: "Those protecting him must know they are protecting a wanted suspect. They will be charged with aiding and abetting a suspect."
Muladuzi also revealed that another director of a Gupta company is facing imminent arrest adding that Ajay Gupta is wanted for charges that are not related to the Vrede dairy farm case.
Officials at OR Tambo International Airport reportedly told Eyewitness News (EWN) they're working with the Hawks to establish the whereabouts of Ajay Gupta, who is now considered a fugitive.
OR Tambo International Airport spokesperson Leigh Gunkel-Keuler has told EWN that their records show that Ajay Gupta left the airport on a Dubai-bound Emirates flight 10 days ago. If he returned to South Africa, he may have done so through other ports of entry Gunkel-Keuler said.
If Ajay has indeed skipped the country, there are some countries he would do well to avoid as they have extradition treaties with South Africa.
---
A manhunt is underway for former President Jacob Zuma's son, Duduzani after the Hawks descended on his Saxonwold mansion in a pre-dawn raid. Duduzani is being sought for his alleged involvement in the fraud scandal at the Estina dairy farm at Vrede in the Free State.
On Thursday, The Star newspaper reported that one of Duduzani's business associates, Atul Gupta, was picked up while trying to flee the country. According to the report, the pilot of the private aircraft Atul was on, refused to fly from Lanseria airport.
The Hawks had reportedly called on Atul to hand himself in or face being branded a 'fugitive', according to Business Day newspaper.
Mail & Guardian reporter Ra'eesa Pather reports from Bloemfontein that a large contingent of police were preventing journalists from entering the courtroom with spaces apparently being reserved for politicians.
. @SAPoliceService blocking journos from entering Gupta #Estina courtroom. They let political parties in first, then a few journos. They told us one journo from each company would be allowed in. But now blocking access, saying it's full and no overflow facility @mailandguardian

— raeesa pather (@raediology) February 15, 2018
There is more than enough space to allow more reporters in. We've tried to negotiate from inside, but they're not budging. No reason provided.

— Barry Bateman (@barrybateman) February 15, 2018

Saps blocking the entrance while there is a lot of space available. pic.twitter.com/62TmylBVKM

— Barry Bateman (@barrybateman) February 15, 2018
Police have now arrived in numbers to get us out #GuptaCourt pic.twitter.com/YNvDfQ5gka

— raeesa pather (@raediology) February 15, 2018
After the intervention of the South African National Editor's Forum (Sanef) and court officials, the Bloemfontein Regional Court has said it will look into making provisions for one reporter and one photographer per media house to enter the courtroom.
---
Update:
Eight people and three companies are implicated in the matter.
Ashu Chawla, Nazeem Howa, Varun Gupta, Ronica Ragavan, Peter Thabethe, Dr Tikisi Masiteng, Sylvia Dlamini and Kamal Vasram are appearing in Court 29 of the Bloemfontein magistrate's court to face charges of fraud in connection with the Free State Vrede dairy farm project.
The accused face charges of fraud, theft, conspiracy to commit fraud and theft, contravening the Public Finance Management Act, contravening the Companies Act and contravening sections of the Prevention of Organised Crime Act.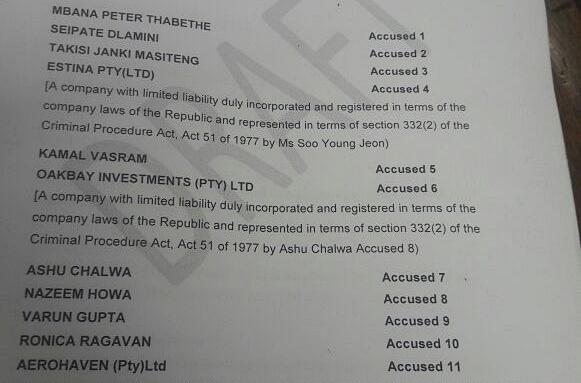 Former Free State agriculture head Peter Thabethe was arrested on Wednesday after a an early morning raid at his home in Bloemfontein. Thabethe was the head of department at the time that Mosebenzi Zwane, who is now Minister of Mineral Resources, was the agriculture MEC.
Varun Gupta, the nephew of the Gupta brothers, along with his uncle Atul resigned in April 2016 as respective chairperson and chief executive of Oakbay Resources, in response to what they called a "sustained political attack".
The two vacated their posts amid allegations from opposition parties claiming that the Gupta family had used their ties with President Jacob Zuma to exert undue influence on government activities and appointments.
Accused 1, 2 and 3 (who are state officials) have been granted R10 000 bail each. Accused 7, 8, 9 and 10 (the Gupta-linked accused) have had bail set at R200 000. Vasram's address must still be confirmed and so bail is yet to be set, if at all. According to News24, the matter relating to Vasram's address will be heard at 3.30pm.
The Hawks have confirmed Ajay Gupta is currently being regarded as a fugitive.
[MUST WATCH] 'We are definitely looking for Mr Ajay Gupta' – Hangwani Mulaudzi, Hawks spokesperson, said.#GuptaCourt pic.twitter.com/54UON4c27l

— Eyewitness News (@ewnupdates) February 15, 2018
"We spoke to his lawyers, because he was supposed to hand himself over, but that didn't happen. We regard [him] as a fugitive because there is a warrant of arrest," said spokesperson Brigadier Hangwani Mulaudzi.
Ministry of Police statement – Feb 15, 2018 by Kiri Rupiah on Scribd
Minister of Police Fikile Mbabula said in a statement released on Thursday, that the Hawks, working with the National Prosecuting Authority, have served warrants of arrests on 13 suspects yesterday in coordinated sweeps in Bloemfontein and Johannesburg relating to the Vrede Dairy Project.
The statement does not name the 13 suspects but mentions that two are of Indian nativity and another of Chinese origin.
"Due to the sensitivity and seriousness of these matters it is not possible for the DPCI or my office to provide minute to minute account of the state of capture related investigations but once again assure all that since mid-2017 at least 17 dockets are being investigated without fear or favour and indeed with no holy-cows", the statement reads.
According to the statement, the Hawks, assisted by the National Intervention Unit of the South African Police Service effected the arrests on some of the implicated suspects while others handed themselves in.
Investigations are ongoing and more arrests are expected throughout the day.
This is a developing story which will be updated as more details emerge.