Renewed vigour to tackle corruption head on was apparent in the treasury's 2018 Budget, tabled in Parliament on Wednesday.
Deep-rooted and widespread corruption became commonplace in the public sector under the leadership of former president Jacob Zuma, who himself is at the centre of state capture allegations.
In his budget speech, the minister of finance, Malusi Gigaba, said the government has demonstrated its resolve to confront allegations of state capture and corruption because of the judicial commission of inquiry announced by Zuma and the investigations being conducted by the Hawks, the Asset Forfeiture Unit and other agencies. At a press briefing earlier on in the day, Gigaba replied to questions about his own credibility, given claims that he facilitated state capture in his previous roles as public enterprises minister and home affairs minister.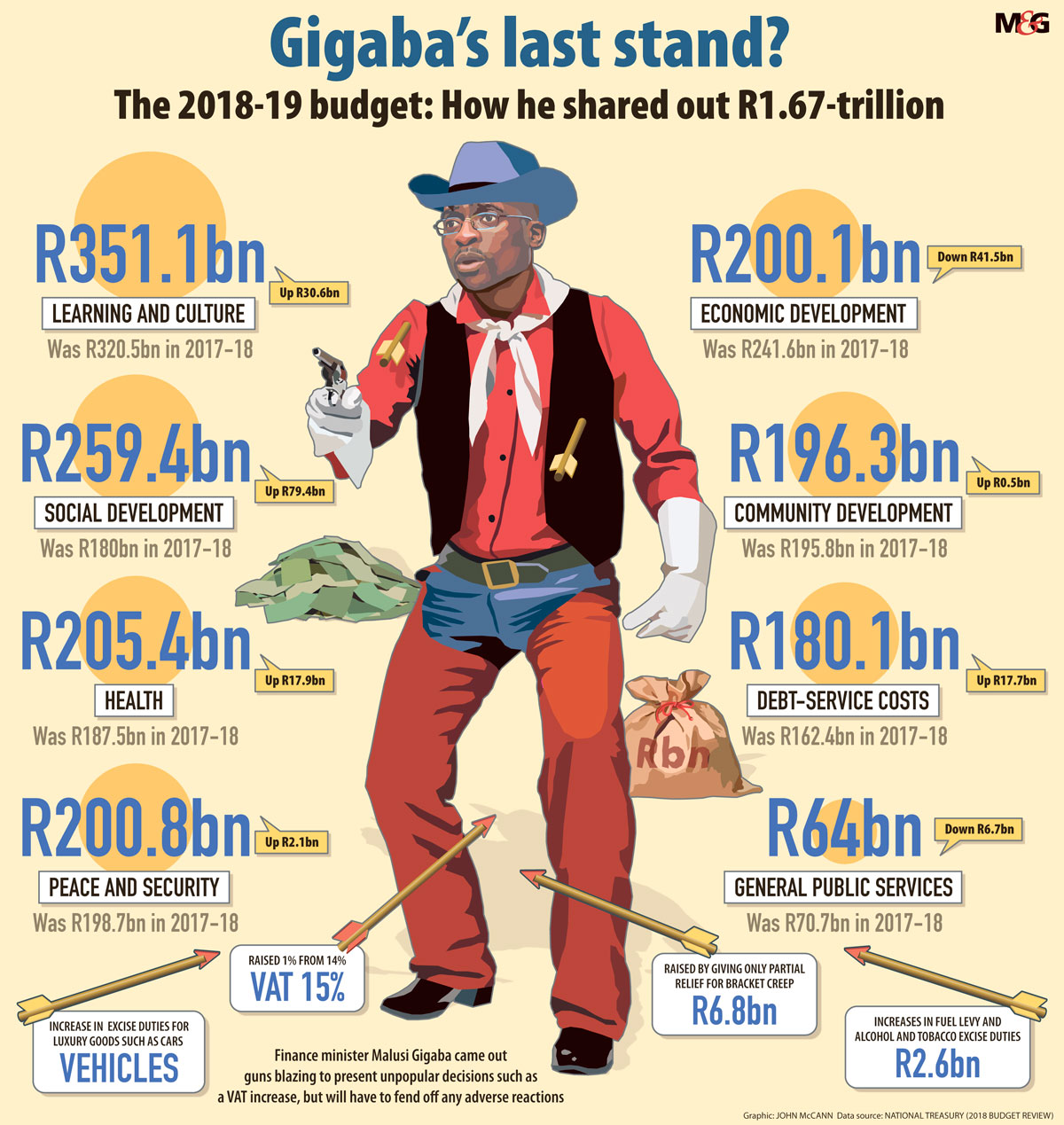 "We will all subject ourselves to the state capture commission," he said. "The court of public opinion is not a court at all. What matters is that little thing called the facts and the truth."
An investigation by the public protector and hundreds of leaked emails, dubbed the #GuptaLeaks, show that state capture was largely made possible by corrupt government procurement processes. The treasury is undertaking several measures to eliminate this.
"Treasury will increase collaboration with all law enforcement agencies to strengthen efforts to fight fraud, corruption and abuse of SCM [supply chain management] systems across all spheres of government in order to restore the integrity of supply chain management," Gigaba said in his speech.
"In recent years, a large number of deviations from normal procurement processes has reduced the credibility of the supply-chain management system.
"Deviations can also result in anti-competitive practices that open the door to corruption, and which limit transformation by preventing small businesses from doing business with the state. In future, deviations will be allowed only in rare, well-justified cases."
He said the Public Procurement Bill will be submitted to the Cabinet in March for gazetting and will be open for public comment. It will also aim to improve governance, achieve efficiencies and enhance transformation.
The department is also making proposals to amend the Public Audit Act to counter a worrying trend of rising unauthorised, irregular, fruitless and wasteful expenditure.
The state is also keen to address private sector corruption in the light of the Steinhoff scandal. Allegations of accounting fraud saw its share price tumble, which wiped out billions in value for shareholders, including major pension funds.
Government regulators, such as the Financial Services Board, the Independent Regulatory Board of Auditors (IRBA) and other regulators, have initiated investigations and are working with overseas regulators to ensure that those at fault are made to account for their crimes, Gigaba said.
"It is vital that we subject corporate corruption to the same amount of scrutiny and ensure, among others, that we implement the IRBA recommendations on mandatory audit firm rotation in order to ensure the rigour of the audit process and independence of audit committees and firms."