"If you are used to eating sphatlo and kota and all that, just wait a bit. At least for now".
This is the directive issued by Health Minister Aaron Motsoaledi on Sunday as he warned people to avoid all processed meats sold as ready-to-eat products as they could be tainted by listeria bacteria.
Kota also known as sphatlo or skambane, depending on where you're from, is a popular street food made with a quarter loaf of bread that is hollowed out and typically filled with chips, cheese, eggs, meat and a selection of sauces. Popular meat choices, which are also the reason behind its affordability, are cold meats such as polony, russians, and viennas – which have been named as possible culprits behind the listeria outbreak.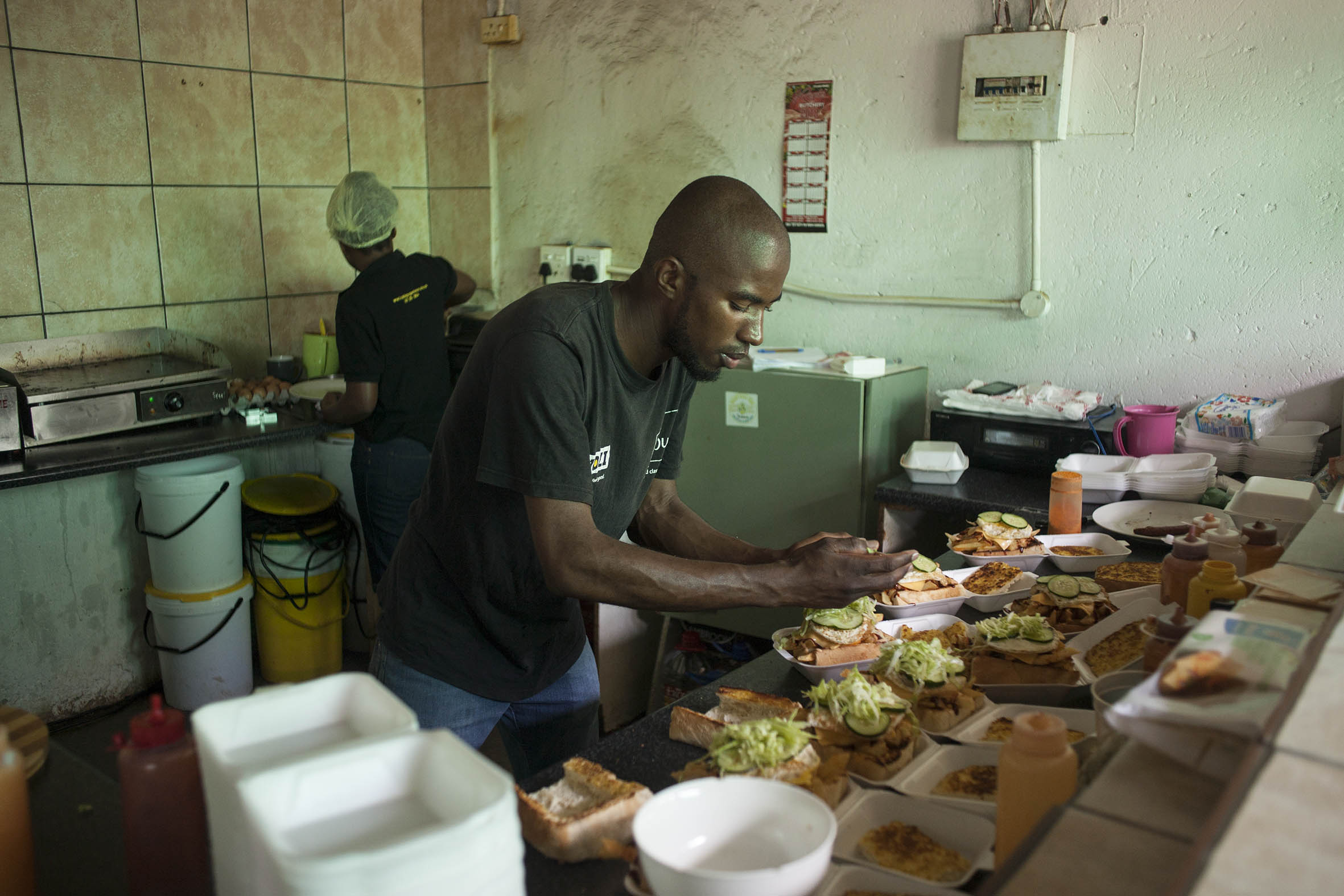 [Rhulani Shibambo. (Oupa Nkosi/M&G)]
Motsoaledi revealed the deadly outbreak which has reportedly killed 180 people and infected almost a thousand more, has been has been traced back to polony manufactured at an Enterprise Foods plant in Polokwane.
Preliminary results have also revealed that cold meat products at an Enterprise plant in Germiston and a Rainbow Chicken plant in Sasolburg' also contain an unidentified strain of listeria.
Lazurus Chitondwe a fast food merchant who sells plates (home-cooked meals) and kotas in Protea Glen, Soweto says Motsoaledi's cautionary utterances were irresponsible and had the potential to affect his businesses negatively. "Already as I speak now we haven't done so much of kotas".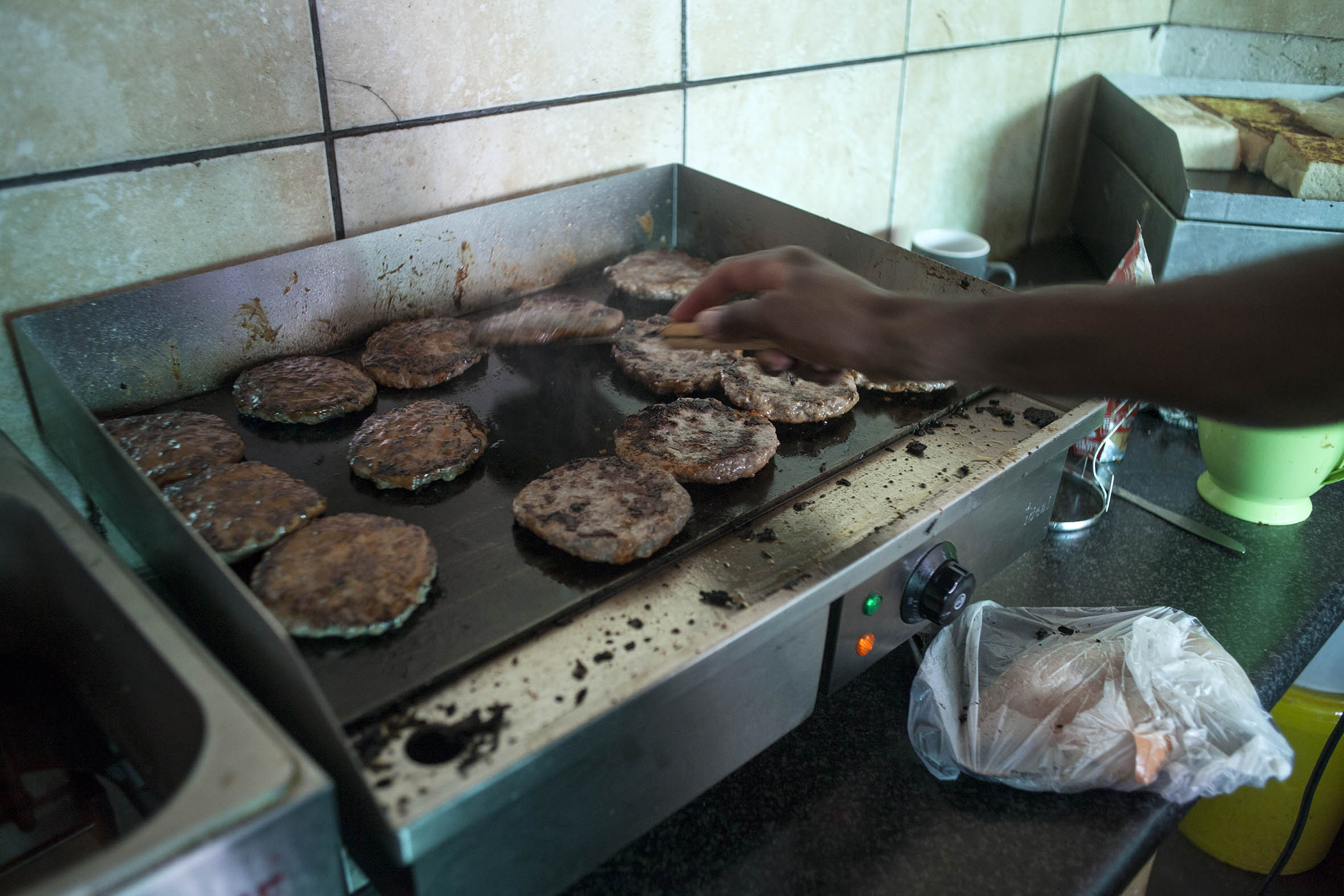 [(Oupa Nkosi/M&G)]
Chitondwe, a father of three operates a mobile food truck with his wife at a busy intersection on the corner of Protea Boulevard and Wild Chestnut Street. On weekends, he says they make about R600 on kotas and if they lose customers they could make a loss of about R1 000 when including the other days of the week.
"For him to wake up and say 'do not eat kotas', a common person of the street would think the government said we should not just eat kotas completely but there are some without those products.
"I agree that the government has to do something to protect consumers from poisonous food but there was supposed to be a careful way that they should have packaged this information," said Chitondwe.
Chitondwe said they've also made the decision to not buy cold meats for their business, instead just selling plates until there's clarity on the outbreak.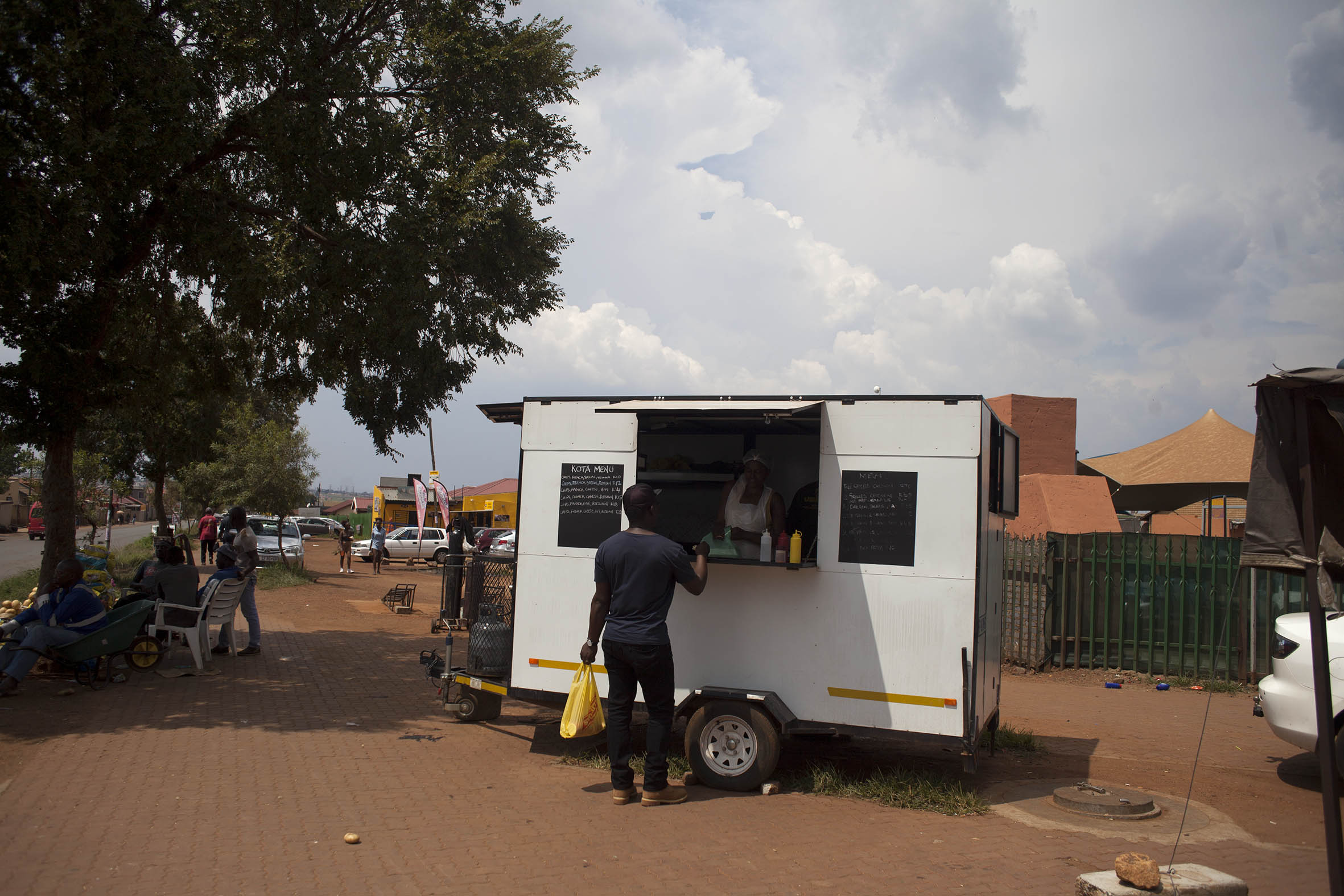 [(Oupa Nkosi/M&G)]
Motsoaledi's warning was informed by the fact that although polony was definitely the source, the bacteria could spread through cross-contamination to other ready-to-eat cold meat products such as viennas, russians and other cold cuts.
"This is because listeria on the exterior packaging of polony can be transferred to other products it comes into contact with," read a statement by the department.
Motsoaledi's announcement has certainly heightened fears amongst some consumers. Pearl Bessie who had come to buy a kota at one of the popular stores said two weeks ago she bought one from a different trader and she's been experiencing an upset stomach since.
"We have to be careful because I am too young to die I don't want to die now. I have been having stress. I still have a runny tummy until now. I'm not sure if it was that one or it all of them are the same," said Bessie.
On the other side of Protea Glen business it's business as usual at Kota King, a gourmet kota restaurant founded by Rhulani Shibambo. Shibambo fries burger patties and cuts quarter loaves by the dozen despite it being a Monday consumed by listeria hysteria.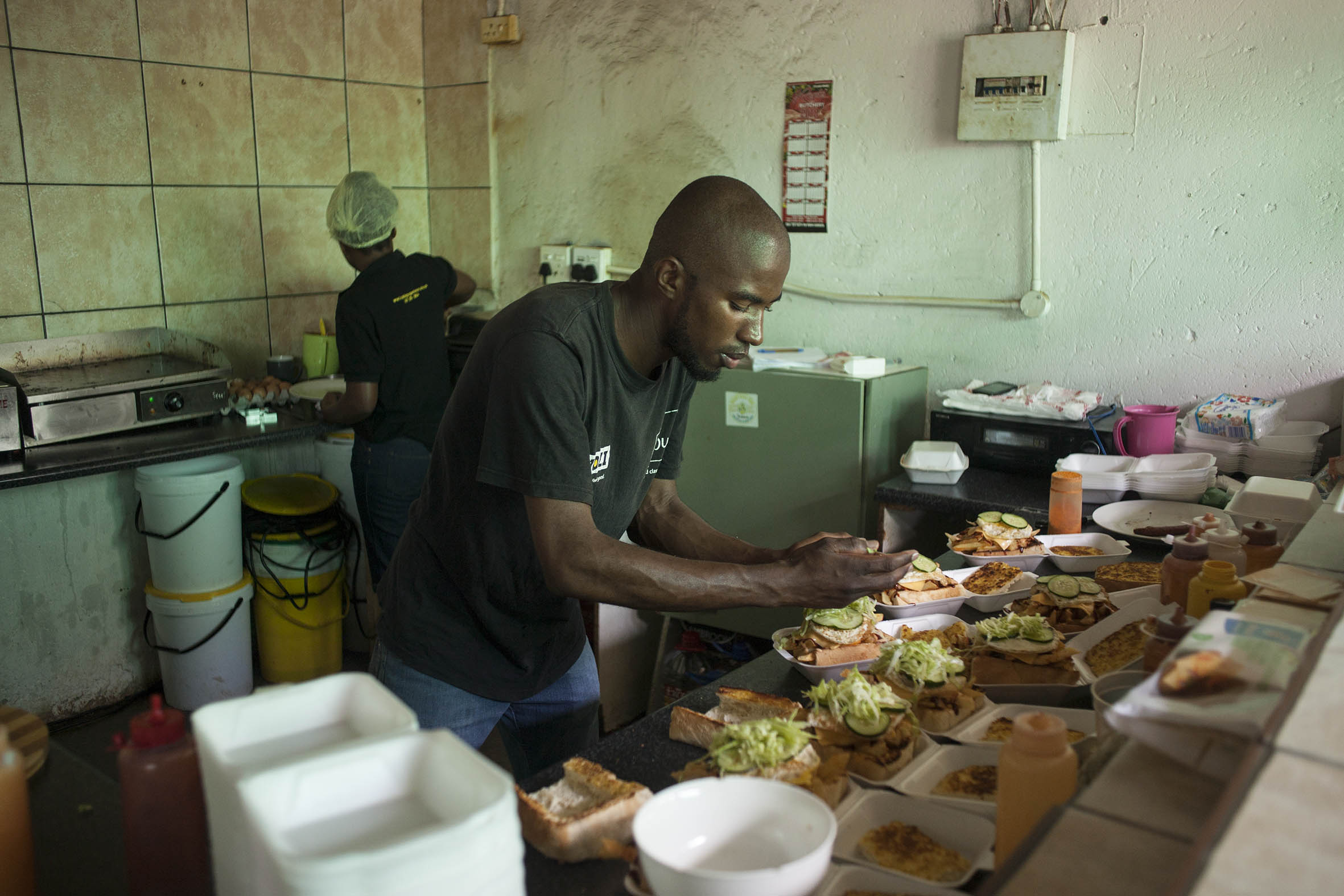 [(Oupa Nkosi/M&G)]
Many angry consumers across the country flocked to some of the identified factories and major supermarkets to return their Enterprise and Rainbow cold meat products but Shibambo said he was not worried mainly because his supplier was a trusted local producer who had regular inspections.
"Mostly with our kotas we use few cold meats, only russian and vienna and garlic special (polony) in some but for the rest we use burgers, cheese, eggs, rump steaks and chicken fillets.
"Our type of kota, it's target market is mostly the high LSM (Living Standards Measure) that's why we are not using most of your viennas and all of that," said Shibambo.
The most popular Kotas on the menu are priced from R50 to R150. Shibambo says on a regular day he sells between 200 and 300 kotas.
Mpho Kgomo, a self-proclaimed 'kota connoisseur' says listeriosis is not going to stand in his way of eating it.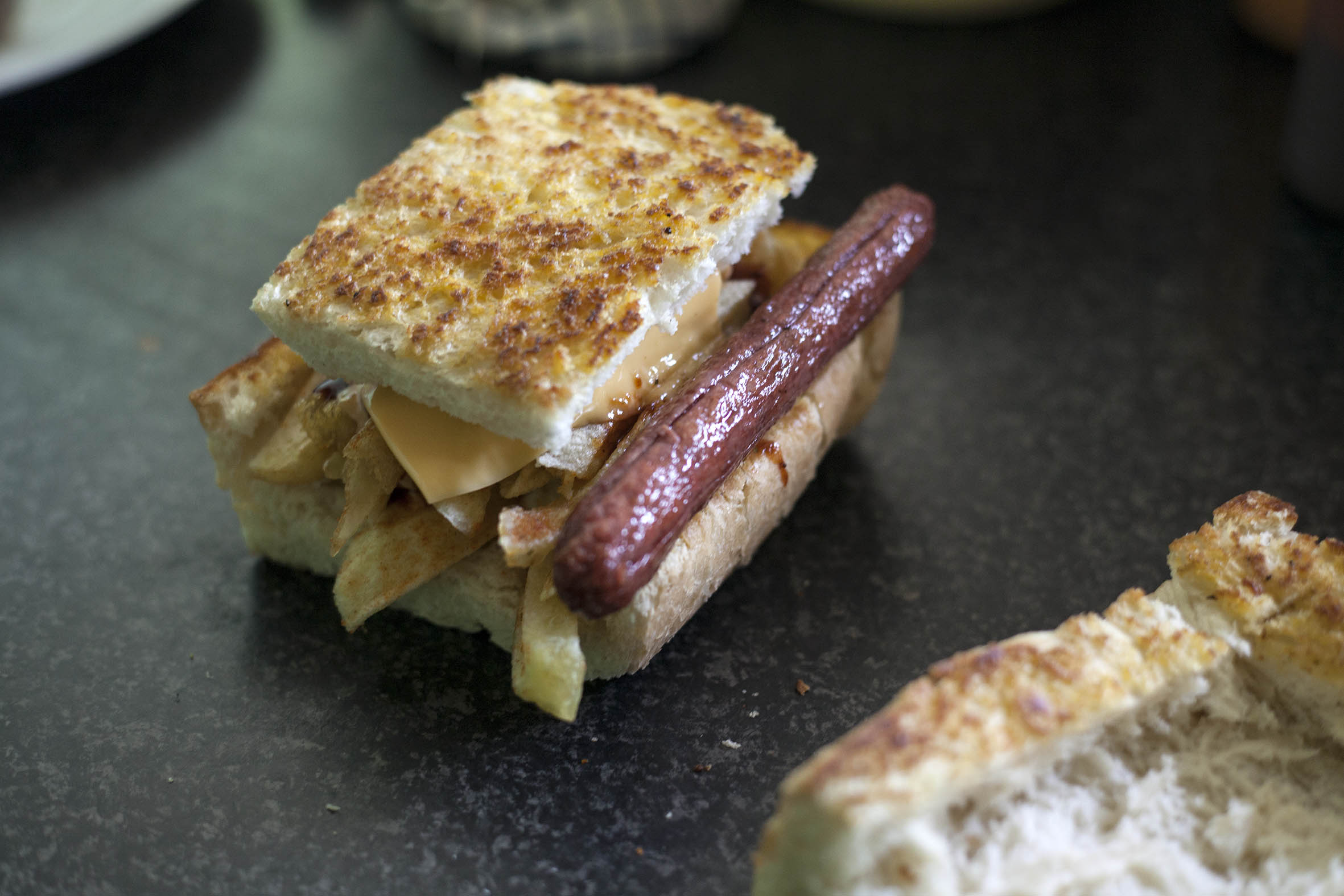 [(Oupa Nkosi/M&G)]
"Akere the minister of health said when it [Listeria] gets high heat it dies, so it's not a problem because most of the time we eat fried food … I am still going to eat it. What I won't eat is the one with french [polony] but the rest aaah I'll fry it to come nice," said Kgomo.
He is not wrong. Fortunately for most consumers of the street food, the cold meat products that are used in kota are fried. Cooking at high temperatures kills the listeria bacteria, thus making the food safe to eat.
Despite his business not being affected as yet, Shibambo worries about public perception.
"Our business is booming because everyone is talking about it so if everyone starts talking about it in a bad way it's going to drop. So we are trying to make sure that we can still convince our customers to come and buy our food," said Shibambo.
Kota merchants worried that they will lose business as listeria hysteria takes hold pic.twitter.com/FGBWfiWtSi

— Mail & Guardian (@mailandguardian) March 6, 2018