Five long-standing Ingonyama Trust Board (ITB) staff members have been sitting at home on full pay since the middle of 2016 after being suspended by the board management in what is claimed to be a purge of "unco-operative" staff.
The trust is under fire for converting permission-to-occupy (PTO) rights into lease agreements. Critics fear this will deprive people of the right to benefit from their land and turn them into tenants. Parliament has ordered the trust to stop issuing leases pending an investigation.
The five — deputy real estate manager Duncan Pakkies, community liaison officer Bhekisihle Zondi, survey officer Nono Msani and real estate officers Nompumelelo Ndlovu and Lungile Sibiya — have been suspended for offences relating to complaints about commercial leases issued by the ITB.
But sources in the ITB allege they were suspended because they did not "fit in" with its plans to convert PTO certificates into residential leases.
They are charged with offences including insubordination, falsification of information and negligence.
The complaints stem from disputes between dissatisfied lessees and the ITB over commercial leases at Mpophomeni (Howick), Ndwedwe, Mnini, Nongoma and Pongola.
In the Ndwedwe case, developer Timocento, which leased a site for the development of a petrol station, went to court after the site was taken over by a pastor, who built a church on it after securing permission from the Gcwensa traditional council.
Pakkies is charged with negligence over the dispute and has pleaded not guilty. He is also accused of illegally altering the terms of a lease for a game reserve near Nongoma. He has pleaded not guilty, saying the terms of the lease were outlined in an ITB resolution taken on August 15 2014.
Zondi was charged for allegedly hiding a letter of complaint from a commercial lessee after an unstamped copy of the letter was later allegedly found in her office by the ITB chief executive officer, Fikisiwe Madlopha. Zondi is charged with "subverting" the ITB's processes and has also pleaded not guilty.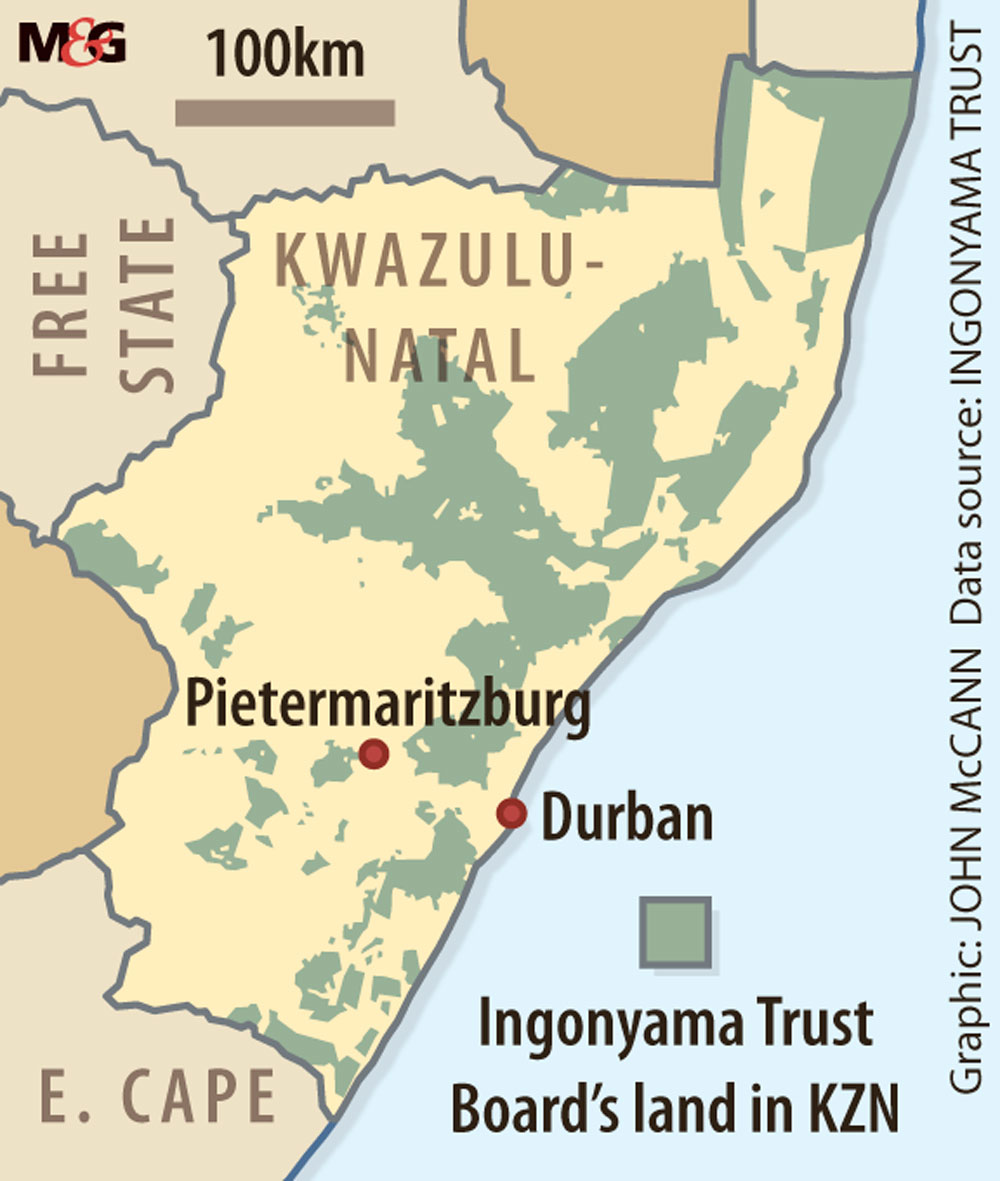 The group's legal team this week cross-examined witnesses at their hearing, which has been adjourned. Board chairperson Jerome Ngwenya will testify next week.
Some of the five have asked that the hearing secure documents from the ITB and the department of co-operative governance and traditional affairs to prove their innocence.
A source in the ITB said the suspensions were aimed at removing them. "Due to the spurious nature of the charges, it is clear that there is a concerted effort by both the chairperson and the current chief executive to eliminate the charged staff so as to enable them to plunder the resources of the organisation."
The source said Zondi had survived earlier attempts to remove her from her post — which involved resolving land disputes — and to replace her with an appointee close to Madlopha. "All efforts have been made to prove her incompetent yet she has been consistent in resolving land disputes and producing reports."
The source said the removal of the staff in August 2016 and the delay in charging them was to "facilitate" a number of "unscrupulous tenders for friends". These included the "removal" of Mnini businessman Ron Wilson from his fishing camp in January 2017. Wilson is preparing to sue the ITB for damages.
Ngwenya did not respond to phone calls, text messages and emails. ITB spokesperson Simphiwe Mxakaza said he was unable to comment. Madlopha did not respond to calls.