Nomzamo Madikizela adjusts her headwrap and brushes down pleats in her seshweshwe outfit. She steps to the podium; her first address as the Republic of Azania's first-ever United Nations High Commissioner for Human Rights. It's 1973 and she is barely 40. Yet, speaking out against Israel's military occupation of the West Bank and Gaza Strip, and the United States's continued supply of weapons to Israel, she does not tremble. Her voice does not break.
"My grandmother, Makhulu Seyina Madikizela, taught me that none of us are free until each of us is, too," she says. "She taught me that when we fight for the freedom of all in a society, freedom from unjust oppression and freedom from false ideologies, then we fight not merely for the freedom of the individual but the liberation of humanity."
She is not the Nomzamo who, in an alternate reality, went by the name Winnie — an abbreviation of the "Christian name", Winifred, foisted upon her and others like her to usher them into "civilisation", as defined by Europeans. There is not appended to her own name "Mandela" — used in the alternate reality to reduce Winnie to a biblical Eve, the mother of a nation fashioned from the rib of the great first man named Nelson.
Before this Nomzamo was born in the early 1930s, appeals by the likes of John Dube and Solomon Plaatje to the British public, Parliament and king had worked. Not only had the racist 1894 Glen Grey Act of Britain's Cape Colony been repealed but the 1913 Native Land Act, due to become law in its predecessor neo-colony, the Union of South Africa, also never saw the light of day — nor did its logical eventuality: the brutal apartheid regime.
What unfolded instead, following a set of bloody civil wars, was the birth of an anti-sexist, anti-racist, anti-classist democracy, Azania, with universal franchise for all adults, regardless of race, gender or landed status, and reparations for victims of nearly 300 years of slavery and colonialism. The precedent set in 1804 by the Haitian Revolution had finally found, over a century later, not only political will but also moral courage among Europe's rulers. They had, at last, for the first time, put what was right before what was profitable.
Nomzamo was born into a reality in which, unlike Winnie's, no public spaces, neighbourhoods or jobs were designated for "Europeans only". She was not jailed for 491 days and subjected to two trials and house arrest for fighting for justice. Nomzamo was free to live by her own terms. Her overwhelming thirst for equality and justice propelled her to a distinguished career in public-interest law and the coveted appointment as the UN High Commissioner on Human Rights. She was equal parts bureaucrat and activist — seen moralising from the podium on one day and marching arm in arm the next with the people whose plight she championed at the highest levels of the human rights system.
But for Winnie, in her universe, that innate hunger led to an oblique admission to the Truth and Reconciliation Commission that mistakes were made in the struggle against the white-supremacist state of apartheid South Africa.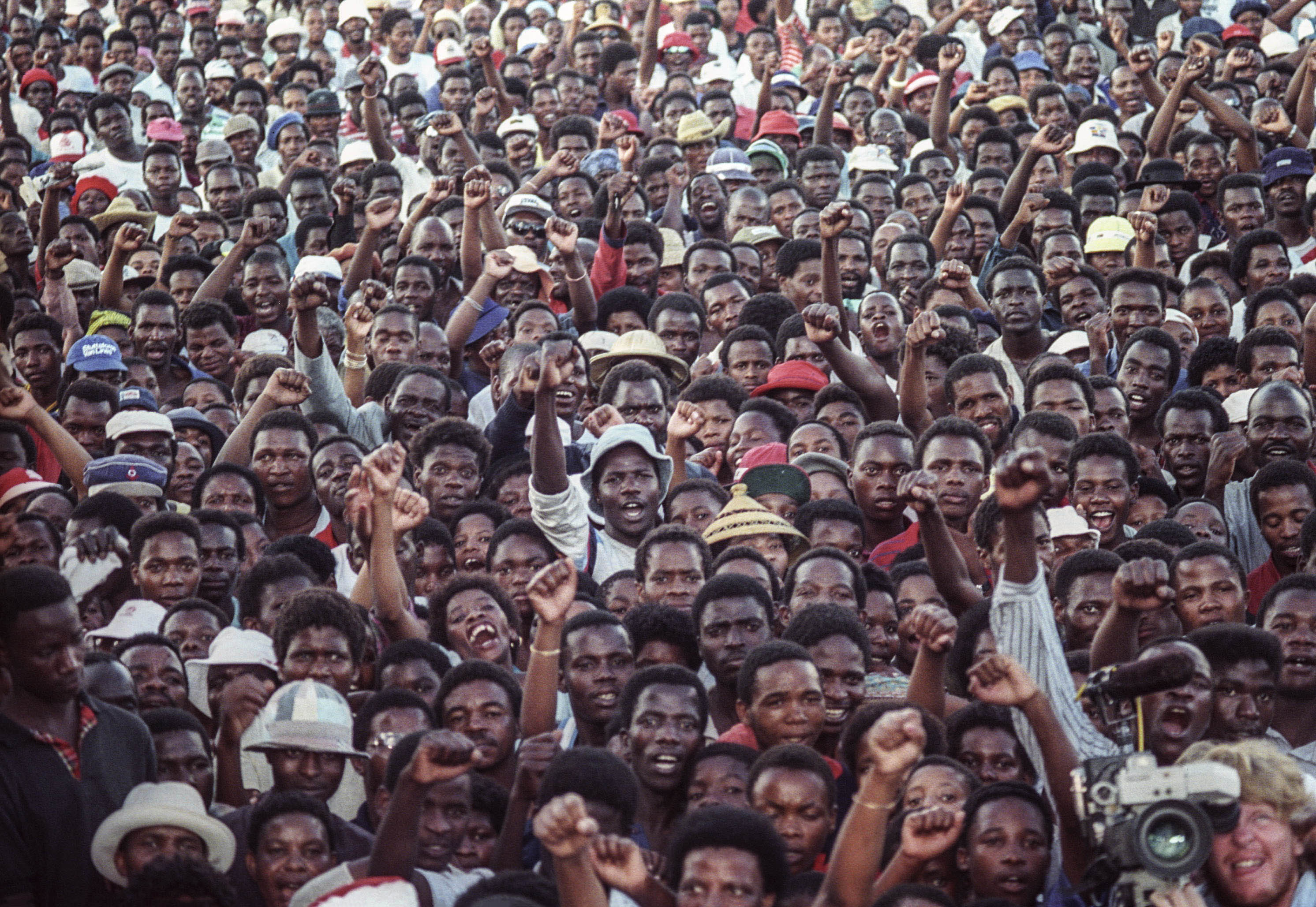 [Solidarity: ANC supporters raise their fists as Winnie Madikizela-Mandela addresses a crowd of thousands after the party's unbanning on February 2 1990. (Juda Ngwenya/Reuters)]
Mistakes were, indeed, made. But does it make a difference if those mistakes were made with the intention of bringing about human liberation?
Whatever the answer, in only the most depraved of worlds is racist, sexist violence perpetrated using the power of the state beheld as equivalent, or even comparable, to resistance against it by the most marginalised of citizens. But such is Winnie's reality.
Upon her death, she will be called an adulteress. Bitter and jealous of Nelson Mandela. Profligate. A murderer. And so much worse — in one obituary after another, penned by people who had never once faced any of the oppressive realities, or the ethical gauntlets that came with them, that she endured. The authors will withhold empathy and reason to present readers with what they say is a balanced picture of "a troubled heroine's life".
Except the picture is in no way balanced. Never once do they consider what might have been had Winnie's life been one not lived in reaction, from day one, for her own survival, to being arbitrarily oppressed merely because she was black and because she was a woman. They never consider Nomzamo.
In his book Askari, scholar Jacob Dlamini, the winner of South Africa's top prize for nonfiction in 2015, the Sunday Times Alan Paton award, ponders the line between personal agency, the influence of others on individual's lives and the social systems into which we are born. He does this through the lives and ostensible choices of freedom fighters, focusing on converted operatives of Umkhonto weSizwe (MK), the armed wing of the liberation party, the ANC; particularly Glory Sedibe, who turned collaborator and informant because of torture and other violent means.
In one passage, Dlamini says places such as Vlakplaas, the base of the infamous apartheid death squad, where Sedibe was taken, were not "moral democracies in which the occasional attack of conscience was allowed". But, in a later passage, he insists that humans never lose their personal agency. Dlamini never resolves these contradictory statements to the reader's satisfaction. Because he can't. No one can.
The truth lies somewhere in the yawning spectrum between the binaries of personal choice and victim of circumstance, where few dare tread. That truth is probably unknowable to all but the person who lives it. And any obituary writer or biographer who picks up their pen without acknowledging the limits to their own knowledge and access to the knowable does their profession a disservice. Not only do they distort the memory of the dead, they also do little to help the living to reckon with fashioning a life well lived.
TO Molefe is the chief co-ordinator of Collective Media, a co-operative of black freelance media professionals in South Africa and one of nine winners of the inaugural South African Media Innovation Programme