Rumana Akoob at Bushfire, Simon Allison and Carl Collison
Change comes slowly to eSwatini. The nation formerly known as Swaziland — and still labelled as such at border posts, on road signs and on official letterheads — is one of Africa's most conservative countries. It is, infamously, the continent's last absolute monarchy, ruled by the 50-year-old King Mswati III, who treats it much like a personal fiefdom.
It is also home, incongruously, to Bushfire, the hedonistic music festival that showcases Africa's finest musical talents, along with a collection of recreational drugs that is arguably even finer. The festival's hippy-inspired values stand in stark, unforgiving contrast to its surroundings.
This year, its 12th iteration, the festival was headlined by Nigerian Afro-pop star Yemi Alade and Guinea's kora virtuoso Sekou Kouyate. But Bushfire claims to be more than just a music festival. In the words of its own PR guff, which exhorts festivalgoers to "BRING YOUR FIRE!": "Your fire is your energy, your spirit, your passion and your drive to make a difference … the festival has achieved a worldwide reputation for its visionary and authentic approach to raising awareness of the need for social change."
There is little doubt that eSwatini needs social change. For example, 63% of its 1.4-million population live below the poverty line. The country has the world's highest HIV infection rate. Civil society and media operate under tight restrictions and serious opposition parties are banned. Women are discriminated against in law, according to Human Rights Watch, and it is illegal to be gay.
READ MORE: Playing the Fool at eSwatini Festival
At Bushfire, against the breathtaking backdrop of the Mzimba Mountain, the normal rules don't apply. Here, at least for a weekend, social change really is possible. But is Bushfire making any real difference outside of its golden circle?
Swazi gold
Entering from Mpumalanga, the landscape of eastern eSwatini offers little to suggest you are in another country — it's the same lush, green landscape, the same rolling hills. ATMs dispense in rands and emalangeni. The major clue that things have changed are the billboards, every few kilometres along the highway, that wish King Mswati III a happy 50th birthday.
In Bushfire's parking lot — GP plates as far as the eye can see — touts clamour for business. "100% Swazi gold for you, sir!" they shout, referring to the cannabis strain that has become world-famous for being both easy to grow and very relaxing to smoke. You can buy anywhere between one and five joints for R100, depending on your accent. For these entrepreneurs, Bushfire is a business opportunity like no other, bringing in hordes of cash-rich tourists looking to buy themselves a good time.
Watching indifferently are uniformed policemen armed with automatic weapons, who don't bat an eyelid at the roaring drug trade going on before their eyes. This is part of the unspoken social contract that exists between the government and the festival. Hear no evil, see no evil. Festivalgoers are free to flout eSwatini's laws; in return, they turn a blind eye to the country's dysfunctional politics.
Not that most visitors are especially interested in challenging the status quo. "I know the king has a lot of wives and like that he changed the name of the country because it is a sign of independence. Elections would be good but you have to keep to the culture," said Julie Reul, who came from Mozambique.
Marshall Burogard, an American volunteering in eSwatini, said, as a citizen of "the bastion of freedom" — his words — it was hard to adjust to the way his temporary new home is ruled. But, he added, he respected that "things were done differently" here.
The only show in town
As attractive as Bushfire is to tourists, it is even more so for middle-to-upper-class Swatis.
"Outside the Bushfire Festival, really nothing happens in Swaziland besides football that is any form of entertainment for Swazis," said Bheki Makhubu, the editor of The Nation and arguably the kingdom's most incisive political analyst. He goes to it every year. "It's the only show in town. It's the only time I can go and live out my youth for a couple of hours and remember days gone by."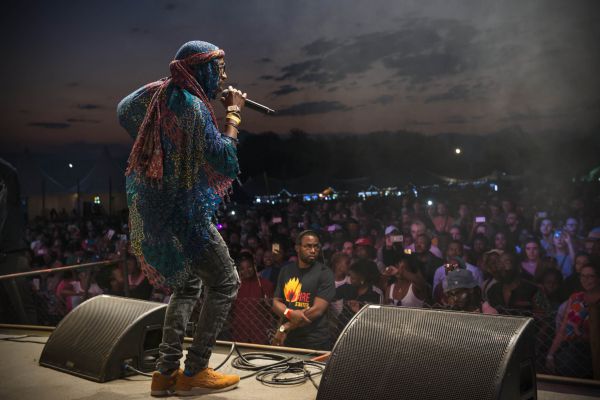 [Bring your fire: As acts such as Swati singer Sands (above) and Timbila Muzimba from Mozambique (below) ignited the Bushfire crowds. (Bram Lammers, Gianluigi Guercia/AFP & Rumana Akoob)]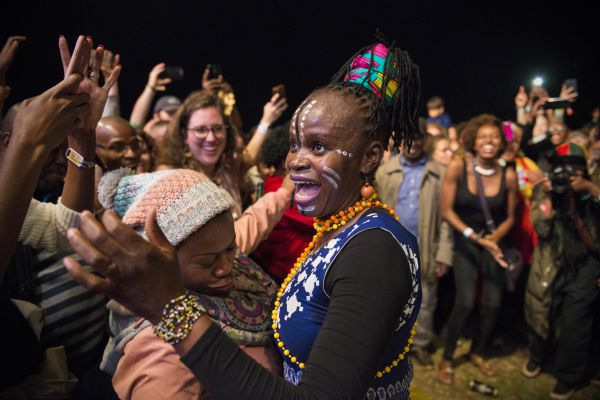 But he is all too aware of the festival's contradictions. "To understand how this thing works, you have to understand a bit of Swazi politics. To raise political questions means losing friends. The way they are doing it is to get buy-in from the people who are in authority. The thinking is don't make it political; it's just pure entertainment for people who want entertainment."
In this way, Makhubu said, Bushfire was little different from Swatis who just put their heads down and get on with life.
Nonetheless, the relationship between Bushfire and the government is changing, subtly but decisively, as the festival grows in size and prominence. eSwatini now needs Bushfire, and the foreign exchange-spending visitors it attracts, more than Bushfire needs eSwatini.
"Let me put it to you bluntly: what happened was white people fell in love with Bushfire. And now it's an unstoppable train.
"It's good for the country, it's good for investment. It helps the authorities put out the message that Swaziland is good because here is something that we do that has an international profile worth writing home about. It's working in that way," said Makhubu.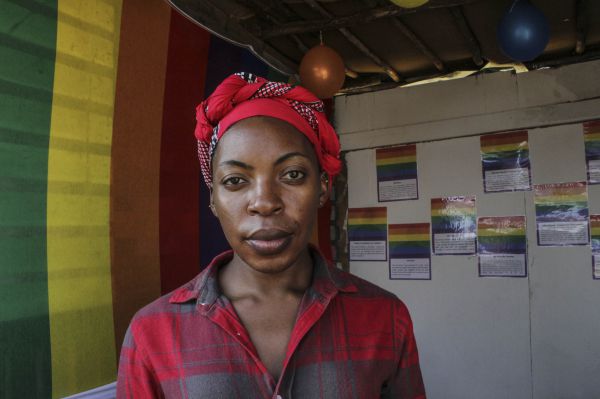 [Local queer rights activist Pinty Dludlu (above) said the liberal nature of the festival gave her hope that the country was moving towards a more tolerant approach than that espoused by conservative monarch King Mswati (below). (Bram Lammers, Gianluigi Guercia/AFP & Rumana Akoob)]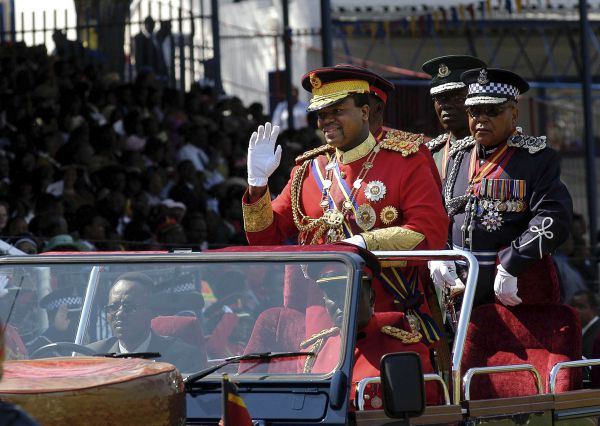 Safe space
In the middle of the festival grounds, ringed off from the music stages and the food stalls, is the "bring your fire" zone — a demarcated space dedicated to environmental sustainability, sexual and reproductive health, queer rights and gender issues.
The Condomise Swaziland stall, decorated with inflated condoms, offers free HIV counselling and hands out free condoms — government-issued, vanilla flavoured — to passersby.
Nearby, the TransSwazi stall is unapologetically queer, as evidenced by the rainbow flag proudly displayed. It hands out pamphlets about queer rights, Swazi Pride bracelets and lube.
This was the only place in eSwatini where queer people were given the space to be who they were, said Pinty Dludlu, who was running the stall. "It is a sign that we are moving towards a better community, step by step, where everyone will be accepted irrespective of their gender or sexual orientation."
As signs go, it is a significant one: this is a country, don't forget, where the king once described homosexuality as "satanic".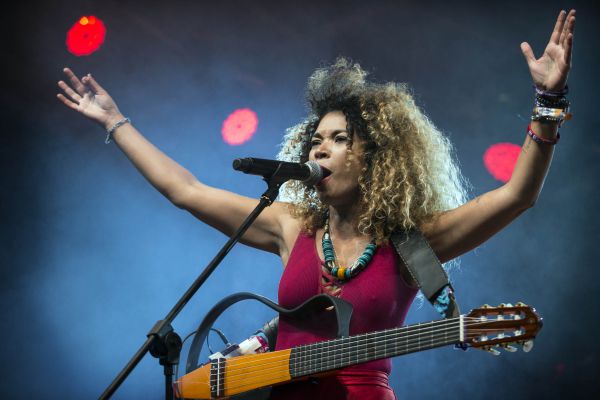 ['Unstoppable train': Bushfire now attracts top world music acts like Brazilian singer-songwriter Flavia Coelho (above) to the landlocked kingdom. (Bram Lammers & Sydelle Willow Smith)]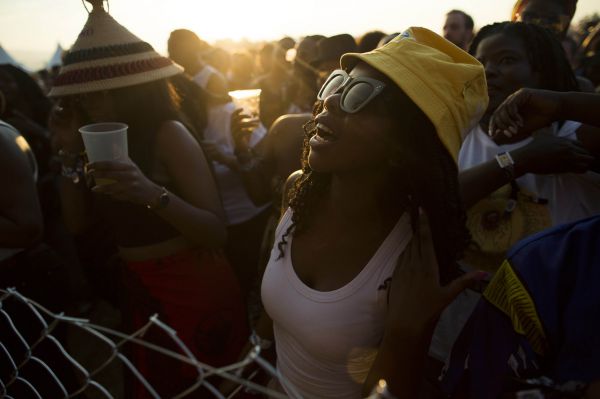 It's not easy to be queer here. Canaries in the Coal Mines, a 2016 report, examined the depth and nature of social exclusion of women and men who are lesbian, gay, bisexual, transsexual and intersex (LGBTI) in Southern Africa. It found that only 26% of those surveyed in eSwatini said they would not mind having a homosexual neighbour. Although this figure is higher than in Zimbabwe (10%) or Malawi (6%), it is notably lower than that in other Southern African countries such as Mozambique (56%) and South Africa (67%).
For transgender people, acceptance is even less. The study found: "In several states, cross-dressing is criminalised as 'concealment' and this is used as a form of intimidation. In Swaziland, for example, LGBTI individuals are usually detained for such but then not charged. Transgender women are similarly victimised through laws criminalising sex work and soliciting."
Efforts by Swati LGBTI groups to advocate for their rights often meet with fierce resistance. Thuthu Magagula, the acting director of Rock of Hope, a queer rights group, recalls a hostile meeting with church leaders. "It was a good platform of sharing and listening but later turned into a space where the church leaders wanted to discuss biblical verses and opinions, so tempers started flaring. Still, it was a necessary conversation to have because it gave us an opportunity to challenge their beliefs as well."
In ultra-conservative eSwatini, Bushfire provides another, more friendly opportunity. The festival may avoid taking on the government or the monarchy directly but in giving a platform to alternative views it may ultimately play an even more subversive role.
And, like those hapless policemen ignoring drug deals in the parking lot, there's not much the government can do about it. As long as Bushfire keeps bringing in the tourist dollars, it will also be free to bring its fire.