If ever there was a commodity that seemed to have a bright future, it was platinum. Scarcer than gold, it has all kinds of industrial uses and applications, which made it a great investment bet.
What's more, South Africa has most of the world's known reserves, which put platinum in the shiny seats after gold had lost its lustre.
But visit the platinum belt — the area around Rustenburg — and the mood is anything but vibrant. It is one of depression and despondency.
"If you get a cold, what happens? Your whole body is sore, your head is sore. You can't think, you are slow, you can't move, because of a cold. That's exactly what happened. Marikana's got a cold," said a store owner, describing how the job losses at the mines in the town have affected his business.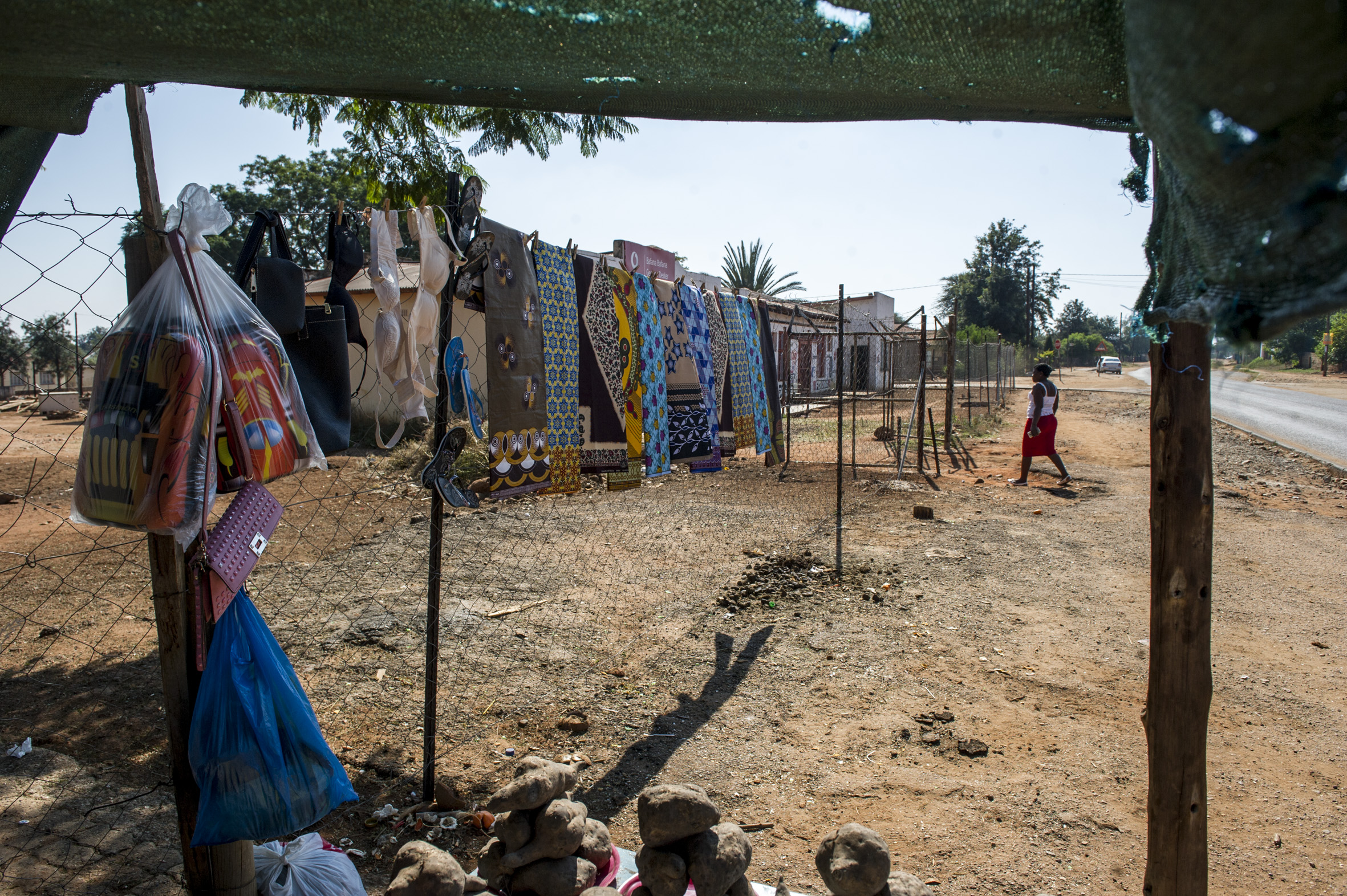 [With the 40% drop in the price of platinum over the past five years about 30 000 jobs have been lost in the industry. The residents of villages such as Ga-Luka are struggling to get by. (Delwyn Verasamy/M&G)]
The businessperson, who did not want to be named, used to have four stores on the tiny strip that makes up Marikana, near Rustenburg, but now he only has two.
"Where does my business come from? It comes from the miners. Now if you have been coming to my store every month and you are buying a pair of shoes and then you stop. What happens to my business? It's going down."
It has been the same for Aubrey May, the manager of the tavern in Ga-Luka village, just a 15-minute drive from the recently closed Impala Platinum shaft number four. It's noon and, apart from four men drinking beer under a nearby tree, there's no other activity.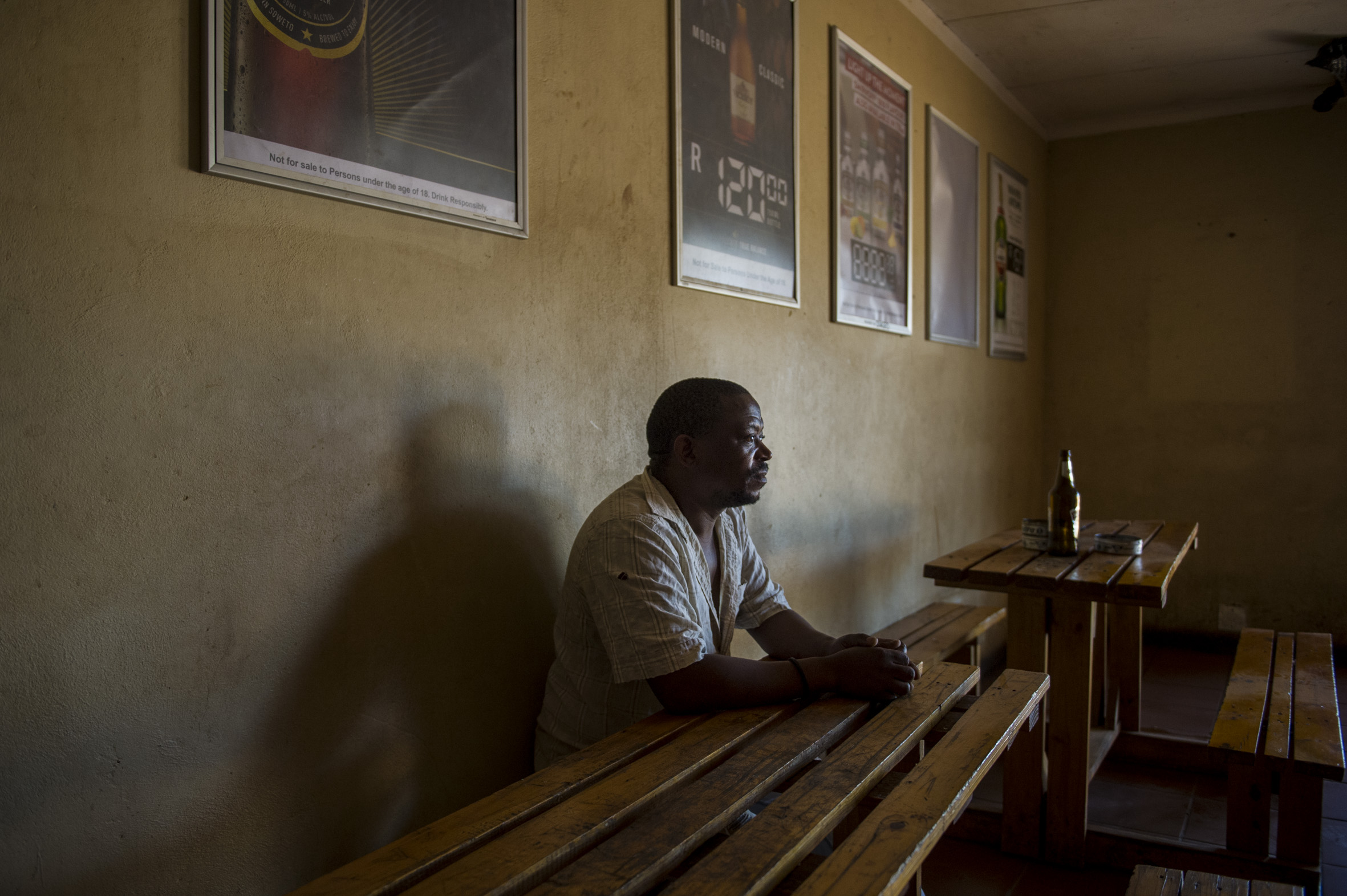 [Job losses have hurt Aubrey May. People used to queue up outside his tavern in Ga-Luka but now it has few patrons. (Delwyn Verasamy/M&G)]
"On a normal day, before I open, I would find them waiting outside but now, at around these times, it only gets better at around 3pm and 4pm. At 8pm to 9pm, it's quiet again," said May.
A 40% collapse in the platinum price, from $1 464 an ounce to $905, over the past five years and a stronger rand have put the industry under immense pressure. Nearly 30 000 jobs have been lost in the sector and Lonmin alone is likely to shed another 12 600 in the next three years.
The market capitalisation of the platinum mining companies has plummeted with the fall in the price of the metal. Impala Platinum's value is down 80% over the past five years, from R76-billion to just R14-billion.
It has traded at a 19-year low on the JSE this year. Impala's Johan Theron said the company has a staff complement of 39 000 but it has shed 3 500 jobs over the past five years after closing five shafts nearing the end of their lives.
Theron said the muted platinum prices since the 2008 global financial crisis was mainly because of the Volkswagen diesel scandal. The vehicle manufacturer admitted to rigging emissions tests for its diesel vehicles, which use platinum in their catalytic converters, and consumers have been driven away.
"That turned out to be a significant game-changer for platinum," said Theron. "The new diesel cars are actually quite good. In fact, in many aspects it's better than [petrol] so this vilification of diesel in our view is overdone and unfair … but that doesn't help the way people think about the future right now. That sentiment is very important."
Theron said the reduced demand for platinum was exacerbated by the fact that Impala is on the western limb of the platinum belt where the shafts are older, deeper and more labour-intensive.
The vehicle industry accounted for more than 40% of platinum demand in 2017, followed by the jewellery sector (30%), according to the industry publication, Metals Focus.
"At the same time as the sort of diesel thing is playing out, we have also seen jewellery sales in China coming down over the last couple of years. Now you have price pressures in two of your major markets," he said.
Lonmin's share price has fallen by 98% since 2013 and the more-than-a-century-old company could soon be a thing of the past should a proposed R5-billion takeover by Sibanye-Stillwater not be completed successfully.
The deal, which Lonmin hopes to close in the second half of this year, is subject to competition and regulatory approval in Britain and South Africa, as well as by Lonmin and Sibanye shareholders.
Lonmin's net cash position shrank to $17-million at the end of March this year, down from $63-million in December. Chief executive Ben Magara said the loss of 12 600 jobs would happen with or without the takeover. "It's the better of two evils. We don't want to do this thing but, unfortunately, facts don't lie — 65% of the platinum industry is making a loss today.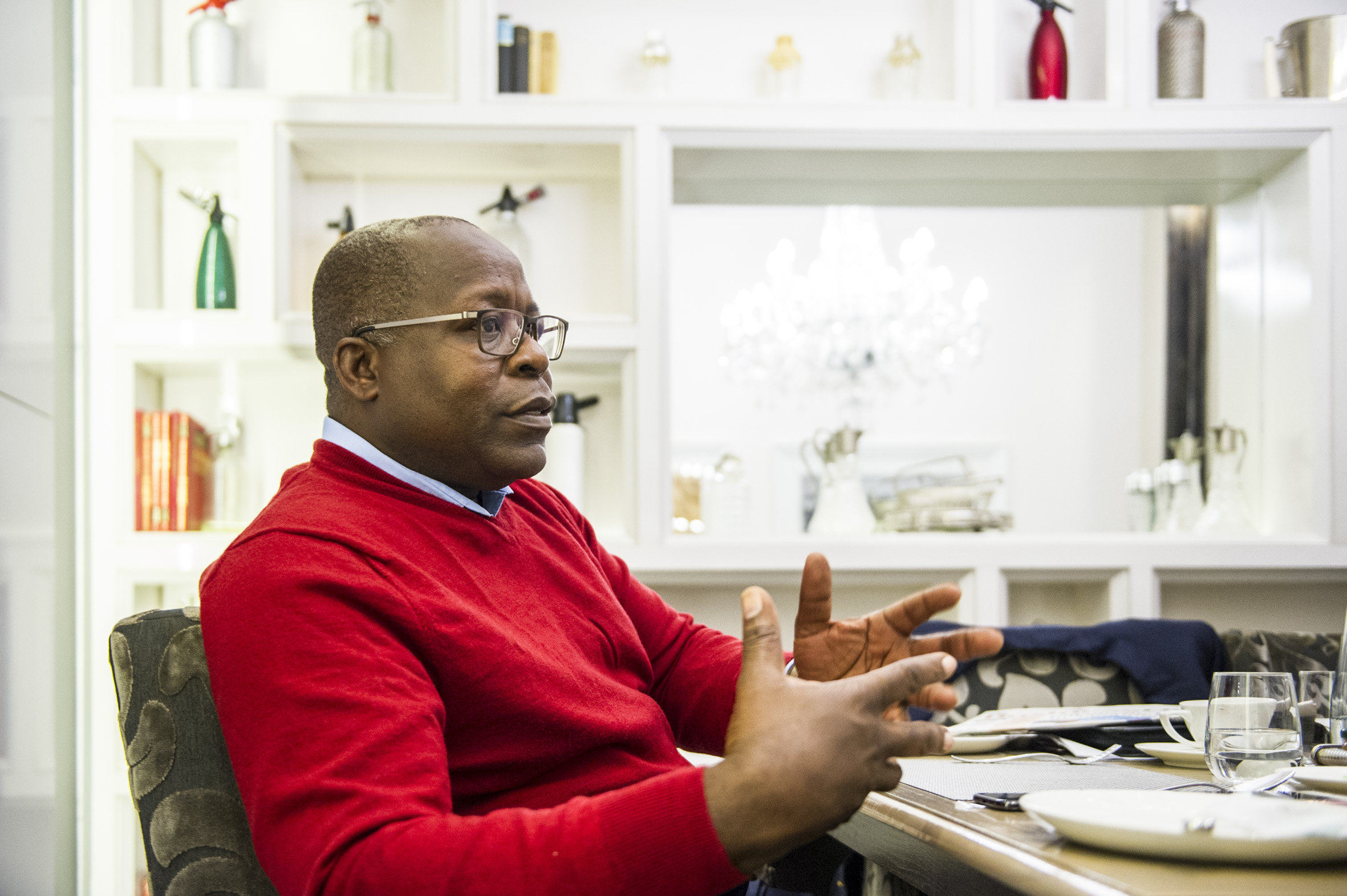 [Lonmin chief executive Ben Magara says the company's survival hinges on a takeover by Sibanye-Stillwater but an additional 12 600 could jobs still be lost regardless of the bid. (Delwyn Verasamy/M&G)]
"It's not a pleasant process; I do not expect unions to celebrate about it. But I think if we do not do it we would be worse off. At Lonmin, if we do not potentially retrench the 12 600, we are putting at risk all the 33 000 people that we have."
Magara said he was confident the transaction would be successful, "otherwise the board wouldn't have voted for it unanimously. Consolidation is essential, so I have no reason why it shouldn't go through. If you look at the synergy benefits, we would merge our payroll and supply chains. Those synergies would be very beneficial for both companies because both are cash savings."
Magara said cooling and safety costs were part of the difficulties Lonmin faces. "We all have to refrigerate our air in order for conditions underground to be workable. The safety standards today were not there 10 years ago.
"The costs of mining have increased tremendously not simply because of labour [which constitutes 55% of Lonmin's operation costs]," Magara said.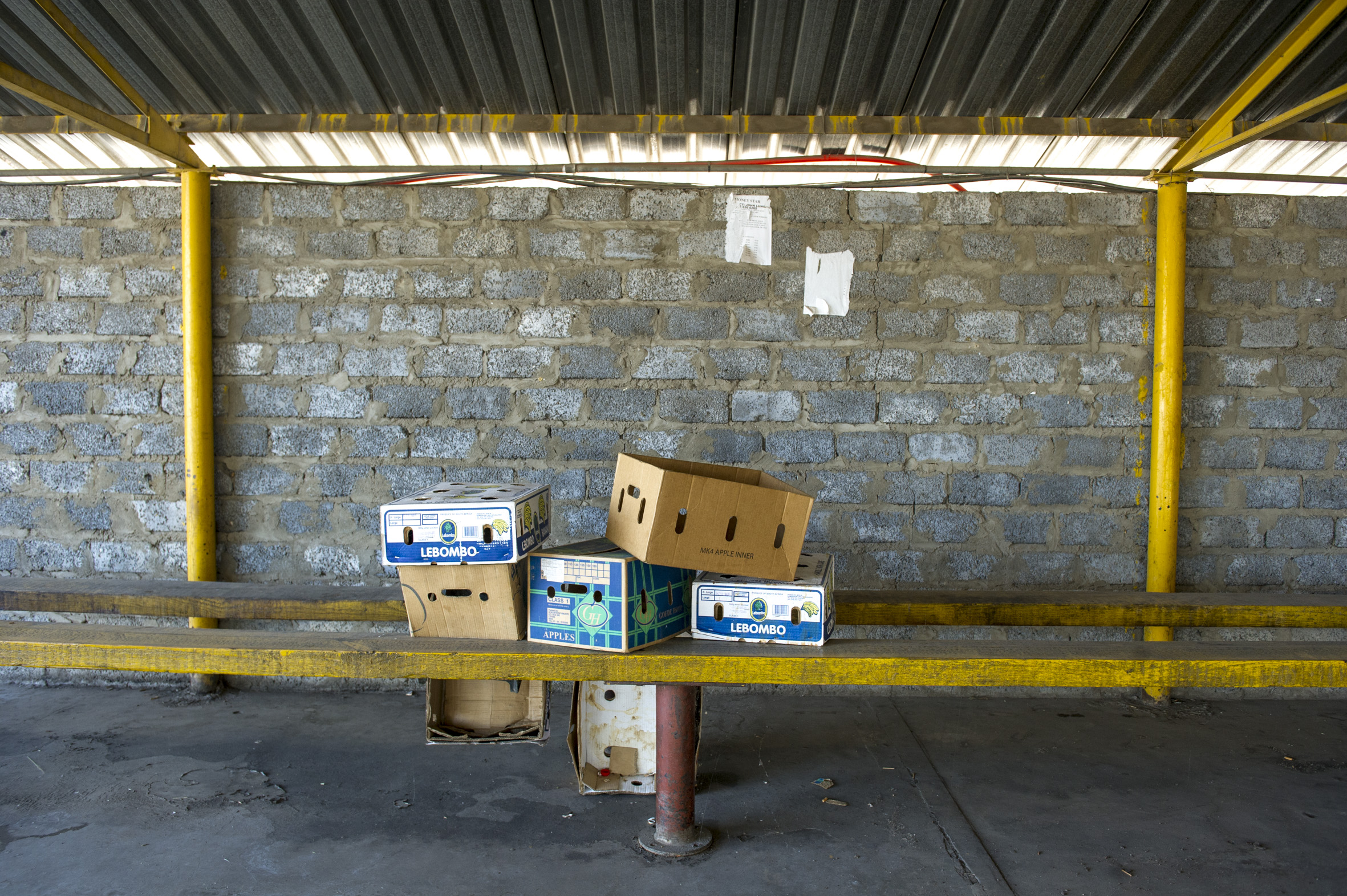 [The market and taxi rank, which serviced miners who once worked in shaft 4, is now closed. (Delwyn Verasamy/M&G)]
The western limb, with its high-cost deep mining, was a "swing producer", he said. When the supply of platinum was too high, it meant losses.
Noah Capital Investments' mining analyst, Rene Hochreiter, agreed with Magara that everything was in place for the deal, although, even if it was unsuccessful, Lonmin was "no longer up against the wall".
He said Lonmin had cut costs to a point where it was no longer the highest-cost producer in the country, and it had great assets.
"The plant is the best plant in the country. Lonmin also has the lowest-cost shaft in South Africa, Saffy shaft, which is doing 200 000 ounces a year of platinum on its own, and really doing well at these prices."
Barrie van der Merwe, Lonmin's chief financial officer, has been reported as saying that the Sibanye-Stillwater deal is preventing its lenders from demanding the immediate repayment of their $150-million loan, which would eat into the company's gross cash of $167-million.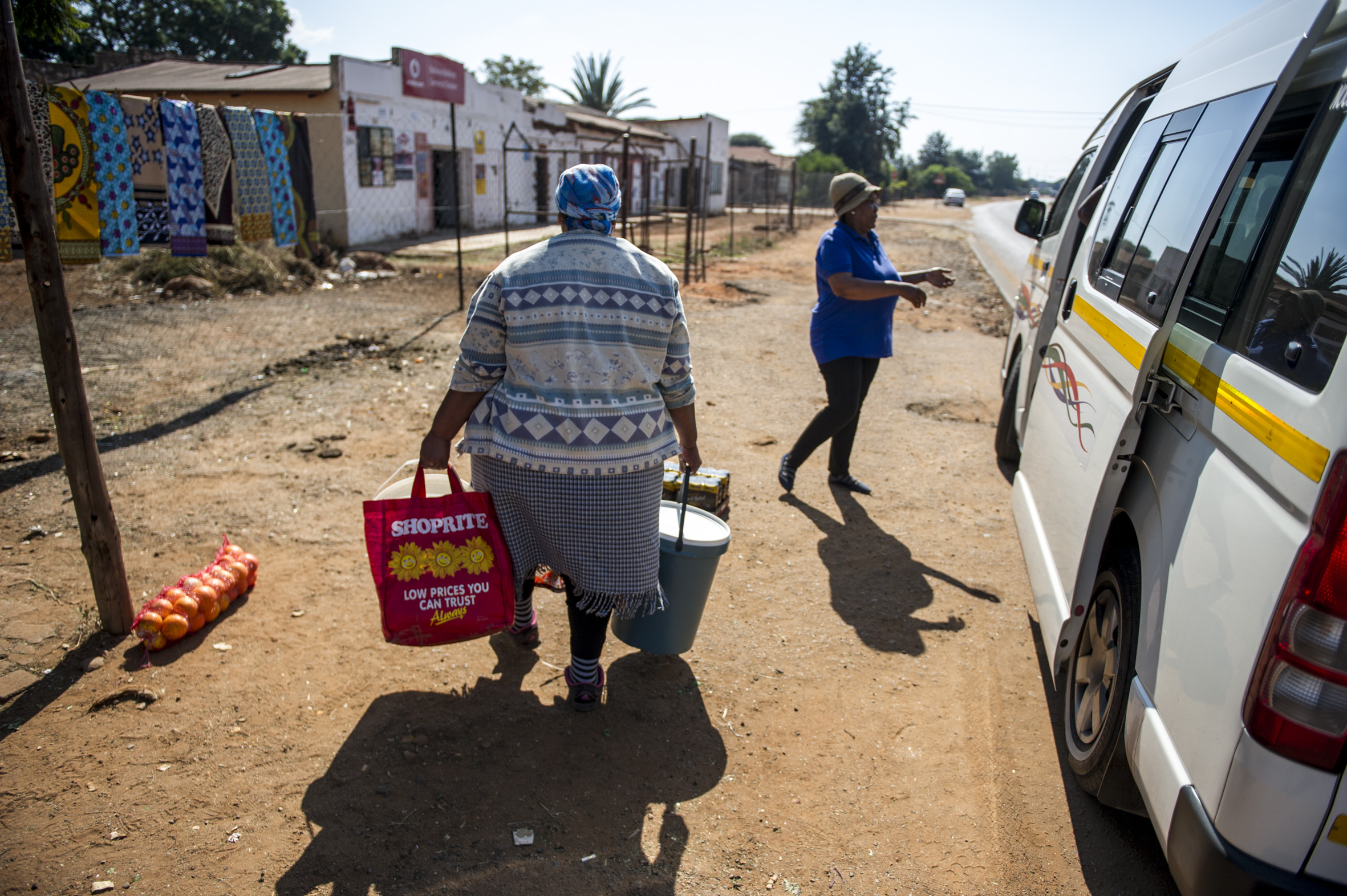 [Taxis in the platinum belt used to be filled with commuters but since the drop in the demand for platinum and the layingoff of miners, business has been quiet. (Delwyn Verasamy/M&G)]
"So, if the deal doesn't go ahead, what are the banks going to do? Are they going to take the keys away from management and try to run it themselves? No, obviously not. They are going to say, 'let's renegotiate this covenant that you have got'," said Hochreiter.
"They're making cash and, at the end of the term, my estimate is they will have $90-million net cash. The $150-million will be well covered."
Referring to the future of the platinum sector as a whole, Hochreiter said "the secret is the rand". Its current position of between R12.50 and R13.00 to the dollar was "quite nice" for producers because it allowed everyone to make money on a sustaining costs basis.
"If the rand goes back to R11 or R11.50, then I think 30% to 50% of South African production will be making a loss."
Tebogo Tshwane is an Adamela Trust financial reporter at the M&G