The resignation of Mark Coetzee, formerly the chief curator and director of the Zeitz Museum of Contemporary Art Africa (Zeitz MOCAA), has raised some uncomfortable but necessary questions about art practice in South Africa.
Here's what we know. Coetzee resigned on May 16 amid "an inquiry into his professional conduct" initiated by the museum's trustees.
"Professional conduct", in this case, is perhaps putting it mildly, as evinced by the swift clampdown the scandal precipitated, resulting in nondisclosure agreements being signed by the aggrieved parties.
A report by City Press states that, on May 15, Coetzee discovered that his access card had been deactivated, barring him from entering the building.
He had allegedly made sexually lewd and racially offensive statements his norm in his interactions with junior staff members, sources said. Some of these employees were reportedly recent graduates on a curatorial programme funded by the institution's board of trustees.
In a response to questions, Zeitz MOCAA, which opened in September last year at Cape Town's V&A Waterfront, said an internal inquiry was being facilitated by "an independent law expert". Coetzee, it seems, has gone to ground, not responding to phone calls, text messages or emails.
Zeitz MOCAA responded to a detailed list of questions from the Mail & Guardian — including questions relating to governance and transparency — with a terse three-line statement about an ongoing internal investigation being under way.
Allegations of Coetzee's improper behaviour, which is said to have run the gamut of abuses (such as unilaterally imposing dress codes on staff), have also served to shine a light on the structure and mandate of Zeitz MOCAA, whose founding collection was given on loan by German businessperson Jochen Zeitz.
"The preoccupation with the figure of Coetzee obscures some larger and important questions around how so much Public Investment Corporation (PIC) money got invested in this project in the first place, and who is investing what right now, particularly the man whose name is on the building," says Joseph Gaylard, head of the Southern African office of the arts- funding body Pro Helvetia and former head of the Visual Arts Network of South Africa.
The PIC is a government-owned asset manager that invests funds on behalf of public-sector entities, including the Government Employees Pension Fund.
Adds Gaylard: "At first glance, he [Zeitz] seems to have secured free, value-adding storage for his personal collection in perpetuity, or rather for as long as would seem to suit him, without relinquishing ownership of that collection."
He says some of these "very elementary questions" about the nature of investment would be answered if, like other public-benefit organisations, Zeitz MOCAA made its annual reports and audited financial statements available for public perusal.
"Numbers tell interesting stories, and no doubt this would be the case here," says Gaylard. "Normally, it would be in the interests of such an institution to make that information public as a matter of course without being asked to do so. The absence of a basic level of transparency produces a situation in which speculation — of abuse of public resources, of various forms of insider trading and market manipulation, and so on — runs rife."
Zeitz MOCAA is registered as a public-benefit organisation, which means donations are exempt from tax. The South African Revenue Service's website says that such organisations "have the privilege and responsibility of spending public funds, which they derive from donations or grants, in the public interest … without any personal gain being enjoyed by any person, including the founders".
The bill for the building's R500‑million redesign was footed by property developers Growthpoint and the PIC, which co-own the V&A Waterfront. The Waterfront has undertaken to fund all exterior upkeep for the duration of Zeitz MOCAA's 99-year lease on the building.
As the most valuable piece of real estate in South Africa, the Waterfront owes much of its popularity to being a tourist haven. The PIC and Growthpoint knew this when they bought the property from its British and United Arab Emirates owners for R9.7‑billion in 2011.
A ticket to enter the building, which the museum "leases" for R1 a year, is R180. It is free on Wednesdays between 10am and 1pm if you are an identification-carrying African, as well as on public holidays. And entrance is half-price on the first Friday of each month. But where do the entrance fee monies go? It's not clear, and that's not the only aspect of its operations that's opaque.
"From the built form and location of the museum through to the approach to collecting and curating, the institution poses fundamental questions about what direction our cultural polity or body politic is moving in," Gaylard says.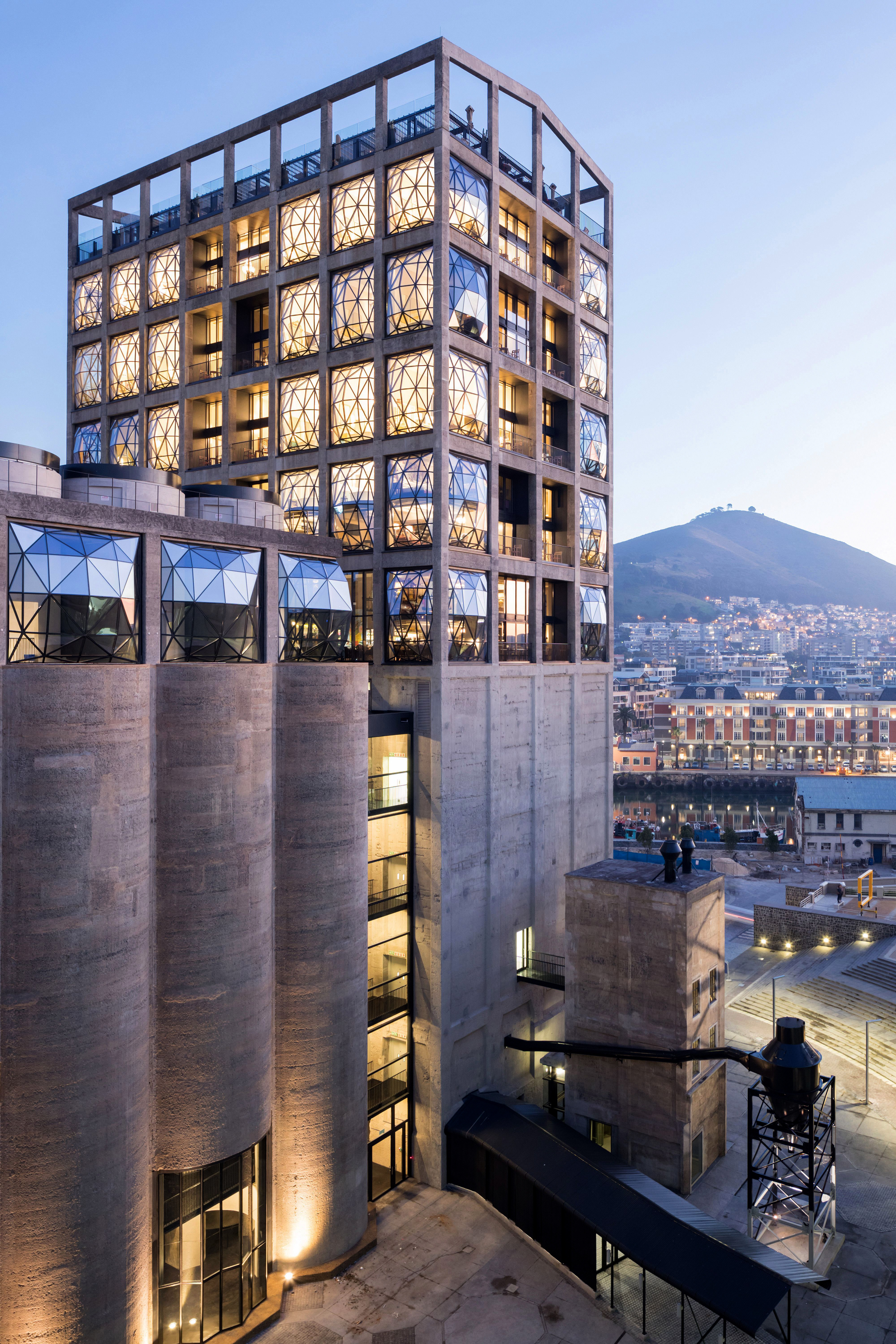 [The Zeitz MOCAA at dusk (David Harrison)]
"It takes the discussion about what public cultural institutions in contemporary South Africa and Africa could or should be into a place that is very far away from the lived experience of the vast majority of people here and elsewhere on the continent, and into a place that is very much wrapped up in the accumulation of various kinds of capital on the part of a small coterie of collectors, dealers, gallerists and anointed artists.
"It seems to suggest that the only way of engaging this completely disassociated wider public is through bussing in captive groups of schoolchildren and providing free entrance to the museum to mostly white, middle-aged Capetonians on a Wednesday morning," says Gaylard.
Speaking about the museum's funding model to conceptualfinearts.com last year, Coetzee said the museum took both private and public funding, making it a "public not-for-profit institution, which is also supported by a large percentage of private funds".
Conventional institutional practice has been that museum collections are generally donated by patrons, as in the case of national institutions such as the Johannesburg Art Gallery and Tate Modern, whose founding collections were donated by collectors to the state. The patron may set up a fund for the conservation of that collection and suggest conditions for its display. In the case of a foundation, the collection remains the collector's private property.
With the Zeitz museum, the Waterfront owns the building, Zeitz owns the collection and a third entity, the Zeitz MOCAA Public Benefit Organisation, is presumably responsible for the running of the institution, making it in a sense a museum by name with some unconventional structural gaps.
A former gallery employee, who prefers to remain anonymous, says: "The trustees [and other donors who are listed on the website] are donating money for the operations of the museum. Jochen Zeitz is going to profit from the existence of Zeitz MOCAA that, on [a] day-to-day [basis], is being funded by trustees. Waterfront is going to benefit from it because they own the building. The property value is going to go up. Jochen Zeitz is going to take his collection. South Africa … I don't know … We just played a part in creating value for the building, the property and the collection."
Regarding its curatorial practice, commentators such as arts journalist Matthew Blackman have alleged how at Zeitz the disparities in age and experience between Coetzee and the curatorial interns did not create a space for robust intellectual engagement as befits a museum.
"At Zeitz, it was only the head curator and then there were all these weird people called 'curators at large' and 'adjunct curators' — but they had nothing to do with the museum and its practices," Blackman told the M&G.
"And then there was this group of recent graduates who were on one-year contracts and were getting paid about R92 000 a year. The processes that would go on under that kind of a structure … that's not a museum."
As for the art itself, the museum boasts a formidable collection featuring established and emerging African artists from the continent and the diaspora. Contemporary African art has only recently, relative to art from other parts of the world, gained the market value and attention that many say were long overdue.
In addition to housing works by established South African artists such as William Kentridge, the works of a younger generation of collectable artists were bought by Coetzee for Zeitz's collection years before the museum opened. These include works by Athi-Patra Ruga, Nicholas Hlobo, Nandipha Mntambo, Zanele Muholi and Mohau Modisakeng.
The criteria for whose art is collected and installed at the museum do not appear to be clear. What is clear is that an institution ought to approach artists with a measure of consistency.
A Johannesburg-based artist, who did not want to speak on the record, spoke of colleagues being persuaded to donate works to the museum under the guise of giving them exposure.
"They bought stuff before it was even made," he says. "They were not even paying what the work is worth. There were artists who were paid and others who were asked to donate. So artists were doing commissioned works with no artist fees." He adds that there is often no communication with artists about what happens to the work after it has been hung.
Zeitz and Coetzee met in 2008, during the former's tenure as the chief executive of sportswear brand Puma. At the time, Coetzee, who had worked as an artist, art historian and curator, was the director of the Rubell Family Collection in Miami. He was later offered a job in a Puma initiative that supported visual arts, and started planning a museum of contemporary African art with Zeitz.
Coetzee's buying habits in South Africa, seen as aggressive and focusing on a relatively small number of artists, rendered him both the villain and the darling of the art world. The Rubells were known for similar practices. "He'd go in and buy wholesale [while with the Rubells]," says an employee who worked at a gallery Coetzee bought art from. "Then they'd sell them on the secondary market [through auction houses]. He did it so many times that art dealer societies in the United States sort of blacklisted him. Mark's abuses of power have gone unchecked because he was buying."
The gallery employee says Coetzee would have been let go from Zeitz much earlier but some trustees wanted to find him a placement elsewhere, lest this scandal should lead to other scandals. "For me, it is not so much about the excitement of his downfall (or schadenfreude, as art critic Sean O'Toole called it); it's more about everyone else and their complicity in the system."
With Coetzee gone, it remains to be seen whether that gesture, shrouded in the silence of nondisclosure agreements, will engender a fundamental change in transparency at this high-profile arts institution.
This is an ongoing investigation. If readers wish to provide information, please email [email protected] Anonymity will be respected