City of Ekurhuleni (CoE) has partnered with the Gauteng provincial government to introduce the Tshepo 1 Million initiative in an attempt to deal with the lack of employment opportunities and poor economic participation of the youth in the region.
This announcement was made during the Youth Economic Summit and Career Expo held at the Birchwood Hotel and Conference Centre in Boksburg.
The introduction of Tshepo 1 Million in Ekurhuleni is meant to address the lack of absorption for work placements and low levels of education and skills development in the area. The initiative was originally launched in 2014 under the name Tshepo 500 000 by Gauteng premier David Makhura, but has since been renamed Tshepo 1 Million after it created over 300 000 job opportunities in just two years.
Tshepo 1 Million provides young people in Gauteng with skills development, employment creation and entrepreneurship development to provide them with hope for the future.
"We have massive challenges facing the youth in Ekurhuleni. We have a problem of unemployment, lack of business opportunities and a shortage of skills. We also have a serious problem with substance abuse. Hence our introduction of Tshepo 1 Million to create more opportunities for our unemployed youth," said executive mayor Mzwandile Masina.
"As you can see, we have Setas (sector education and training authorities) but there is no absorption or internships for young people. This is a major concern to us. Tshepo 1 Million is among a few interventions that we think will help us to deal with all these challenges facing our youth."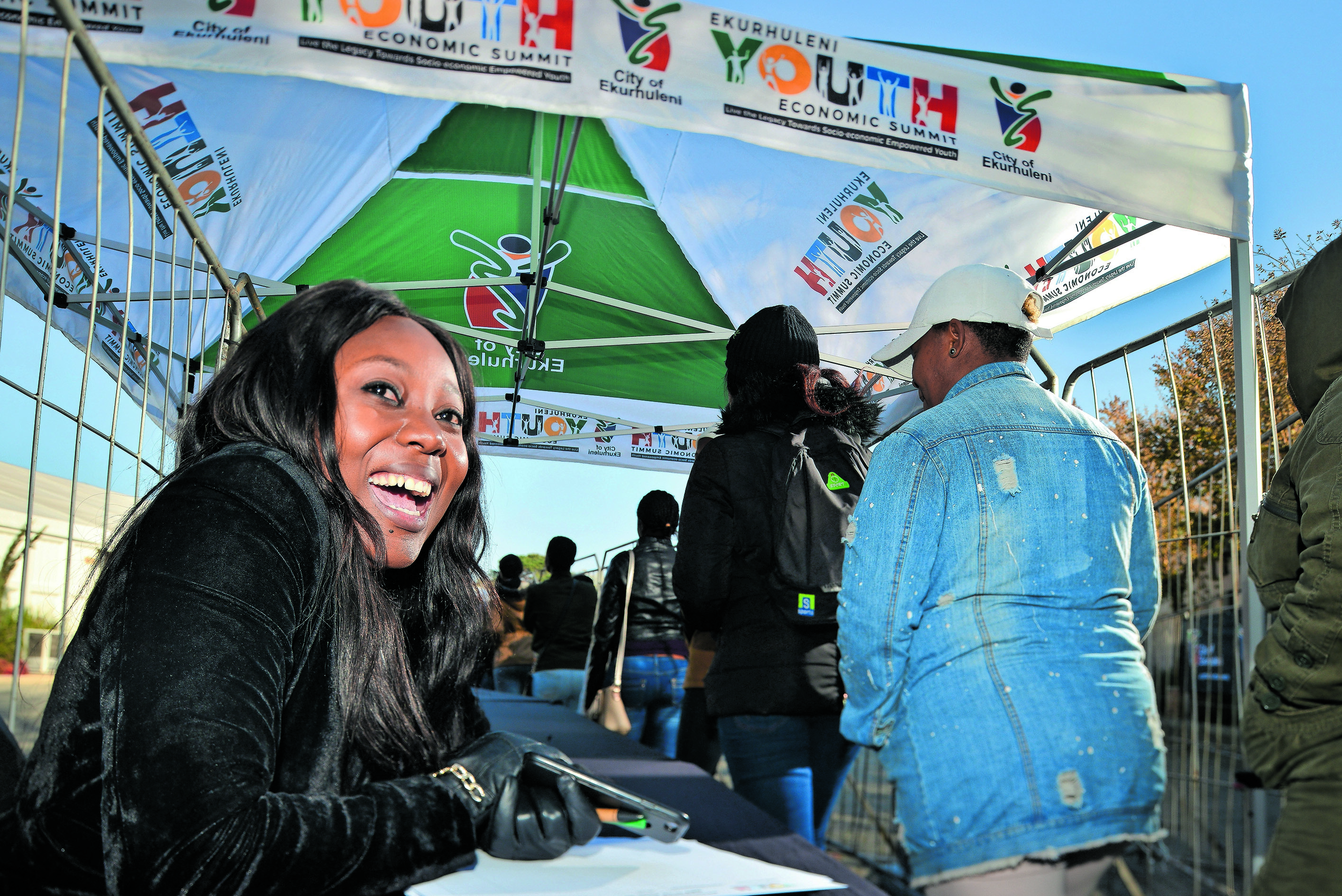 Masina said the introduction will ease the burden of youth challenges in Ekurhuleni, which includes among others, poor health and wellbeing, substance abuse, inaccessible sports facilities, teenage pregnancies, and poor co-ordination and little recognition of youth work as a profession.
The youth summit brought together big business with the sole intention to showcase business opportunities in terms of set-asides, preferential procurement opportunities, off-take agreements and mentorships for youth-owned businesses.
Among those who attended the summit were management representatives from Denel, South African Airways, Airports Company South Africa, SCAW Metals, Bidvest Transnet, Telkom, Eskom and Sasol.
Some of the keynote speakers included Minister of Small Business Development Lindiwe Zulu, businessman and radio personality Sbu Leope, MMC of finance and economic development Nkosindiphile Xhakaza and Ekurhuleni's economic development head, Caiphus Chauke.
In his opening address at the youth summit, Masina said the city prides itself in developing partnerships that work: "The city of Ekurhuleni prides itself in the relations it has with all its stakeholders. We seek to continue to strengthen such relations, particularly with the private sector. One of the ways we aim to achieve these strengthened relations is by entering into various social compacts that deal with youth unemployment, inequality and poverty. We have tasked our Youth Directorate with developing a localised youth accord and entering into this social compact with all our private sector partners, placing focus on: education and training; work exposure; youth target set-asides; and youth entrepreneurship," said Masina.
"The development of a social compact, in the form of a Youth Accord, will provide a platform for the private sector and the City to mainstream and co-ordinate youth development, and together address the socioeconomic ills that plague our region."
Masina said this youth economic summit was critical to youth development because it served as a platform on which to engage young people and expose them to captains of industry, the private sector and government in an effort to realise the innovations of tomorrow, which depend on the opportunities made available and accessible for young people today.
"We come together every year in Youth Month to look into strategies, plans and methods in the fight for youth socioeconomic development," said Masina.
Zulu launched the Rapid Youth Incubator in the local township of Katlehong, Ekurhuleni, during the summit. The Rapid Incubation Programme is part of the department of Small Business Development's programme to address youth unemployment.
"Through this centre, we seek to provide students and participants with the theoretical knowledge and entrepreneurial skills that will enable them to start and run successful enterprises. We are determined to promote and inculcate an entrepreneurship culture among young people and to provide support to emerging entrepreneurs and start-ups in the City of Ekurhuleni," said Zulu.
She told the summit that she was concerned about the high rate of collapse of small businesses in general in the townships. She said the Rapid Incubation programme provides student graduates with an entrepreneurial platform to commercialise their vocational skills and move them from "job seekers to job creators".
Zulu added that it also seeks to utilise the skills of TVET (technical and vocational education and training) graduates, to encourage and promote an entrepreneurship culture and provide the students with the necessary tools and techniques to establish their own businesses, and thus contribute to economic growth and job creation.
"Youth-targeted interventions in South Africa are needed to enable young South Africans to actively participate and engage in society and the South African economy," said Zulu.
"The marginalisation of young people is primarily manifested in high youth unemployment. In a job-scarce environment, joining the world of work is particularly difficult for young people, but this not just a problem for South Africa only."
Chauke said while while employment growth in South Africa was constrained by several supply-side deficiencies, including a serious skills shortage and limited entrepreneurial capacity, it remained the city's top priority objective to address the high levels of unemployment, poverty and inequality, as socioeconomic inequalities continue to threaten long-term stability.
Chauke outlined the city's Ten-Point Plan to deal with the triple challenges of poverty, inequality and unemployment, especially among the youth. The plan includes, among others, the revitalisation of the manufacturing sector, aerotropolis master-plan implementation, SMME support through procurement, massive infrastructure investment, the promotion of localisation and skills and capacity development.
Chauke's department is tasked with leading, facilitating and promoting economic transformation, growth, development and transfer within the City of Ekurhuleni.
"Our approach is to maximise capabilities in the smart and advanced manufacturing, aviation and aerospace, logistics and transportation industries to drive the economic competitiveness, radical economic development and transformation imperative for the benefit of the community of Ekurhuleni," said Chauke.
He told the youth summit that his department has introduced a comprehensive township strategy to deal with youth unemployment and lack of opportunities in the area, and said the economic viability of townships is high on the metro agenda.
"There are four townships in the City of Ekurhuleni situated on the outskirts of the municipality. These four communities accommodate approximately 65% of the metro's population, of which 24% are situated in the Katlehong, 14% in the Tembisa and Duduza complexes respectively, and approximately 12% in the Daveyton complex," said Chauke.
He added that as a result the city has come up with an institutional framework has been proposed to advance the township economic agenda with local businesses.
"Supplier SMMEs in townships are also given support through the Township Enterprise Development Programme. In addition, the CoE is adapting old council-owned structures into street trading facilities and is providing previously disadvantaged communities with access to state-of-the-art manufacturing facilities through fabrication laboratories," said Chauke.