Peter Martell in Riwoto
The breath is shallow and ragged, as if the intake of air is painful for two-year- old Lotabo Loworet, his bony ribs visible through his ragged shirt.
"I had nothing to feed the baby," says Lowerio Loworet, his aunt, who has looked after the boy since Lotabo's mother died of a fever in the Kapoeta region, in the far southeast of war-torn South Sudan. "I was afraid he would die."
As well as severe acute malnutrition, he is suffering from medical complications including pneumonia, causing a cough that wracks his tiny body.
Civil war broke out in South Sudan in 2013. The violence is now in its fifth year and millions are struggling — not just with the fighting, but also with the humanitarian disasters it has precipitated.
This year, warnings of the risk of famine are back.
Experts say the growing numbers of severe malnutrition cases is a man-made consequence of conflict. Children are among those the hardest hit. Malnutrition also makes other health problems a far more serious matter.
On another bed, Nomana Lobore holds the hand of her daughter Lonyia, aged two. "There was a high fever," Lobore says, softly stroking the toddler's heavily swollen wrists and ankles, a common reaction to acute malnutrition called oedema. "But her strength is improving with the help here."
Those admitted with severe acute malnourishment keep coming.
"We can offer support here — and without it, these children would have died," says Okello Bosco, a nutrition nurse at the clinic at Riwoto, a simple, tin-roof, single-storey building. "But more cases are coming, as the situation in the area is getting worse."
The clinic acts as a "stabilisation centre", providing in-patient care for the worst-affected children. It is basic, but it has supplies of special formula food and milk, as well as drugs, supplied by the United Nations Children's Fund, Unicef. Packets of a therapeutic food — a peanut paste with milk powder, sugar and micronutrients — are handed out. Each sachet contains 500 kilocalories (5 000 calories).
'Catastrophic' conditions
Although there are multiple humanitarian crises across the world, all with warnings of hunger, a formal declaration of famine is rare. The term is based on a globally agreed scale determined by levels of food insecurity, acute malnutrition and deaths because of hunger.
The two most recent famines were in Somalia in 2011 and in South Sudan in 2017. Past famines have shown that, by the time formal declarations are made, people have already started starving to death.
South Sudan remains at risk of a return to famine, but aid workers hope that, with massive relief efforts, the worst scenario can be averted this year. Last year, the famine receded once aid began to flow in.
"We see a lot of deaths," says Ngong Deng, nutrition supervisor at Al Sabbah Children's Hospital in the capital, Juba, supported by Unicef. "We have the most critical cases here from across South Sudan."
Even outside the areas of direct fighting in South Sudan, the impact is felt. Economic problems mean food prices have shot up and inflation has weakened the currency.
In the hospital, two wards are dedicated to malnutrition. They are full. Outside, four large tents offer beds for the spillover.
"There have been times when there are so many people they have slept on the ground," Deng says. He opens a thick register tracking the health of the children, showing the assessments of weight and growth over time, and how children have benefited from therapeutic feeding.
Still, despite the best efforts of medics, sometimes as many as a tenth of admissions are too late to be saved.
"Some we lose immediately," he says.
Deng slowly shakes his head as he runs his finger down the lists of admissions. In one month, a dozen names are listed as "defaulters"; mothers who took their child away from the feeding programme, almost certainly meaning they died too.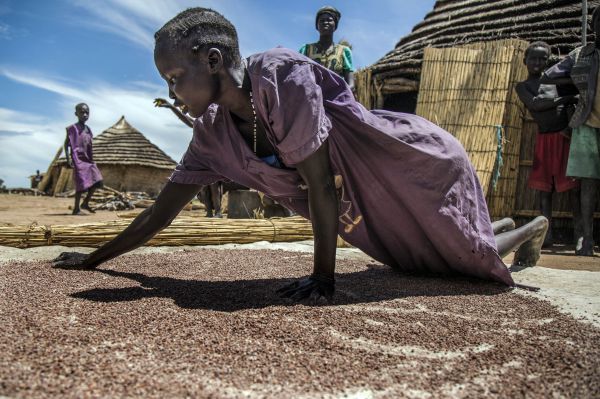 [A woman dries a small quantity of sorghum outside her house in Panthau, South Sudan. (Albert Gonzalez Farran/AFP)]
It is a heart-breaking choice. Seeing the chance of survival of their baby is so slim, they slip away because they have other hungry children they need to care for, but want to be with the baby when it dies.
Daily struggle
"Life has become very expensive, so people are struggling," says Betty Achang, nutrition director at the hospital. "Many of the mothers here are widows too. Their husbands were killed in the fighting."
Single mothers struggle to support the family on their own, becoming malnourished themselves. That means their breast milk dries up.
In the ward, Grace Nimema cradles her son Samuel, aged 14 months. A 25-year-old widow whose husband was a soldier, Grace supported herself and two surviving children by cutting wood to make charcoal.
"I had to stop work to take care of my baby when he became sick," she says. "Then I didn't have any way to earn money for food." Now the only help she gets comes from food supplements and drugs delivered to the hospital.
She has already lost one child as an infant, a daughter, and she is desperate for Samuel to survive.
Samuel shifts his bony body, crying gently, knocking the feeding tube that runs into his nostrils with a tiny hand, too young to understand what is going on. "He was sick like this this year, and he got better," Grace says. "This time, I don't know."