High court Judge Tintswalo Makhubele, the former acting chairperson of the Passenger Rail Agency of South Africa (Prasa) board, who asked for a delay before she started active service at the Gauteng division of the high court, is alleged to have used that extra time at the state-owned enterprise to push through a R60-million settlement with a questionable service provider.
The allegations have raised questions about her probity and caused consternation among judges in the division where she started work on June 1 — and where the Prasa-linked litigation is being heard.
It has also raised questions about what happens when new information about a judge comes to light after the Judicial Service Commission (JSC) has made a recommendation for an appointment, but before active service has commenced.
The allegations in court documents in the Mail & Guardian's possession paint a picture of how Makhubele appeared to act with indecent haste — and against the advice of Prasa's in-house legal team — to push through the R60-million settlement in respect of payment claims by a group of "Siyaya entities".
The claims, by Siyaya DB Consulting Engineers and Siyaya Rail Solutions, had been flagged as dodgy by Makhubele's predecessor, Popo Molefe.
Her actions caused Prasa's group executive for legal risk and compliance, Martha Ngoye, to say in an affidavit submitted to the high court in Pretoria in April: "I did not understand why [Makhubele] sought to deal with the matters on such an extremely urgent basis."
In Ngoye's affidavit Makhubele is accused of barring Prasa's attorneys of record from discussing the R60-million claim by the controversial Siyaya companies with the parastatal's internal legal department, sidelining the department on Prasa's legal strategy for the claim, refusing to hand over documents to them and assuming powers beyond her remit in an attempt to speed up the "secret" arbitration settlement deal between Prasa and Siyaya entities.
Ngoye's affidavit was filed in the high court in Pretoria on April 3, as Prasa urgently sought to interdict the sheriff of the court from paying Siyaya out.
Ngoye also claimed that Makhubele sent Siyaya's lawyers text messages stating that Prasa's legal team had no authority to represent it at a court appearance on March 9, where the arbitration settlement to pay the R60-million was to be made an order of the court.
The orders were eventually granted on an unopposed basis, after acting judge John Holland-Muter ruled that law firm Bowmans (formerly Bowman Gilfillan) did not have the authority to represent Prasa, despite its being briefed by the parastatal's legal department.
In a March 8 letter to Bowmans, Siyaya's lawyers Mathopo Attorneys questioned the firm's authority to represent Prasa. They also included text messages, allegedly from Makhubele, to back up their point.
In the messages Makhubele allegedly states that Bowmans "have no authority" because the "Prasa legal panel has been suspended since December 1 2017". They also include a text message, apparently sent by Makhubele to Prasa's acting group chief executive Cromet Molepo, in which she expresses her displeasure at not being briefed about Prasa's decision to oppose the settlement.
"The matter involves me directly and I would have expected a courtesy briefing before decisions were taken. I will seek legal opinion on the matter after [I] have sight of the grounds of opposition [sic]," she wrote.
Prasa's internal legal team was opposed to both the arbitration process and the payout, because they believed they had a strong, winnable case. Prasa successfully interdicted the payment after a March 9 court appearance.
Ngoye stated in her affidavit that it was "clear" the Siyaya matter "created a dispute" between group legal services and the chairperson of its interim board.
Makhubele is not cited as a respondent in Ngoye's founding affidavit. In its responses unsuccessfully opposing the interdict application, Siyaya's lawyers do not challenge Ngoye's allegations about Makhubele — saying there was insufficient time to do so — but do accuse Prasa of playing a "cat-and-mouse game" in its attempts to stop the payment. They opposed the application on technical legal points.
Prasa's group legal services were not the only ones who thought paying Siyaya DB and its associate company Siyaya Rail Solutions the R60‑million was a waste of public funds. On March 28 this year, new Transport Minister Blade Nzimande wrote to Prasa company secretary Lindikaya Zide stating that he viewed the litigation with Siyaya as "very serious".
Nzimande said he regarded the Siyaya matter as having the "potential to damage the reputation of himself as the minister" and Prasa because it gave "the impression that we are not being prudent with the public money that is allocated to Prasa for public good".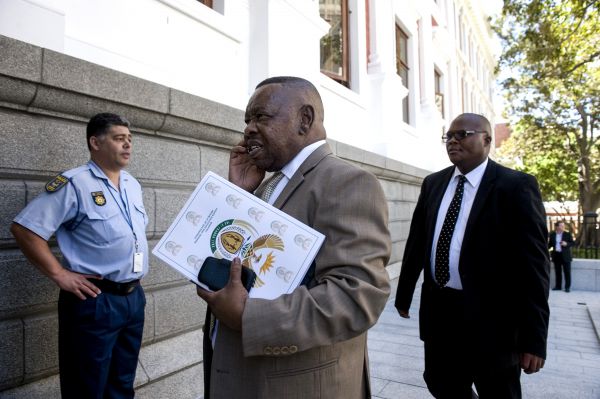 [Passenger rail transport falls under the remit of Transport Minister Blade Nzimande, who is critical of Prasa's apparent wasteful expenditure. He wants the R60-million payout rescinded. (David Harrison/M&G)]
Siyaya Rail Solutions and Siyaya DB have reportedly received approximately R5-billion in deals with Prasa over the years. According to a national treasury report, the Siyaya entities involved in the claim and others, including Siyaya Energy and S-Investments — where Makhensa Mabunda holds an ownership stake — were awarded seven Prasa contracts between 2012 and 2015. Five of these contracts, valued at R1.3‑billion, were awarded without an open tender process. Mabunda is reportedly close to former Prasa group chief executive officer Lucky Montana.
Nzimande directed Prasa to challenge Siyaya's attempt to be paid out "with the view of getting the [March] judgment rescinded" and the money recovered. Yet, in the course of her six months as Prasa chairperson — during which time she was due to take up her position at the Gauteng division of the high court but, instead, requested that Judge President Dunstan Mlambo delay her appointment from January 1 to April 1 — Makhubele appeared adamant that Siyaya's claim be settled.
Makhubele was appointed to the Prasa board by then transport minister Joe Maswanganyi on October 19 last year, 15 days after the JSC recommended her to the president for appointment.
Within a month, she had called Ngoye and Prasa's general manager for group legal services, Fani Dingiswayo, into a meeting specifically to discuss the Siyaya claim. According to Ngoye, Makhubele expressed her opinion that the claim was "valid and payable" and should be settled, an opinion "that came as a surprise" to both Ngoye and Dingiswayo, because all legal consultations previously held by Prasa pointed to a strong case.
Ngoye says Makhubele had stated that her opinion was based on an insolvency inquiry report on Siyaya DB, which was in the process of being liquidated. In a memo to company secretary Zide dated November 28 2017, Makhubele confirms that she had received the interim inquiry report from Siyaya's lawyers.
In her affidavit Ngoye said: "It was odd to me that Makhubele was entertaining the advances made to her regarding these matters, as it is improper for these entities' attorneys to contact Makhubele … in circumstances where Prasa is represented by attorneys."
Despite numerous requests, Ngoye says Makhubele had not furnished her with the report by the time of Prasa's successful April interdict to stop the R60-million payment to Siyaya. Prasa's then attorneys of record, DM Inc, also confirmed that they had not received the report by April this year.
On November 30, Prasa's group legal services provided Makhubele with a report in which it criticised the Siyaya entities' failure to make relevant information available to Prasa, thus delaying the conclusion of the matter. Ngoye says she and Dingiswayo "were then excluded from handling the matter" and Prasa's attorneys, DM Inc, were instructed by Makhubele to settle. These instructions were later recorded in a letter from Zide to DM Inc.
Dingiswayo was provided with this legally privileged letter by Siyaya's attorneys at the March court appearance, causing Ngoye to comment: "It still remains a mystery how they received a privileged document from Prasa to its attorneys."
Ngoye says Makhubele went above her board to "appropriate" powers vested in the head of the legal services, not the chairperson.
On December 1, the Prasa board also apparently resolved to suspend, with immediate effect, the panel of attorneys it had been using. Ngoye said she found this resolution "startling" and "irrational" because the interim board had not discussed whatever concerns it had about the attorneys being used with group legal services, and "there was no consideration or directive from the interim board on what should happen to the thousands of ongoing litigation matters, some of which are urgent and complex and cannot afford any interruption".
At the time of deposing her affidavit in April, Ngoye's request for a signed resolution of the board's alleged decision to suspend all Prasa's attorneys had not been met: "I do not know if one [signed resolution] exists; if it does, it has not been shared with me or Dingiswayo," Ngoye stated.
On December 15, when Dingiswayo called DM Inc to enquire about the progress in the Siyaya matter, he was informed that Makhubele had "barred" them from interacting with group legal services about it. "This was startling," Ngoye stated in her affidavit. On the same day, DM Inc was instructed to settle the amounts claimed by the Siyaya entities.
Over the next few months attempts to pay out Siyaya were made, but were thwarted by technical reasons, including the exclusion of the relevant group executives in the merit assessment of the claim. This suggests that Makhubele either did not know about the prescripts required to sanction such large payouts by the parastatal, or was disregarding them.
Prasa's legal team notified Siyaya's attorneys of its intention to have the court order for settlement rescinded. This was met with silence, as Siyaya sought to have money paid out as quickly as possible. The day the sheriff executed the order, transferring almost R60-million out of Prasa's account, Makhubele resigned from the Prasa board.
Makhubele refused to answer questions over the phone last week and requested that these be emailed to her. She then refused to respond to the detailed questions, dismissing the evidence before the M&G as "old". She then did not respond to calls and text messages seeking a reply over the weekend.