Shane Eagle is the latest rapper to receive the coveted best hip-hop album trophy at the South African Music Awards (Samas). "It was about fucking time," says the rapper when asked by Fred Kayembe, the former editor of Hype magazine, what the award means to him.
Eagle and the former editor of South African hip-hop's only print publication are chatting at the Kulture pop-up gallery in Braamfontein, Johannesburg, on a Saturday afternoon. The 22-year-old rapper is hosting a pop-up store of merchandise — hoodies, T-shirts and prints of customised photos of him — themed around Yellow, the album that won him the award.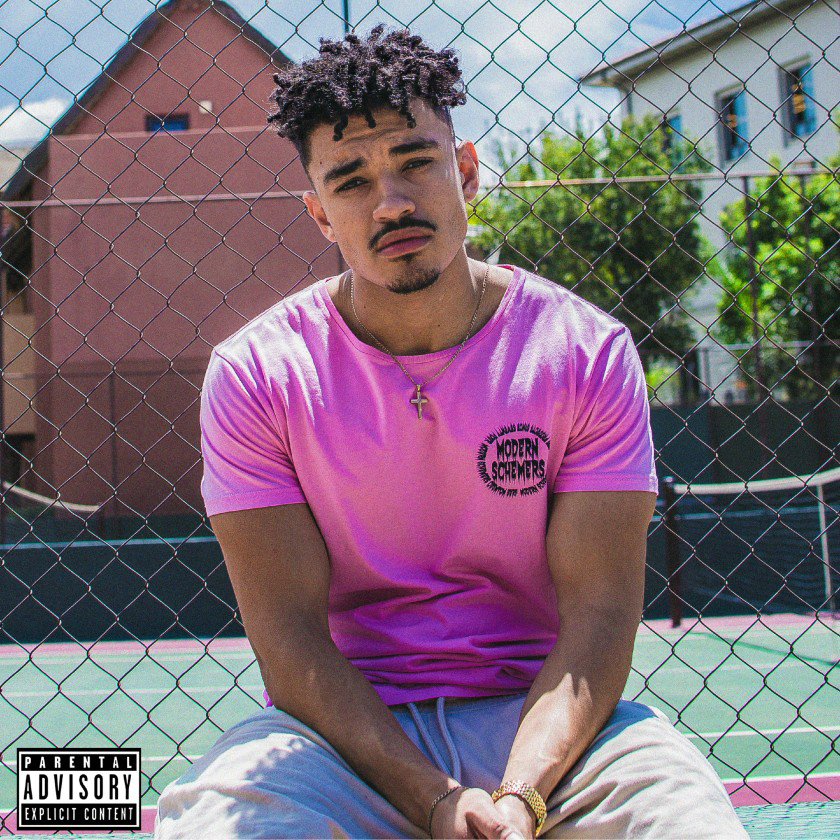 [Shane Eagle's debut album, Yellow won him the best hip-hop album award from the Samas (Photo: Eagle Entertainment)]
Towards the end of the event, Eagle, Kayembe, Rudzani Netshiheni (the current editor of Hype) and Vaughn Thiel (Eagle's manager and business partner) gather for a Q&A session in front of an audience of Eagle's fans. Joining them is the rapper Riky Rick, who was up for the same award with his Stay Shining EP and who's hosting his own popup store next door.
"You don't do this shit for the accolades or the awards but it does feel good for someone like the Samas to be, like: 'You deserve this.' We work hard for this shit, so it's a blessing," says Eagle after expressing his gratitude to his fans, who have showed up in numbers today to take selfies, buy his merchandise and spend time with other Eagle fans.
Yellow, according to the rapper, has been streamed more than two million times on Apple Music. He won best newcomer at the 2017 South African Hip-Hop awards, the only awards show that gets close to pleasing the local hip-hop community.
The Samas have, well, a weird history with the genre. In the early 2000s, kwaito star and R&B artist Zwai Bala won best hip-hop album. In 2012, the hip-hop category was renamed best street urban album (like, WTF?) before reverting to its original moniker.
The hip-hop albums that have won the award have mostly been made by established mainstream rappers — the likes of HHP, Flabba, Khuli Chana, AKA and Emtee have all snatched the trophy in past years, with left-field and less mainstream rappers such as Zubz and Tumi Molekane only making it as far as being nominated.
Enter Yellow: an album that's sentimental lyrically and moody sonically, boasts no radio hits and was released by a small, independent company, Eagle Entertainment, which Eagle owns with Thiel. The rapper is the only artist on the label and has managed to build a name for himself in just two years. In 2016, he appeared on Vuzu TV's rap reality show The Hustle, which he didn't win — but he made sure he used the clout that he gained to build his name.
"I feel like my job isn't that hard, because I work with Shane," says Thiel when his turn to answer questions comes.
"Eagle is the greatest artist in Africa. I've been saying it for a long time. I think it's really dope that an organisation like the Samas can also see that. We all know how awards shows go, and all the politics involved. And us being an independent label, to compete with some of the biggest labels in Africa, and for Shane to walk on that stage and represent the kids and the people that ride with him and understand the vision, I feel that was the most important thing for me."
Being an independent rapper in South Africa isn't easy. Radio airplay, which is still important here, is hard to come by. Bigger independent labels such as Ambitiouz Entertainment and Mabala Noise, alongside majors like Universal and Sony, own the majority of South Africa's hip-hop market. Their rosters boast artists such as Emtee, Nasty C, Gigi Lamayne and Zakwe. We've seen artists such as Priddy Ugly, who was a torchbearer for independence, signing to labels because it seemed impossible to break through on his own.
Independent artists such as Cassper Nyovest and AKA are among the select few prospering in the mainstream scene. Things are rapidly changing, however. Rapper A-Reece, who left Ambitiouz Entertainment more than a year ago, celebrated the fact that his single Meanwhile in Honeydew reached a million YouTube views last month.
YoungstaCPT, Dookoom, Stogie T, Dope Saint Jude, and Solo and the Betr Gang, as well as Yugen Blakrok, have all managed to score European tours without the backing of any major label or large indie label, despite only amassing niche fan bases in South Africa.
Being an indie artist only started making sense in South African hip-hop recently. Yellow bagging a big national award is one of many signs that labels are losing their monopoly on talent. The internet is playing a huge role in helping artists to get rid of the middleman and beginning to release their own music on their own terms.
There's a big misconception about independence, however: that because we have the internet, releasing your own music is easy and cheap. But all this means is that you don't have the luxury of working with a huge budget from a major label — all you have is yourself and your limited resources.
Eagle Entertainment has clearly cracked it. Their headquarters, which is in a fancy office park in Randburg, doubles as a studio. Stepping inside, you get the feeling that you are definitely in a professional space.
When I visited the offices for an interview with the rapper last year, he showed me around the building, where the decor was both sophisticated and quirky, with subtle touches of yellow — a true reflection of Eagle's personality and image. He stressed the importance of professionalism when he took me into the boardroom, which he said is where they meet with brands, potential partners and clients.
"We don't have any major sponsors for this thing," Thiel tells those at the pop-up store about the countrywide tour Eagle will be embarking upon in a month's time.
"We're putting up our money, and we're gonna do this thing without anybody telling us we can, without any brands saying: 'Go ahead.' We're doing it on our own, like we've done everything else."
In 2012, AKA's debut album Altar Ego became the first rap album with English lyrics to win the Best Street Urban (or hip-hop/rap) Sama. He also became the second rapper to win best male artist, after HHP took it in 2011.
For a long time, rapping in English in South Africa put artists at a disadvantage. English rap was seen as not South African enough. But that has changed, thanks to the likes of AKA, Stogie T, ProVerb, Zubz and a few more, who paved the way for the new crop of rappers who mostly use English. Nasty C, Rouge, A-Reece and Zoocci Coke Dope are bigger than they could have been in the mid-2000s when artists who used indigenous languages — like HHP, Skwatta Kamp, Mr Selwyn and H2O — were at the forefront, and the likes of Optical Illusion, Nthabi, Mawe2 and Ben Sharpa were viewed as American wannabes. The success of vernacular artists was attributed to the fact that they were relatable and accessible.
But we are now in a new era. Globalisation, fuelled by the prevalence of the worldwide web, is blurring the line between local and international aesthetics and taste.
Also, hip-hop has grown in South Africa. It's no longer the niche genre it was 10 years ago, which means there are more fans who appreciate lyricists — regardless of the language they choose to express themselves in.
But this surge in the number of rappers in English has its own shortcomings. Several critics have pointed out that South African rappers sound American. AKA, in his song StarSigns, rapped: In the era where niggas sound so American/ no pride in their own heritage/ whole vibe so negative/ ain't nobody gon' remember them.
He has a point. Eagle's music has strong stylistic, thematic and even sonic resemblances to that of American rappers such as J Cole. It doesn't scream "South African" — from the production to the rapper's accent, it has a huge American influence.
By contrast, in the case of Dookoom, it's easy to tell that the group is from South Africa, from lead rapper Isaac Mutant's unapologetically Cape coloured accent and slang to the topics being covered, which relate to postcolonial South Africa and its issues of race, privilege and class.
But who's to say what does and doesn't sound South African in a country that's as diverse as ours?
What originality means is subjective but the question those critics need to answer is: Why do the fans who are here, filling up Eagle's pop-up store and reciting his lyrics, find that his music resonates with them? Is sounding American just a hip-hop issue or a societal one?
Hip-hop is always a reflection of the society it exists in. And right now, kids who "sound American" make up a significant number of the population who are gravitating towards music that tells stories they can relate to.