Roger Federer's initials have helped define an era of tennis. The two letters, sleekly melded together, have been sewn onto the hats and shirts of thousands of adoring fans. The marketability of the logo is only outpaced by the world's largest football clubs. For his fans, the badge is emblematic of sporting excellence.
But this year, while die hard Federer fans still deck themselves out in RF apparel, Federer himself took to centre court decked in gear from Japanese manufacturer Uniqlo – confirming the end of his iconic 24-year association with Nike.
Federer's deal with Uniqlo has been described as one of the most lucrative in sporting history.ESPN first reported that the new 10-year contract would be worth $300-million and remarkably includes a clause that will see Federer keep the money whether he is competing or not. It's a quite a feat for an athlete approaching his 37th birthday. Only the elite of the sporting world could angle such a deal; new Los Angeles Lakers star LeBron James and Portuguese talisman Cristiano Ronaldo are now Federer's sole peers in this elite endorsement league.
Federer however is still bargaining with Nike for the rights of the RF logo. Nike retains the rights to the monogram and the ability to restrict its usage.
Holly Brubach of the New York Times broke down the history of the RF back in 2009. Federer's wife Mirka Vavrinec and her father developed an early version of logo for "RF-Roger Federer" fragrance — released in 2003. The star himself liked it so much that he took it to Nike and suggested they adopt a strategy that centred around it. He would then wear it first on a breast blazer pocket at Wimbledon 2006 before it rapidly spread across his body — much like a skin rash, only more lucrative.
For now, Federer is simply hoping Nike will play nice about it. "The RF logo is with Nike, but it will come to me at some point," he said at a recent press conference.
"I hope rather sooner than later, that Nike can be nice and helpful in the process to bring it over to me. It's also something that was very important for me, for the fans really.
"They are my initials. They are mine. The good thing is it's not theirs forever."
Nike itself has yet to comment on the details of the deal or what it intends to do with it.
The relationship between brand and sportstar did appear to end amicably. Federer even began his match against Adrian Mannarino on Monday afternoon wearing Nike shoes — and yes it did feature the monogram next the number 8, denoting the amount of Wimbledon titles to his name.
Given that Uniqlo doesn't manufacturer tennis sneakers, the Swiss has been making noises about maintaining them as his footwear partner.
The fate of those iconic initials, however, remains to be seen.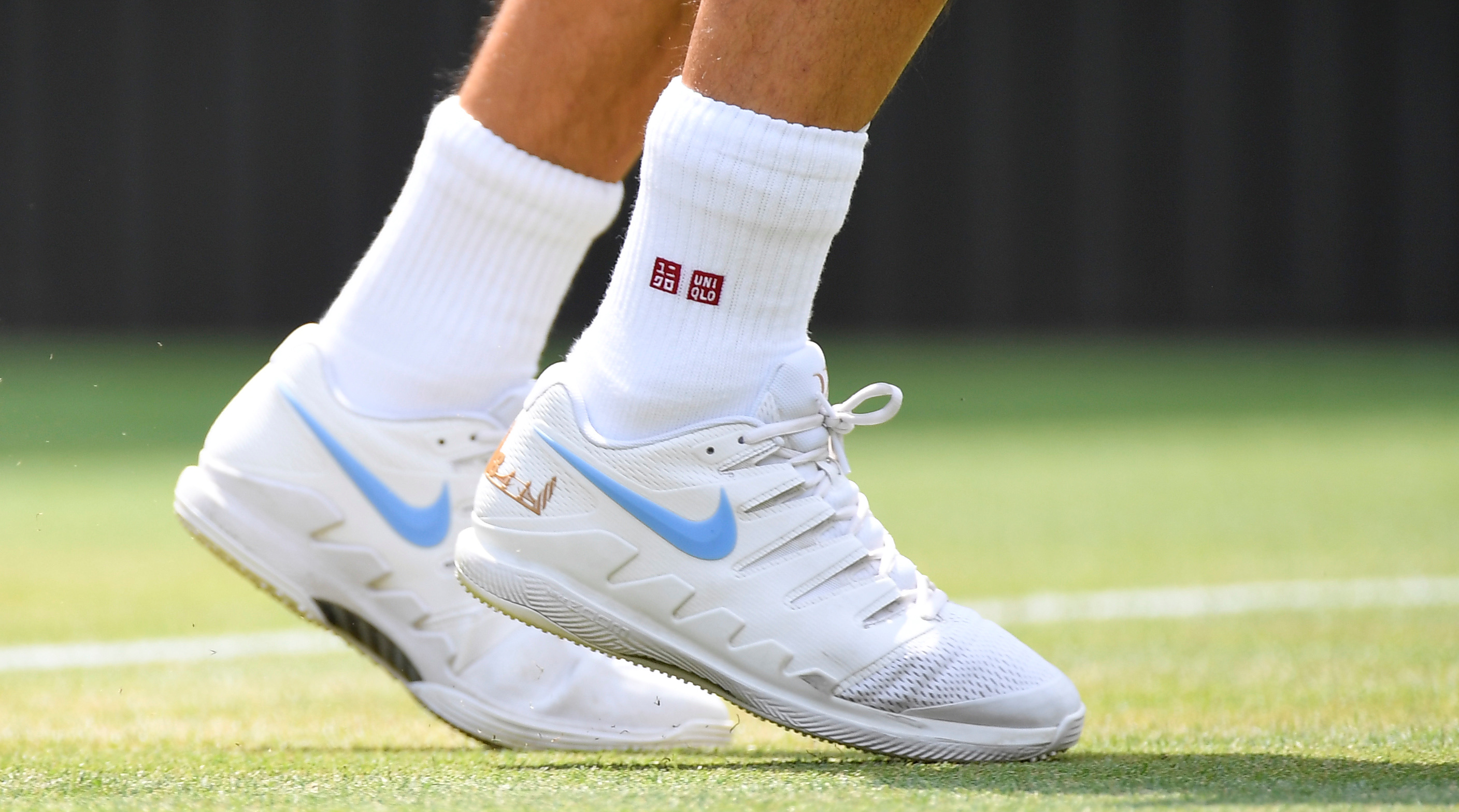 Switzerland's Roger Federer wears Uniqlo socks and Nike shoes during his fourth round match against France's Adrian Mannarino. (Toby Melville/Reuters)