In a defining cover story for Surface magazine last year, Antwaun Sargent declared "Solange is not a pop star".
He wrote that, "with the genre-defying debut of A Seat at the Table in 2016, Solange Knowles proved she had finally arrived at an aesthetic, and a message, wholly her own: one of a visual artist espousing the politics of black female selfhood."
In a strikingly similar vein, Manthe Ribane is not a musician. She sits in the same territory as Knowles: occupying a constantly shifting space of limitless creativity and razor-sharp artistic vision. Defying categorisation and easy associations, Ribane is a polymath: a dancer, multidisciplinary artist, performer, musician and designer who explodes the divisions between artistic forms.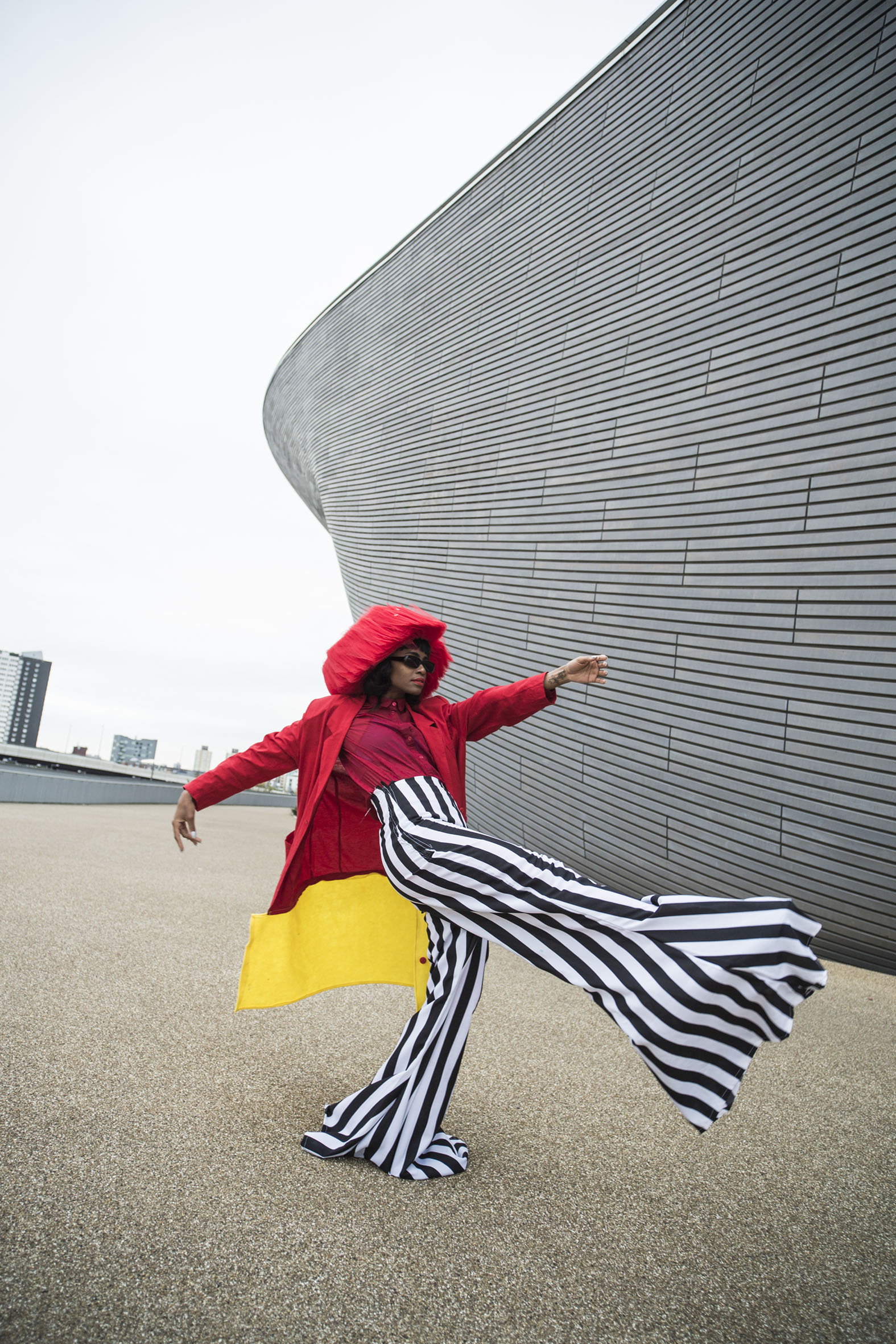 [Aesthete: Soweto-born performance artist Manthe Ribane is both a muse and a creative engine, constantly pushing the limits of her varied mediums of expression. (Photo: Chris Saunders]
She is an aesthete for this generation; a true original speaking to and reflecting South African and African identity as a mission statement through multiple mediums. It just so happens that music is one mode she uses with remarkable dexterity.
With the release of their debut album, Closer/Apart, Ribane and Okzharp have arrived at an evolution of their sound, while keeping the DNA of their earlier EPs intact. The project follows the release of 2015's Dumela 113 and 2016's Tell Your Vision that introduced audiences to a futuristic, hard-hitting electronic sound made for dance floors and sweaty bodies.
The duo, who met while working on the photographer and filmmaker Chris Saunders' short film Ghost Diamond, established a natural synergy through an unexpected late night experiment — one that became the music that would form their first EP and cement their partnership.
The title of their debut album references their long-distance musical relationship, with Ribane based in South Africa and Okzharp living Britain. The album was made during short and intense moments of creativity and released by Hyperdub Records, Okzharp explains: "Most of the music came out of headphone moments in hotel rooms, planes and airports in the brief periods of time that we spent together, mainly on tour, in Paris and later Vienna."
In step with how they met, the two view collaboration as long-term relationships — searching for the symbiotic in the people with whom they work. It is evident in Ribane's ongoing work with multimedia visual artist and entrepreneur Trevor Stuurman and their continued visual creations with Saunders.
We are a hyper-visual generation.
Since Beyoncé released her self-titled fifth album, accompanied by short films for each song, the idea of the visual album has become a popular mode used by artists to supplement sound and concept. And so, with the music of Closer/Apart, Ribane and Okzharp released a 10-minute conceptual film by Saunders.
Read together, the short film expands on concepts the music introduces. Ribane sings in vast, stark, open spaces dressed in monochrome and moves between relaxed and precise choreography. She multiples: suddenly three of her are on screen and she seems to turn into mountainous sound-waves. It fits the technological feel of the music Ribane and Okzharp have created, the spaciousness of their sound and the questions about the nature of loneliness evoked by the project's title.
Saunders' visuals and editing — where he splices images to the beat, loops and repeats frames and features lengthy single shots — complements the sound and concept of the album. The film is supported by a strong colour narrative. Slick black turns to lush millennial pink, red transforms into green and finally white, telling a story that moves from darkness to light, while Ribane is draped in the voluminous costumes that have become her signature.
It is art in capital letters.
Like many contemporary South African albums, Closer/Apart defies genre, with hints of electronic, dark-pop, gqom, hip-hop and sounds that seem to belong video game soundtracks fused into multiple forms. This is the soundtrack to a hyper-technological era where we are fused to our phones.
Closer/Apart also operates in a sparse lyrical territory, with a sound that has an expansive quality. Ribane adopts a rap, sung, spoken-word style that makes liberal use of vocal manipulation tools. In 2009, Jay-Z declared the death of autotune and yet, almost a decade later, Ribane and Okzharp make the overused audio processor sound novel and very much alive.
Ribane bends her vocals around melodies and beats like a painter. Vocals are simply a raw material. They can be anything she wants them to be: tough, soft, teasing, staccato, dreamy — but always created with an elaborate simplicity in mind. These are songs as concepts.
They pivot around one idea, through the repetition of lyrics that are mantras and mission statements. Entire stories are locked into single phrases. With the relentless repetition of phrases, lyrics morph into incantations: "Don't forget to remember," she croons.
"Dreamers don't complain. Dreamers don't explain. Don't you fade away. Don't you fade away," she insists.
"I'm precious, I'm timeless. I'm priceless. I'm endless," she declares.
Finally reminding us: "Rising, we always rising."
For all of its facets, Closer/Apart is also deeply invested in the art of telling a cohesive story. Songs bleed into each other like run-on lines, feeling like chapters in a book. It is particularly successful when Never Say Never, one of album's groovier tracks, changes into Never Thought, as the guitar riff becomes more rhythmic.
With such a defined sound and insistent repetition, the danger can be a slip into sameness or a singularity of sound. But every time this feeling creeps in on Closer/Apart, the next track offers some form of relief.
Although the music is certainly strong enough to stand alone, Okzharp and Ribane are best experienced in live performance mode. Costume, staging, design, choreography and sound are integral aspects of performance with a singularity of vision. As Ribane has explained: "What's most important is creating an experience with the different mediums that we showcase."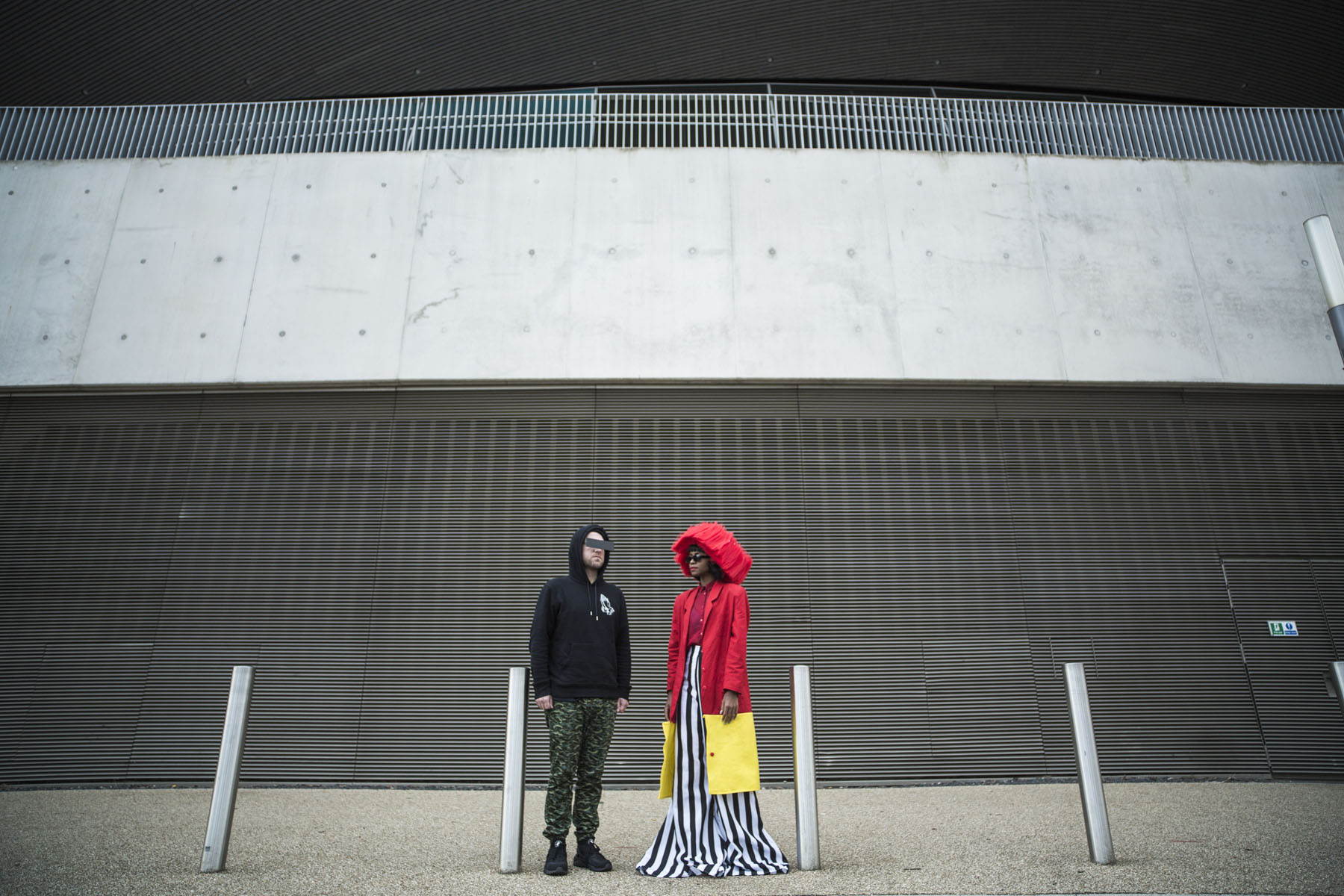 [Manthe Ribane and Okzharp view collaboration as a long-term relationship in order to tell a cohesive story (Photo: Chris Saunders)]
It will be interesting to see how the duo translates their newfound softness, introspection and tenderness in their performances and sound onstage. With this album, they strike a greater delicacy in the balance between hard-hitting beats, hypnotic soundscapes and the vocal play for which they're known.
Explaining the pivot in sound, Ribane says: "The new music is a 360 turn — it's an expression of my 'lady' side. I grew up listening to jazz, classic and gospel, I am a very soft-spoken person, and it resonates with being confident with that. It's been crazy finding balance and finding a smart way to strengthen my weaknesses. I had to trust the process."
I felt this acutely in the nostalgia-drenched Time Machine, a standout track on the album. It opens sounding like an electronic lullaby played from music boxes with wind-up ballerinas that seems to echo Ribane's dance background. The song simultaneously evokes sadness, nostalgia and a determined optimism through a dreamscape that was created on the floor of an airport.
Okzharp explains: "One particular moment in Milan last year, we had a whole free day before our flight so we visited the Salone di Mobile design show. We were so inspired by an installation there just walking around, listening to the amazing soundtrack.
"That evening our flight was delayed, so we sat on the floor of the airport terminal putting musical ideas down for Time Machine on the laptop speakers and writing the lyrics. 'Tic Toc time, we'll be fine/Airport queues, cerulean blues/ Viper trails cross the skies/ Lights reflect in your eyes …' "
The lyrics of the song are a ritual in self-belief and renewal: "Make sure you stay focused stay open-minded and ready/ We about to really go far, so brace yourself … embrace yourself to be better/ We are the secret of the universe. Don't know what you're gonna do with that/ But I'm sure you're gonna make it work/ You're gonna make it work."
Through sound and lyrics, Time Machine recalls the dreams we built in our childhood bedrooms, which now seem so fragile against the weight of adulthood and its unavoidable struggles.
The short film that accompanies the album closes with a determined loneliness. Ribane, who has been lying in a field of grass, dressed in white, stands up and slowly walks out of the frame as the shot fades. With this movement, I recalled my favourite line from poet Warsan Shire: "I'm lovely and I'm lonely. I belong deeply to myself."
This moment, supported by the themes, concept, sound and language of Closer/Apart is a reminder of the strength and power in oneself — the kind of personal work that we must do to grow — and perhaps the realisation that we are never completely alone.