NEWS ANALYSIS
In November last year, as Robert Mugabe was chased out of State House and citizens poured onto the streets to celebrate, clamouring onto tanks and taking selfies with soldiers to mark the fall, long overdue, of their tyrant, a nagging question hung over the joyful scenes: What next?
Tearing down the dictator is one thing. Finding something to replace him is an altogether more difficult task.
It is only now, seven months later, that we are about to discover what comes next.
On Monday Zimbabweans head to the polls to choose their next government. This is no ordinary election. Voters will not just choose the identity of their next president but also vote in a raft of legislative and local elections.
The presidential favourite, although only just, remains Emmerson Mnangagwa, the regime stalwart who led the November coup, and who has governed the country since. It is Mnangagwa's dagger that remains buried in Mugabe's back.
Mnangagwa's appeal is complicated. Yes, he was Mugabe's right hand man for generations and, yes, he is complicit in the worst excesses of Mugabe's regime, including the Gukurahundi massacre. It was Mnangagwa's intelligence service that drew up the "kill list" of opposition supporters, complete with addresses, that army units used to track down and slaughter thousands of perceived enemies.
But in removing Mugabe, he achieved something that has eluded generations of opposition politicians. This will play to his credit.
And he insists he is a new man — and he's got the scarf to prove it. Mnangagwa is presenting himself to voters as an efficient technocrat that will unlock billions of dollars in foreign aid and investment, while staying true to Zanu-PF's liberation credentials. In a country without its own currency, this is a compelling argument, especially when amplified ad nauseum by state-run media and the ruling party's formidable electoral machine.
Bullet train
His main challenger, Nelson Chamisa, has quietly put together his own formidable election machine. Chamisa fought bitterly to inherit the late Morgan Tsvangirai's mantle as leader of the Movement for Democratic Change, and has been campaigning energetically ever since. His core message is simple: change. His rival, he points out, worked alongside Mugabe for decades. How can Mnangagwa be any different?
The youthful, albeit inexperienced, Chamisa — at 40 years old, he is 35 years younger than Mnangagwa — is also selling hope. His much-ridiculed promise to build a bullet train between Bulawayo and Harare encapsulates this vision: it may be a fantasy, it may be totally unworkable but why shouldn't Zimbabweans dream of a high-technology, high-functioning future?
All politicians make promises they can't keep but at least Chamisa's are genuinely aspirational. And they are resonating with supporters, who are turning out in record numbers to hear him speak — even in areas considered Zanu-PF strongholds, where the opposition has been allowed to campaign freely for the first time.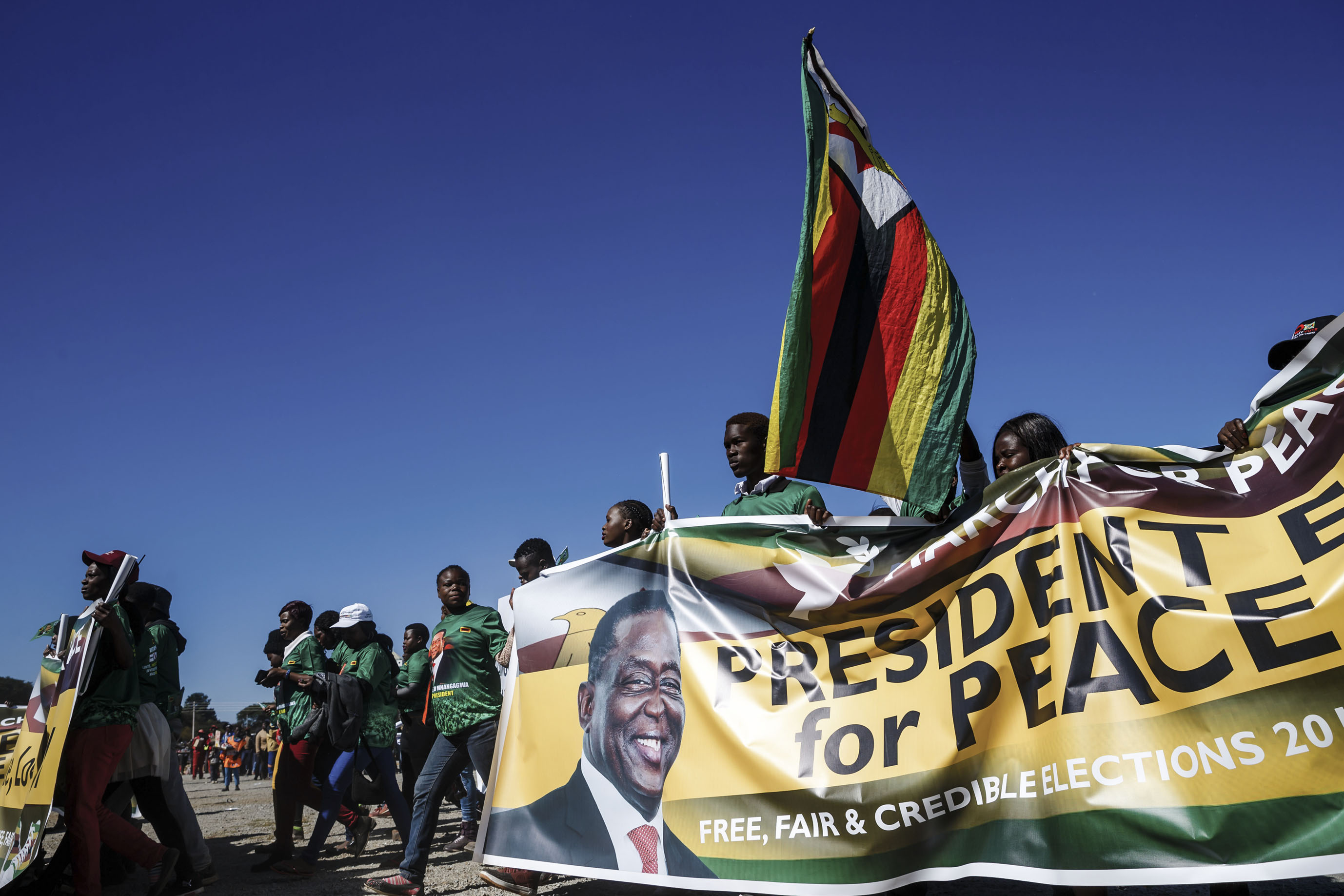 [Members of the Zanu-PF Youth League march for peace ahead of Monday's elections, which will see President Emmerson Mnangagwa trying to persuade voters that he has the ability to unlock much-needed investment. (Jekesai Njimkizana/AFP)]
Too close to call
The latest opinion polls show that Mnangagwa and Chamisa are neck-and-neck, with neither likely to deliver a knockout blow in the first round. This would see the two candidates compete against each other in a run-off election.
No one has forgotten that it was the prospect of another run-off election, a decade ago, that precipitated a wave of violence against opposition supporters that left hundreds dead.
Mnangagwa has been accused of helping to orchestrate that violence: if Chamisa looks like he might actually win the thing, will Mnangagwa respond with similar brutality? Will his friends and business partners in the military — the generals that helped him in to power — force his hand?
Similarly, Chamisa's MDC Alliance has said it will refuse to recognise a Mnangagwa victory, and that any ensuing government would be "illegitimate". The opposition claims that bias in Zimbabwe's electoral commission, coupled with serious irregularities in the voters roll, mean that the election cannot possibly be credible — unless, of course, they win.
The new Zimbabwe
Mugabe's ouster heralded the beginning of a new Zimbabwe. It is only now, however, that we will begin to see what that really looks like.
Are there free and fair elections in the new Zimbabwe? Is there political violence? Can Zanu-PF accept defeat, if it comes to that? Can the opposition? Where do the security forces fit in? Will the international community intervene meaningfully?
Do voters want to live in Mnangagwa's technocracy or have they been seduced by Chamisa's modern fantasy? Has the country really changed, or are we all just putting lipstick on a crocodile?
Pay attention, because what happens over the next few weeks will answer these questions and define the nature of the Zimbabwean state for a generation to come.