A school that will teach anyone who can pass a few tests to code and at no cost may seem too good to be true. Add that those who pass the tests are almost certainly guaranteed a job and it starts to sound unbelievable.
But nonprofit WeThinkCode (WTC), co-founded by South African Arlene Mulder and French-born Camille Agon, is doing just that at two schools, one in Johannesburg and another in Cape Town.
If you think coding, you inevitably think geeks — people adept at mathematics and science. We are often told that as a country we suck at these, so it is all the more wonder that WTC is turning out job-ready coders after its two-year programme.
Another remarkable feature of the programme is that there are no teachers. Students are given the material and work through it in groups.
WTC believes there are four values that drive success. These are grit (I keep going), curiosity (I ask why), connection (I am because you are) and responsibility (it is up to me), the website says.
The campus in downtown Johannesburg is in a high rise. You are met by young, hip-looking problem solvers sitting in groups. The room where all the magic happens looks like a Apple-sponsored internet café.
Reflecting the peer-to-peer education model, some are sitting in groups chatting and others are playing chess.
"This is our typical day," says campus co-ordinator Jackie Zvoutete.
"All you need is to be between 17 and 35 to apply. We do not ask for any previous coding experience or for a matric or diploma. What we are trying to do here is grant the opportunity to as many people as we can," she says.
Now in its third year, the programme has reached more than 200 South Africans. You would think those with a privileged education would be well represented but not so if household income is a gauge. More than 70% of the students come from households with an income of less than R9 000 a month, according to a survey by WTC.
"It is interesting that most of the students we have here have failed or dropped out of matric, or even could not get into university. What we find is that the education system is geared towards someone who can read stuff and regurgitate it but, if you are someone who cannot do that, this programme is for you,"Zvoutete says.
Quentin Manamela, a 19-year-old from Vosloorus, says he had a passion for coding since he was 12.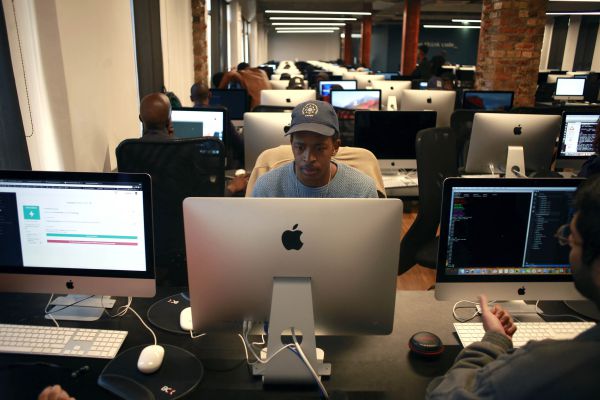 Quentin Manamela has had a passion for coding since he was 12. Tuition-free nonprofit company WeThinkCode (below) offers a two-year study programme at no cost. (Oupa Nkosi/M&G)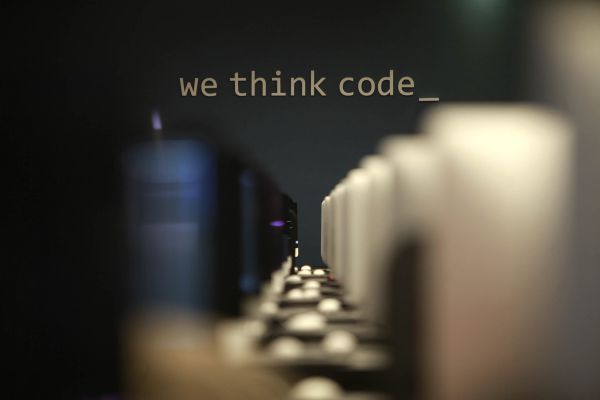 "My dad sat me down and said, 'you are going to have to go look for a job to pay for your university studies', because all my peers were already in university. But when I heard about WeThinkCode, I thought, 'this is it', because I would have needed a whole year of saving up to go to university," Manamela says.
His love for coding was sparked by watching his brother, at the time a computer science student. "I used to go to this box he used to keep with all his stuff with these weird codes and he would tell me not to go there. But I did and went to do research on what they meant."
Prospective students have to take three challenging aptitude tests to be accepted into the programme. These are similar to memory games and puzzles to gauge problem-solving abilities. The first test takes 10 minutes, the next an hour and the last two hours.
"All have no instructions," Zvoutete says. "We want a person to be, like, 'what I am supposed to do here?' and figure it out themselves. Passing is a sign that a prospective student is a logical thinker."
Manamela says: "They tell you that they are an aptitude test but to me they were memory games. The games were so hard but I kept going at it."
The games only make sense once you start the programme. "I think it is more about having the potential to code and less about whether you can code or not, because the games have nothing to do with coding but it is the thinking behind them," says Manamela.
The selection process involves a four-week intense boot camp at which students are taught basic coding language. Zvoutete says that, once students grasp the basic C-programming, they are able to move on to more complicated coding.
Coding requires trying and making mistakes and facing rejection but never giving up, she says.
The programme, through its "coding for success" initiative, also builds skills such as research and presentation. This entails students working in different groups every month, at which they present projects to staff members and corporate sponsors.
Zvoutete says the purpose is to ensure that the student is well rounded. "This is to prepare them for the workplace, because they are going to have to work in teams."
A recent project developed by students is an application aimed at helping people to manage their money and budgets.
After the two-year programme, students are placed in internships with the corporates that sponsor the WTC. They work as software developers or coders both locally and overseas.
Ninety percent of WTC students enter internships. Those who pass — also 90% — are all guaranteed to get jobs, Zvoutete says.
Naledi Matutoane says she plans to diversify and to use her coding skills to venture into untapped areas. "People think all you gonna do with coding is software development but there is so much you can do. For example, in fashion, they are starting to use 3D printing for materials and you do not necessarily need coding but it will help you."
She says that cosmetic giant L'Oréal recently developed an app that customers can use to take selfies and test products on themselves. "That is something you need a coder todo."
Thulebona Mhlanga is an Adamela Trust business reporter at the Mail & Guardian
---
Women coders wanted
One area that WeThinkCode (WTC) wants to improve is the number of women coders passing through its programme. Women make up fewer than 20% of the participants even though the school actively tries to recruit female coders.
WTC's Johannesburg campus co-ordinator Jackie Zvoutete says most people think coding is a male thing, which is not true.
"It is crazy because the code that sent the first spaceship to space was written by a female."
Zvoutete says that, during the boot camp, students are expected to work to tight deadlines. "This is also where we lose most of our students, a bulk of whom are females, because they think it is a male space and this is not for them."
A 2016 study by software development platform GitHub found, based on three million requests for coding, that women are ranked as better coders than men — as long as those doing the ranking did not know they were women.
One of WTC's best women students, Naledi Matutoane, agrees there is more than enough room for women to excel as coders.
She says of the boot camp: "It was the hardest test of my entire life but it was worth it. It's intense but, if you are willing to put in everything you need to get it, you will learn so much."
Her view is that "I can do it own my own" was one bad habit she had to let go off. "It [the boot camp] put me out of my comfort zone, especially when you are not used to working with others."
Matutoane heard of the programme from her mother, who had heard about it on the radio. She says she had no idea what she wanted to study after completing matric, except that it should be in computer science.
WTC's WomenThinkCode support programme was launched to try to ensure women students complete the programme.
Matutoane says: "I flunked the first boot camp but they gave me a second chance. When I came back, I knew what to do." — Thulebona Mhlanga