I have a friend who makes a point of telling us when she visits Fordsburg in Johannesburg. She says the suburb tastes like home, like Durban.I decided to sign up for the guided tour by travel blogger Gilda Swanepoel (aka Eenblond) and taste it for myself.
Fordsburg is a mix of Indian, Pakistani, Somali, Turkish, Ethiopian and Syrian cultures. Fordsburg's history dates back to the 1800s, when gold miners were housed there. It was also the site of the 1922 Red Revolt (among the leaders were communists), when armed white miners went on strike against lower wages so that more and cheaper black miners could be employed at a cheaper rate. The strike grew to a rebellion against the government. It was suppressed by bomber aircraft, guns and tanks, and 200 people were killed. From the 1920s onwards, Fordsburg was multicultural — mostly Chinese, Indian, coloured people and a few whites lived there. In the 1950s it was declared a "whites only" suburb but people resisted, although many families were moved to Lenasia.
Today Fordsburg is filled with women in hijab and men in kurtas and taqiyah — and many people without.
11:14
After getting lost in the Open Book Festival in Newtown, I find my way to the tour's meeting point. Afamily of three joins the party and we introduce ourselves, seeing that we'll be together for five kilometres of visiting eating spots.The family is delighted that I am from Pretoria;the assumption is that I understand and speak Afrikaans, van die boontse rak af (from the "top shelf"). I laugh on cue.
11:56
On our way to the Graffiti Gallery, under the M1 Highway on Henry Nxumalo Street, a woman carrying a baby walks past our party of five with a KFC paper bag that reminds me I haven't eaten breakfast. I focus on the brown women spray-painted on the pillars of the bridge, but the smell of crisp fried chicken has other plans. I can't help asking our tour guide: "How far are we from our first stop?"
12:10
After walking up Lilian Ngoyi Street, we eagerly cross the Burgersdorp Street threshold from Newtown into Fordsburg. This is where the food is. We walk past the Johannesburg Muslim School into the Oriental Plaza, where our guide tells us that this was once "Red Square", a meeting place for struggle activists in the 1940s and 1950s. The Defiance Campaign, a non-violent act of resistance around South Africa led by the ANC and the South African Indian Congress, is part of the square's history; a meeting was held there on April 61952.
We're right outside the Golden Peacock and the smell of garam masala teases my appetite, so it's difficult to concentrate on what my companions are saying.
12:26
After shuffling between keen shoppers and merchants beckoning us to buy clothes off mannequins with haunted eyes, chandeliers and carpets, we arrive at our first food stop: World of Samoosas. We stand among other hungry families, couples and loners in a queue leading up to the cashier, where we place our orders. I select a savoury mince samoosa and try a coconut-flavoured one. Our bill comes to R34.80 for eight samoosas. Then we wait… and wait, until we hear, "21! Order number 21". The warm, crisp triangles sit comfortably in the palm of my hand until I swallow them whole and take my time savouring the flavours.
12:47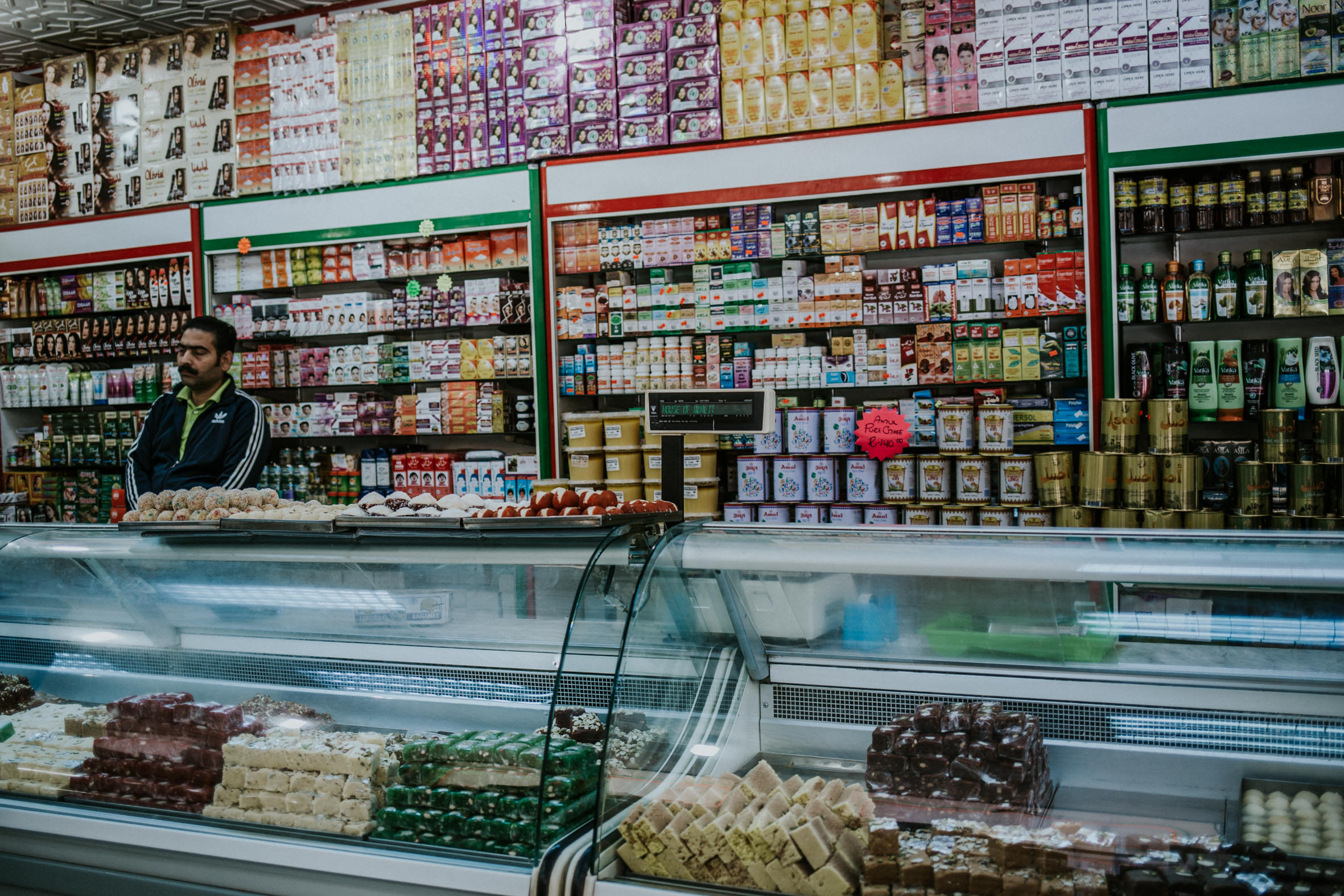 [Inside Shalimar Delights (Photo: Renata Larroyd)]
The sound of the call for prayer permeates through the streets and buildings surrounding our next food stop, Shalimar Delights, home to an assortment of handmade sweetmeats. Everywhere I look, the treats speak to me. There are biscuits, coconut cakes and nuts stacked up in towers of delight.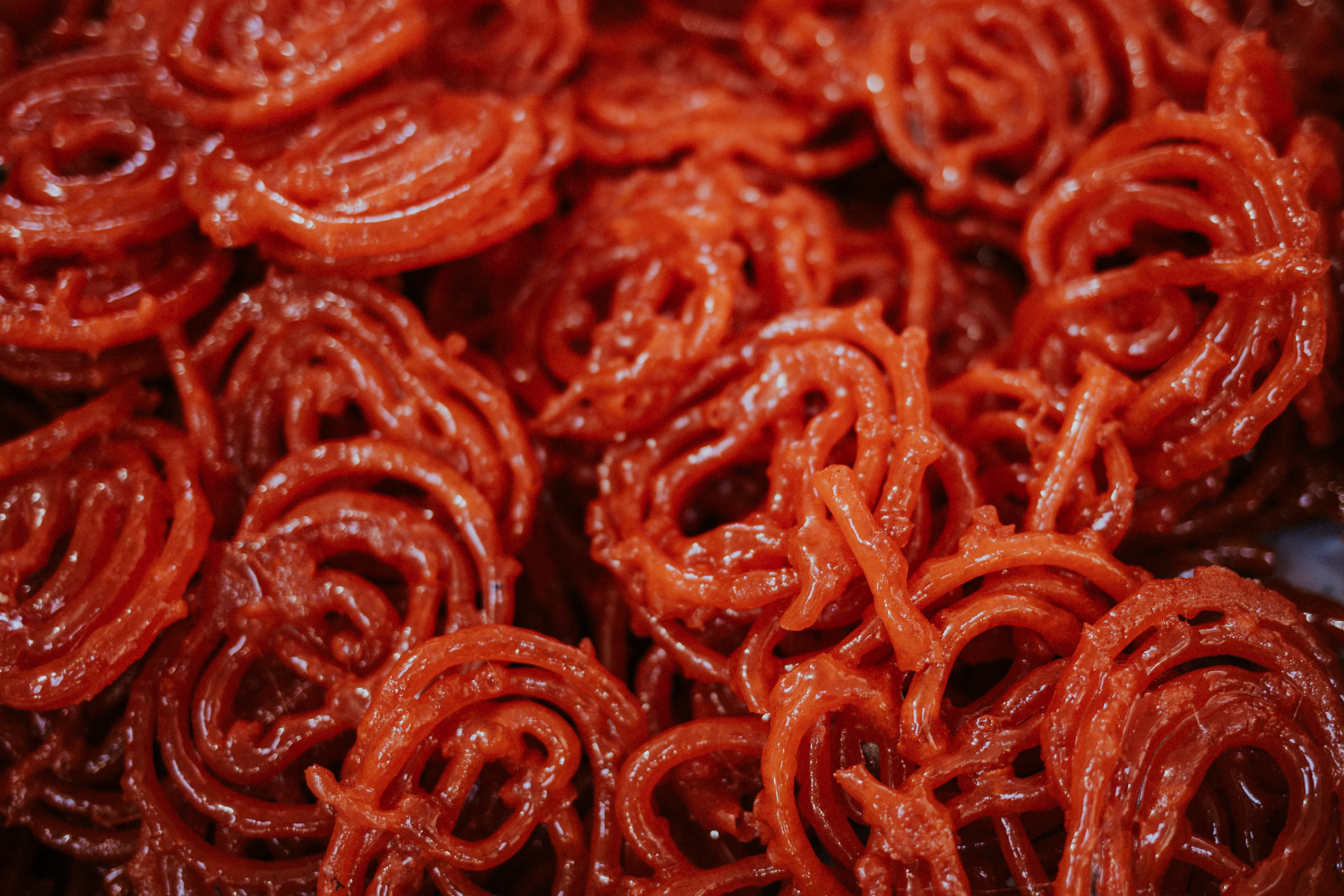 [Jalebi, a deep fried sweet treat, is one of the many delights sold at Shalimar Delights (Renata Larroyd)]
Shalimar, on the corner of Lilian Ngoyi Street and Central Road, started out in 1992 as a small tea shop in Lenasia, but the demand for Indian and Pakistani sweetmeats grew. I settle on a crushed almond burfi sweetmeat, the size of two matchboxes.
12:59
With the blend of traffic and surprisingly considerate drivers in Fordsburg, I master the art of jaywalking without holding my breath. By the time we turn into Central Road, the sugar rush has settled in and I'm like a toddler in a grocery store. We walk past the Orient Hotel, and restaurants such as Dosa Hut, which specialises in South Indian cuisine such as paneer dosas. We make a quick stop at HK Spices to get packets of masala-flavoured crisps—even though the shop specialises in ungrounded spices.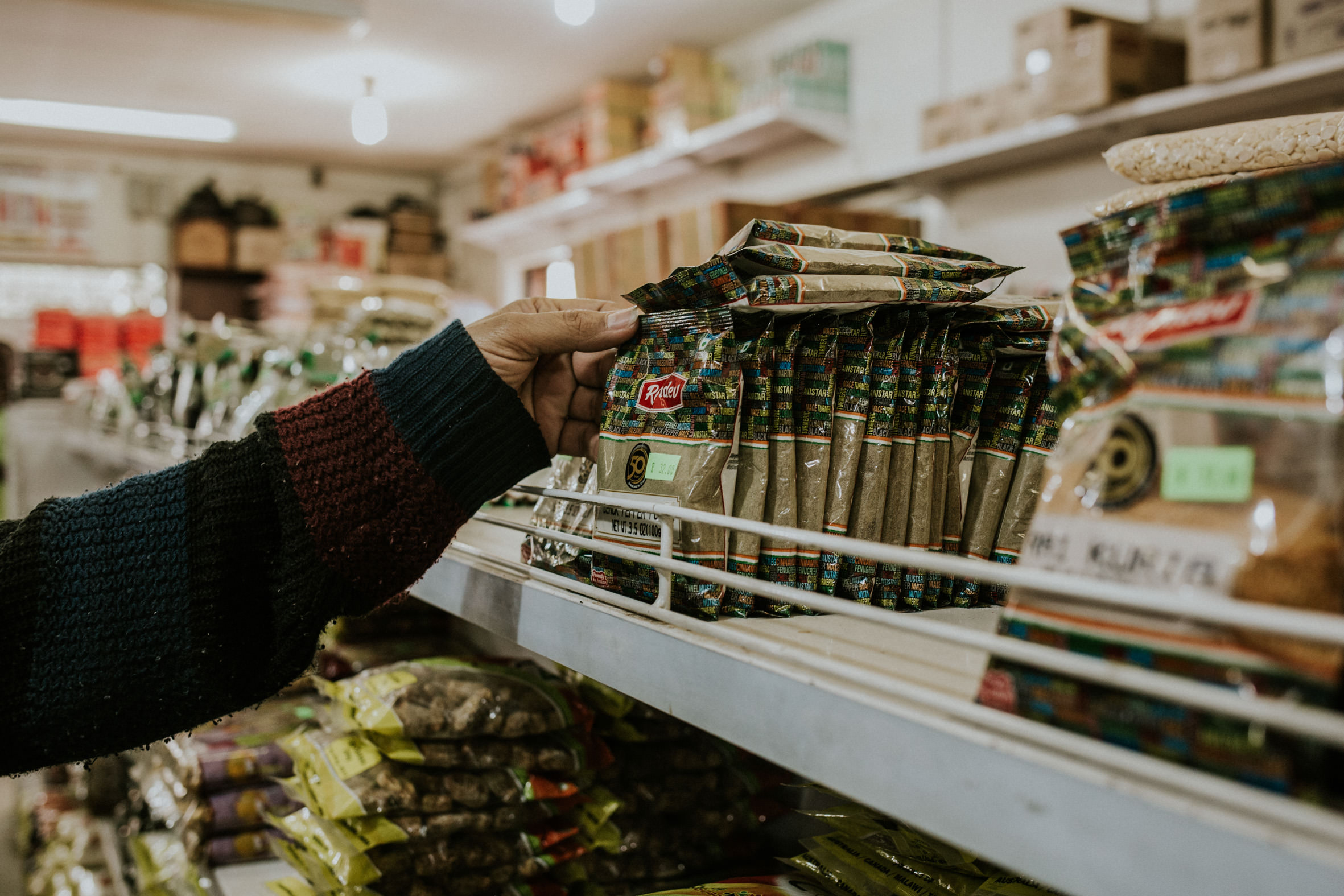 [HK Spices sells an assortment of spices (Photo: Renata Larroyd)]
13:10
We're haphazardly introduced to Joseph, a fruit hawker from Mozambique. He usually provides the tour group with coconut milk to hydrate them, but the import from Maputo didn't arrive this week. So we head to the Juice Den across the street from Dosa Hut, where I try a blend of avocado juice and freshly squeezed sugarcane pulp.
13:26
I underestimated how filling the juice would be, so I pace up and down to make room for lunch while my companions lick their way through a frozen dairy dessert called kulfi.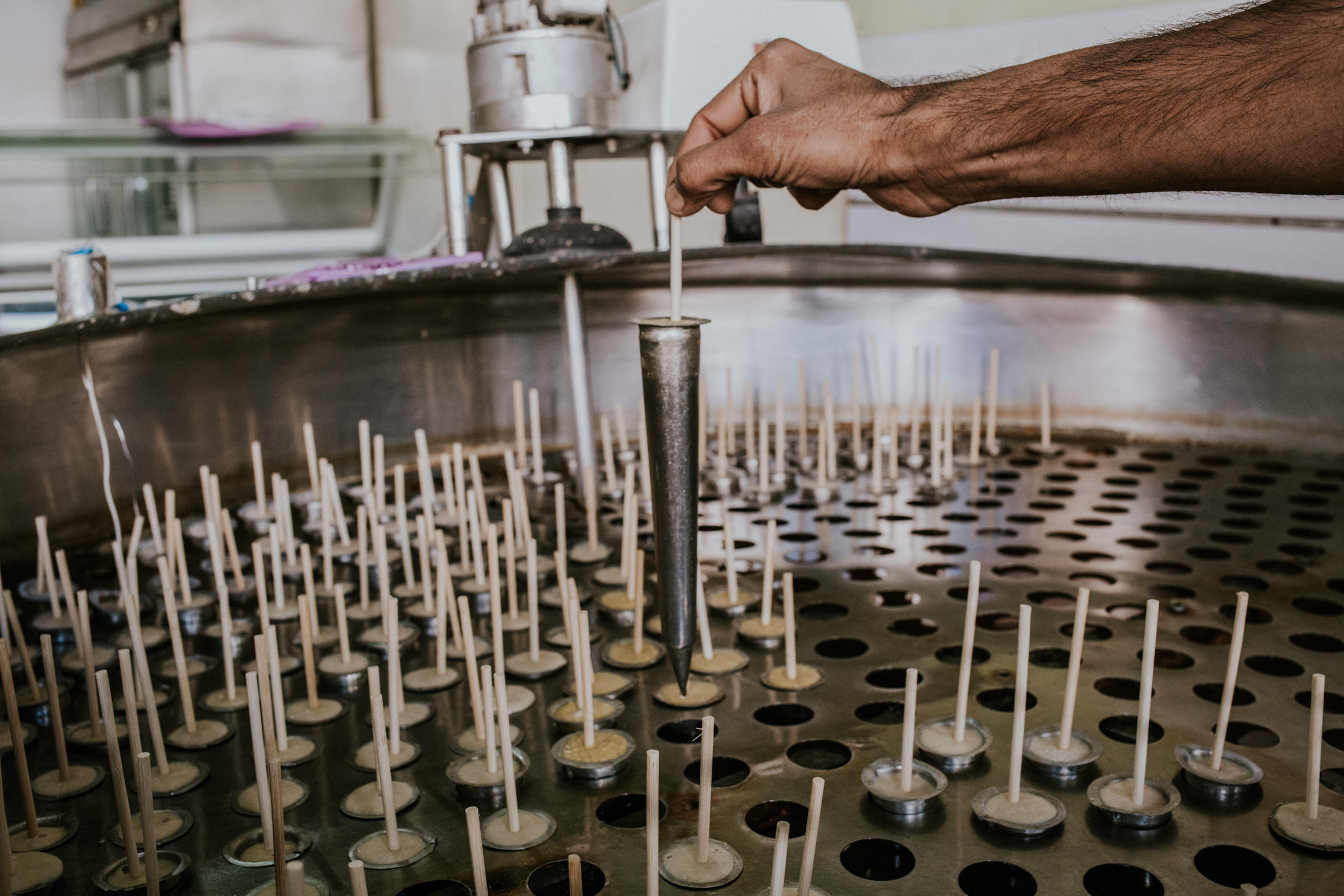 [A store owner prepares kulfi, a frozen dairy dessert (Photo: Renata Larroyd))]
14:00
Our lunch stop, King Kabab House, sits on the outskirts of the Fordsburg square where hawkers set up shop on Saturdays for the weekend flea market. Our chef, a quiet man who shies away from telling me his name, prepares the well marinated and crispy chicken on an open fire near the small seating area.I am still nursing my food baby from my multiple bite-size encounters when the container overflowing with tikka chicken, fresh naan,cabbage and chips is put on the table underneath my chin. Lunch is a quiet feast.
14:49
House of Shwarma is on a corner of Fordsburg and its glass windows are wide open to encourage passers-by to come in. On the outside, a softly spoken man, who left Syria not too long ago, prepares laffa bread while spectators watch. He gets some dough, slaps it around, flattens it, spins it in the air and catches it with his elbow before cooking it. Although the plan was not to have anything, we cheer him on by asking for a dessert laffa, which he fills with a chocolate spread. He divides it into bite-size pieces so that all five of us can eat from a single container.
15:39
The Ebrahim family, which owns Divine Bakery, moved to Fordsburg after being forcibly removed from Sophiatown. They opened their bakery in a former Lebanese church on Mint Street. The church's bell tower was blown off by the government during the Red Revolt.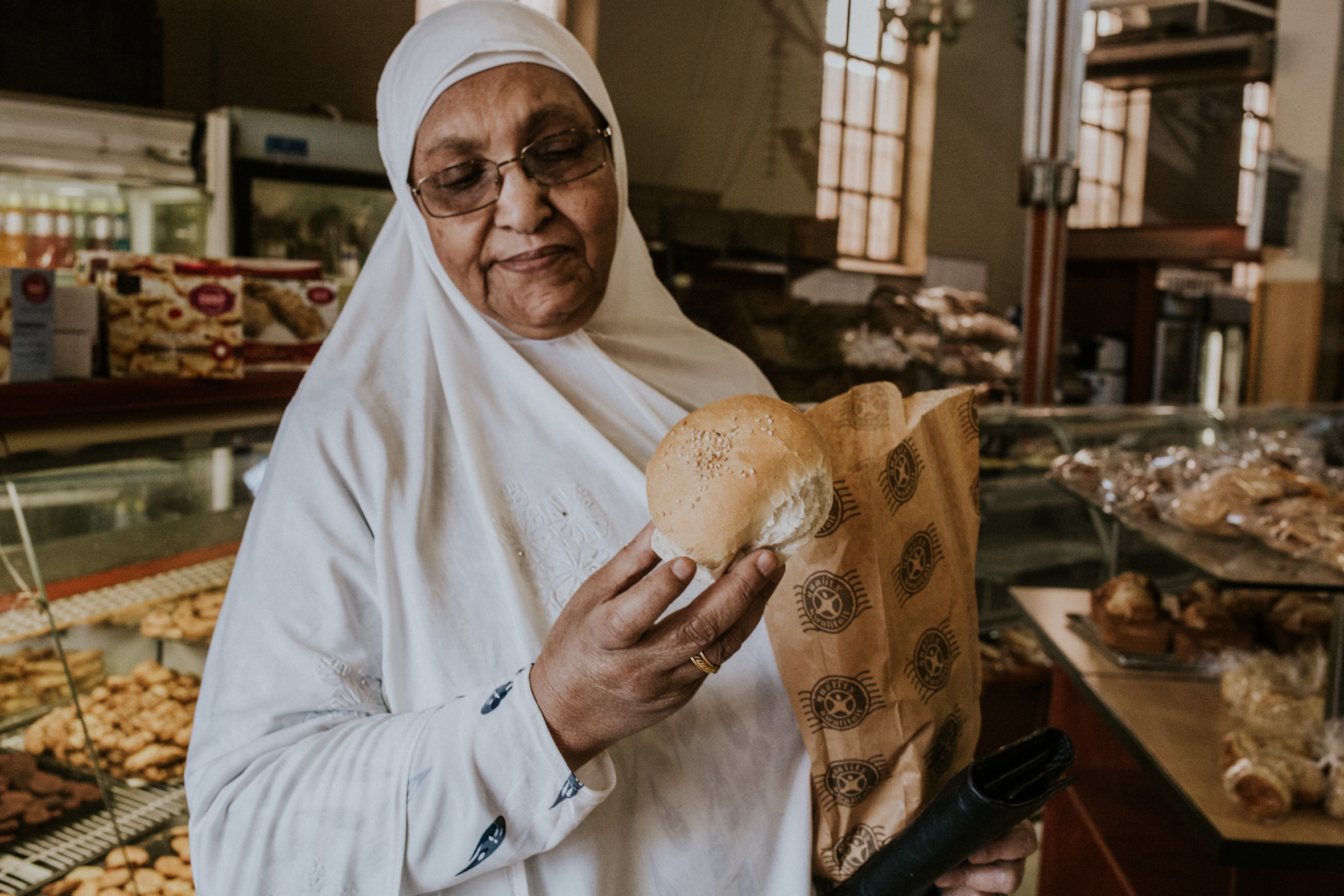 [Inside Divine Bakery on Mint Street (Photo: Renata Larroyd)]
The dimly lit bakery greets us with a smell of fresh breads and confectioneries that encourage us to explore the goods on display. A large chandelier, from the time when the building was a church,casts a shadow on the wall, creating a mood of sacredness and reminding visitors of how much Fordsburg has been through. Beneath the chandelier, the bakery has an intimate seating area that promises to be warm in winter.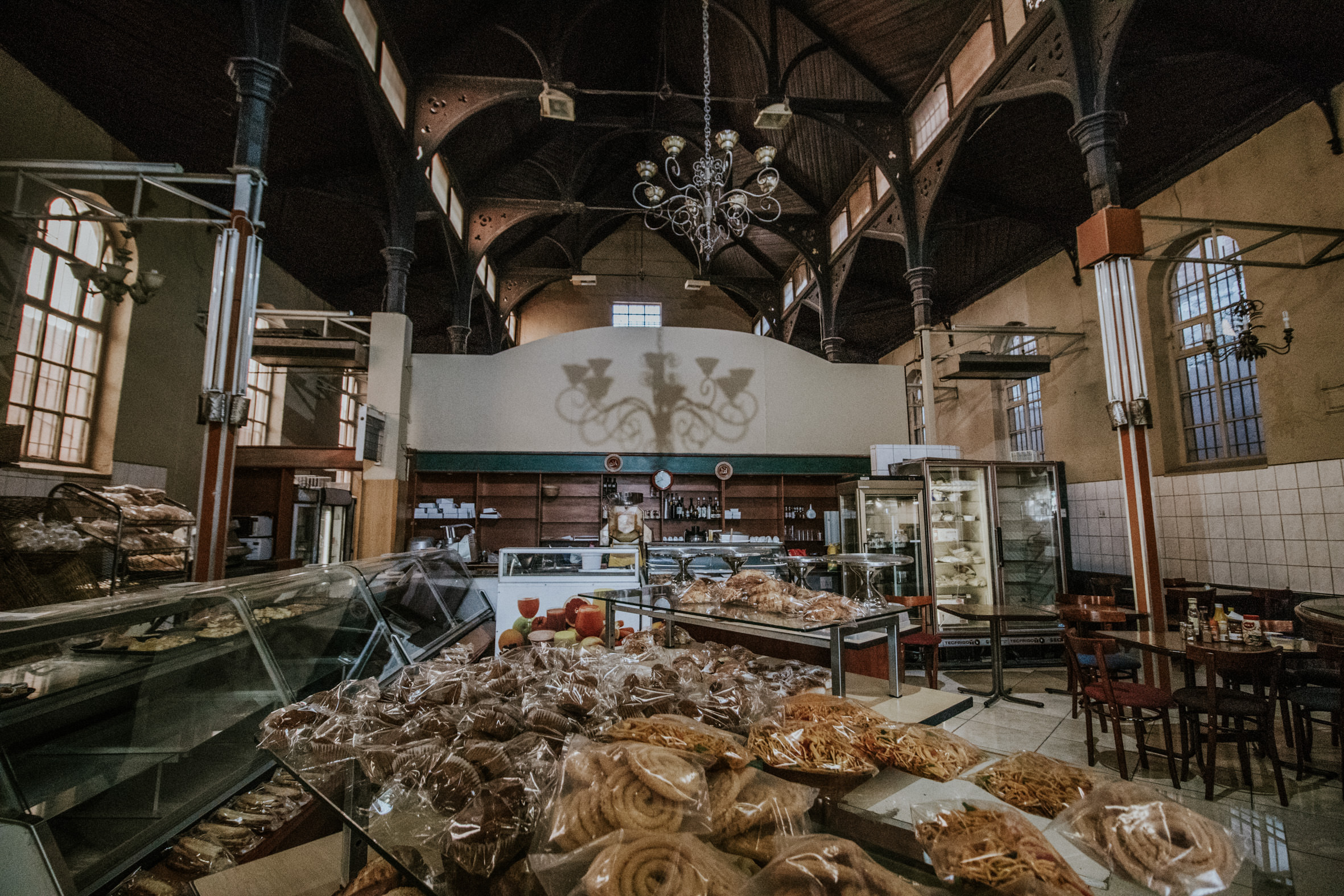 Instead of buying one of everything, I decide to come here on my own once a month for a reading date with coffee and an assortment of koeksisters, cake, scones and bread.
The Fordsburg tour that Zaza Hlalethwa took can be booked by visiting http://www.eenblond.co.za/eenblond-tours/