Callousness. But the word "swagger" might also apply here. More a fraternal meeting than an earnest trial. A fawning judge. An intrepid defendant. And then nothing. The court records of cardiologist and South African Defence Force (SADF) chemical warfare head Wouter Basson had disappeared from public sight when playwright and publisher Maggie Davey got hold of them in 2012.
Basson, who had been suspended with full pay in 1999, was acquitted in 2002 of charges related to his role as head of Project Coast. During his trial the charges had been reduced from 67 to 46, after Judge Willie Hartzenberg ruled that Basson could not be charged for crimes committed in Namibia, where Project Coast had executed the murders of hundreds of Swapo operatives by flying them out to sea and dumping them in the ocean.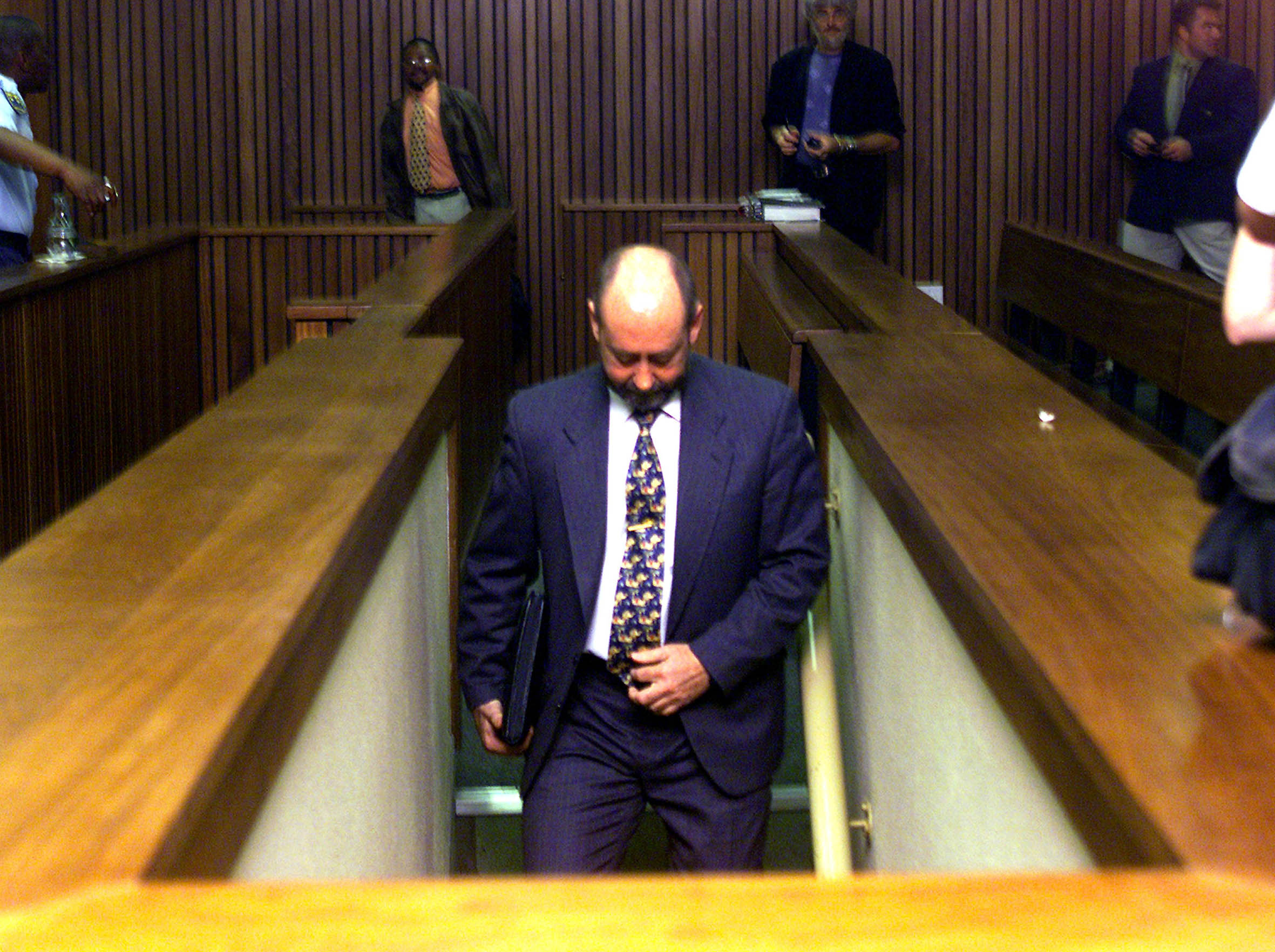 [Military surgeon dubbed "Doctor Death", Wouter Basson in court (Photo: Juda Ngwenya)]
Coast, Davey's play, takes you back into that courtroom in which Basson breezed through his testimony. Born in South Africa and raised in Ireland, Davey took a leaf out of Bloody Sunday, testimonial theatre by Richard Norton-Taylor based on the 1972 massacre. "Bloody Sunday [in which 28 unarmed protesters were killed by police in Derry, Northern Ireland] itself was an important date in my own growing up," says Davey.
She says of Norton-Taylor's play: "I loved the testimonial theatre. The house lights are up, the audience is treated as though they are part of the courtroom. You had stenographers, you had filing clerks. You had the judge, the lawyers, the witnesses. You had a busy, working courtroom happening in front of you. I just thought it could be a very powerful way of exploring some aspects of apartheid."
Davey was interested in what the court material communicated about processes in the SADF and medical ethics in South Africa. "Let's first say that he was not found guilty of all of these things," Davey says. "But in the trial he admits to all kinds of things. He himself tries to explain how he was a doctor and a soldier at the same time, which is an interesting question. For me the whole medical ethics question under apartheid is an interesting one. "
For Davey, there are possible parallels between what went on during the apartheid era and the conditions in which certain lives are considered expendable. "There were certainly some doctors from some universities who didn't take the Hippocratic oath," she says. "Basson certainly didn't at the University of Pretoria. What damage can operating in a time of inhumanity do to a society? We have to question whether there is a continuity that brings us to something like Life Esidimeni, where it is inhumanity operating during a time of freedom."
One of Davey's biggest lessons in putting together Coast was learning to cut back. "One wants to put in as much information as possible, but with 2500 pages, one has to look for a couple of narrative threads and put them through. The play doesn't touch, for instance, on the allegations of fraud, which took up a huge amount of the trial. The manufacture of Mandrax and ecstasy is only dealt with superficially. The sanctions busting [which involved international arms dealers] was fascinating but it was left on the cutting-room floor."
Part of Davey's interests in testimonial theatre stems from a need to understand apartheid better. "It's 'reporting from the front line' sort of theatre," she says. "It's testimonies by people who were there, who saw it, smelt it, felt it. It's like Greek plays where they told stories of recent victories and defeats by other empires."
In as much as the law was used as a weapon, there is a lot of truth about torture and operations of apartheid which come out in the courts, says Davey. "We must be careful that we don't use the Truth and Reconciliation Commission [TRC] as the synecdoche for apartheid. We have to continue to examine day-to-day apartheid and not stop at the TRC."
In Coast, there are seven cast members, including those who play witnesses Schalk van Rensburg (Benjamin Bell) and Michael Kennedy (Graham Hopkins). Playing the role of Basson is David Butler, while the enamoured judge is played by Robert Whitehead. Advocate J Cilliers, who acted for the defence, is played by Ian Paton, while Johan Theron, who came up with the idea of dumping Swapo operatives at sea, is played by José Domingos. Dan Robbertse plays the role of the prosecution, which in the trial was handled by two advocates.
"In theatre my key approach is in personal testimony and keeping the authenticity of voice," says Bobby Rodwell, who co-directed the play with Vanessa Cooke.
"This is a vastly different kind of production to what I normally do, and the first courtroom drama, but in essence for me, theatre is about the word, and this play is most particularly focused on the word.
"It is a challenge … considering authenticity, one wants a production that grips the attention of the audience. Thus, this kind of theatre is difficult. But most of the testimony given in the Wouter Basson trial is so chilling that one needs no more than the word. For that reason too, it is better to go minimalist, so that the emphasis is on the word. The word 'speaks for itself'."
In recalling Project Coast, Basson describes the road to embarking on the project thus: "My indication was that it sounded like an immensely interesting intellectual project and it would be an honour for me to significantly get involved."
Coast was first read at the University of Witwatersrand in December 2017, and again at the Johannesburg Holocaust & Genocide Centre in Forest Town in August. It is awaiting funding to be staged as a full production.
Davey hopes the play can make it to Namibia, where it could contribute to dialogue about the two countries' shared history of struggle. She is also looking at other inquests to turn into future productions.