As I reached Mercedes Benz, I was told I was fetching the GLC S 63 AMG. Having owned a black series C63 AMG a few years back, this information piqued my curiosity, but I was still not feeling any undue excitement. After my recent immersion in ridiculous performance from the X5M, I was at that point thinking, "what's next?"
Enter the SUV from hell.
Approaching the vehicle, I was immediately struck by its menacing presence. The dominating badge with its slickly coloured grill lounged against the pearlescent black bodywork like a 16th Century canvas model waiting on a master. Da Vinci would have been proud with this cage's design. Erotically suggestive, with a V8 biturbo 4matic badge announcing its racing heritage, the GLC is easily as underrated as the arachnid that created Spiderman.
Its throbbing power plant has a staggering 375KW across a four-wheel-drive train. That means it pretty much has what I call DTC or "divine traction control". It handles like the invisible hand of God himself is holding it onto the tarmac. Words cannot express its ability to corner. There are obviously physical attributes and science that contribute to this incredible grip, but I would place it closer to the realm of fantasy.
It's an SUV that can easily accommodate four adults plus luggage to destinations unknown. Colin McRae could have probably won a World Rally Championship with one of these creatures. The 4matic system is an active all-wheel drive platform, not just a 4WD system added as an afterthought to a 2WD drivetrain. In biker terms, each wheel is controlled independently, adding to a frightening launch that catapults you, mummy and the baby seat to 100km/h in less than four seconds.
Ridiculous? Yes; I out-launched my mates (something really fast beginning with an M and ending with a 4) five out of five times. I stopped after that. I have placed my chiropractor on speed dial and Mercedes Benz South Africa is getting the bill.
The Merc website has this to say: "The 4-wheel Electronic Traction System (4-ETS) is an innovation pioneered by Mercedes-Benz that helps send power to gripping wheels if other wheels slip. Using the same wheel-speed sensors as the Antilock Braking System (ABS) and Electronic Stability Program (ESP®), 4-ETS can detect the onset of wheel spin and rapidly pulse the brake at the slipping wheel. This sends torque back to the gripping wheel, which can apply the engine's power to the road. Working automatically on all four wheels, 4-ETS can help get you going, even if only one wheel has grip."
Unbelievable right. We tested it, across some pretty daunting bumpy, as only South African roads can be, and it worked. ALL THE TIME. Where rear-wheel-drive sports cars slip around a bit, this 4matic system never put a foot wrong.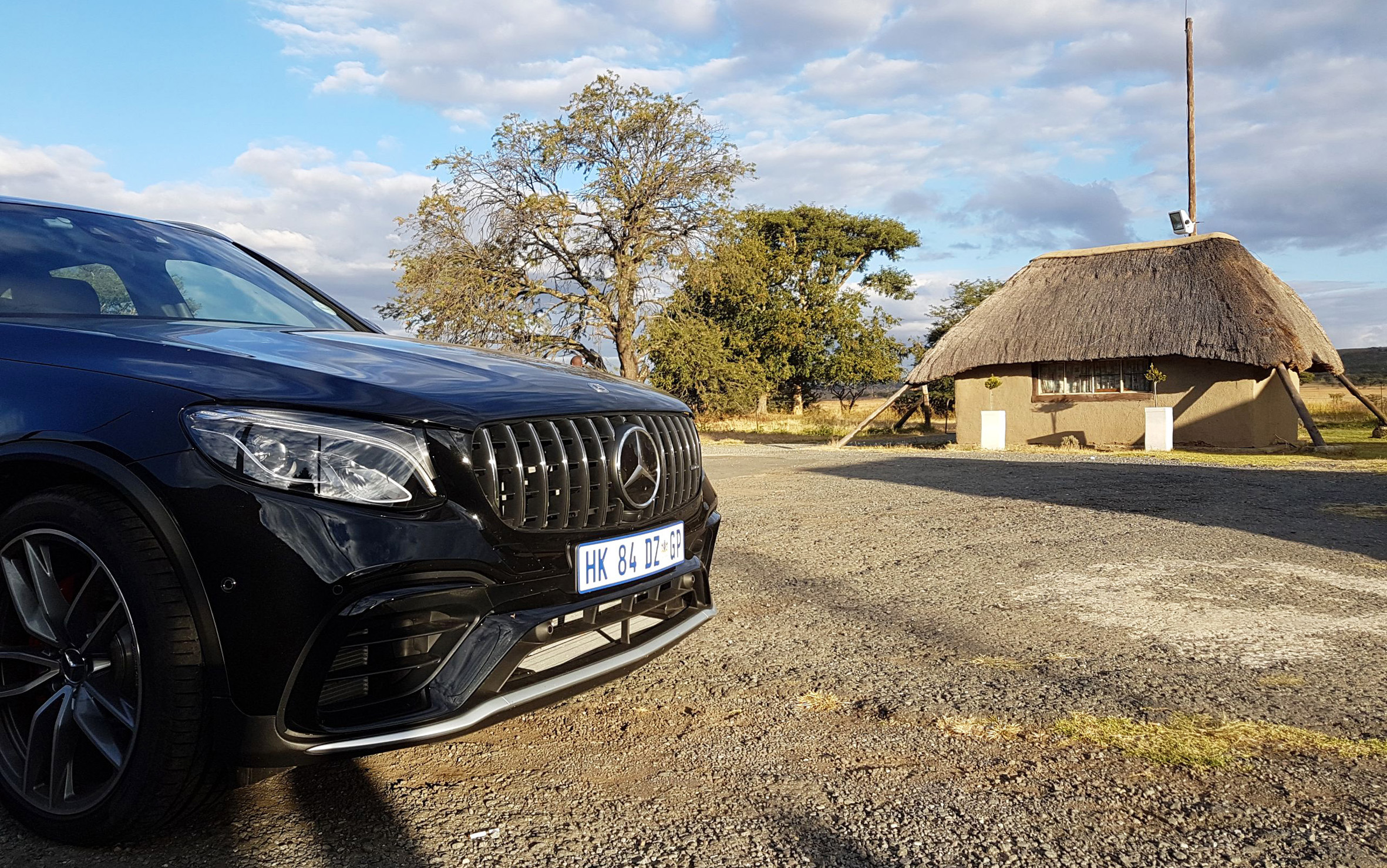 Let's pause the extensive complements and talk about aesthetics. The cabin of the ice-cream-spilling go-cart is luxuriously decorated, with exuberantly poised but hard-to-keep-clean buttons, touch pads and silver gadgets. It's breath-taking in a way that reminds you of the first moment you glimpsed the herbivore in Jurassic Park and were as amazed as Sam Neill was. Like the dinosaur franchise the GLC can take you from sublime enjoyment to blood-curdling fear with the flip of a switch or a dab on the gas. The interior does gather dust and fingerprints like a crime scene though, so expect many trips to the local valet service.
The fast cars that we see daily are as stereotyped as politicians. You expect them to steal and rescind their promises. This fire-breathing wolf in sheep's clothing is the ultimate example of the timeless cliché: never judge a book by its cover.
Six driving modes take you from Driving Miss Daisy to Honey, I lost the Kids due to terminal velocity issues. Paddle shifts, flawless power transitions, all make for a sublimely engaging ride that has you wondering how much further technology can go. It's all massive gravity-defying acceleration combined with cruise control that actually slows you down if another vehicle enters your lane, and then gradually accelerates once there is a safe margin. Lazy driving?
A heads-up display unit, lane change assist, heated seats, panoramic sun roof and interior lighting that looks like a scene from a chick flick all come bundled in as part of the options available to amaze the mind and drain the pocket. Each of these marvels has become pretty standard on most of the top end vehicles in the market. It's incredible what we mere mortals can become accustomed to in such a short space of technological time.
The gearbox is a nine-speed multi-clutch configuration, which, although smooth in upshifts, gets slightly delayed on the way down. It does have nine gears so we can cut it some slack. The comfort mode needs a solid push of the pedal to get it moving, but once it's advised of its intent, other vehicles blur as you thunder towards the horizon. The sport plus mode tightens up the suspension like Botox on a 60-year-old and the motor responds with gusto. Its transition from kindergarten carrier to ballistic missile is subtle, sneaky and can catch other would-be competitors off guard. The Golf Type R that was tailgating me discovered that the four pipes mean business and are not just a flea-market accessory.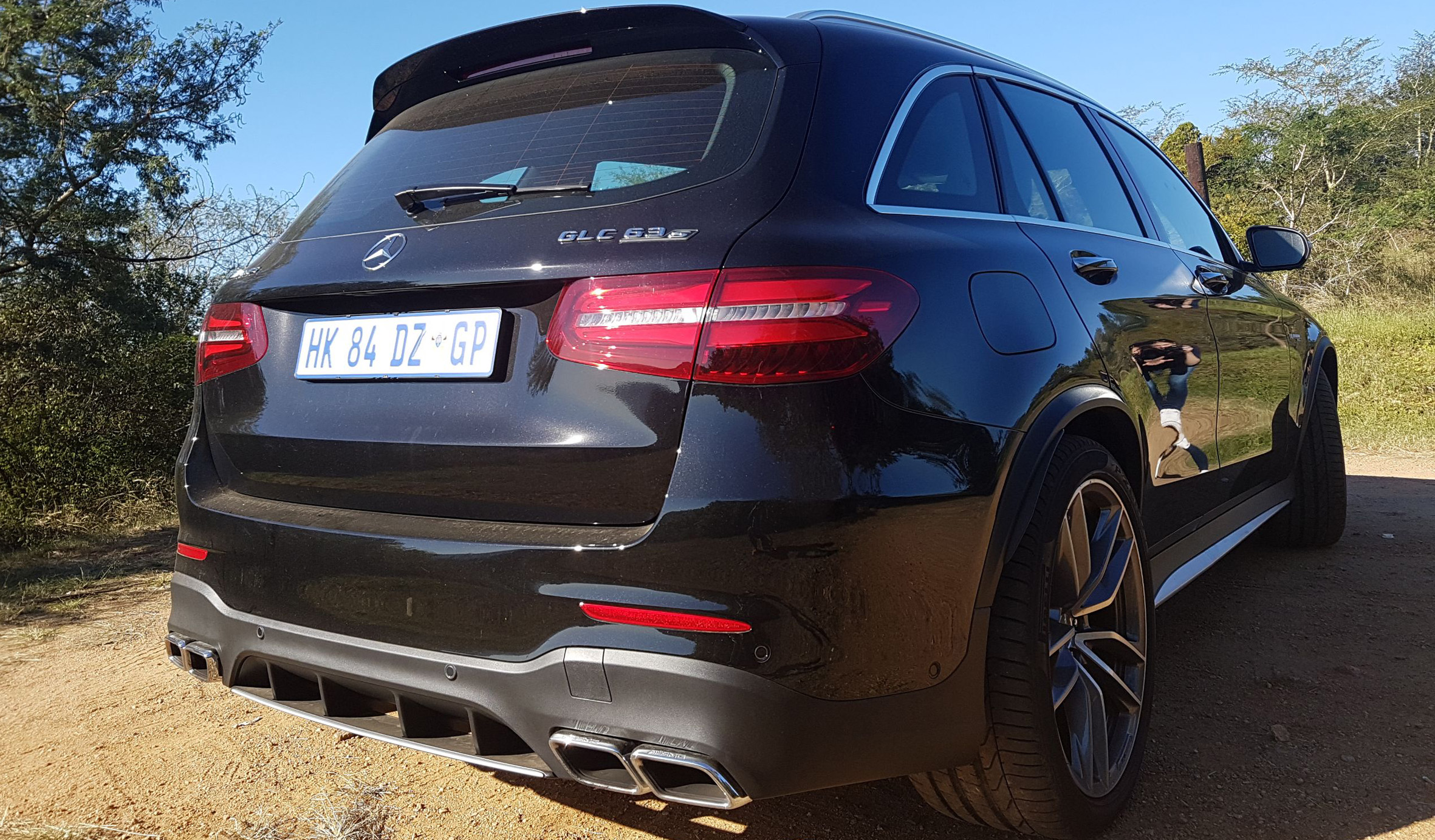 I think this is where the true ability of this AMG shine through; it's attractive but not overtly pretentious, its aggressive stance is more classy than brutish and only a trained eye will notice the V8 biturbo badges on its flanks proclaiming its racing heritage.
Considering the engine size, I expected a hefty fuel bill on our blast to the coast, but adhering to the speed limits on the tedious straights kept us below nine litres per 100km. Considering it weights almost two tonnes and has the power plant of a stock car, it's pretty impressive. Don't get me wrong: sport plus is my favourite mode. It gets thirsty, but anything driven hard does, so it's all relative.
Years of driving sports cars has me used to going at weird angles over speed bumps and dodging the slightest indentations in the road to save the rims and low-profile tires. The GLC does not flinch at bumps or speed bumps; in fact, it has an ability that has shifted it to the top of my, "what do I buy this summer list". Air suspension. Simply put, depress button and the SUV rises a few centimetres like the old Citroen DS. It's a not a Lambo Huracán lift kit which allows you to barely drive on our roads, but an actual transitioning suspension button that helps you climb ridiculous driveways and traverse light gravel roads in comfort. This is indispensable for when mummy needs to drop the kids off at the horse paddocks and needs to circumnavigate rain-rutted dirt roads. Uber-cool stuff.
Now with blue tooth, SD interfaces, USB charging docks and ports, the AMG has enough tech stuff to keep most New Age kids grinning like they have unlimited data. The centre console though had me wondering about design concepts. You can rotate a knob or use the "let's look like a gearshift which is actually a touch pad" gadget to navigate the electronics, but I don't see the point. It looks space age, but with no access to actual gear shifting ability, it's a little lost on the biker in me. The gears are changed from drive to park to reverse on the right stick protruding from the steering wheel. It takes some getting used to, and I found myself initially changing to neutral when I wanted to use the indicator. I wondered if a safety mechanism is built in to prevent it from slipping from drive to neutral when you make a quick lane change, but I didn't want to test that theory.
Each AMG (Aufrecht Melcher Grobaspach) engine is hand-built, and this gem of engineering is the craftwork of a fellow by the name of Michael Boolean. I humbly bow to his skills and wish him many more superlative engines in the future.
The GLC is subtle and understated in a way that makes certain timepieces stand out without being gaudy; it announces the seriousness of its intent without getting all up in your face. It's a simple yet technologically innovative vehicle in our ever-changing times that can flatten your spine with its handling and yet can comfortably transport you to a business meeting without crumpling your suit … well, as long as it's woollen, not some cheap polyester …
Road Ratings
Sex Appeal 8 (It turns more heads than most sports cars)
Steering 9 (precise)
Fuel 8 (deceptively efficient)
Acceleration 9 (can only be described through experience)
Creature Comforts 10 (feels like an orchestra is your passenger)
Traffic 10 (9 gears … why, oh why?)
Servicing 10 (motor plan, who cares)
Lights 7 (Can be better for night driving)
Sound 6 (why no performance pipes?)
New Driver 7 (silky smooth in comfort)
84 (overall road rating)