More than half of Eskom's power stations are facing coal supply shortages, leaving the utility with little room for error as it struggles to replenish its coal stocks as fast as it burns them.
Out of a total of 15 coal power stations, eight have less than 20 days' supply of coal and, of those, four have less than 10 days. Minimum stock levels are supposed to be at least 20 days.
The power utility said it was doing everything possible to deal with the coal crisis but the risk of load shedding "always exists". It partly blames the failure of the Gupta-owned coal mines, controlled by Tegeta Exploration and Resources, for the supply shortfalls. Eskom said the decline in its coal stock levels was "aggravated" by the Tegeta coal mines going under business rescue, and hence not being able to supply coal to its Hendrina, Komati and Majuba power stations in Mpumalanga since February.
"To manage the situation at Tegeta … Eskom had to transfer coal away from stations with healthy stock levels," said the utility.
Meridian Economics director Grové Steyn said factors such as rain and strikes now pose a serious threat should Eskom not be able to obtain coal for a week or so. "Then you are going to get close to a huge problem," he said. "If we do have shortages and the power stations can't produce enough electricity, it will result in load shedding." In a slide presentation to Parliament's portfolio committees on energy and public enterprises in August, Eskom said the rainy season would exacerbate the coal shortages. But its technology and primary energy technical departments had rain-readiness assessments under way at its power stations and mines.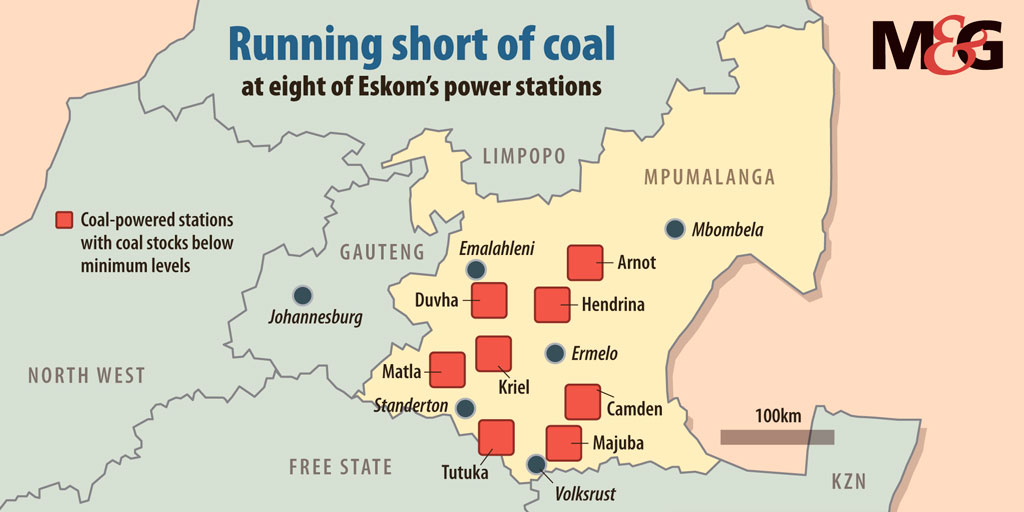 Steyn said the problem was more than Tegeta not supplying Eskom with coal. Normally, there would have been capacity to fill the gap from other mines, but Eskom and government's policy not to invest in long-term coal supply during former president Jacob Zuma's era had placed Eskom in a coal cliff situation.
"If there is no reinvestment in mines, then productive capacity is reduced and then you are going to run into shortages. That's been predicted for years, even before the whole the Gupta thing exploded," said Steyn.
The situation was exacerbated by coal miners preferring to sell into the export market which offered higher prices than the domestic prices Eskom is prepared to pay.
In 2015, the Eskom board and management under former chief executive Brian Molefe suspended its investments in the operations of mines that sold the coal at cost plus a small markup. At the time, Molefe said he wanted to "buy the bread and not the entire bakery".
Eskom has since reverted to the cost-plus strategy. Spokesperson Khulu Phasiwe said in an interview with Business Day TV this week that it was encouraging that the current Eskom board had made the decision to reinvest in the cost-plus mines tied to each Eskom power station.
Eskom told the Mail & Guardian that two tender inquiries last year were in the negotiation stage of the procurement process and that no contracts have been finalised. But the power utility had 18-million tonnes of coal that had been contracted from urgent request proposals issued in 2017 and 2018
Fourteen contracts have been concluded since January this year and a further 12 new coal contracts are in the process of being signed with suppliers in Mpumalanga. This is on top of Eskom's plans to truck coal from its Medupi plant in Limpopo to the affected stations in Mpumalanga.
Tebogo Tshwane is an Adamela Trust business reporter at the Mail & Guardian