Many Steinhoff shareholders who lost close to R200-billion when the global furniture empire was shown to be little more than smoke and mirrors want their money back — but there may be nothing left.
Lawyers acting under the banner of the International Steinhoff Litigation Group are leading a class action covering all three jurisdictions Steinhoff operated in, claiming €12-billion, or more than R190-billion, in investor losses. Steinhoff is now worth a mere R8-billion.
The class action, which includes 100 institutional and 1 000 retail investors, involves LHL Attorneys in South Africa, TILP Litigation in Germany and Bynkershoek Dispute Resolution in the Netherlands, with support from the global loss recovery law firm DRRT and litigation funder Therium.
The class action throws its net wide: 42 parties — including all of Steinhoff and its subsidiaries, auditors Deloitte and Rödl & Partner and the banks Absa, Germany's Commerzbank and United Kingdom-based Standard Chartered Bank — are named as respondents.
The respondents also include more than 30 of Steinhoff's former and current executives, among them former chief financial officer Ben le Grange, former chairperson Christo Wiese, director Angela Kruger-Steinhoff and founder Bruno Steinhoff.
Lawyer Zain Lundell, of LHL attorneys, said they had managed to put together a vehicle that would ensure that investors were properly protected.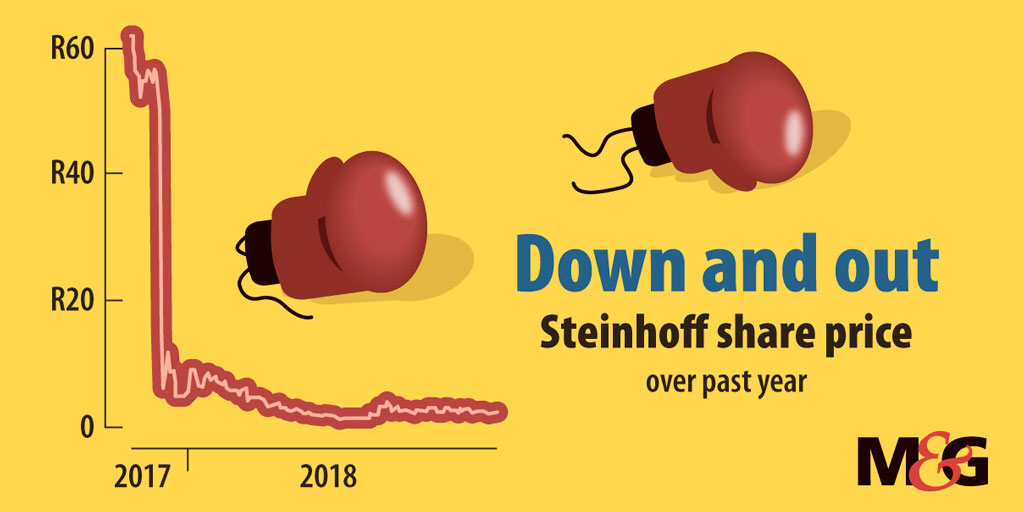 Maximillian Weiss, an attorney at TILP Litigation, said, although they understood that they might not be able to recoup all the losses suffered by investors, "by pursuing litigation against the approximately 40 defendants we are convinced were at fault, we drastically increase the likelihood for a reasonable compensation".
Not surprisingly, the architect of the financial shenanigans, Markus Jooste, is on the list. What is known of his current net worth is scant. He owns a company that specialises in horse racing, Mayfair Speculators, which is owned by Mayfair Holdings, which in turn is held by a Jooste trust.
James Brent Steyn, the author of Steinhof f: Inside SA's Biggest Corporate Crash, wrote that, in August 2017, Jooste allegedly transferred assets of about R1.5-billion from Mayfair Speculators to Mayfair Holdings, leaving Mayfair Speculators with debt and Steinhoff shares, which were not worth much after the crash.
An issue will be the extent to which the ill-gotten gains have been spirited into trusts and hidden accounts. The Financial Mail and investigative unit amaBhungane recently revealed how Jooste used secret front companies through associates to take positions that would benefit them to the detriment of other shareholders. Lundell would not be drawn on whether the litigators would be going after hidden assets. He simply stated that "there are means and ways" and law firms have the capacity to carry out that work.
The group, which launched the South African class action in the high court in Johannesburg in August, has managed serve notice to many of the respondents, including the Steinhoff entities, Le Grange, Weise, Deloitte and the banks. Lundell said they hoped to have served notices on all the respondents by early next year.
He said they had also received positive feedback from investors to whom they spoke during their roadshow this past week.
The group met various institutional and ordinary investors and explained the nature of the multi-jurisdictional class action and why it was better to support it rather than launching separate suits.
"Pursuing a multi-jurisdictional litigation strategy in South Africa, Netherlands and Germany means that the defendants have nowhere to hide and that ISLG can negotiate on behalf of all Steinhoff shareholders," said Weiss.
If the respondents in the case decided to negotiate a settlement, the group would be able to settle all the claims "once and for all", he said.
The litigation group's class action is a opt-out case, meaning it covers all shareholders who bought shares between June 26 2013 and December 5 2017, unless they indicate that they want to opt out and pursue separate litigation.
Weiss said they did not expect investors to opt out because the possibility of recovering more money separately was not realistic under the circumstances.
"If everybody opted out, do you really think Steinhoff, directors and auditors would want to pay more? This case will only be resolved when all shareholders are treated equally," Weiss said.
A Steinhoff spokesperson would not comment because of share price sensitivity, other than to say the company and its attorneys were assessing the merits of all the legal proceedings that had been initiated against the company and that it would be responding to them.
The chief executive officer of Deloitte Africa, Lwazi Bam, said it would defend the application.
A separate class action for Dutch shareholder group VEB has been launched in the Netherlands and another is planned by Dutch law firm BarentsKrans.
Tebogo Tshwane is an Adamela Trust business reporter at the M&G