Despite very challenging economic conditions, the overall quality of life in Gauteng continues to improve.
This is according to research conducted by the Gauteng City-Region Observatory (GCRO). The Quality of Life Survey measures both objective circumstances and subjective opinions of respondents.
The GCRO runs its survey every two years since 2009 and this year it interviewed 24 889 people from across Gauteng.
There were a lot of positive sentiments around social dynamics including an increase in the community trust and family dynamics.
"When we speak about the quality of life, we're not just speaking of material well-being, we're also taking into account how people feel about their families, their relationships, their communities and so on," said Julia de Kadt, a senior researcher in the project.
De Kadt added that the survey found a lot of positive response from a social aspect, saying, "Some areas where we've seen particular improvement is around family, community and wellbeing."
An overall score out of 10 is given, with 0 representing the lowest quality of life. The score for the province is 6.3 out of 10, up from 6.2 in 2015/16. Figures from the index show white respondents are seeing larger gains in measured quality of life, however, black people are still lagging behind.
The GCRO is a partnership between the Gauteng Provincial Government, the University of Johannesburg, the University of the Witwatersrand, and organised local government in Gauteng (SALGA-Gauteng).
The survey did find, however, that although there's an increase in quality of life on average, the increase for the white population group is bigger than that of the black population group.
"While the overall improvement in the measured quality of life is encouraging, this disparity demonstrates the high levels of inequality that continue to plague the Gauteng city-region," said Dr Rob Moore, GCRO's executive director.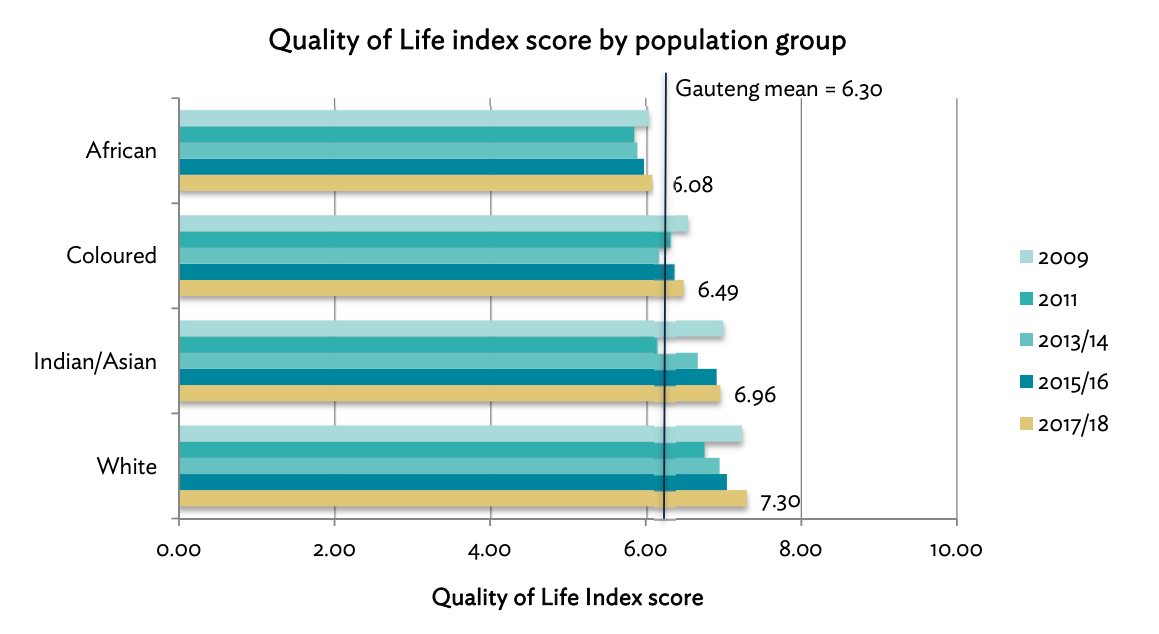 In particular, peri-urban areas and informal settlements have shown decreasing dissatisfaction with the level of access to municipal services and the government overall.
One of the most dissatisfied areas is Emfuleni Municipality which includes Vanderbijlpark and Vereeniging. Only 19% of those interviewed are satisfied with local government. Emfuleni's residents also indicate the highest dissatisfaction with local government in the province, with 64% being dissatisfied.
Crime is mentioned by 32% of respondents and unemployment by 18% as the biggest community issues, both of which have increased over the last few years. The survey also found that that 12% of respondents said drugs were the biggest issue in their community'. A further 4% said alcohol abuse and 1% said gangs are significant problems.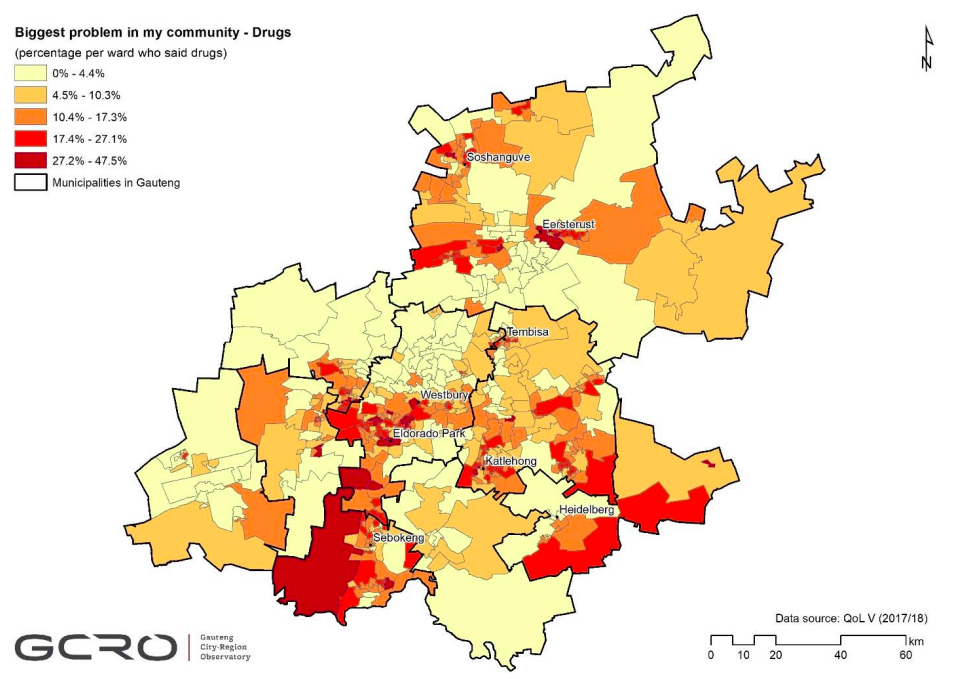 "The issue of drugs extremely salient and when you look at the population group, for coloured respondents, drugs is the single biggest community problem that gets mentioned," said de Kadt.
Dr Moore said that while the provision of services has deteriorated significantly in some municipalities it has improved in others.
"Our results show that, of the major cities, Ekurhuleni (Municipality) is doing well and Johannesburg has marginally improved in many service areas," said Dr Moore.
"Smaller municipalities like Lesedi and Midvaal are also up since the last survey in 2015/16, but Emfuleni has seen significant declines in the area of refuse collection, and satisfaction with that municipality is down. Tshwane also seems to be struggling in a number of areas."
The survey launch event was attended by Gauteng Premier David Makhura who also responded to the results. He says that the Quality of Life survey is like government's matric results.
"I'm happy that in a province as complex as ours, with such large numbers of immigrants, we are sustaining overall quality," Makhura said. He did add, however, that in regards to the issue of crime and drugs, he has engaged with the minister of police and the national commissioner.
"We need an extensive intervention in Gauteng. The kind of intervention that's done in Westbury, I'd like to see that done everywhere in Gauteng. I want high calibre and highly motivated officers."