Low-cost retailer Pepkor Holdings shrugged off its links to former parent company Steinhoff International and withstood the recessionary climate, expanding its retail footprint by more than 400 stores this year and planning to open 300 more in the new year.
Previously known as Steinhoff Retail Africa, Pepkor Holdings released its first financial results under its new name on Monday, reporting revenue up by 10.9% to R64.2-billion with operating profit up by 10.7% to R6.4-billion.
This excludes a once-off R511-million write-down because of Pepkor's exposure to a previously undisclosed management incentive plan. The JSE announced, also on Monday and before the results, that Pepkor was being fined R5-million because the company failed to reveal its loan agreements and debt guarantees for management and Steinhoff.
Pepkor's share price fell by 1.4% when the JSE announcement was made on Monday, but had recovered by Wednesday morning.
The retailer increased its store footprint by 428 stores in 2018, 358 of which were in the clothing and merchandise division. Pepkor plans to open another 300 stores in the next year, despite a tough economy that has seen some retailers scale down. The new stores will be mostly in South Africa.
Pepkor now has 5 236 stores covering 2.4-million square metres of retail space, by far the largest in Africa today, according to chief executive Leon Lourens. But the expansion of stores has been negatively affected by the group's consolidation of stores in the JD Group and Dunns brand and the slowdown in expansion in Africa.
Sales in Pep Africa decreased by 1.8%, which the company blamed on the "low commodity prices, foreign exchange shortages and high inflation rates that continue to weigh on consumer spending".
"The performance and results in Africa is sometimes very volatile, but there are very few companies that are successful on a sustainable basis in the wider Africa environment," Lourens said at the results presentation on Monday.
Besides the Steinhoff corporate scandal, the group faced a difficult retail environment, with strained South African consumers and price deflation, which led to reduced retail selling prices, said Lester Davids, a Unum Capital trading desk analyst.
Davids said the company's position was well suited to South Africa's currently subdued economy and high unemployment, "meaning that, as consumers feel the economic pinch, they would possibly trade down and opt for lower-priced or more affordable items".
Most of the new stores would probably target rural areas, he said.
"Whether they can expect to see returns will depend on the consumer's personal balance sheet, a reduction in the high unemployment rate, inflation and ultimately interest rates, which could impact spending power in the retail sector," Davids said.
Retail analyst Mark Hodgson, of Avior Capital Markets, said Pepkor still had room to expand. It was cutting back in other parts of its business, such as the building supply division, and had also taken a tougher look at the retail business, closing its loss-making German-based Poco furniture operations, which resulted in an operating loss of R137-million.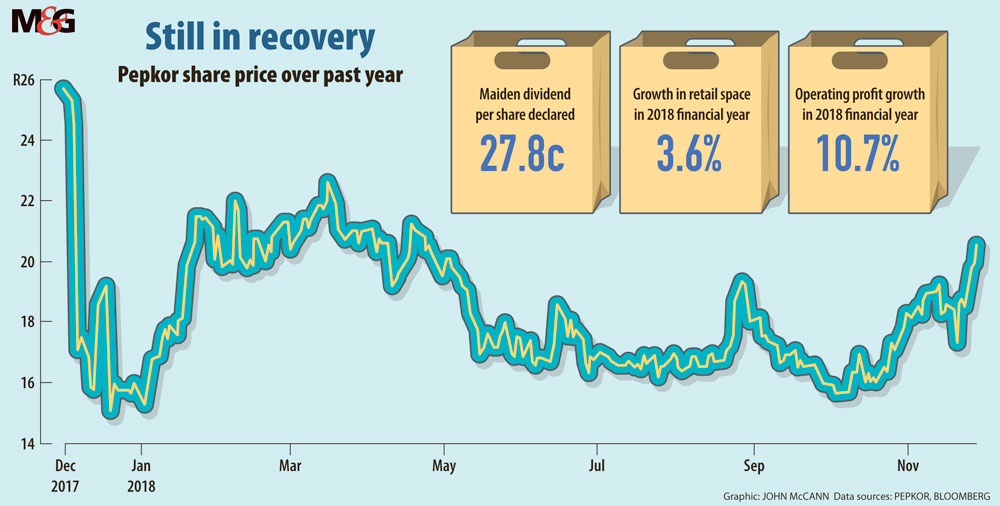 Pepkor chairperson Jayendra Naidoo said the Poco closure showed a management commitment that it would not hold on to and invest in businesses that do not bring adequate returns to shareholders.
Naidoo said, considering the trying circumstances of the past year, the company had managed to produce "top-tier operating results".
He described the 2017-2018 year as the "year of struggle", largely precipitated by the crash of Steinhoff, the majority shareholder in Pepkor with a 71% stake. "As the crescendo of crisis fades away, we stand strong and fully prepared for a winning 2019 year."
The low-cost retailer's share price has fallen by 22% since the publication of accounting irregularities by Steinhoff in December 2017.
"There does appear to be a slowdown in the higher end of the market, with Woolworths, for example, recently reporting a decline of 3.3% in its fashion, beauty and home sales for the 20 weeks ended November 11 2018 versus Pepkor's clothing and general merchandise increasing by 7.2% for the reported year," said Davids.
The company's Pep brand reported double-digit growth for the 19th consecutive year and Ackermans has reported double-digit growth for nine years in a row. The speciality division, which includes Tekkie Town, Shoe City and John Craig, grew by 12.5%.
Hodgson said Pepkor, compared with its previous performance, was down about 5% despite the growth in Pep and Ackermans.
"It's below their normal high standards but there were other businesses which obviously took more strain and affected the group as a whole," he said.
Pepkor's building division had a difficult year because of low growth and poor business confidence. It discounted prices to compete in a tough market, putting pressure on profits.
Some analysts say Pepkor should be doing better. Hodgson said Pepkor could be given a little leeway because it was a relatively new listing on the JSE but added that more would be expected from it in the coming year. "They have still got a certain number of issues but there are probably fewer issues than there were and the fact that they are paying a dividend is fairly positive."
Lourens told the press briefing Pepkor had put most of the corporate distractions behind it and hoped to have a clearer focus on the retail business in the year ahead.
Tebogo Tshwane is an Adamela Trust business journalist at the Mail & Guardian
---
Stock exchange delivers R5-million smack
The JSE on Monday announced it had fined Pepkor Holdings a record R5-million for breaching its listing requirements by not making disclosures about historical financial information in its pre-listing statement.
Pepkor was unbundled from Steinhoff International and listed on the JSE late last year, just a few months before Steinhoff's implosion. It issued its pre-listing statement on September 4 2017 and listed on the JSE on September 20 2017.
Pepkor did not disclose at the time that it was part of a group of companies that had provided guarantees of R15-billion to Steinhoff's medium-term debt note programme. The JSE said it only became aware of the guarantee after it was told that the information was included in a Steinhoff International Holdings investor presentation dated December 19 2017.
Pepkor, through its subsidiaries, had also provided loans and guarantees to directors and management as part of a company management investment scheme through an entity called Business Ventures Investments, with exposure of up to R440-million by March 31 2018.
Pepkor chief executive Leon Lourens acknowledged the fine and said it had co-operated with the JSE in the investigation. "We have further worked intensively to improve disclosure where necessary and appropriate."
Pepkor is locked in court battles with Tekkie Town managers over contractual agreements and the establishment of a rival company, Mr Tekkie. Steinhoff bought Tekkie Town in September 2016 and settled the transaction with Steinhoff shares; the chain was later transferred to Pepkor.
"As long as these issues linger, management will be kept occupied and may not fully focus on the underlying operations. From the market's perspective, the nondisclosure at listing may create a new level of distrust in addition to the Steinhoff link," Davids said. — Tebogo Tshwane