"I never was the fantasy/ Of what you want or wanted me to be/ … But don't judge me so harsh, little girl/ So, you got a playboy mommy." — Tori Amos, Playboy Mommy
'I didn't want to drop my kid. I couldn't do that to him," says Aphiwe Nkosana*, giving the reason she started doing sex work.
Her previous job was well paid, well enough to send her son to "a multiracial school". But then she lost her job and could not afford his school fees.
She's at the community centre in Diepsloot, which is known as "nofifty". It is here where they get R50 "and some KFC" when they come for various services, including information and education on HIV, sexually transmitted infections, basic sexual reproductive health, their rights as sex workers and psychosocial support. The centre is one of 14 in eight provinces run by the Networking HIV & AIDS Community of Southern Africa (Nacosa).
Leora Casey, its programme manager for sex work, says Nacosa is conducting research on sex workers who are parents to understand their needs and the needs of their children because "very limited data exists on this".
A 2013 study published in the South African Medical Journal found that female sex workers were responsible for supporting "a median of four adult and/or child dependants". A 2017 study by the prenatal HIV research unit about sex workers in Soweto found that only 13.2% of female sex workers did not have children, 32.2% had one child, 33.5% had two children and 21.1% had three or more children.
Although yet to be completed, Casey says preliminary data shows that "there are quite a number of vulnerable children facing second-hand stigma and discrimination in the community because their parents are sex workers".
Access to schools, health and "every kind of social service" is often difficult for these children. "It's as though the barriers that sex workers face to these services are now being placed on their children," Casey adds.
For this reason, Nkosana says: "I am not doing this thing in public, because I don't want people to know. Because then they will tell my kids. I am scared, because my children won't understand. I also don't want people in the community to discriminate against them."
"I never was there/ Was there when it counts/ … You seemed ashamed/ Ashamed that I was/ A good friend of American soldiers."
But it is not only the fear of discrimination that keeps many sex workers from telling their children what they do for a living. They also fear their children won't respect them.
"I am hiding this thing [from them]. Because, even a child, especially the girls, if you are doing this thing, they will say: 'You can't tell me anything. I can have many boyfriends if I want, because you are a sex worker'," says Nkosana.
Originally from the Eastern Cape, Babalwa Tshobo* moved to Johannesburg in the hope of finding a job to support her four children. She makes about R3 000 a month as a sex worker, which helps her to feed and send her children to school.
"They don't know what I do. I don't want to tell them. I think their attitude towards me will change. They will lose respect, you see? You know kids, how they are. They will lose respect and will say: 'You can't tell me anything, wena, because you are sleeping around with ABC'," says the 40-year-old.
Buhle Ndlovu* moved to the City of Gold after struggling to find work in the Eastern Cape town of Komani (Queenstown), because she "heard people saying this is the job you get when you go to Jo'burg. That's why I'm here now."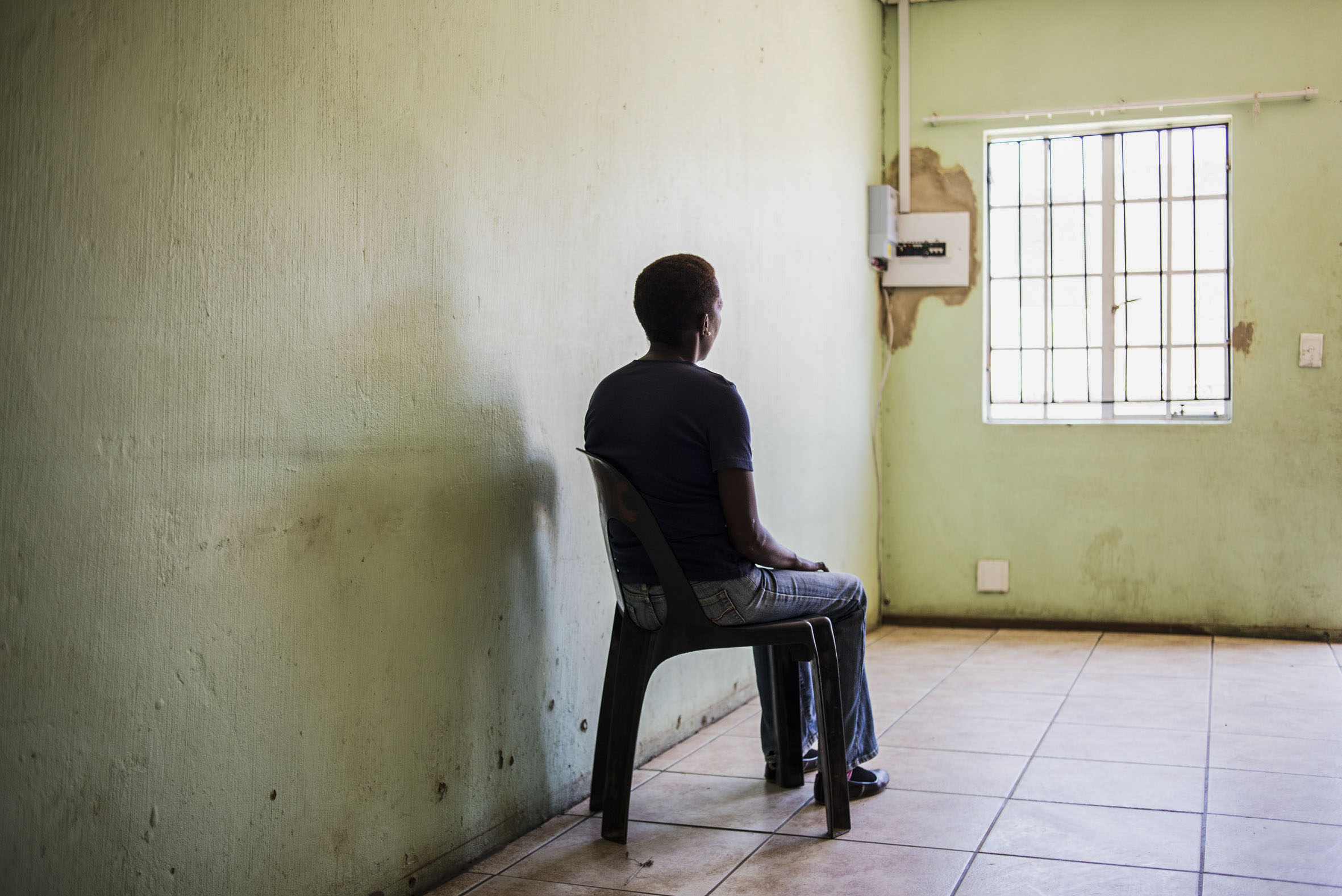 Buhle Ndlovu won't tell her children what her job is because of the stigma attached to it and because her children would defy her. (Delwyn Verasamy/M&G)
Working every night in Diepsloot's taverns "or sometimes the garages" to support herself and her two children, Ndlovu says: "At least, a month, I do R2 000. It's difficult, because, even from the money that I get, I have to buy them clothes and school uniforms."
Originally from Zimbabwe, Precious Mukondiwa* started sex work in 2014.
"I decided to be a sex worker because it was easy, just an exchange; you give this person this thing and he gives you money so that you can raise your kids," she says.
Mukondiwa also says her children "don't know and I don't ever want them to know. Because then they will ask me: 'Why are you telling me what I must do when you are doing this thing'."
A mother of two, Mbali Magele* says "the money I get from this sex work is what I use for their education at school". But because her earnings are small — "sometimes R800. If the client comes with a R50, what can I do?" — she says "it's difficult, but there's nothing I can do".
Magele also, does not want her children to know what their mother's profession is. "Sometimes when I go out, they will ask, 'mama uyaphi'. But I will just tell them that I am going to work. But they are always glad when I come back carrying food and other stuff."
Because she is able to provide for her family, Magele says she is proud to be a sex worker.
"People think that, when you are a sex worker, there is nothing you can do; that you are just a dirty person. But I know myself. As long as I put the money on the table and my kids are nice and can eat what they want to eat … I am also working. It's also a job. I am earning money, too."
Casey adds that the majority of sex workers who are mothers "are proud of the fact that they have taken [the] initiative and are looking after their families".
"Often in media, sex work and trafficking are conflated as the same thing. But that is not the case. A lot of sex workers are aware that there aren't jobs in the country for everyone. So they are using their autonomy. The majority of sex workers who are mothers are really just trying to be good moms."
"Don't judge me so harsh, little girl/ You got a playboy mommy, come home/ Little girl they'll do you no harm …/ I'll be home, I'll be home."
Nkosana says: "The thing is, we don't want our kids to be the same as us. Because the way we are raising them, if I can tell you the truth, we are raising them straight. So that they don't have to be a sex worker or whatever. At the end of the day, they must go to school and finish their education. We are doing this just because of the situation. We are doing this so that they can eat."
* Not their real names
Carl Collison is the Other Foundation's Rainbow Fellow at the Mail & Guardian