The media is not unlike many companies in the country; it's run mostly by white people. An analysis of ownership structures, demographics and funding models shows that the boards of media houses comprise 41% white, 24% African, 17% coloured, 16% Indian and 2% of people from elsewhere.
Race and the media was the subject of debate in 2018. In line with global trends of growing institutional mistrust, some of South Africa's renowned media institutions have come under fire, with accusations mostly of protecting the interests of the elite or, more specifically, "white monopoly capital".

(Graphic above & below: John McCann)

Of the 10 media houses analysed, four of them have no Africans on their boards. This includes M&G Media Limited, Media24, Independent Media and Daily Maverick.
Exceptions to this trend are Primedia and radio station Power FM owner the MSG Afrika Group. More than two-thirds of the board members of Primedia, which owns Radio 702 and Eyewitness News, is made up of Africans and the MSG Afrika Group is 100% African.
Overall, there are more men (64%) than women (36%) at board level.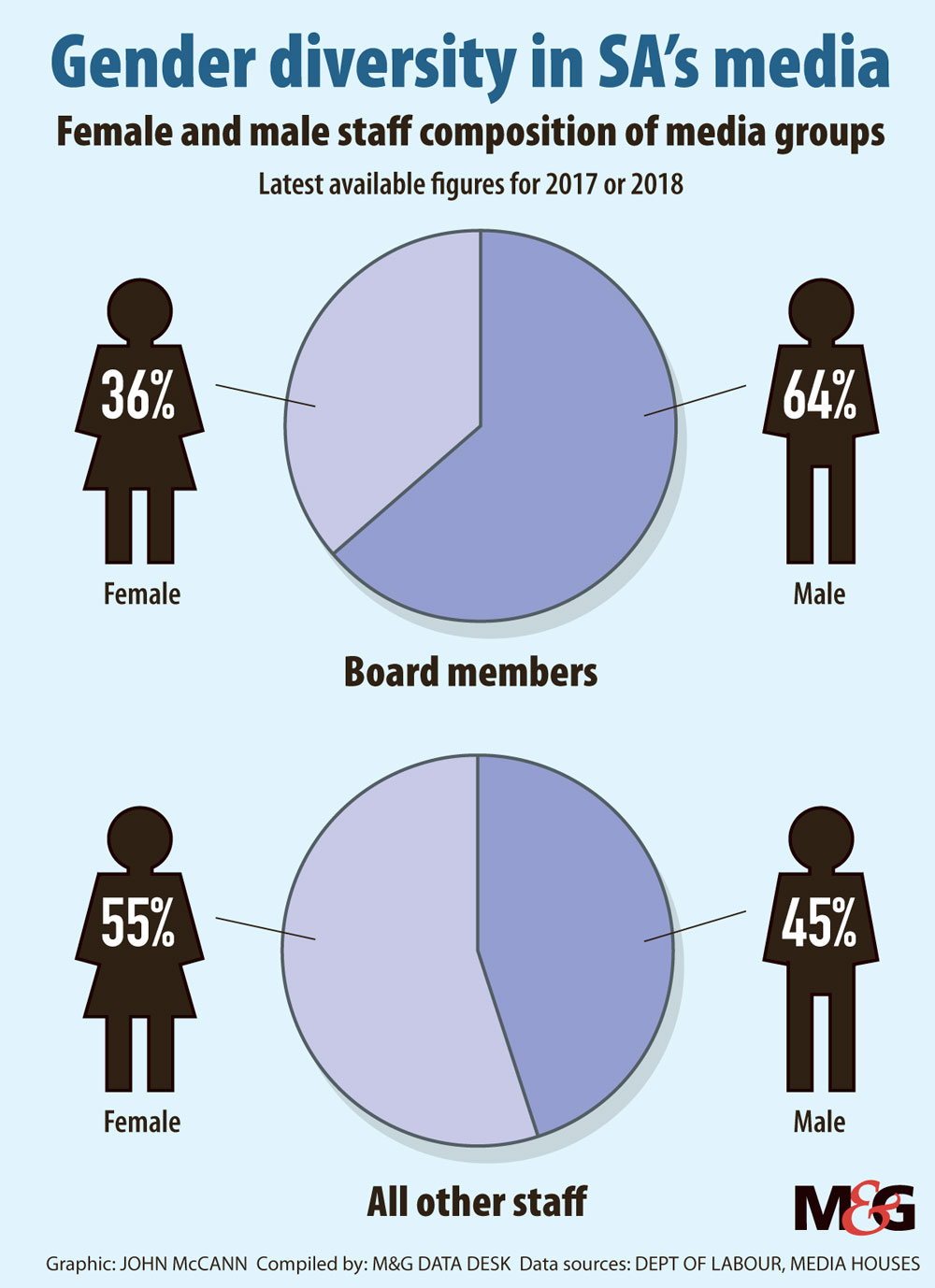 The second rung of decision-makers — top management — has a higher number of white people (51%) than at board level. The department of labour describes top management as those controlling the functioning of the business, determining the overall strategy and directing the company into the future. The Mail & Guardian's analysis looked at employment equity data, ownership and funding structures, and collated press and broadcasting complaints.
The 10 publishers include M&G Media Limited, Media24, Daily Maverick, the Independent Media Group, Caxton Publishers, Tiso Blackstar, ama­Bhungane, eMedia Holdings, Primedia and MSG Afrika Broadcasting.
Employee demographics data was gathered from the labour department, which keeps a record of each registered company's employment information. These records were verified by each media group individually, except for eMedia Holdings and the Daily Maverick, which said it does not discuss its finances and wouldn't verify its employment details. However, eMedia Holdings' data was cross-referenced with the company's 2018 annual report.
Though it seems media management resides in the hands of mostly white people, the analysis found that, overall, the media is a large employer of mainly African people (45%), followed by white (28%), coloured (19%) and Indian (7%) peers.
In terms of gender, female (55%) employees outstrip those of their male counterparts (45%), though mostly in the lower rungs of media houses. Declining circulation and advertising revenue have posed serious problems for many media houses, leading to the closure of, among others, The Times daily print edition, the online Huffington Post SA, ANN7 (Afro Media), The New Age, and, most recently, Ndalo Media.
Murmurs of restructuring — which usually leads to retrenchments — in established groups such as Associated Media Publishing, which publishes Cosmopolitan and House and Leisure, and Naspers-owned Media24 are plentiful.
Most of the media houses are dependent on advertising revenue, which is still dependent on circulation figures that have steadily declined. Advertising has followed suit, mostly making way for digital news delivery.
Of the 1 entities analysed, amaBhungane Centre for Investigative Journalism, which comprises 12 employees, is mostly financed by donors, including crowdfunding. According to co-founder Stefaans Brümmer, they do not receive any funds from advertising.
"Our only sources of revenue are grant funders, donations in response to our crowdfunding campaign. Interestingly, crowdfunding was our single biggest source of revenue last year [2017] — 28% of operating expenditure — and is on course to be so again in the current year [2018] — at 25%," he said. AmaBhungane's biggest donors include the Raith Foundation, which donated R1-million in the past financial year, the Bertha Foundation, the Claude Leon Foundation and the Open Society Initiative for Southern Africa.
Larger media houses such as Tiso Blackstar and Media24 employ more than 1 000 and 3 000 South Africans, respectively, and revenue is generated by advertising and sales.
The Public Investment Corporation is also a big investor in the media space, with equity or shareholding in at least five of the media houses, including Tiso Blackstar, Primedia through a private equity fund, Caxton, Naspers and the Independent group.
The New York-based Media Development Investment Fund has majority shares in M&G Media Limited.
---
Commission catches collusion
For seven years, 28 media companies have been investigated by the Competition Commission for colluding on offering discounts and payment terms to advertising agencies.
In 2011 the commission found that the media houses' practices restricted competition because they did not independently determine the discounts and thereby fixed the price and trading terms in contravention of the Competition Act.
By June last year Caxton had agreed to pay a fine of R5.8-million and the Independent group R2.2-million; Mediamark had agreed to a penalty of R1.013-million and United Stations a fine of R420 00.
Media24 had agreed to a settlement of R13 828 892.26, which also included that the company would contribute R4.9-million to the Economic Development Fund over a three-year period and also provide 25% bonus advertising space for every rand of advertising space bought by qualifying small agencies, over three years.
The 28 media companies found to have colluded include the public broadcaster the SABC, the Mail & Guardian, Avusa (now called Tiso Blackstar), Carpe Diem Media and Primedia.
---
Fake news and boycott threats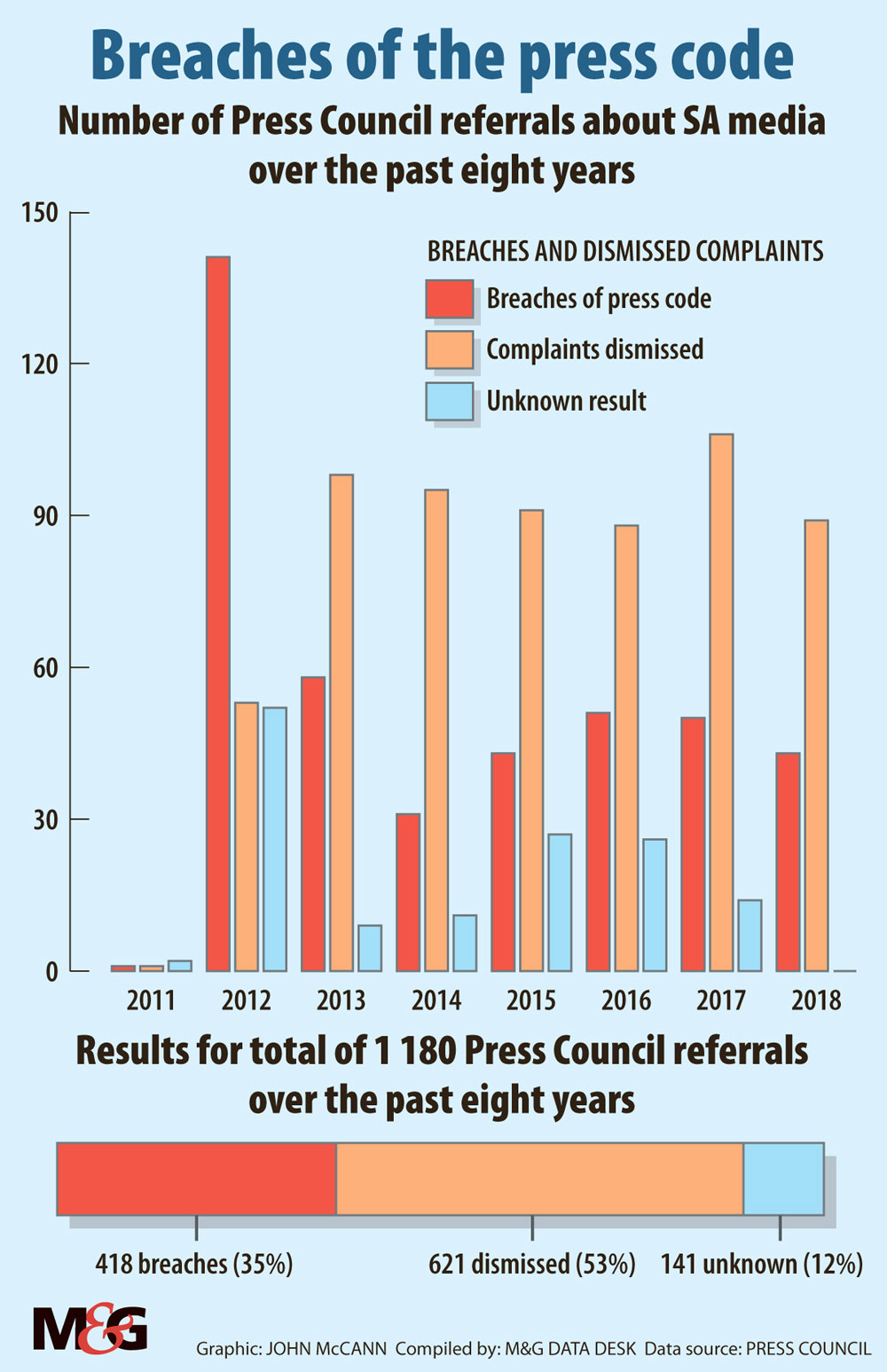 Last year, Tiso Blackstar's flagship newspaper, the Sunday Times, came under intense criticism for getting so wrong its stories in 2011 about a Cato Manor hit squad and the rendition of Zimbabweans, and in 2014 for a series of stories about a non-existent rogue unit in the South African Revenue Service.
The newspaper was used by warring factions in government and its journalists failed to "interrogate suspicions of abuse of power", said Sunday Times editor Bongani Siqoko in his apology for having "failed SA".
The Economic Freedom Fighters (EFF), Black First Land First and many on social media called for a boycott of titles owned by the group.
There was another boycott call last year. The South African National Editors' Forum urged the Zion Christian Church (ZCC) to withdraw its call for congregants to stop buying newspapers owned by Tiso Blackstar after the Sunday World reported that ZCC leader Bishop Barnabas Lekganyane was facing arrest.
The paper apologised, saying it had created the impression that a court had made the statement and that the matter had been a civil dispute between the ZCC and five branches in Botswana. After Winnie Madikizela-Mandela died, a 2017 documentary of her life under apartheid was screened, in which it was alleged that the regime had a propaganda machine in Stratcom to discredit her and others. She mentioned the names of former Weekly Mail (later the Mail & Guardian) co-editor Anton Harber and reporter Thandeka Gqubule.
The two have taken the EFF to the high court for saying they were apartheid-era Stratcom spies. The newspaper had, in fact, broken the Stratcom story.
---
A few details on Daily Maverick
The Daily Maverick's editor-in-chief, Branko Brkic, would not provide information about its funding structure, directors or employment demographics, saying: "We do not discuss our finances."
He founded the Daily Maverick in 2009. Brkic has published about four magazines, including The Maverick.
The Companies and Intellectual Property Rights Commission reflects that the news and opinion website is owned by Brkic and Stylianos Charalambous. The 2017 State of the Newsroom report said Daily Maverick and Daily Maverick Chronicle employs 32 people (permanent staff and freelancers): two African men, seven African women, nine white men and 14 white women.
It gets revenue from adverts, according to its website. Late last year it launched a paid-for membership and donations programme.
In 2017 it launched a grant-funded investigative journalism unit, Scorpio. According to the Open Society of Southern Africa's 2017 annual report, Daily Maverick and Scorpio are grant beneficiaries.
---
Media fund rescues M&G
The past three years have been an uphill battle for M&G Media Limited, with retrenchments, declining print circulation and dwindling advertising revenues.
By the end of 2017, Trevor Ncube, the former majority shareholder, said he was no longer in a position to invest in the publication.
The paper's bleak financial position was blamed on mistakes, including losses incurred by the establishment of the online newspaper M&G Africa.
Murmurs of liquidation and failure to pay contributors and creditors were rife amid talk of potential investors.
During the #GuptaLeaks revelations it came to light that the notorious Gupta family was interested in the paper and was considering paying about R20-million for it.
At the time the Media Development Investment Fund (MDIF) owned 10% of the company. In December 2017, the MDIF increased its shareholding, making it the majority shareholder, injecting much-needed capital. Chief executive Hoosain Karjieker has a minority shareholding and staff hold 10%.